(Disclosure: Some of the links below may be affiliate links)
September 2019 was not a very special month for us. The only thing of mention was that I spent about ten days in the United States for work. Aside from this, it was a quiet and good month. We saw our friends and families several times. So it was a good month!
However, our finances were not quiet at all! We had to pay big dentist bills. I also started the gym again. It seems like it was the wrong time to do that. And we spent some money on vacation next month. It also seems like it was not the best time to do that.
We still managed to save a nice portion of our income. But since my salary is now higher, we should definitely have saved more than that!
So, let's see everything that happened to us and our finances during this month.
September 2019
I had to spend ten days in the United States for my company. It was exhausting but it was well worth it from a career point of view I think. It is important to meet the other people from my company. But it was really busy. I kept having meetings. And I had to work on Saturday as well.
Aside from this, the month was pretty normal. We had a few parties with friends. For me, it was great that it was quiet after 10 hectic days in the U.S.
From a financial point of view, it was really not great. We had to pay a large dentist bill for Mrs. The Poor Swiss. I also paid the bill for 12 months for the gym. And finally, we planned some small vacations in October. We are going to Barcelona.
Honestly, we hesitated a lot before booking the vacations in October. But we wanted to celebrate the promotion that I got last month. And since this month was the first month with my new salary, we felt it would be OK to splurge a bit. But this really made a hit on our savings and our expenses.
So once again, we fall short on our 5000 CHF expenses for a month. I will have to reconsider many things for next year if I want to keep this goal. Maybe it is just a stupid goal!
However, even with a relatively high level of expenses, we still managed to save about 50% of our income this month! I would say this is not so bad. To be precise, we saved 50.63%. This is really good for us.
Expenses
Here are the details of our expenses for September 2019:
Insurances: 790 CHF. Average. Our monthly health insurance bills.
Transportation: 161 CHF. Below average. Spending ten days in the U.S. significantly reduced our gas bills.
Communications: 89 CHF. Average. Nothing special at all.
Personal: 2070 CHF. Well above average. As mentioned, this is because of the gym, the dentist bills and the holidays.
Food: 288 CHF. Below average. This is a great result. This is also reduced by the fact that I was for ten days in the U.S.
Apartment: 1481 CHF. Average. This is our rent plus the quarterly power bill.
Taxes: 799.45 CHF. Average. Taxes for the county, the states, and the federal government.
Overall, we spent 5680 CHF in September 2019. This is a bit too much. But honestly, there are several things to consider here. The gym is a bill for twelve months. The dentist bills should be the last of the year and should not repeat next year. And the vacations are not every month either. I think this is not so bad.
If you follow my monthly updates, it should come to no surprise to you that we overspent, once again. My prediction from last month was correct. We really spent too much this month. Of course, the dentist bills could not have been predicted a long time in advance. But this is really weighing down our budget. It was not the best month to plan for a vacation. But we still saved half of our income. So, we should relativize.
2019 Goals
Let's see how our goals are doing for the year: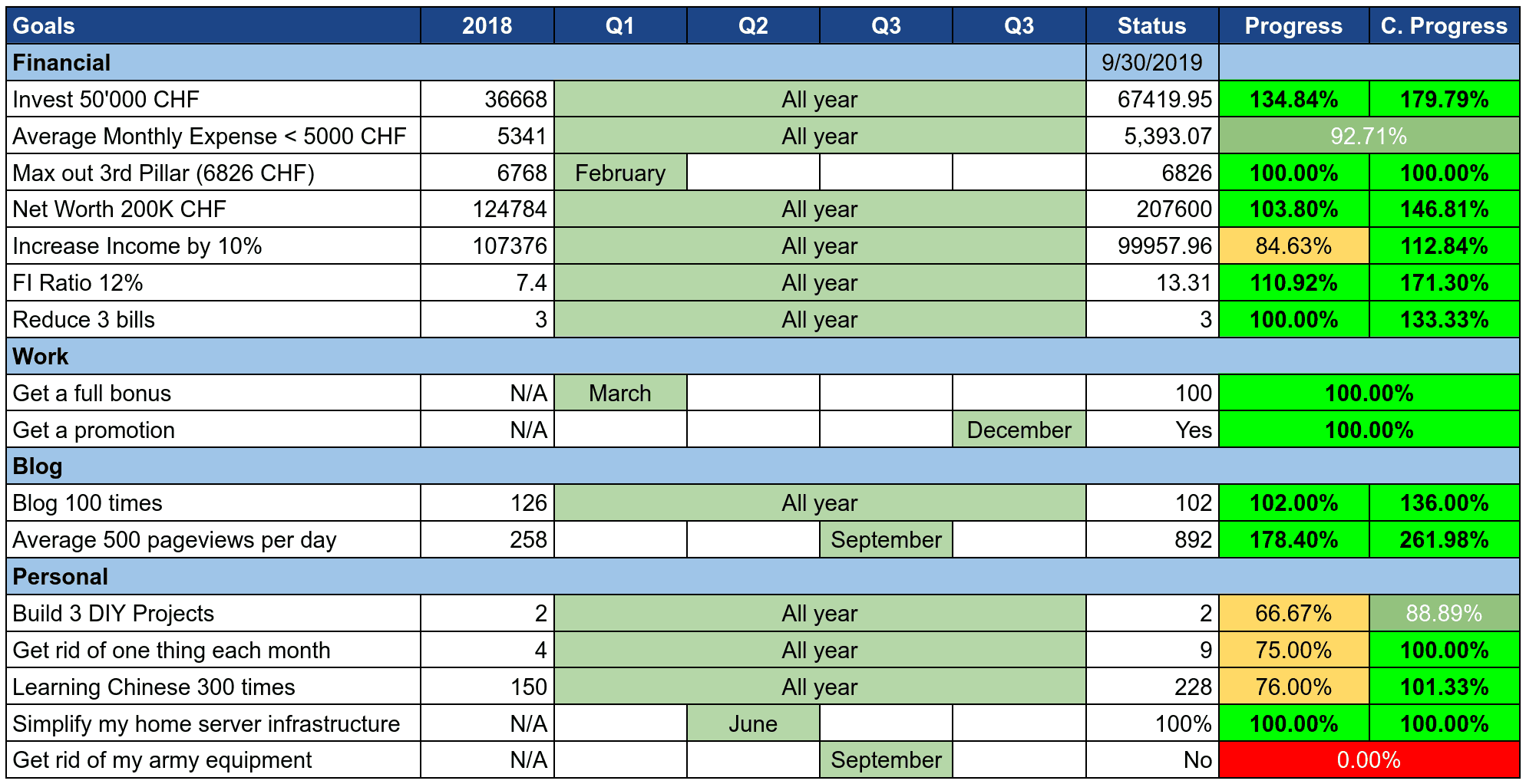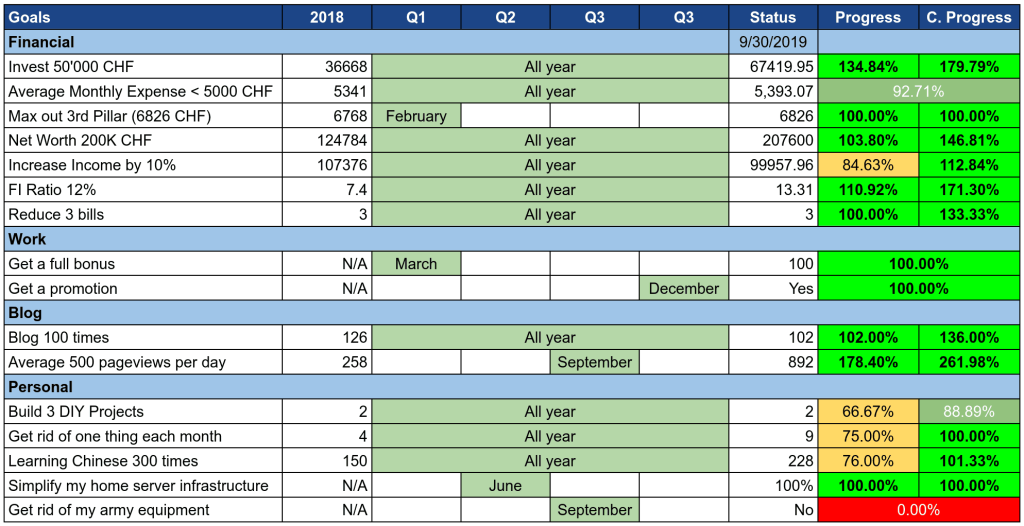 Overall, our goals are going well.
We have reached our goal of 200'000 CHF! This is really good for us. Overall, our finances are going well.
As for the expenses, once again, we fail to go under 5000 CHF. And next month with flight tickets to China, this will be the same problem. November should be better. But it may well change with something unexpected again.
I managed to reduce my car insurance price. Since my car is now six years old, I decided to stop paying for full collision coverage. I also removed parking coverage as well. This will save me about 300 CHF next year! I am now done for reducing three bills for the year. Of course, if I find one more bill to reduce, I will still do it!
Mrs. The Poor Swiss did some cleanup in her make up things. She was able to get rid of a few things she never used. And I compensated for not getting rid of anything last month by getting rid of my dumbells that were rusting.
Unfortunately, I was not very astute in the United States and I did not do my Chinese. So I am a bit late on that goal now. But I should be able to complete it by the end of the year normally.
We have already gone through three quarters of the year. These last few months went incredibly fast. After these three quarters, the goals are doing good overall. We will not be able to reach some of them. But overall, it is good. And I feel like most of the goals were well-chosen this year.
Net Worth
Let's see what happened to our net worth during September 2019:


We are now at more than 200'000 CHF! We are really happy about this result. Our efforts are really showing there. And with my new income, the growth should continue to be strong.
We were able to save a lot this month. And the stock market recovered some of the losses of last month. Then, it went down a bit again. But overall, it is still doing okay. These last few months is mostly up and down and this gives overall flat returns. This is not the best of course. But for now, we have to deal with that.
The Blog
After many months of growth, the traffic on the blog went down significantly this month. There were 20% fewer visitors on the blog this month. This is a very big fall. And it seems to continue to go down. I still do not know exactly what is happening.
I was expecting a downturn since I was not able to spend as much time as usual on the blog this month. But I was really not expecting such a large impact. I was even hoping for a simple plateau. This is quite disappointing. I must be doing something really wrong with the blog.
If next month the traffic is continuing to go down, I will have to significantly review what I am doing on this blog.
What do you think I should do to increase traffic?
Since I was ten days in the U.S., I did not have as much time as usual for the blog. Therefore, I went back to a schedule of two posts a week. This probably had an effect on the traffic. For the time being, I plan to keep on this schedule.
I made a few changes to some older articles this month. And I had to fix a few things here and there as usual. But I did not do anything really special.
As usual, here are the three most viewed posts of September 2019:
TransferWise versus Revolut: As usual, this post did really well! I need to do more posts like this.
Revolut Swiss IBAN: Top Up Revolut For Free: Revolut is really doing something good for my traffic!
9 Things that are terribly wrong with FIRE: This new article did really well this month!
Also, my article about Updated Trinity Results for 2019 did really well! I am looking forward to doing more simulations with this data.
What about you? What was your favorite article this month?
Next Month – October 2019
There should not be anything very special on our budget in October. It is not yet sure. But it is possible that we have to pay some tickets to China. Either we pay tickets for Chinese new year. Or maybe Mrs. The Poor Swiss will go back to China for a few weeks, earlier to take care of her father, in poor health. This will make a hole in our budget.
But I am starting to get used to that. We are also going to spend a few days in Spain, as we already discussed. This will be some eating out but we are going to try to keep it low.
We really have to keep our expenses lower. Our savings rate is still okay. But our expenses are too high. But for now, I do not see how we will manage to lower that. I am a bit disappointed by our lack of progress here. I know that we can avoid some expenses next year.
For instance, we will not have to buy a new computer next year. And we should not have so many expenses for French courses. But we also know that some things are going to get more expensive, especially taxes.
What about you? How was September 2019 for you? What do you have planned for October?