(Disclosure: Some of the links below may be affiliate links)
It is already time for the first monthly update of 2020!
And January 2020 was relatively quiet. We had a nice party for the new year. Finally, I have been to China in the last week of the month. And I will still be there a few days of February as well.
From a financial point of view, it is not a good month. But this was expected.
We went to China for about ten days. We went there with Mrs. The Poor Swiss to visit her family. And we celebrated the Chinese new year. Normally, this is the best time for us to visit since the family is all together.
However, given the current state of China because of the new virus, this was not the most exciting vacation we ever had. People were afraid of going out, and most things were closed. And some of the members of her family did not come in fear of the virus. And since most of the internet is completely blocked, there was not a lot I could do. But it would have been challenging to plan for this.
Let's see in detail what happened to us in January 2020.
January 2020
The first month of 2020 went by very quickly. We did not do much, but it still was fast. We had several things during the weekends of this month. But no big event except going to China.
In 2019, I started having issues with my knees and back. So this month, I decided to see a doctor. Unfortunately, they did not find anything. So they are sending me to a specialist. But I already paid more than 400 CHF for this. It is pissing me off to spend so much for no result. And all that while paying a ton of money to the insurance itself.
We are still looking for a house. I met with my bank to make a reasonable estimation of how much we can afford. We found a perfect house that we were ready to visit, but it was sold before our visit. It is pretty sad. We also found out another good one, but it is too expensive for what it is. We may visit once we come back from China, but we are not going to offer that much.
With all that happened this month, we still managed to save 44% of our income. It is a great result. It is more than I would have imagined.
Visit to China
The main event of this month was that we went back to China. I wrote some of this current post while in China. We went there for the Chinese new year. Mrs. The Poor Swiss went there two weeks advance. I then joined her, and we came back together.
To save money, we did not take direct flights to Hong Kong. But I think this is a mistake. I could not convince Mrs. The Poor Swiss of spending a bit more money. But the trip killed me. A two hours drive, followed by a two hours flight, a four hours layover, and an eleven hours flight is too tiring for me. And finally, we have to take a ferry and a car. I will not do that again. Next time we go to China, we will take better flights. It is not worth saving the extra money.
The main issue with the trip was that we were in the middle of the new coronavirus epidemic. A lot of things were closed down. And people were afraid to get out. So we saw very few people and mostly stayed at home. When we went out, we took face masks for safety.
When you combine that with almost no internet (everything is blocked in China), it was quite dull. But I do not see how we could have planned this better.
Fortunately, neither of us has any symptoms of the virus. We will still isolate ourselves once back in Switzerland for safety. But it should not be an issue.
We waited a bit too long there, I think. But once we saw that some borders were closing, we decided to leave two days in advance. Fortunately, British Airways let us change our flights for free, given the situation. But we should have probably tried even earlier. We will be more careful with escape planning next time!
Expenses
Here are the details of our expenses for January 2020:
Insurances: 1090 CHF. Average. Our health insurance and law insurance.
Transportation: 287 CHF. Above Average. Normal gas bills and the parking at Zurich airport during our trip.
Communications: 119 CHF. Average. Internet and phone bills.
Personal: 2551 CHF. Well above average. We paid for the dowry and about 400 CHF for medical bills for my knees (for no results).
Food: 236 CHF. Below average. We did a lot of groceries for chocolate and candies for China at the beginning of the month. But then, nothing for two weeks. It makes our overall food costs very low.
Apartment: 1247 CHF. Just our rent.
Taxes: 799.45 CHF. Standard taxes for the year. It will soon increase.
Overall, we spent 6331 CHF this month. It is significantly more than we want to spend each month.
But we knew before that we would not reach our goal this month. Given the dowry and the fees from the trip to China, we could not spend so little this month.
Nevertheless, we are still saving money this month. And this is the last year I have to pay for my dowry!
2020 Goals
Let's take a look at how my goals are doing at the end of the first month of 2020: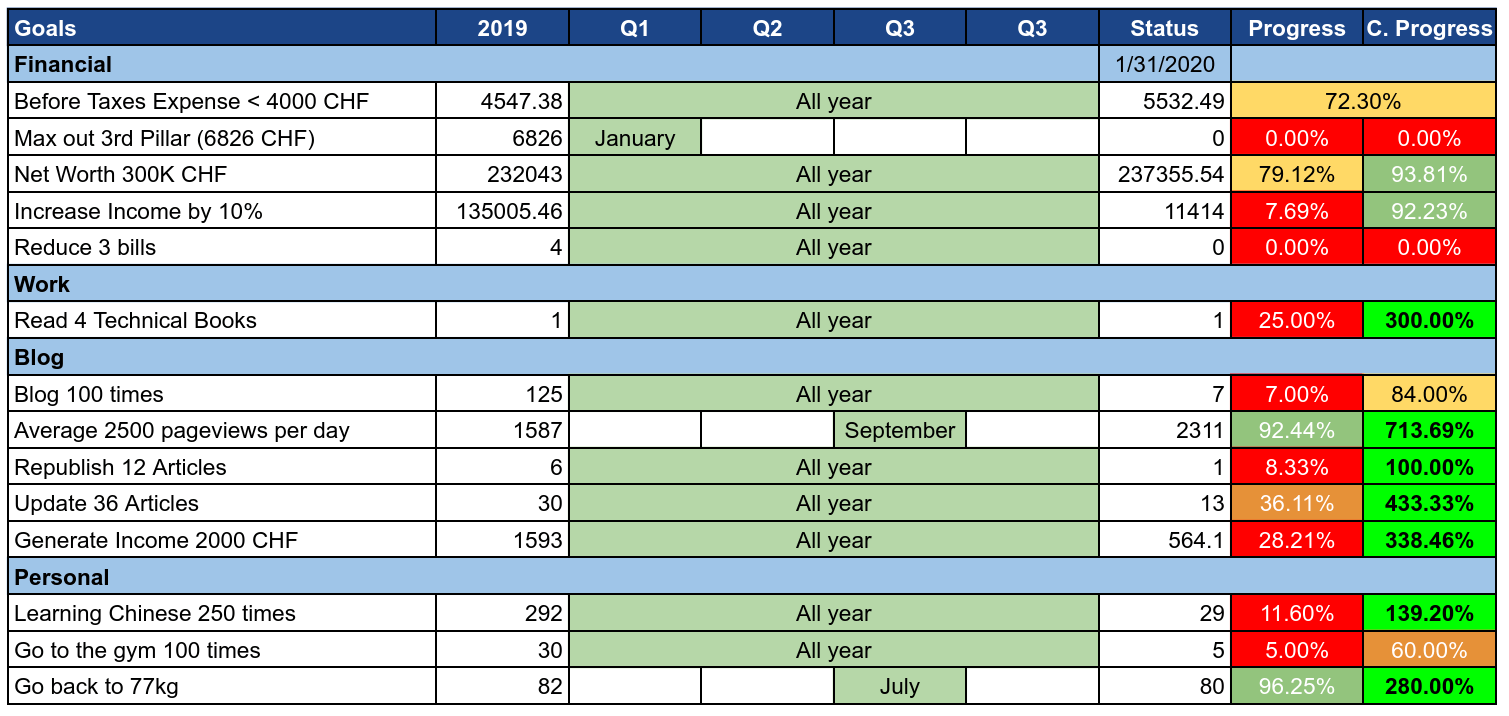 Overall, I feel like we are in the correct direction for our goals. However, there were a few hiccups this month. I did not transfer money to our third pillar before going to China. So I will be late for this goal. But this is not a big deal. I will do it in February.
We are also a bit short on the income and net worth goals. But this is not so bad since next month my ESPP shares will help the net worth and in March, my bonus should help my income.
I did not reduce any bill this month. But I know of one I can reduce next month. I do not know about the three others, but I will find out!
Our spending goal is starting badly. We were expecting that because of the dowry. Hopefully, we will be able to compensate for that during the other months. We will see how it goes.
My blogging goals are going well. The blog saw a significant rise in users this month. And an even greater rise in page views. It is really good. And the income from the blog was pretty high. However, January is generally a great month for personal finance blogs. We will see how that goes next month. But I am pumped!
I have been able to do a lot of updating work on the log. But I started with some easy removals of posts. So the progress will slow down. But I am not worried about this goal
I managed to lose two kilograms in January! It is a pretty good start. But I weighed myself before going to China. So I am pretty sure I put on at least one extra kilogram there.
As for the gym, I did not manage to get there as much as I needed. I was lazy during the Christmas period. And then I lost several days by going to China. On top of that, my knees are getting worse, so I try not to push my luck. And after coming back to China, I will work from home for two weeks, so no gym.
Net Worth
Let's see how our net worth is doing at the end of January 2020: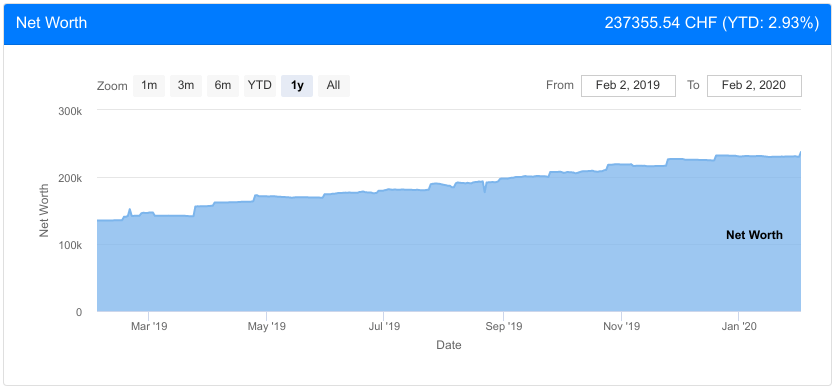 Our net worth was not very eventful this month. Which is not a bad thing. It is continuing to increase at a nice rate.
The next month should be more eventful normally. I should receive shares from my ESPP plan. This should add a few thousand CHF to the net worth. And in March 2020, I will receive my bonus (yet unknown amount), and this will make another nice bump.
Since we are trying to buy a house, we are now almost entirely in cash. It means fluctuations in the market will not have much effect on our results. But this also means that our returns may be lower.
The Blog
January 2020 was a good month for the blog. After the very slow month of December, January started recovering the traffic. This month saw 25% more users on the blog than last month. And there were 40% more page views. It is a really great motivation for me!
There were a few hiccups while I was in China. Since I did not get access to my mails, I could not handle them. I will try to improve that the next time.
Since I made the blog significantly faster last year, my AMP pages are now slower than my regular pages. So I am starting to see how does my traffic goes without AMP pages. I have currently disabled them. It seems that my traffic did not change with this. If by the end of next month I still have the same traffic, I will keep them disabled. There is no point in having AMP pages if they are slower than regular pages.
I also cleaned up the menu. There were too many links there, and it did not make complete sense. Now, it is simpler and more logical. I also cleaned up a bit the sidebar. I am considering removing it completely. Half of the people are on mobile already, and they do not see it anyway.
Since I had written many posts in advance, I had the time to do many updates on the blog. But I started with the easy ones.
I deleted several old posts that had no value and almost no views. I do not want my new readers to find these posts. I also consolidated some posts together. I think this makes the blog better! I plan to update many more articles this year. I already have seen some results this month on articles that got more views after they were updated.
Unfortunately, I almost could not do anything while in China. I planned and bought a VPN subscription that was supposedly working in China. Unfortunately, this was not the case. And obviously, you cannot download any VPN from China. So I could not check my email. And I could not use any of my spreadsheets or any service I use for this blog.
I managed to write a little but not nearly as much as I wanted. It is not easy without any means of doing proper research. So I am way behind schedule on the blog, unfortunately.
As usual, here are the three most-read articles of January 2020:
Wise versus Revolut. This post has been the post with the most views for many months now.
Revolut Swiss IBAN. This post does well but still gets four times less traffic than the first one.
Revolut Credit Card. This post always does well but is a more reasonable amount of traffic.
It is a bit concerning that the same articles are always at the top. I would like to
What about you? Which was your favorite article of January 2020?
Next Month – February 2020
We had several things planned for February 2020. But we canceled most of them. Since the coronavirus can stay dormant, we are going to isolate ourselves as much as possible for 14 days. After that, we have a nice weekend planned for Valentine's Day.
From a financial point of view, our finances should be back to a normal level. We need to be more careful. This month it was a lot of spending. But I am glad this is the last year I have to pay a large dowry. And we will probably not go for the Chinese new year in 2021. But this is far! And since I will receive my ESPP, it should make a nice growth to our net worth.
What about you? How was January 2020 for you?