(Disclosure: Some of the links below may be affiliate links)
I keep track of all my expenses. And monthly, I publish an update with my expenses on this blog. But once a year, I also do a complete analysis of my costs for the past year. It helps me put things in perspective. And it also gives me an idea of where my expenses are going for an entire year.
It is an essential part of the way I manage my money. I do not have a budget, but I track all our expenses. And seeing expenses summed for an entire year help us realize how much we spend in some categories.
So, let's see the expenses of The Poor Swiss family for 2021. Compared to our previous years, this is now for a family of 3!
2021 Expenses
In 2021, we spent a total of 122'777 CHF. This is 30% more than last year! That sounds pretty bad, right? We are trying to reduce our expenses, but we end up spending more every year! What is happening?
Let's find out with the detail. We are using seven categories for tracking our expenses. So, here are the totals of each category for 2021 (sorted by amount):
| Category | Total CHF | Difference | What is it? |
| --- | --- | --- | --- |
| State | 47'045 | +9244 | All taxes |
| Housing | 33'008 | +16701 | Rent before, mortgage, house fees |
| Personal | 21752 | +826 | Everything else, for us, not mandatory |
| Insurances | 10631 | -411 | All our insurances, primarily health insurance |
| Food | 6636 | +1307 | Groceries and eating out |
| Transportation | 3185 | -522 | Car and public transportation |
| Communication | 1149 | -109 | Phone and internet bills |
Two categories took a big hit in 2021.
Our taxes increased by almost 10'000 CHF. It is primarily due to not paying enough taxes in advance in 2020. It should improve in 2022 since we have paid more taxes in 2021. And our taxes should go down slightly with our son. On the other hand, our house is increasing our taxes.
The housing category increased by more than 16'000 CHF. It is all due to a single bill from the land register of 23K CHF. Without this bill, we would have saved 7000 CHF on our housing costs. In 2022, this category will be much lower since we pay significantly less than what we did when we were renting.
The other categories mostly went up, but not that poorly. The personal category is not as bad as it looks because if we remove the blog expenses, we spent significantly less in 2021. I should add a blog category in 2022 to clean that up.
If we remove the taxes and the land register from our expenses, we spent 52'417 CHF in 2021. This is 5517 CHF less than last year! So, our personal inflation rate is -9.50%! Such a personal inflation rate is a great result. The personal inflation rate is a cool personal finance metric.
Here is a more visual breakdown of the expenses for 2021: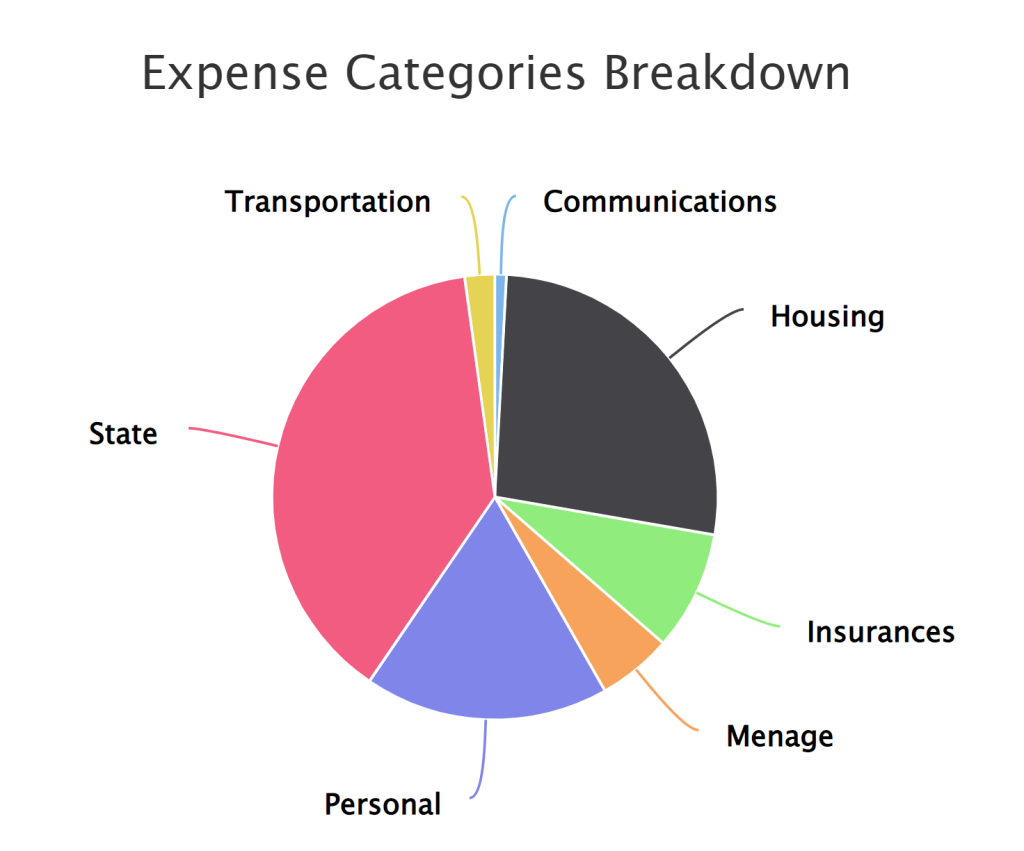 We can see the big bulk of the taxes on our expenses. It is a pity since this is also the most challenging category to optimize.
If you want to compare your situation with ours, here are some crucial facts. We are a married couple with a newborn (as of September 2021), we have a house (but paid 1.5 months of rent for the old apartment), and we have a single income. But generally, I do not recommend comparing too much with other people. You should try to do better than yourself!
I will also detail some of the larger expenses and what changed in 2021.
Biggest 2021 Mandatory Expenses
We can start quickly with the big mandatory expenses:
Taxes: 47045 CHF (+9244)
Health Insuranc:9494 CHF (-120)
Groceries:6188 CHF (+1407)
Mortgage: 3661.20 (new)
These expenses together are already the bulk of our total expenses. Also, we cannot get rid of them entirely.
Our taxes should go down slightly in 2022. In 2021, we paid some of the 2020 taxes. Also, in 2022, our son will lower our taxes slightly. On the other hand, our income is higher, so the base taxes will increase. So, I do not think our expenses will go down much.
Our health insurance will go up slightly because of the third policy. On the other hand, we can finally cut some complimentary insurance this year. This will not play a role in 2022 but will lower our expenses in 2023.
Our groceries went up significantly this year. I am disappointed since it was a category that we were good at previously. One part of the increase is due to the baby expenses with diapers and baby products. But we also simply spent more on groceries by being less careful. I do not think we can go back much lower. But I want to keep that below 6000 CHF in 2022.
As for our mortgage, nothing should change in 2022. It will go slightly lower since we do some direct amortization, but not much.
We can also take a look at some individual expenses.
Health 4992 CHF (+32%)
Our health bills exploded this year, but there is a good reason for most of that.
Most of the bills relate to the pregnancy and the birth of the baby. This made about 85% of it. But most of it was reimbursed by our health insurance. We still have a few pending items, but overall, the reimbursement process went well.
In 2022, we will have a few health bills for me that will not be reimbursed. But hopefully, it should not go that high.
Computers 1305 CHF (+12%)
In 2021, I upgraded my monitors to three good ones instead of the old 3 I had before. This is definitely reasonable for the amount of time spent in front of them.
In 2022, I may have to refresh my configuration. And since I want to redesign my office, I will likely have a few changes to my computer. But it should stay below 2000 CHF in 2022 again.
Holidays 819 CHF (+0%)
We spent almost the same amount on our holidays this year.
In 2020, we went to Davos. We spent a few days in Thun in 2021. It was an excellent time for us, and we went there at a good time, COVID-wise. There were not that many restrictions, and the weather was great.
Internet 780 CHF (+0%)
Nothing at all changed regarding our internet bills. We still spend 65 CHF per month for Swisscom internet.
I know I could go much lower than that, but Swisscom has been working very nicely for us. We have not had any issues in many years. And I do not want to sacrifice any quality here since it is being used every day.
Gas 332 CHF (-42%)
I have worked the entire year at home, even more than in 2020. On top of that, with the restrictions and the pandemic, we did not go out much. As a result, my car has seen really low usage this year. And this translates into an even lower gas bill.
At this point, I have no idea whether that will change or not in 2022. This will depend on whether I can still work from home or not.
Phone 117 CHF (-32%)
Even though we were already spending very little on phone bills, we managed to go even lower. I am still using Coop Mobile prepaid, and I used it very little this year.
Except for many calls around the birth of my son, I did not have to charge my card a lot this year. I want to keep this amount below 200 CHF next year. It should be relatively easy.
New expenses
There were a few new expenses this year compared to before.
The house changed several of our bills. We do not pay rent anymore, but we have to pay for heating, mortgage, and water separately. All this was included before. And we have extra insurance as well.
We have a few new expenses for our son as well. This increased our grocery bills for diapers mostly. But we also bought clothes and toys, mostly second-hand.
I am also using a few new services for the blog that bump up the expenses. But as long as the blog turns a profit, I do not watch how much I spend.
But overall, not that many things changed this year!
Things we improved in 2021
Overall, 2021 was cheaper than 2020 when we do not consider the blog, taxes, and house fees. So, this is a great thing.
In the personal category (miscellaneous), we spent 3000 CHF less than the previous year. We did not lookout for this. It just happened. So, this is a good thing. And this is the category where all the clothes and baby things end up.
Our transportation budget was also great this year. But this is more due to the pandemic than us. Our communications budget is also at a great place now.
Things to improve in 2022
There are a few things we want to improve in 2022.
First, I want to lower our heating bill. This winter, we put the heating lower than last year and started doing a few more fires to heat the living places. It works great so far. We will see if this is enough.
I would also like our groceries bills to be more stable. We have some cheap and then some very expensive months. The current spending level is not bad but could be improved slightly.
We will also reduce our complementary health insurance to pay less. We have taken too many of them.
But overall, I do not think we have much to do for our expenses in 2022.
Conclusion
Overall, we spent more money in 2021 than we ever did. However, some of the big expenses will not repeat. This is the case for house expenses. And our taxes have significantly increased thanks to our income (a double-edged sword). Fribourg is a bad canton for high-income earners.
So, overall, I am happy with the level of our expenses. There are a few things we could improve but nothing big. I really wish we could improve our taxes, but short of moving there is not much we can do.
What about you? How much did you spend in 2021?