2022 Goals and 2021 Goals Review
By

|

Updated:

|

Updates
(Disclosure: Some of the links below may be affiliate links)
At the end of each year, I review my goals and plan the following year. And to keep me accountable, I publish them on this blog and follow them month after month.
I will do a single article for the review and the new goals this year. I think it is more digestible that way.
So, in this article, I will review my 2021 goals and their progress, what went well, and what did not go well. And then, I will show and explain my 2022 goals.
2021 Goals Review
As a reminder, here is the state of our goals at the end of 2021: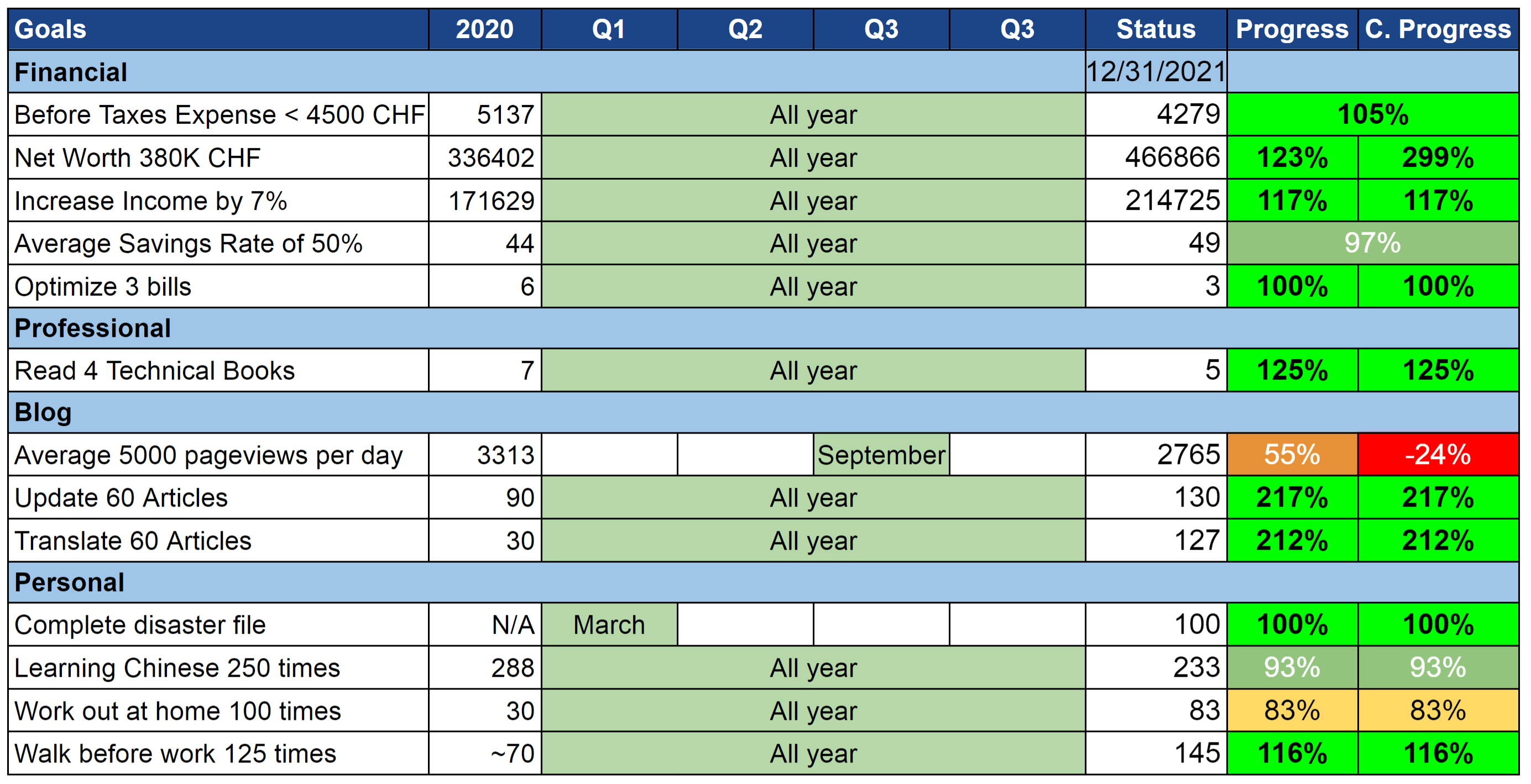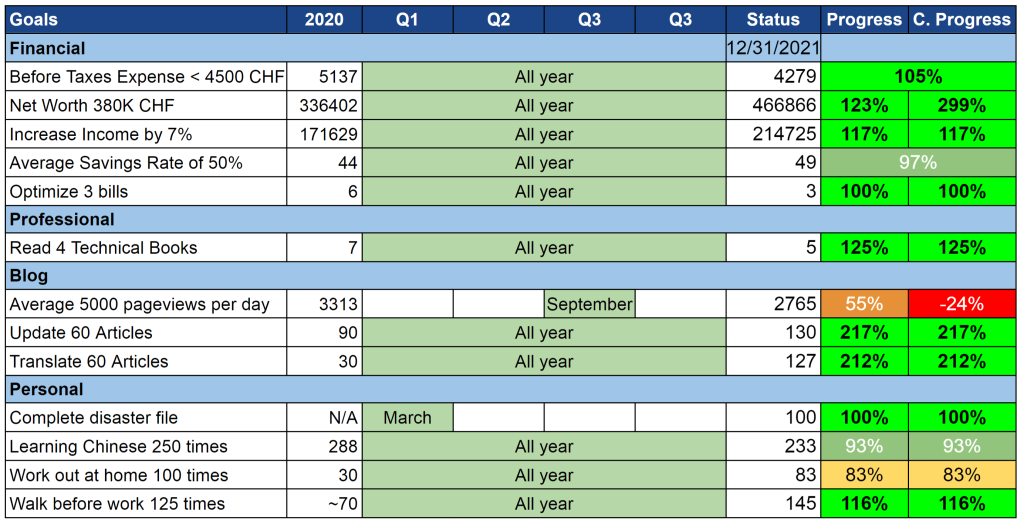 Overall, our progress towards these goals went well. We failed some goals, some because of me, and others were poor goals.
So, let's go over the details of each goal and how it went, category by category.
Financial Goals
Overall, we did very well on our financial goals.
Our first goal was to spend less than 4500 CHF per month, not including taxes. And we managed to spend 4279 CHF per month on average. It is a great result for us, significantly better than last year.
I was very pessimistic with our net worth goal, trying to reach 380K CHF. I thought our net worth would go down much more with the house, but it was not the case in the end. So, we reached 466K by the end of the year. Again, a great result!
I am also impressed by how much we increased our income this year. We wanted to grow it by 7% but managed almost 25%. This is a huge improvement. The blog did a little better than last year. But the bonus of this year was significantly higher than I anticipated. On top of that, the salary increase from last year is now fully in effect. Such increases are not sustainable, but they are great to see!
We failed our savings rate goal for the year, but only barely. We wanted an average savings rate of 50% by 1%! In 2021, our average savings rate was 49%. I am not disappointed, 49% is a great result, and I am sure we can reach 50% next year!
Finally, I was able to optimize three small bills during the year. I like this goal because it forces me to think about each bill.
Professional Goals
I only had a single professional goal here. I wanted to read four professional books to refresh or improve my knowledge in different areas. I managed to read five books in 2021. So, I passed this goal.
This goal was good, but I will not have the same goal next year. I have read so many books that interest me and are useful to my career that I am running out of good books to read. I could expand a little outside of this area, but I still want to read interesting books.
If I find great books I want to read, I will not hesitate, but I will not have a goal of reading N pro books next year.
Also, I already have specific goals within my company. So, it does not make sense to have a second set of professional goals here.
Blog Goals
Overall, my blog goals had very mixed results in 2021.
My first goal was to increase daily page views on my blog to 5000 by September 2021. I completely and utterly failed that goal. The number of page views in 2021 went lower than in 2022. If I did not have this goal, I would not have checked my page views that much. So, it was a stupid goal. And seeing the page views decrease month after month was very demoralizing. I worked a ton on the blog in 2021, so it did not feel great to see this.
In 2021, I will not have a page view goal. My goal with this blog is to help people with their money in Switzerland. I do not need to help thousands of people each day. So traffic is mostly irrelevant.
The second goal was about updating articles. I updated many more articles than I had planned. I believe it is essential to keep articles up to date. However, this did not affect at all traffic on the blog. Next year, I will only update articles that contain out-of-date information. I will not do minor updates on articles.
I also managed to translate many more articles than my third goal. This goal should have been higher, and I should have put more effort into doing that earlier. Now, I have a good translation routine, and I plan to finish the translation next year. Once translating old articles is done, I will publish new articles directly in multiple languages.
So, overall, my blog goals were not great. And my progress towards them was not great either. However, I believe that the blog's quality improved this year, and I have made some nice improvements. So, my progress is not well aligned with my goals.
Personal Goals
Finally, I got mixed results as well on my personal goals. But I feel good about them.
I made a significant planning mistake with them. I completely underestimate the time we would have with a  child. And I completely underestimated the lack of sleep. I am not blaming it on our son but on my bad planning.
I managed to complete my disaster file early in the next year. Doing so was an essential step for me, and I am glad to have this done. Now, I am reviewing it each month and updating it if necessary.
I almost passed my Chinese goal. After the baby was born, I almost entirely gave up. I did not have time anymore. And my motivation was already low before. I am learning a little by listening to my wife speak to our son. But in the future, I will need to find another solution to motivate myself. I am stuck with online learning right now.
I also failed my workout goal. For more than two months, I completely gave up. I was too tired and already did not have enough time. I then started back. But it was too late. I should have forced myself to do them. I will keep this goal to help me keep motivated.
My daily walks replacing the commute went quite well. I did not go every day, but I went more than expected. I will keep this habit next year.
2022 Goals
So, here are my 2022 goals: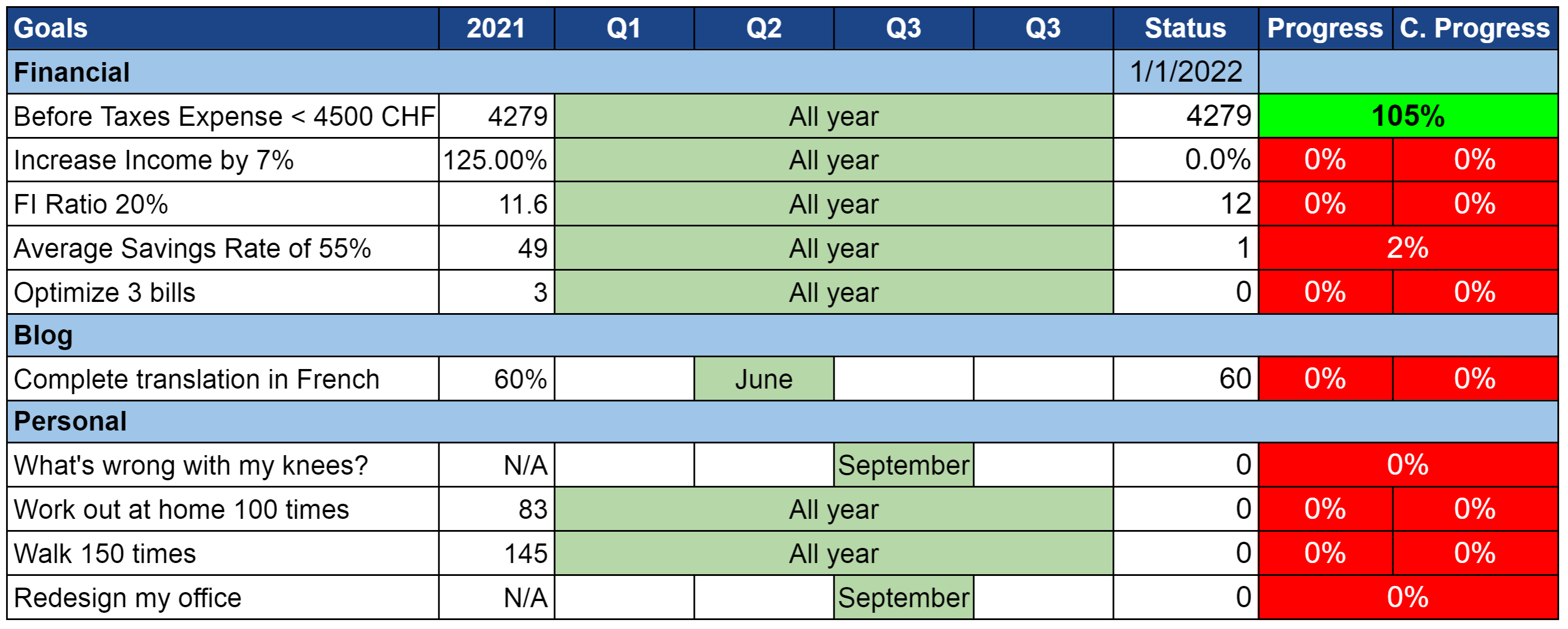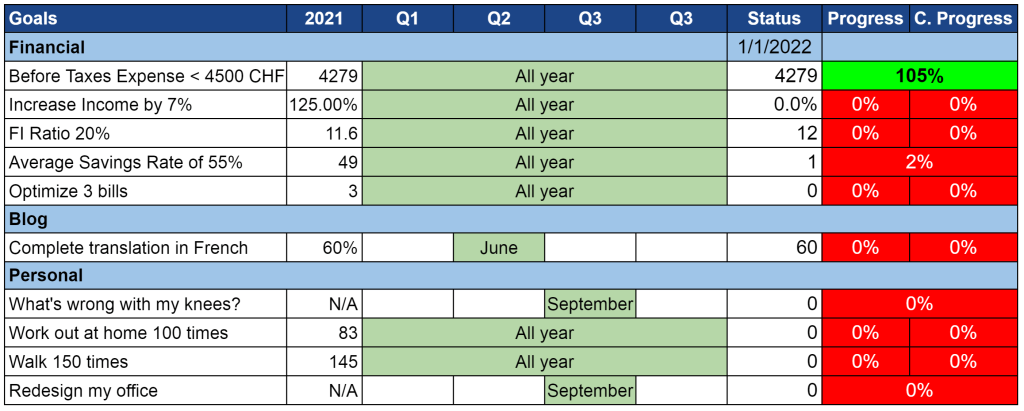 Overall, our 2022 goals are simpler than for 2021. But they are still quite similar. I could not think of exciting goals. We have a few projects planned for the house. But I do not believe any of them will get done in 2022. At this time, I simply do not have the time or energy to start any large project.
So, let's detail these goals.
Financial Goals
I mainly kept the same financial goals for 2022. I think these goals are working well for us.
In 2022, we want to keep our expenses before taxes below 4500 CHF. We managed to do that last year, and I think it is a safe level of expenses. We do not want to limit ourselves. And I am pretty sure that we could go below 4000 CHF without too much effort. But it feels better to validate 4500 CHF for the second year.
In 2022, we want to increase our total income by 7%. In 2021, we had the same goal and managed to do it with an almost 25% increase. But each year, it becomes more and more difficult to increase our income significantly. If we manage to increase it by 7%, it will already be great.
Instead of tracking our net worth in our goals, we want to track our FI ratio. This number is more interesting because it shows progress towards our Financial Independence. On the other hand, the Net Worth is less relevant since the goal depends on our expenses, and our house, for instance, is not part of our FI Net Worth. So, our goal is to reach a 20% FI Ratio in 2022. It is an ambitious goal since we start the year around 12%. Overall, this is probably the most challenging goal.
In 2022, we want to reach an average savings rate of 55%. In 2021, our goal was 50%, so I wanted to bump up this goal slightly. 55% is rather ambitious. However, I feel like it is doable. Our limit is likely around 60%, given the taxes and fixed expenses we are paying.
Finally, we will keep our goals to optimize three bills in 2022. And by optimizing, I mean paying less for something (or stopping paying for something). In 2021, we reduced our car insurance, canceled one internet domain and one digital subscription. In 2022, we will optimize our health insurance bills. But aside from this, I have no idea about the other two bills.
Blog Goals
I did not want many goals for the blog. I want to do less on the blog in 2021. I do not have enough time anymore to spend on many improvements. So, in 2022, I will spend time writing new content, keeping the quality of existing articles high, and working on a single goal.
My only goal for 2022 is to finish the French translation before the end of June 2021. I currently have less than 100 articles to go, and I want to finish them. I am about 60% done. And I currently have a good routine to translate them with most of the details finally ironed out (I got tons of issues with WPML).
So, this will be my focus for the middle of the year. And I will see what I will do (if anything) during the second half.
Personal Goals
I have chosen four personal goals for 2022. The majority of them are towards improving my health.
My first goal is to find what's wrong with my knees. I have had knee pain for almost two years now. I went to the doctor once who sent me to do physiotherapy, and except for wasting a ton of money, it did not do anything for my knees. So, this year, I will go early to the doctor and find out what's wrong. I am pretty sure it is osteoarthritis. 
The second goal is the same as last year, to work out at home 100 times during the week. The goal is to get two workouts done per week. But I have scheduled three workouts per week. I do not always have the time or motivation to do thee a week, and I feel like a good of twice a week is more reasonable. I will continue the same workout routine.
The next goal is almost the same as last year, to walk 150 times. I enjoy walking before working, replacing my daily commute while working from home. I changed this goal a little to include the walks I will do with the stroller with my son. If I have to go back to the office, I probably will have to change this goal.
Finally, I want to redesign my office. While working at home, I spend a lot of time in the office. And there are things there I do not enjoy. And redesign is a grand word. I am no designer. For instance, I will need a proper desk and plan to move things around. We have a shared office, but my wife rarely uses it. But I will only redesign the part I am working in.
Conclusion
Overall, we did well for our 2021 goals. Some of them missed the mark because of lack of time and sometimes motivation. And I was way too optimistic for my blog traffic goal.
As for our 2022 Goals, I have decided to simplify them. There are fewer goals than ever.
However, I was not very inspired when doing our 2022 goals. I do not feel like I have the time or energy to go through any major projects.
What about you? What are your goals for 2022? Do you have any suggestions for cool goals?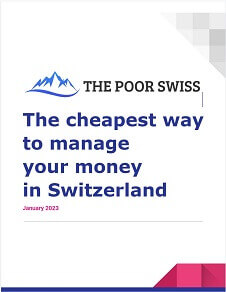 The best financial services for your money!
Download this e-book and optimize your finances and save money by using the best financial services available in Switzerland!
Download The FREE e-book