(Disclosure: Some of the links below may be affiliate links)
After a record-breaking March 2018, April 2018 is even better :) In fact, in terms of savings rate, it is the best month ever! I am really glad I achieved that good result.
Although I had some significant expenses this month, the savings were great. This is partly thanks to the gifts I received this month for my 30 years birthday! I also managed to keep my expenses quite low. And my net worth made a very nice jump. Overall, a great month!
April 2018
This month, I turned 30 years old! This year is full of events. I turned 30, I will get married (next month) and I will soon get a new job. To be honest, I do not really feel any different since I am now in my thirties. I just feel it is a bit late to finish my studies in my thirties. However, I really liked doing a Ph.D. and I think this is the most important thing.
In April 2018, my savings rate jumped to 57.4%. This is my best savings rate ever. I was more than happy with more than 45% last month. But this is even more impressive. It is the first time I go over 50% savings. If I am able to continue keeping my expenses very low, I should be able to go over 60% once I get my new salary. Only a few months back, I would not have thought this possible.
This very good result is due to several things. First, I received a large number of gifts from my family for my birthday (1400 CHF). I was not expecting this. I am really grateful for their gifts! Second, this month I do not have any taxes to pay. I paid federal taxes last month and will start to pay again state and county taxes next month. This makes a rather large difference. Although I had to pay for several big things, the expenses for the month were very reasonable.
On a side note, I even won some money (50 EUR) at the casino! We had a very nice day with my friends at my bachelor party! To finish the day, we went to the casino for my bachelor party. I was able to win 50 EUR at blackjack.
I am not a big gambler. But when I go to the casino, I enjoy blackjack the most. I always set a limit, this time it was 50 EUR that I was ready to lose. But I turned them in 100 EUR :) I am not telling you gambling is an investment! Because it is not. But it is fun sometimes. When I was in Las Vegas, I lost about 100 USD at the time ;)
Overall, April 2018 was a good month, on both the personal side and the financial side.
Expenses
Here is the breakdown of all my expenses:
Insurances: 255 CHF: Average
Transportation: 172.01 CHF: Average
Communications: 112.49 CHF: Below average. My mobile plan is now cheaper!
Personal:1019.22: Above average. I purchased our wedding rings. I also bought back my laptop from my work. And I finally bought the home automation devices that I wanted to play with.
Food: 314.80: Average
Apartment: 1247 CHF: Average
Taxes: 0 CHF. That feels really good!
As I said, next month, taxes will come again. And there will now be two of us. That means more food and insurances. But it should not make a very large difference.
2018 Goals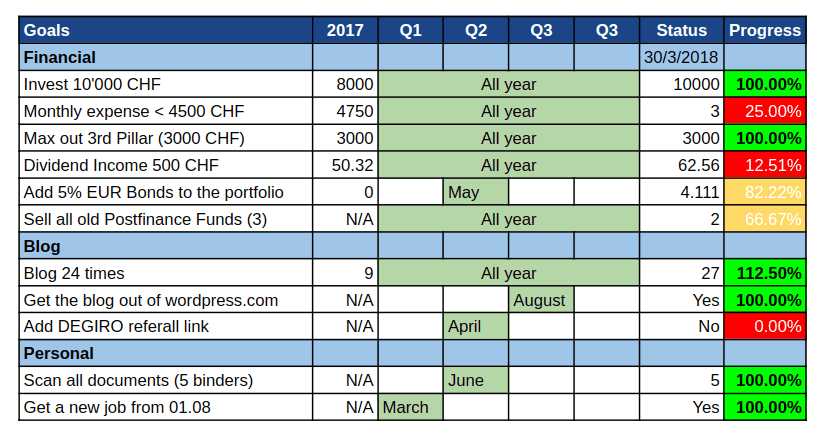 This month, I was able to invest 3000 CHF to my broker account and 1000 CHF into my third pillar. It means my investing goal is already reached! And my third pillar is already maxed out! I started doing some changes on my investing strategy. Since my funds were back to earning, I sold a few in the idea to simplify my portfolio. I sold my Tech ETF for a profit. I also sold my Pacific ETF. My plan is to sell a few more. I will soon post about this on the blog with the updated portfolio.
The only goal that is not going well is the dividend income goal. It is unlikely to be reached this year. Maybe with more investment, the next dividend payments will be enough. We will see how it goes :)
As for the blog, I already posted more articles than my goal. I was able to blog a lot this month. Also, I was able to redesign a bit the blog and go into Pinterest. I will try to invest some more time in Pinterest in the coming months. We will see how that goes. I also wrote a long series of posts about Switzerland retirement system: The three pillars system. And April was not only my birthday but the birthday of the blog as well. The blog is now 6 months old.
Net Worth
I am now integrating my second pillar into my net worth. This made a significant increase in my net worth compared to last year. I made the change from the beginning of my net worth tracking. So it does not make a big bump. With the savings rate of the last two months and the recent increase of the stock market, my net worth increased significantly. As of April 2018, I am now at 94'571 CHF of net worth! Take a look at my net worth graph:

It is the first month there is such a difference in one month :) I am really starting to see the impact of my strategy. It feels good.
Next Month
The biggest event for next month will be my official wedding, at the civil office. Only a few people will be here. We are also planning for a bigger party in early fall. This should not cost a lot next month. We will have to pay the registration fees and the wedding lunch. And the shock absorbers on my car need changing. Except for this, we do not have big expenses planned.
Since it will be my last month at my current job, I should receive a partial 13th salary. I will soon let you know everything about my new job. I think next month will be good, probably around 30% savings rate. Maybe even 40% if we are cautious :)
What about you? How were your finances in April 2018?