March 2023 – A little splurging
|
Updated:
|
(Disclosure: Some of the links below may be affiliate links)
March is usually among our highest income months, thanks to my bonus. And March 2023 is not an exception.
And usually, March is also expensive because we splurge a little on the bonus. And again, March 2023 is not an exception!
Nevertheless, we still saved a substantial portion of our income. Find out everything that happened to us during March 2022.
March 2023
Overall, March 2023 was a month back to normal. My wife had her exam for her Human Resources course (no results yet). So, this marks the end of a very stressful time for both of us.
On the other hand, we had delayed many events before. As a result, all our weekends were full of events. We were glad to see more people again, but I would not do that every month.
I am looking forward to calming down on events in April. And we are also looking forward to doing more events with the three of us.
Financially, we spent too much money this month, despite paying no taxes. Several expenses were planned this month because, in March, I received my bonus. But we also overspent in other unplanned categories.
However, March is also a month with very high income. This month is the month with our highest income yet. We had the bonus, some dividends, and some nice income from the blog.
So, overall, despite spending too much, we saved more than 80% of our income this month. So, we really cannot complain!
Expenses
Here are the details of our expenses in March 2023:
| Category | Total | Status | Details |
| --- | --- | --- | --- |
| Insurances | 762 | Average | Health insurance |
| Transportation | 152 | Above average | Twice gas and many bus trips |
| Communications | 99 | Average | Internet and phone |
| Blog | 1218 | Above average | Many small bills and AVS |
| Personal | 3151 | Well above average | Too many things to list! |
| Food | 1298 | Insane | Many groceries, stocking, many lunches outside |
| Housing | 1527 | Above average | Mortgage, heating, power, and ECAB |
| Taxes | 0 | Well below average | No taxes this month |
In total, we spent 8211 CHF without any taxes. Without the blog, this amounts to 6992 CHF. This is much higher than we usually spend.
March is always the first month of the year when we do not pay taxes. As explained before, the canton gives me nine bills to pay, the municipality ten bills, and the country six bills, so I do not pay the same amount every month. So, this usually means an excellent savings rate.
As mentioned before, we usually spend more money the month of the bonus. Some of the expenses are reasonable and were things we have delayed for March. But others were not so reasonable and should probably have been avoided.
In the personal category, I incurred several expenses waiting for a while. I have wanted to get into V60 filter coffee for a while. So I bought everything I needed for that. I also bought a new bag, keyboard and a mouse kit for when I must go to the office or travel with my computer.
We also had some health bills from last month. I also paid for the various charity I support. And we also bought a few things for our garden to block the multiple entrances, making it safer.
I am shocked by the amount in our food budget this month. For me, this is not acceptable. I do not want to spend almost 1300 CHF on food in a month. About 380 CHF is for eating out. Since we rarely go eating out, this is fine. I am more concerned about the more than 900 CHF in groceries.
We went once to Aligro, restocking our freezer with food, but we were not careful with our standard groceries, buying many small things without thinking enough. We should be much more cautious about groceries next month.
Overall, given our income, our expenses are acceptable. But this level of expense is not sustainable. We must be more careful next month, especially about our groceries.
2023 Goals
Here is the status of our goals by the end of March 2023:

Overall, our financial goals are going well. But my personal health goals are not doing that great.
Financially, we are doing well. We are well on track for our savings rate and income goals. Our expenses goal is not going very well, but we just had a costly month, which significantly increased the average. Next year, I will have to reconsider this goal. I think we should increase our savings rate goal and drop our
I am not very happy about the progress of my health goals. Both the workout and the step goals are behind schedule. And I feel like my knees are suffering from the lack of exercise. I have a hard time establishing a proper habit of working out. And we are not walking that much on many days.
I am trying to start back my habit of walking before work. Since my time is highly stretched already, this will be at the expense of future blog projects put on hold. But I started only a few days this month. I will see if this makes a difference next month.
So, overall, our financial goals are doing well, but I must work more on my health goals.
FI ratio
Here is the progress of our FI ratio until the end of March 2023:

As usual, our progress on our FI ratio is very mixed.
Our net worth increased significantly, but almost only thanks to our income. Our investments started well early in the month but then fell substantially after the banking issues in the US and probably a little because of the banking issues of Credit Suisse.
And our expenses are still climbing. At the current speed, our target is moving almost as fast as our net worth.
Despite this, I am still okay with this result. First, I do not expect to pay so much taxes once I retire. So, our yearly expenses will be lower. Also, our net worth is still climbing reasonably despite the stock market. So, overall, we are still progressing, but it does not look that good on paper.
The Blog
I have worked on several different projects on the blog this month.
Last month, I ordered featured images for the blog from five different designers from Fiverr. And after looking at them all, I have chosen one to do all my featured images. I have delayed doing this for a long time because I hate design work.
So, I decided to spend some money to delegate. I will slowly replace the images over time as I order more featured images. I hope you will like how it improves the design of the home and blog pages.
I also plan to write a second ebook that would be sold on the blog directly. I have asked my email subscribers a few questions to drive that process. The responses have been really helpful. I have no dates in mind for the ebook, and it may not even come that year, but this is likely the next big project.
Since Google Analytics 3 is being retired on July 1st, I am looking for an alternative. I have tried the new version, Google Analytics 4 (GA4), but it's not good for me. We lose 90% of the features. I do not understand this system and do not find anything. Therefore, I have decided to use something else.
I am currently using Plausible Analytics next to Google Analytics. And so far, it looks like an excellent alternative to GA4. It is also much better for you, my readers, regarding privacy. I plan to keep both systems running until July 1st and then use Plausible. I think this is a good move for both my readers and me.
What do you think about these changes?
Next month – April 2023
Next month, we have fewer events planned, which is good to get some breathing room. Nevertheless, we still have a few because we almost did nothing in the prior months.
Financially, it should be a month with regular income and low expenses because we will not pay taxes again.
What about you? How was March 2023 for you?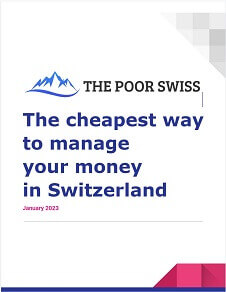 The best financial services for your money!
Download this e-book and optimize your finances and save money by using the best financial services available in Switzerland!
Download The FREE e-book