Why I Will Never Recommend Bluehost Again!
|
Updated:
|
(Disclosure: Some of the links below may be affiliate links)
As you may have seen, my blog was pretty much not working between last Thursday and Saturday. I had many issues with Bluehost and it took them an unreasonable amount of time to fix the issue. I already had issues before and this last one was a really bad outage. So, I decided I will never trust them again. Since I do not trust them as hosting providers, I will never recommend them again.
I have only started using Bluehost a few months ago. But I have had several issues in these months. And these last issues with the website being down for more than a day. They are really doing a bad job… I plan to migrate to another hosting provider soon. In this article, you will find the story behind this!
I will start with a question: How many Bluehost support guys do you need to fix an SSL certificate? You will find the answer below ;)
Some context
Today, it is very important to have a safe website. Even Google will prefer HTTPS over HTTP. Thus, this is also important for Search Engine Optimization (SEO). And it is also a good thing in general to have a secure website. If you do not know about it, the only thing you need to secure your website is an SSL certificate. This certificate will certify that the website is yours and not a fraud or attacker.
These certificates are valid for quite some time, generally one year or more. And you do not need to be a web programmer to get an SSL certificate. Most hosting providers will actually give you for free today. Mostly thanks to Let's encrypt. For these, my website has used HTTPS from the beginning. I was using the free SSL certificate from Bluehost. And it should be auto-renewed.
Already at the early beginning, I had a few issues with SSL. There is an incompatibility between two services Bluehost are offering: their SSL certificates and the SiteLock CDN. It took me a while to figure out what was going on. They should really not let these two features be enabled together. Or they should make them compatible. But this was kind of my fault too.
Thursday – First outage – Broken SSL Certificate
Let's go to Thursday now. I went back home and I wanted to write on my blog and discovered it was not working anymore. Only the insecure (HTTP) version was working. I found out that the SSL certificate was not referring to the correct address anymore. This made it impossible to reach the HTTPS version of my website.
Since this is the version linked everywhere, the website could be considered down. I do not know exactly when this started. I contacted support to fix the issue. They told me that the renewal of the certificate did not go correctly. They had to reset the SSL Certificate. again They did that, and after about 30 minutes, the site came back online.
This was not so bad, honestly. This kind of thing can happen. And it was fixed early. But the rest of the story is worse.
Friday – Saturday – Second outage: Invalid date certificate
Come Friday now! After dinner, I want to finish my next article. But I cannot access my website.
This time, the error is different. This time, the SSL certificate is too old. It has not been renewed. They are offering free SSL certificates with auto-renewal. But they do not renew them! You can understand my frustration since I already had to deal with them the day before.
So I contact support once again. They tell me the certificate is invalid (no kidding…). And they renewed it. And they told me it could take up to 3 or 4 hours to propagate the new certificate. Considering that they are using cheap SSL certificates, this should not take nearly as long… I can change my certificate in my web server in one minute. Anyway…
I waited four hours and came back to the support chat since it was still not working. They told me that there was something wrong with the SSL certificate… They told me they found the mistake and would in 3-4 hours. I did not have time to argue, it was late and I wanted to go to bed. So I let them do it and hoped it would be fixed during the night.
Finally, on Saturday morning, I checked my website and, surprise, it was still not working. They actually made it worse! First, they did not fix the SSL certificate. But they managed to screw the DNS installation by referring it to SiteLock DNS. Which are not compatible together. This time the website was entirely down. Well done, Bluehost! The last support guy could not tell me what happened. But it is easy to guess that, while renewing the certificate, they also activated the SiteLock feature. As to the reason why they did it, it is beyond me. It is just pure incompetence.
Finally, the last guy was the good one since he was able to fix both the DNS and the SSL certificate. After 2 hours, it was fixed. This time the delay is fair since I have to wait for DNS propagation which can take some time.
Finally, we have the answer to our question: How many Bluehost support guys do you need to fix a SSL certificate ? Four! I can hardly believe it…
Migrating away from Bluehost
I started using Bluehost only a few months ago. I migrated my website from wordpress.com to Bluehost. Mostly, I chose Bluehost because many bloggers were recommending it. Especially in the personal finance blog community, there are many people recommending it. So I trusted them. Either I am extremely unlucky with Bluehost. Or people are recommending it only for their very good affiliate program.
And they are cheap. That is probably the only thing they are good at. But as you can see, it turns out that their service is cheap in quality as well. I am a computer scientist. I have hosted many websites over the years in many hosting providers.
But I have never seen anything like that. I even have personal websites hosted on my servers at home. And they have better uptime than the hosting Bluehost provides. Managing my SSL certificates in my home is actually more efficient than what Bluehost is providing. I wonder how they can keep clients in…
I will never use them again. Of course, I removed all my affiliate links from Bluehost from this website. If I missed one, please tell me, and I will remove it.
I already paid for a year of hosting at Bluehost. But I still plan to migrate soon to another hosting provider. There is no way I am continuing to use their service. For now, I am thinking of going with SiteGround. They seem much better than Bluehost.
But they are a bit more expensive. And I have seen many stories of people migrating from Bluehost to SiteGround. And many of these stories relate the poor quality of Bluehost service. I should have started with negative stories rather than positive ones… I will write another blog post later on how to transfer my website. Since I recommended Bluehost, I hope this will not happen to any of you.
Update: The Blog has been migrated to Siteground.
Do you have any experience with Bluehost? Which hosting providers do you recommend? What do you think about SiteGround?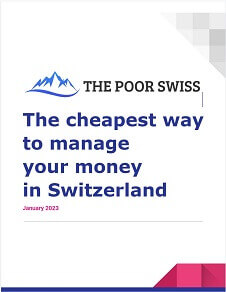 The best financial services for your money!
Download this e-book and optimize your finances and save money by using the best financial services available in Switzerland!
Download The FREE e-book