(Disclosure: Some of the links below may be affiliate links)
It is now time to make the point about March 2018. Compared to the very poor February month, March 2018 is a great month :)
Not a lot of things happened this month. But that is not bad. I like quiet months. And I was able to save a large part of my income this month. This is great after a bad month.
March 2018
In March 2018, I managed to save 46.57% of my income :) This is my best savings rate ever!
With only 3258.94 CHF of expenses, this is also a very low expense month :)
Here is the breakdown of these expenses:
Insurances: 255 CHF: Average
Transportation: 391.37 CHF: Above average. I had to pay the TCS insurances.
Communications: 223.18 CHF: Well above Average. I had to pay the hosting of the blog. I also had to pay for several internet fees.
Personal: 108.44 CHF: Much below average, almost did not spend anything on me
Food: 353.85 CHF: Average.
Apartment: 1524 CHF: Above average. I had to pay the power bill. On a better note, it is now the first month with my reduced rent!
Taxes: 402.70 CHF: Below Average. Only had to pay the federal taxes this month.
I do not think I will be able to stay this low next month. But I am going to try :)
I am still wondering whether I should keep my TCS insurances. I have the full world cover for car issues and travel cancel insurance. It is not a lot of money, but I am not sure it is really worth.
Earlier this month, I computed my Financial Independence (FI) Ratio.  With the results of this month, my FI ratio went from 3.5% to 3.67%. Nothing spectacular, but still an increase :)
I invested 2'000 CHF more in my broker account and 1'000 CHF in my third pillar account. Since the stock market did pretty poorly, my net worth did not increase much. It is now standing at 56'288.12 CHF. I am still thinking of simplifying my portfolio. But this is not a good time to sell any ETF now.
2018 Goals
Let's take a look at the state of my goals: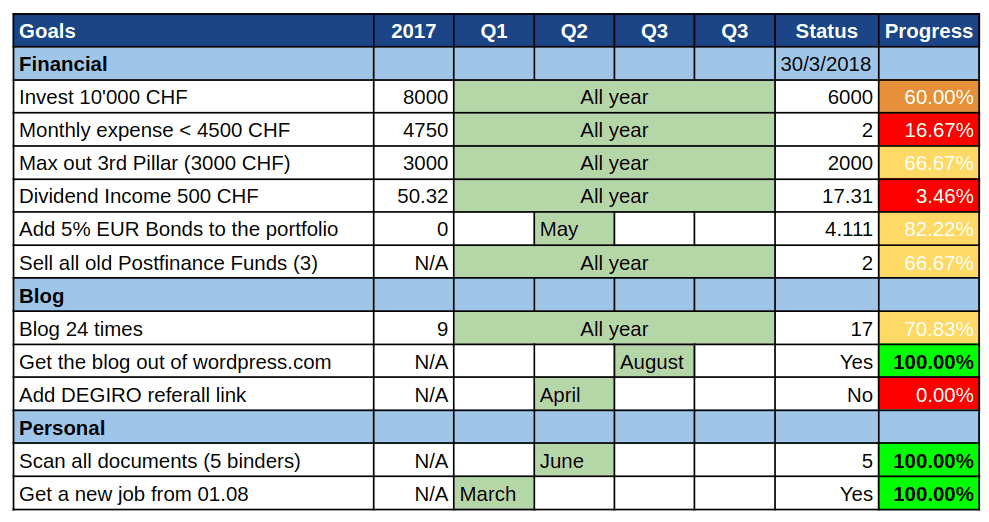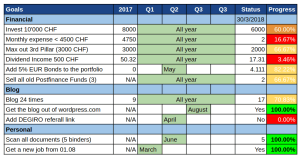 I have already invested 60% of my goal and my third pillar account is almost fully maxed out. That is pretty good. I also managed to stay under 4500 CHF of expenses this month. I did not change my bond allocation and my last remaining PostFinance fund is still not sellable. I had received quite a few dividends this month. But I'm still well below my goal. I think I will not meet this one this year. I posted a lot of posts this month, including an extensive review of DEGIRO. I am well on track to blog way more than 24 times this year. I have a few ideas for posts this month as well! My personal goals were already reached last month.
Next Month
Normally, April should be pretty good as well, but not as good as this. I was going to buy a few home automation devices for my hobby as my birthday gifts. I have waited for more than a year now to buy them and it should not account for a lot of money. Instead, I will need to buy wedding rings. Since I have greatly underestimated the price, I can not buy both the rings and my devices. I will delay my hobby for a few more months (now undefined time).
What about you? How were your finances in March?