February 2018 Update – Vacation and wedding
|
Updated:
|
(Disclosure: Some of the links below may be affiliate links)
Update: I changed the way I am accounting for my life insurance, this gives me a savings rate of 4.2% now. It is still a very bad month.
February is now done, it is time for another monthly update! This was not a good month at all for the financial side. But we had a lot of fun in China. And I was happy to see my fiancee again!
I have not posted on this blog since the last update, I was on vacation in China for more than half the month. I hope to post more in March.
February 2018
After a very good start for 2018 with a very strong January, February was a very bad month for finances. I was not able to save anything and lost about 42 CHF this month. This put my savings rate to 0.0% (after January at around 30%).
This month is very poor even though my salary increased by around 900 CHF. This should help a lot for next month.
There are several reasons for this very poor result. First, following Chinese culture, I paid a dowry to my to-be father in law. Although it is a correct number compared to some other families, it is still around 25% of my salary, so it weighs very heavily on the budget. Moreover, I had to pay more than 700 CHF in visa and wedding fees. I do not regret these fees since the result will be to get married to my girlfriend. But it would have been better if these expenses were dispatched over several months. Finally, the holidays cost me more than I had expected (around 600 CHF). We will have to be more frugal next time we go to China.
On the investment side, since I still had too much cash sitting in my savings from last month, I invested 1000 CHF more in my broker and 500 more in my 3rd pillar (retirement).
For my expenses, with 5991.75, this is well above average. Here are the details:
Insurances: 255 CHF: Average
Transportation: 131.00 CHF: Below average. I did not need any gas this month. But had to pay the Ferry from Hong Kong to Shenzen and back.
Communications: 118 CHF: Average
Personal: 3511.97 CHF: Very highly above average, as explained before
Food: 318.64 CHF: Average.
Apartment: 1300 CHF: Average
Taxes: 356.55 CHF: Below Average. Only had to pay the county taxes this month since I finished paying the canton taxes already.
Next month, I will have to be very careful about what I use to compensate for this bad month. I wanted to finally buy some home automation components, but this will have to wait until April (and my birthday).
As for my net worth, it is 55002 CHF. This is lower than last month, especially because of the loss of the USD against the CHF. This makes me want to reduce my USD allocation and increase EUR and CHF, but I do not know exactly how I will do this.
2018 Goals
Here is the current status of my goals for this year: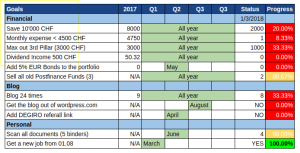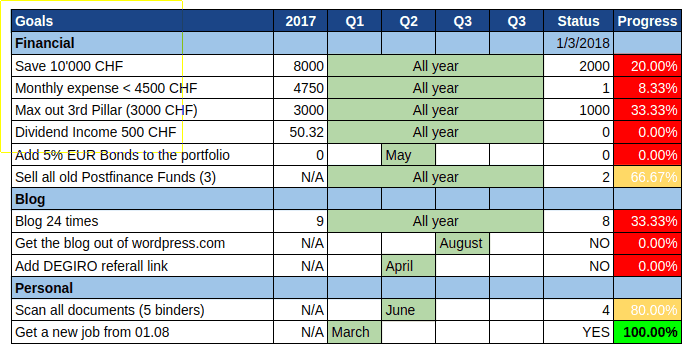 As stated, I did not stay under 4500 CHF expenses this month. So I failed this goal is failed this month. As for the other goals, I invested 500 CHF in my 3rd pillar account which makes for a third of my yearly (easy) goal. I am now at 20% of my yearly investing goal (only due to good January). I think I will be able to invest the 5% in bonds this month. Unfortunately, I still have not sold my last small PostFinance fund. This year, I have yet to receive dividends. But I should receive a small dividend in March. I think that the objective of 500 CHF for 2018 was too high.
I am also more than 80% done with my document scanning task, only one binder left and it is already in good shape. Finally, for the blog, I already blogged 8 times (including this post) but I did not blog enough in February. I have several posts planned for March, so this should be good. I still think I will be able to move the blog out of wordpress.com this month. And very good news, I signed the contract for my new job, starting the 1st of June.
Next month
March should be a much better month. I do not have any big spending planned (I moved some planned spending for later) and my salary increased in February, so it should be a good month.
What about you? How was your February? Do you have any advice for me?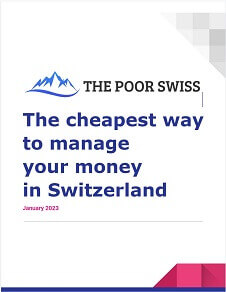 The best financial services for your money!
Download this e-book and optimize your finances and save money by using the best financial services available in Switzerland!
Download The FREE e-book