(Disclosure: Some of the links below may be affiliate links)
Overall, July 2021 was a good month for us. We could see many friends and family members that we had not seen in a long time. The weather was not great, with many floods in Switzerland, but the weather did not impact us too much.
Financially, it was an awful month because of the taxes due from next year. Because of that, we were not able to save any money during the month. But we already knew it was going to happen. So, this is not too bad in the end.
July 2021
During this month, we had several parties with friends and family members. It was great to see many of these people that we had not seen in a long time. We had a great time. We also ate too much, but that generally goes hand in hand with a good time.
Aside from this, it was pretty much business as usual for us.
Financially, we managed to spend very little on most fronts. However, we had to pay a ton of taxes because we did not pay enough last year. Now, the monthly payments are more accurate. So, we should not be in this situation next year.
In the end, we could not save any money this month. This is already the second month this happens this year. But both months were particular:
Big bill for the house
Big taxes from last year
So, this should not be a trend. On the other hand, our expenses before taxes are really low this month. So, we are still doing a great job.
Expenses
Let's take a look at the same of our expenses for July 2021:
| Category | Total | Status | Details |
| --- | --- | --- | --- |
| Insurances | 745 | Average | Health Insurance |
| Transportation | 60 | New average | Parking + Fuel |
| Communications | 65 |  Average | Internet |
| Personal | 724 | Average | A new garden lounge, some health bills, and misc purchases |
| Food | 625 | Above average | Groceries |
| Housing | 643 | Above average | Interests, heating, and water |
| Taxes | 19697 | Well above average | Standard taxes + taxes from last year |
Overall, we spent 22566 CHF in July 2021. This is a pretty impressive number! It is the second month this year we spent more than 20'000 CHF. That is not a trend we want to continue. However, without taxes, we only spent 2869 CHF! This is a great result, much lower than our average.
Obviously, the taxes destroyed our finances this month. But we knew this was coming. And next month, we will start again with a normal level of taxes. And since the monthly bills for the taxes are more accurate this year, and our income will not increase much this year, we should not have that much of a gap next year.
We also went a bit nuts with the food budget. Since we invited people several times, we had to buy many things we are not used to buying, inflating our budget significantly. Nevertheless, our average food expenses are getting too high for my taste. We will have to watch it more. But I do not know what we changed in our purchases.
Overall, our expenses were great this month (not counting taxes). We managed to spend very little money even though we had a normal month. We definitely cannot spend less than 3000 CHF every month. But it is great to see that we can still have some good months!
2021 Goals
Let's look at the state of our 2021 goals: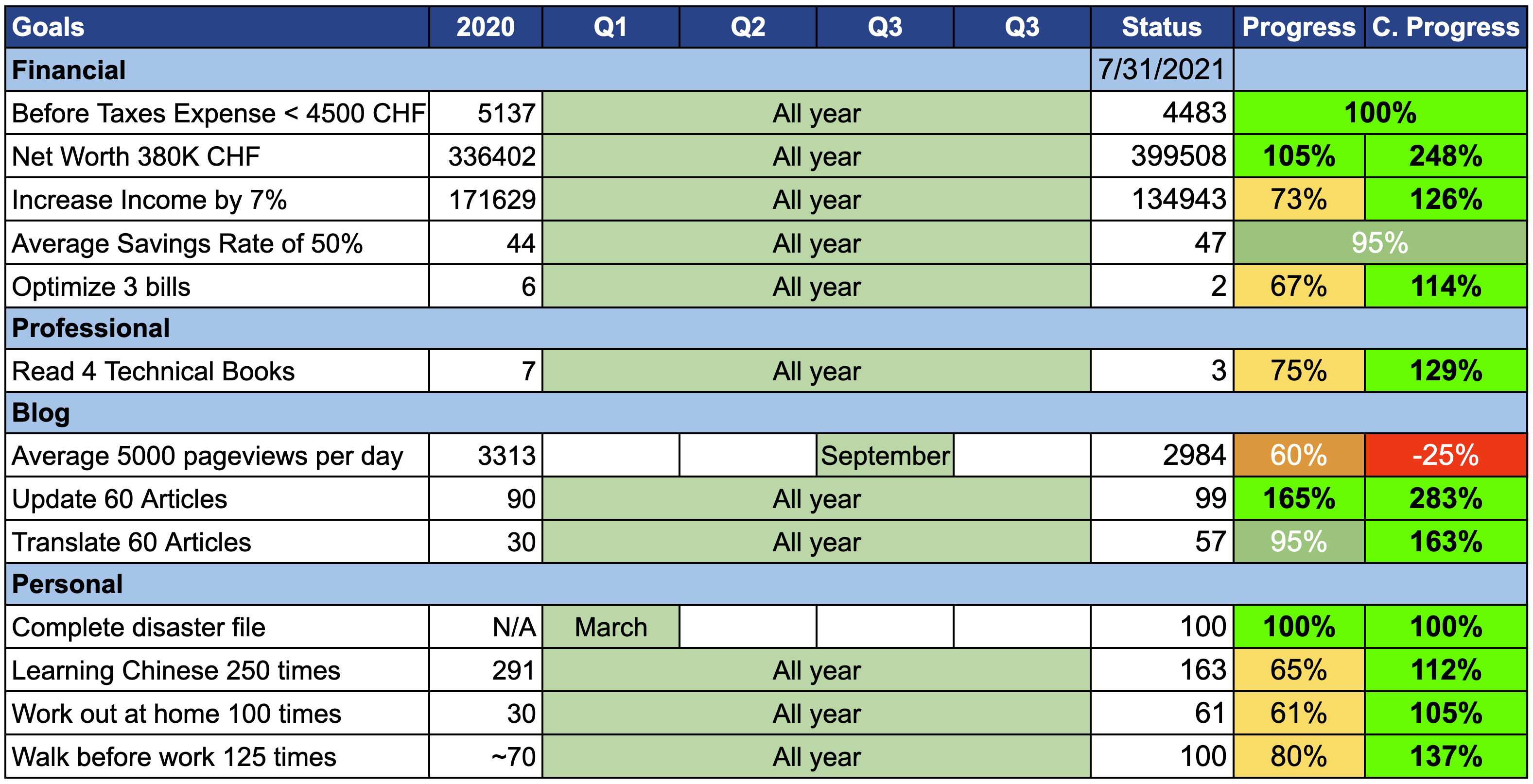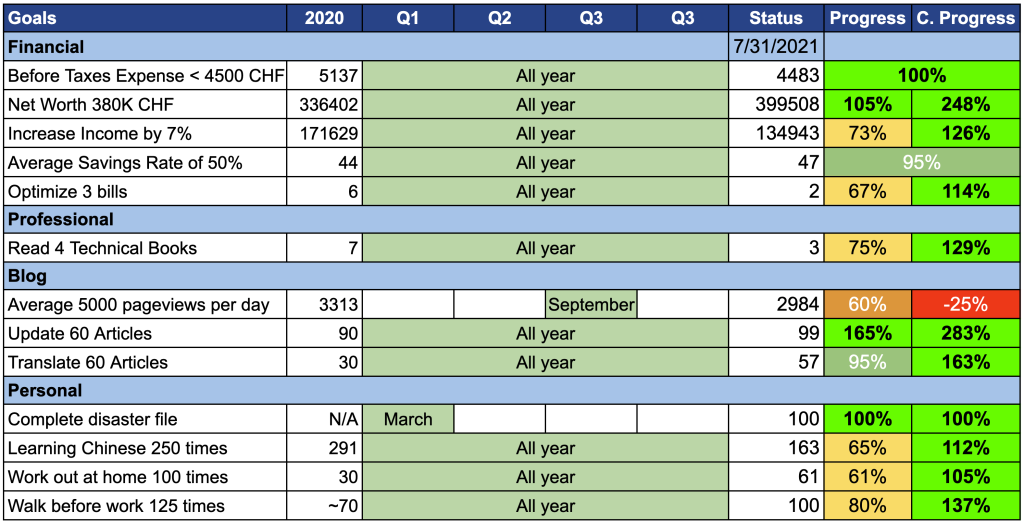 Except for one goal, our goals are doing good this month. With our good expenses this month, we are very close to (slightly below) our goal of 4500 CHF monthly expenses. On the other hand, the 0% savings rate adds some pressure on our savings rate goal. If we get a few more good months for savings rates, we should be fine with reaching a 50% average by the end of the year.
Even though they are globally doing well, I could not walk and work out so much this month. For walks, this can be explained by the horrible weather. And for working out, I usually work out during pauses during workdays. And this month has been quite intense at work, with some days without pauses, so no workout.
Next month, I will optimize one bill worth about 45 CHF per month to be done with the optimization goal. Of course, I am always looking for more optimizations, but there is really not much we can cut at this stage. The only expense category really weighing on our budget is taxes. And there does not seem to be much we could be doing to lower our taxes.
I do not want to talk about the page views goal. I will talk about it in the blog section.
So, overall, our goals are doing well. I am not sure we will reach our expenses goal and our savings rate goal, but we still have a few months to work on that. And we are at a pretty good level right now.
Net Worth
Let's look at the state of our net worth:


At the end of the month, our net worth was at 408K. This is about 3% lower than last month but still 21% higher than the beginning of the year.
As expected, our net worth went down significantly. This makes sense with this level of expense. As for our investments, the stock market stayed pretty much flat this month, so no big changes there. Since we were expecting that event, we are still happy about the state of our net worth. We are still higher than I was expecting!
Except for the huge tax bills we had to pay, nothing much happened on the side of our finances.
Very early next month, my ESPP shares will vest. This may make a nice difference to our net worth unless the market tanks. Aside from this, nothing particular should happen to our net worth next month.
The Blog
As usual, the blog lost a ton of traffic again. This month, the blog lost more than 15% of traffic. This is one of the worst months of the year. At this point, I have entirely given up trying to understand what is wrong with what I am doing for the blog. I am not 10% lower than last year. I have to admit that I am bad at this.
Seeing that, I do not feel like writing so much on the blog. Consequently, starting this month, I will change my schedule on the blog. I will only publish one article per week, on Tuesday, instead of two articles per week. Since writing two articles a week takes a lot of time and has no result, I reduce the schedule to once a week.
I have no doubt that this will lower the traffic even further, but I have no solution to increase the traffic even with hard work. So I'd rather take it down and stop trying.
I continued to translate and update articles, but I am probably wasting my time at this stage. With more articles translated, I actually get less traffic on the French part of the blog.
Next month, I will stop translating articles. I will also stop updating articles unless there is something really wrong with them.
Next month – August 2021
Overall, July 2021 was a good month for us, a bad month for our finances, and a terrible month for the blog.
In August 2021, we have a few family and friend events. We are just hoping the weather will be good for these. Aside from this, there will be one major event, but I will share this in the next monthly update.
What about you? How was July 2021 for you?