(Disclosure: Some of the links below may be affiliate links)
May 2022 was a good month. We had a nice time in the lovely weather. The first half of the month almost felt like summer. I even started wishing for colder temperatures (which I got in the second half of the month).
Financially, it was a good month for our savings rate. However, it was a bad month for our net worth because of the wild stock market. Even though we saved a considerable amount of money, our net worth decreased compared to last month.
May 2022
Overall, May 2022 was a good month, a little more active than the previous ones. We had several dinners and lunches with families and friends. And we also did a few things, the three of us.
It is great to see our son growing and learning things. He is a little different every day. I wish he would learn to sleep.
My energy is now at an all-time low. Even though we had a few better nights (followed, as usual, by horrible ones), I cannot seem to recuperate. I do not have much time to rest with work and the baby.
As for our finances, our income was back into regular territory this month. Our expenses are still relatively low since we only paid one level of taxes this month. We reached a 64% savings rate which is an excellent result.
Expenses
Let's see the details of our expenses in May 2022:
| Category | Total | Status | Details |
| --- | --- | --- | --- |
| Insurances | 878 | Average | Health insurance |
| Transportation | 293 | Above average | Twice gas and minor maintenance |
| Communications | 65 | Average | Only internet bill |
| Blog | 75 | Average | The usual services I am using |
| Personal | 2030 | Above average | A few health bills and many small bills piling up |
| Food | 600 | Above average | Extra groceries, special expenses, and eating out |
| Housing | 550 | Average | Mortgage interest and heating |
| Taxes | 1918 | Below average | Only canton taxes |
In total, we spent 6424 CHF this month. Without the taxes and the blog expenses, we are at 4431 CHF. This result is slightly below our goal of 4500 CHF per month.
Even though we met our goal, I still feel we could have spent less this month. Many small things piled up together during the month.
We had a few extra expenses compared to usual. I pay about 450 CHF for the MRI of my knee. This makes a significant bump in our expenses. I also ordered some fine beer for almost 200 CHF. And I had to pay 130 CHF for the border for the order of my Fully desk. Finally, we also bought new lamps for our son's room, for about 100 CHF.
On top of that, there were a few gifts for mother's day and a birthday. And many smaller expenses on top of that. Our food budget is too high because we ate out three times this month. It is still not too bad, but that is quite unusual for us.
Aside from these expenses, the month was pretty normal. We paid some taxes this month, only the taxes from the canton. Next month we will start paying county taxes again (and federal taxes likely too).
2022 Goals
Let's take a look at our goals by the end of May 2022: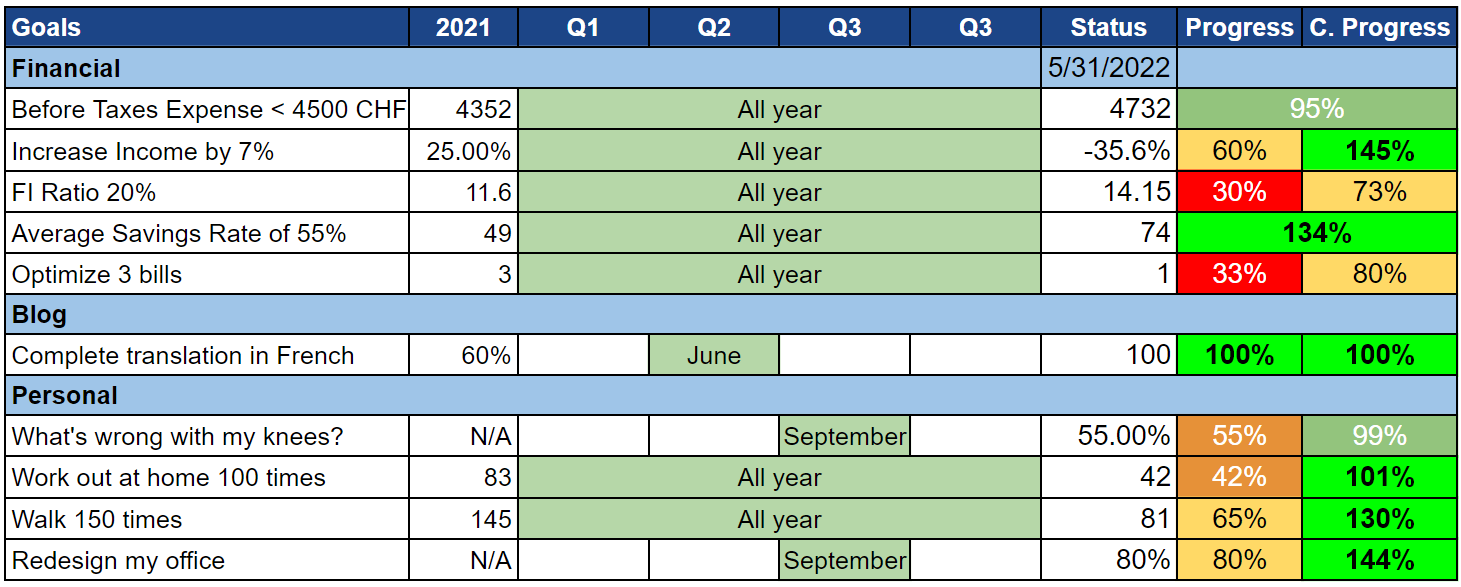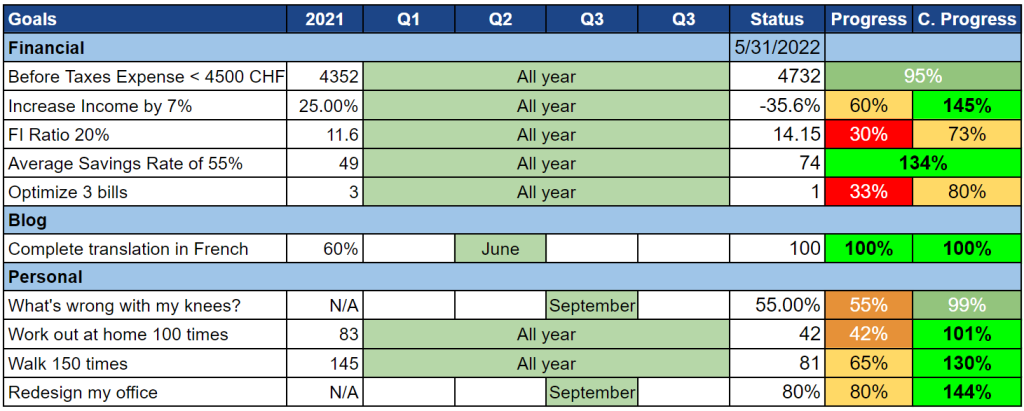 Overall, our goals are doing well, but several did not see much progress during this month.
Our financial goals are doing well. Our average savings rate is pretty nice this year, and so is our income. I have not optimized any bill this month, but this should come next month, hopefully.
I have done a record number of walks this month. On the other hand, I did fewer workouts. I started the month well with several in a row but then had more issues than usual with my knees and gave up on them for two weeks. Talking about my knee, no progress until my appointment in June.
I also made zero progress towards my office. I still have to prepare the boards for the shelf and then install it. I also have quite a few things to set up in the office. But my time and energy level (and motivation) were not high enough to work on this.
Overall, I am relatively satisfied with the status of our goals. On the other hand, I would be able to do so much more if I could only sleep better.
FI Ratio
Let's take a look at our progress toward Financial Independence:


Our progress has not been great this month. Our net worth barely moved, despite good savings. Without our savings, our net worth would actually have plunged.
Indeed, the stock market has been mostly going down. The end of the month was better, recovering some of the losses. But we are still down on most of our positions.
With this, our FI ratio is almost where it started the month. I do not think this is a huge deal since we managed to invest at better prices than in the previous months. So, even though our investment portfolio value is going down, the number of shares we own is increasing. This is what matters.
If you have a long-term investing horizon, you should not worry about such moves. And you should not try to buy the dip. Just keep buying shares.
The Blog
Overall, not much happened on the blog during May 2022. The traffic is still more or less stable.
One thing to mention is that I was interviewed by the Bilan newspaper when they ran a piece on early retirement. It was good to have some extra exposure on the blog, but it has made no significant difference so far.
Other than that, I came very close to not having enough articles for this month and ended up republishing an article for the last article of the month. I would rather avoid this, but I believe this is better than having nothing. At this point, I am not sure I will be able to have enough articles next month.
Next month – June 2022
We have several things planned for next month, basically one thing every weekend. But nothing extraordinary. Financially, it should be an average month. We will be back to paying all taxes again. And we will probably get an extra tax bill because we have not paid enough last year.
What about you? How was May 2022 for you? What do you have planned for June 2022?