July 2020 – We are buying a house!
|
Updated:
|
(Disclosure: Some of the links below may be affiliate links)
We have now crossed into the second part of 2020. July 2020 went fast very quickly on our side. Life in Switzerland is starting to get back to normal for most things.
The most significant event that happened to us this month is that we signed the contract for buying a house! We finally found a house that we liked, and we were able to get it! We are delighted with that.
On top of that, we managed to save a large portion of our expenses during the month. So, it was a great month overall!
So, in this article, I am going to go over all that that happened during July 2020!
July 2020
Overall, July 2020 was not a very eventful month. We started again seeing friends and family now that most restrictions have been removed. Switzerland began to see a rise in COVID cases again. But this was to be expected given the lower restrictions. It seems that everything is well controlled for now. We will see how it goes. The problem is that some people taking this virus way too lighthly. And on the other hand, some people are way too panicked about it. There is a definite lack of balance about this event.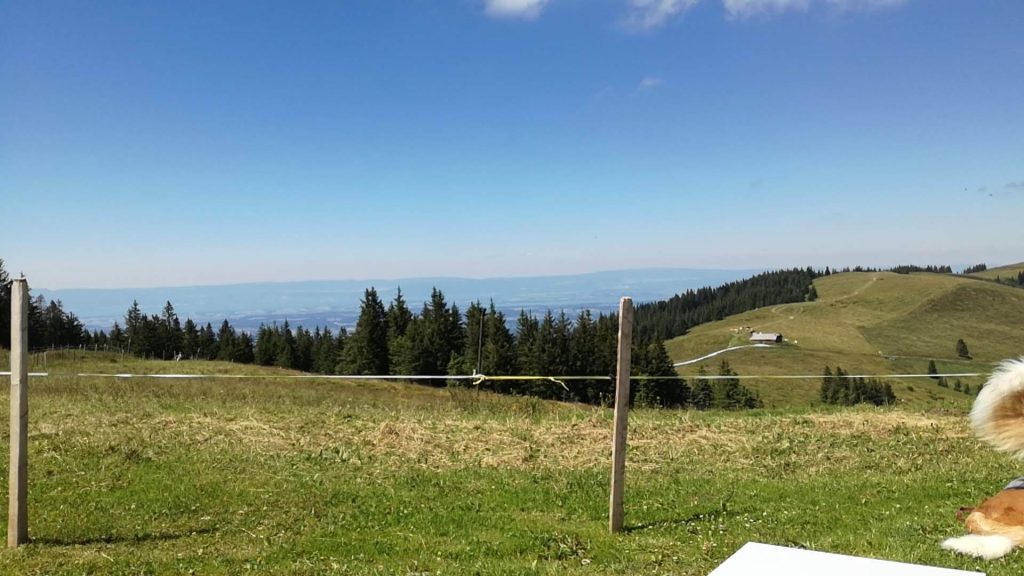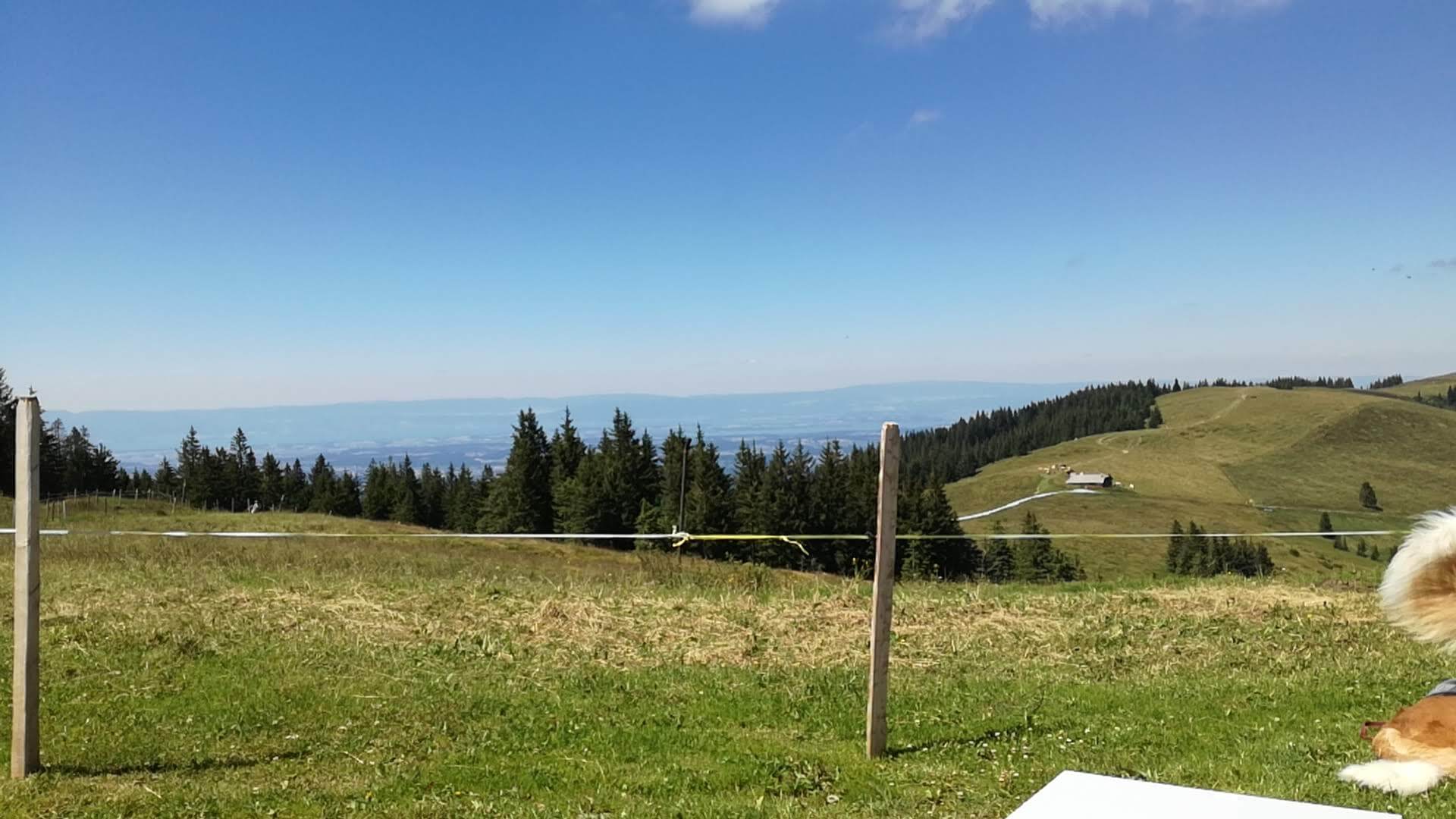 As for me, I am still working at home. And I will continue working at home at least until the end of the year. I am pleased about that. I wish that we get more opportunities for Working From Home in 2021, but without being forced by a virus, of course. I have written an article about how I am working from home and what I learned.
From a financial point of view, it was a good month. We only had a few unplanned expenses. And we managed to save a large portion of our income. In the end, we saved 57% of our income this month. This savings rate is excellent after the last two months that had very low savings rates because of taxes.
We are buying a house!
The most significant fact about this month is obviously regarding buying our own house.
It took us longer to find that house that we were expecting. And we had to change our expectations. In the beginning, we wanted an individual house. But our income did not permit us in our region. So we switched our focus to twin houses. It is also an excellent way to save money.
And almost two months ago, we visited a lovely house. We decided to make an offer for this house. And after a very long time waiting (more than a month), our offer was accepted, and we went to sign the reservation contract. A few weeks later, we signed the notary contract!
We still have a few months to wait until we can go into our months. But we are very happy about this. I have to admit that I am relieved that we found an excellent property in the end. I was seriously considering stopping our search and merely finding a bigger apartment.
Expenses
Let's see the details of our expenses in July 2020:
Insurances: 795 CHF: Only our health insurance.
Transportation: 60  CHF: Below average. Only the parking this month! No gas!
Communications: 90 CHF. Average. Internet, mobile, and an online server.
Personal: 742 CHF: Above average. New computer accessories, a gift for a family member, and some small shopping.
Food: 469 CHF. Well above average.  Two dinners out and an extra shopping at Aligro.
Apartment: 1247 CHF. Average. Just our rent.
Taxes: 2196 CHF. New average. The taxes for the state, county, and country.
In total, we spent 5601 CHF this month. Before taxes, we spent 3404 CHF.  It is probably the level of expenses we should expect going forward. It is a good average, I believe.
With these expenses, this gives us a 57% savings rate for the month.  Our goal is to keep the average at 50% for this year. Currently, our 12-month average is 48%. So, we are in a good position.
Several of our expenses are higher than usual. For instance, we had several meals out of the house. We also did a big shopping Aligro and had friends over. I also spent some money to refresh my keyboard and mouse. And also, I improved my work from home quality so that I can use the same keyboard and mouse with both computers. We also had a 30 years birthday in the family and made a nice gift.
But overall, these expenses are still more than reasonable. We are still keeping our expenses below 4000 CHF per month without taxes. So, we can be happy about that. Once we start to get some fees for the house, it is likely to change.
2020 Goals
Let's take a look at how our goals are doing at the end of July 2020: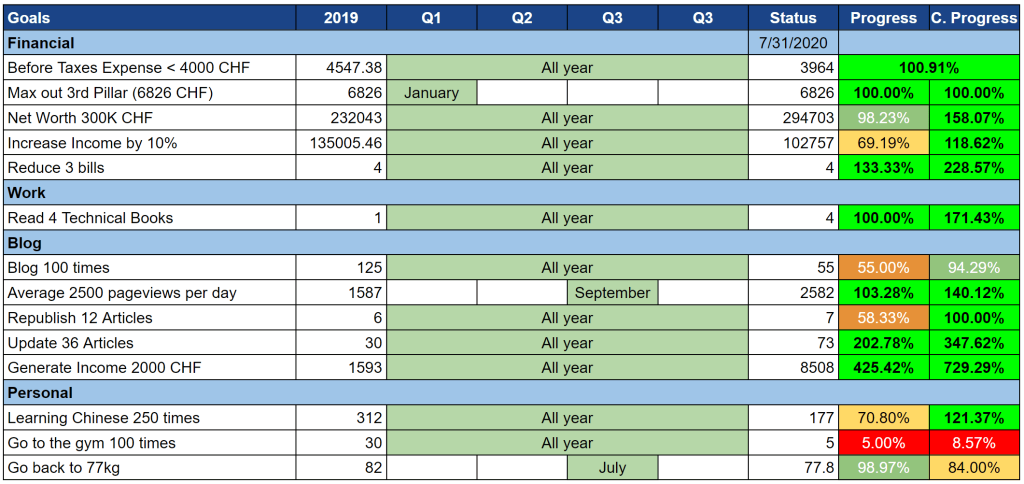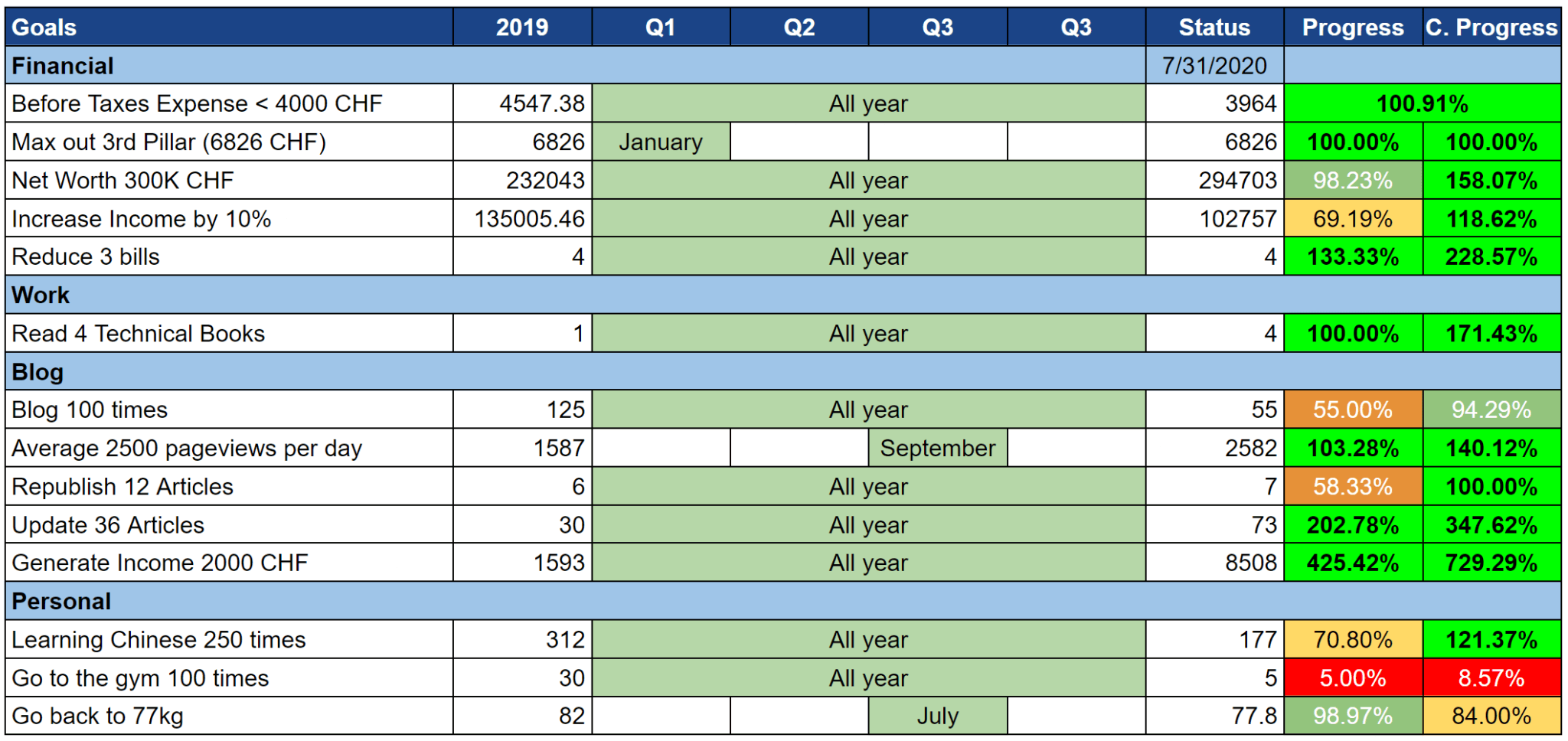 Overall, our goals are still going great. We should be able to reach all our goals for this year, except for the gym goals. But even if you do not meet this particular goal, I am still quite happy about them.
Our average expenses before taxes are finally below 4000 CHF for the year. I am pleased about that. I am not sure we can keep this level since we have a vacation next month and probably some more substantial expenses until the end of the year. However, we are going to try.
Unfortunately, I failed my goal of going down to 77kg by the end of July. I am now at 77.8kg. Given the fact that I did not go back to the gym, I am not too worried about this goal. I am having at not having taken more weight during isolation. Once we have a new house, I will try to work out at home.
From a blog point of view, the goals are going well. I overestimated my publishing schedule, and I do not think that I will publish 100 blog posts this year. But I still like my routine of posting twice a week. So I will keep at it.
Net Worth
Let's see how net worth evolved during July 2020: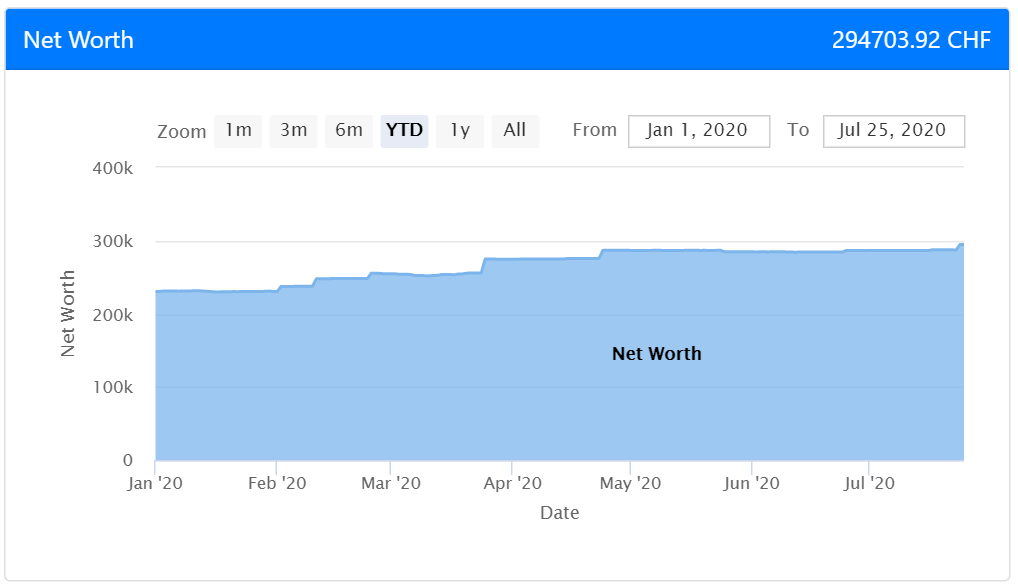 If you are wondering why there is no significant change in our net worth regarding the house, it is simply too early for that. We just signed the notary contract at the end of the month. The only thing that changed in our money is that we pay the advance payment. But this money is still ours, so it is like a transfer.
From our net worth point of view, it was a typical month. We were able to save a large portion of our income once again. We will start to see some fees for the new house. But since we are only moving into the new house by the end of the year, we still have some margin.
We are hopeful that we will cross the 300'000 CHF threshold in the next month. We will see how that goes. But that would be good to reach this before the house costs are finalized.
Once we know exactly how much we are going to need and when we are going to plan to invest the leftover cash. At this point, we know we have too much cash. It probably will not be the best time to start investing again. But we will see how it goes.
The Blog
The blog did relatively well this month. The traffic stayed more or less the same as the previous month. It is ok since last month traffic was outstanding.
I did not do anything particular on the blog this month. I  have updated many posts this month. And I plan to continue on that work for a few months. I should be done before the end of the year.
I am starting to think that the next logical thing for the blog will be to start translating a few articles in French. In the beginning, I do not plan to translate them all. I will probably start with the most popular articles and see how the articles in French are doing. But I will probably not begin working on this before 2021.
As usual, here are the top three most popular articles for July 2020:
What about you? What was your favorite post on the blog this month?
Next Month – August 2020
In August 2020, we have a small vacation planned in Davos. We have not had a holiday for a long time. So this is going to be enjoyable. I feel I really could use the time off. These vacations will also be a way to celebrate our new house.
The main event for August will be to plan our move to the new house. There are still a lot of things that remain to be done. But I am not worried about that. I like organizing this kind of thing. And these last months, I have improved my organization skills.
From a financial point of view, it should still be a good month. I will receive my ESPP shares, which will make a nice improvement to our net worth.  Later on, we will have to pay fees for the house. But we are hopeful that next month should be good financially even with the vacations.
On top of that, we do not expect many things to happen in August 2020. But maybe we will be wrong.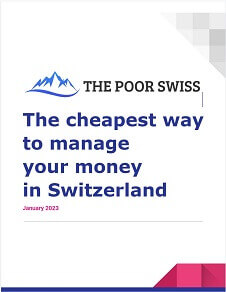 The best financial services for your money!
Download this e-book and optimize your finances and save money by using the best financial services available in Switzerland!
Download The FREE e-book