Our trip to Barcelona – Amazing city
|
Updated:
|
(Disclosure: Some of the links below may be affiliate links)
In October, we went to Barcelona for six days. We had decided to take a vacation during this time for a while. It took us a while to decide on Barcelona.
It turned out that Barcelona was a great choice! It is a beautiful city. We were lucky to have nice weather during our stay!
We enjoyed a lot of sightseeing during our stay. There are some beautiful things to see in this city! There are also some great plazas and magnificent buildings.
In this article, I share everything we have done in Barcelona with pictures. And of course, I am going to share the costs of the trip. It was not as cheap as we would have liked. But not so bad either!
Barcelona, Spain
It was the second time I went to Barcelona. However, last time, I only had one day for sightseeing since I was there for a conference. And this was the first time in Spain for Mrs. The Poor Swiss. This time we had six days there. And we tried to take full advantage of it.
We went to the Geneva airport by car and took a direct plane to Barcelona. It is our usual transportation plan for traveling. From there, we directly went to the city using the Metro line. The metro is quite good in Barcelona. The only issue is the scorching heat in the metro stations. It can be really bad at some stations. And some older metro stations are really in need of a refresh.
Since we had to wait until 4 pm until we could get the apartment, we started walking around the city. We had lunch around the Placa Barcelona and walked around the Placa Espanya. Then, we went to our hotel. We also did some shopping during this first day. And finally, we found a nice restaurant for the first night.
Sagrada Familia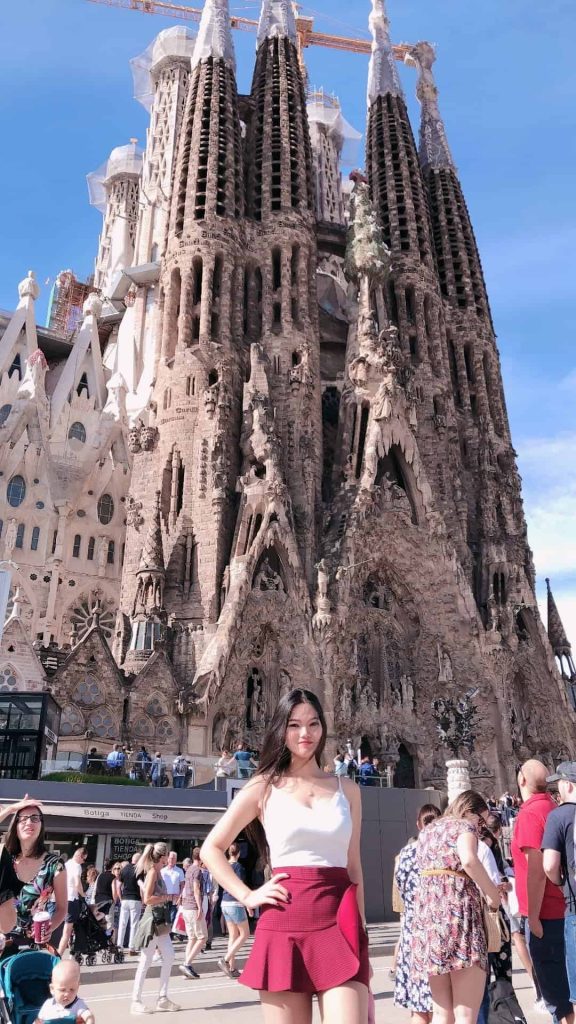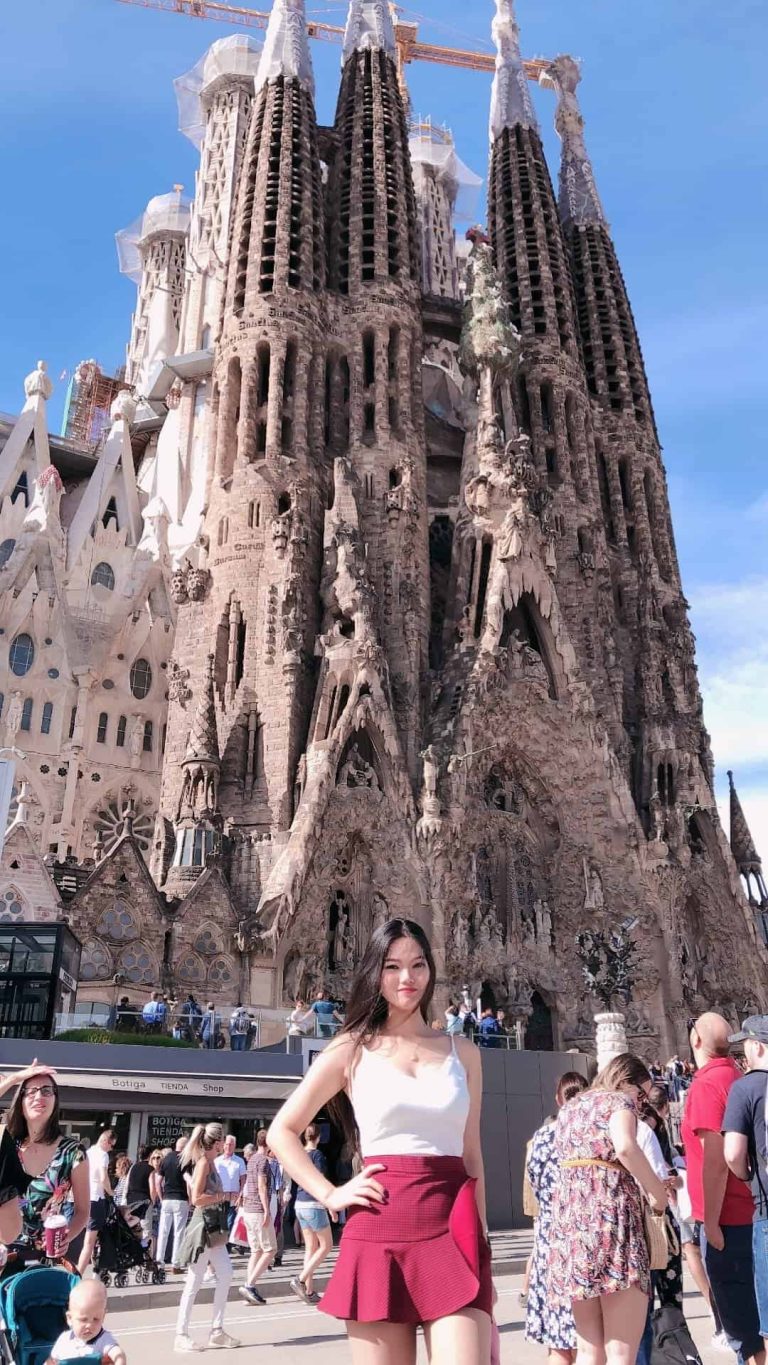 The Sagrada Familia is probably the most emblematic monument of Barcelona. Even though I am not a fan of Gaudi's architecture style, I was impressed by this building.
The Basilica of the Sagrada Familia is an unfinished church. Construction started in 1882, almost 150 years ago! Several times during that time, they had to stop construction. And the original plans were even destroyed during the civil war. It should be finished in 2026.
Antoni Gaudi almost entirely designed it. The construction relies solely on private donations and on the sales of tickets.
It is funny to note that they only got a building permit in 2019. The entire construction before that was done without a building permit!
People should take a look at the Sagrada Familia if they are in Barcelona. You should expect a lot of people there. It is worth it to walk around the basilica to see it from all angles.
You can also go inside. But you have to reserve tickets in advance on the internet. We did not know that, and it was already full for all days of our trip. Moreover, it is costly. It is 32 EUR per person to visit the basilica and the towers.
We do not think we missed out on this. I believe this is too much to visit a church that is not even finished. We looked at pictures from the inside, and it was not worth that much money. It looks good, but it still another church. But the view from the towers looks quite impressive though.
La Rambla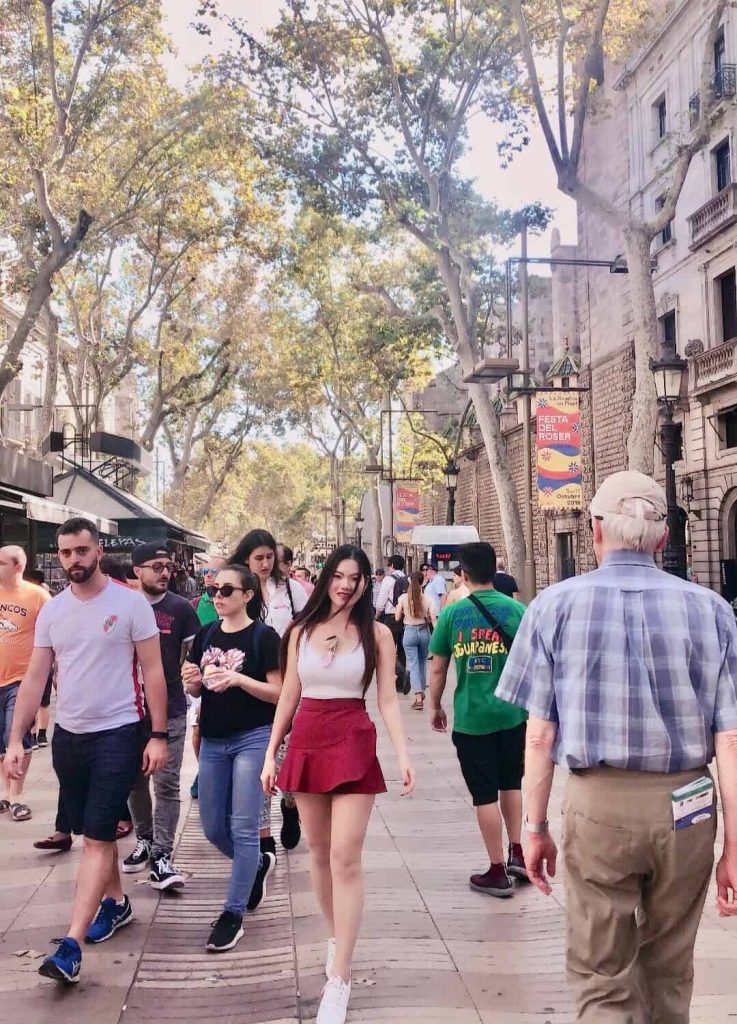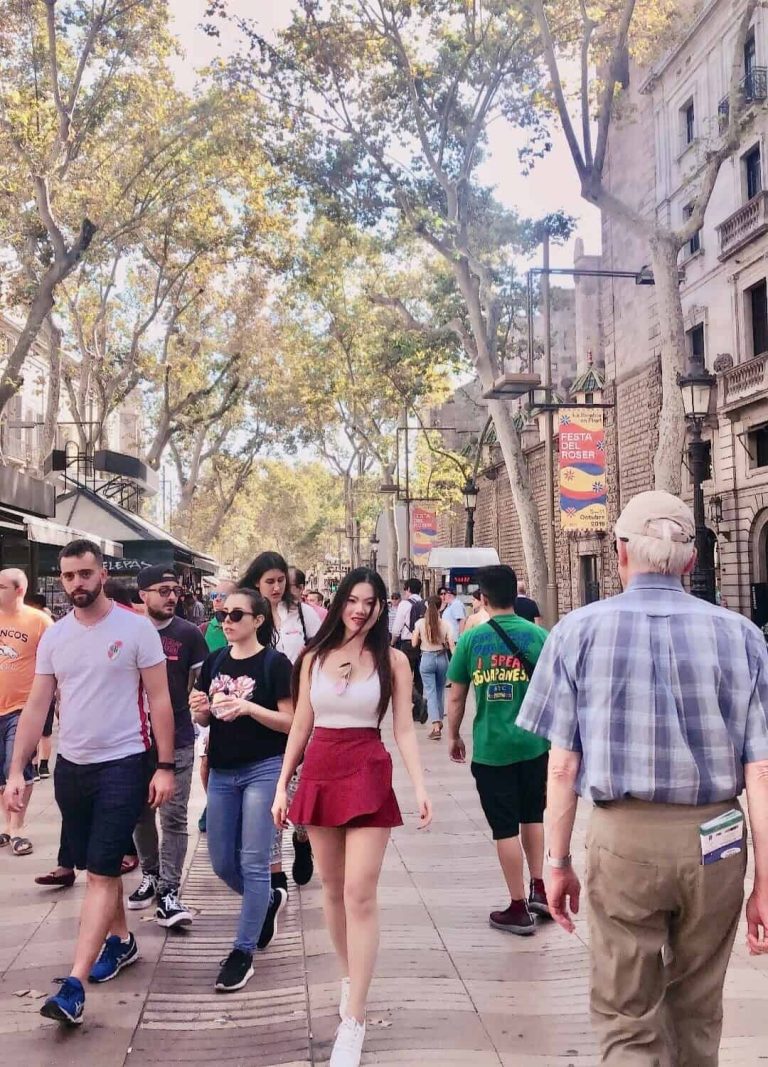 Another very emblematic thing to do in Barcelona is to walk on La Rambla. This is a very long street with almost only people. The street has many trees.
You can expect a lot of tourists on this street. There are many shops alongside the street, but I do not think this is very interesting. The street itself is attractive with its many small sellers and street entertainers.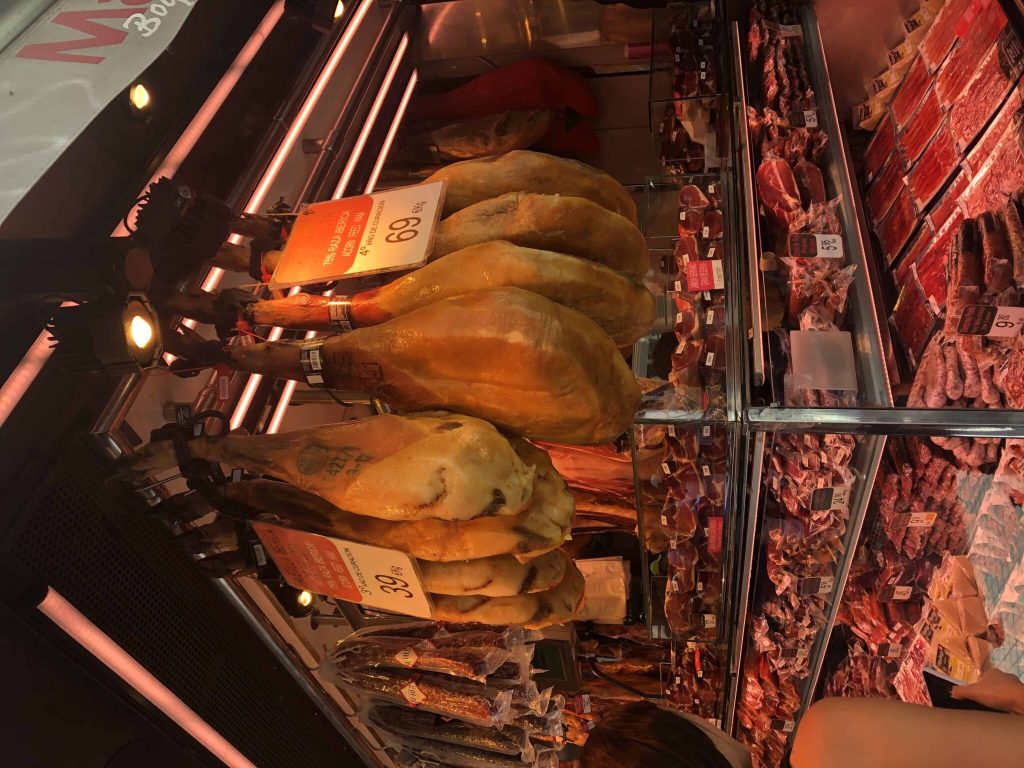 Around the middle of the street, you can also visit a big food market. It is called La Boqueria. It is quite nice because they have a lot of local food. But it is incredibly touristic and quite expensive. I would not expect any locals to shop there. But it is still very nice to see. It is worth it to try some Iberian ham (Jamón ibérico)!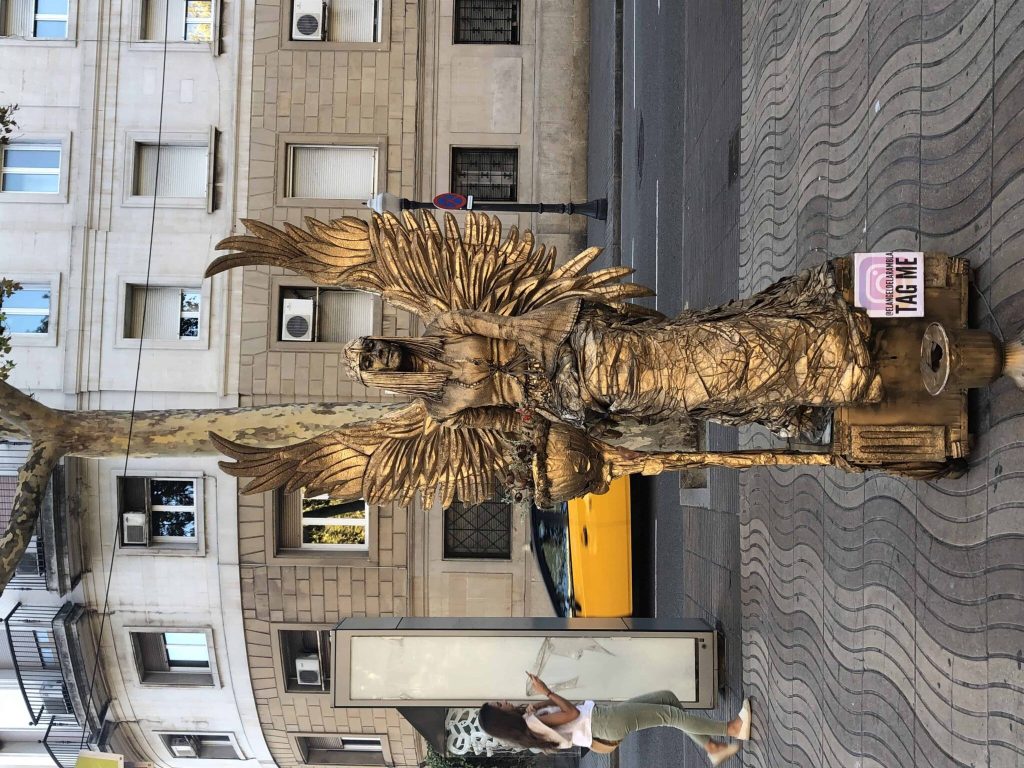 Finally, after you have walked through La Rambla, you will arrive at the sea. You can enjoy some beautiful views from there.
Overall, it is a lovely walk down the street and to the Sea. You should avoid going there on a Saturday. Even on a weekday, it will be packed.
Oktoberfest in Barcelona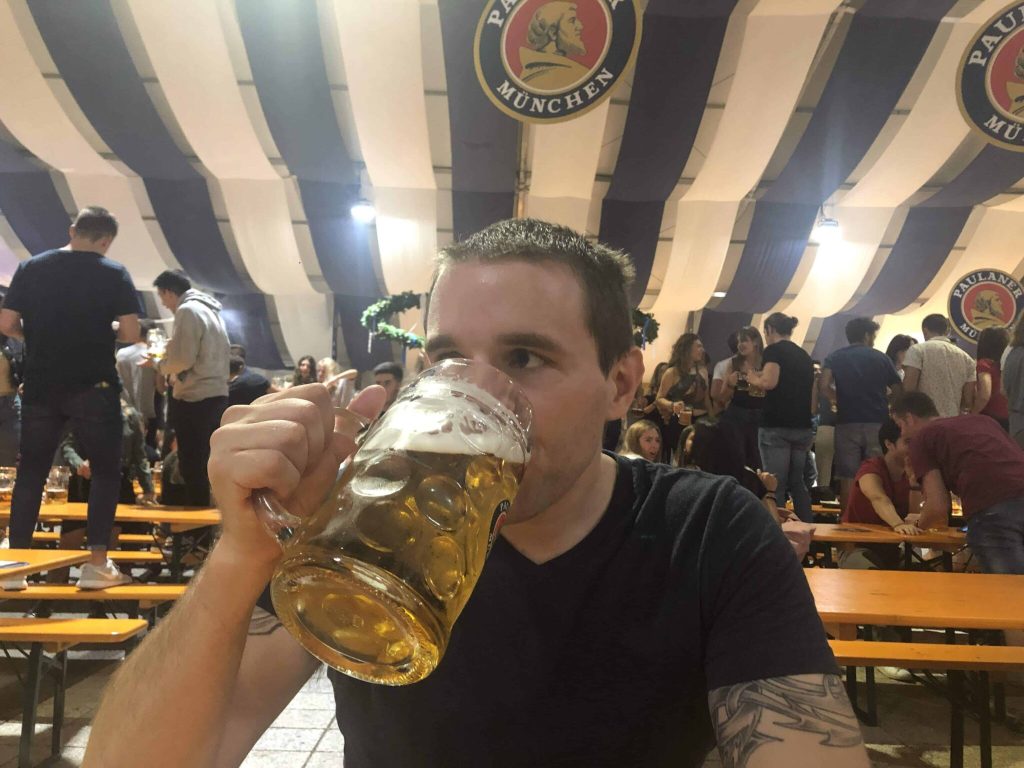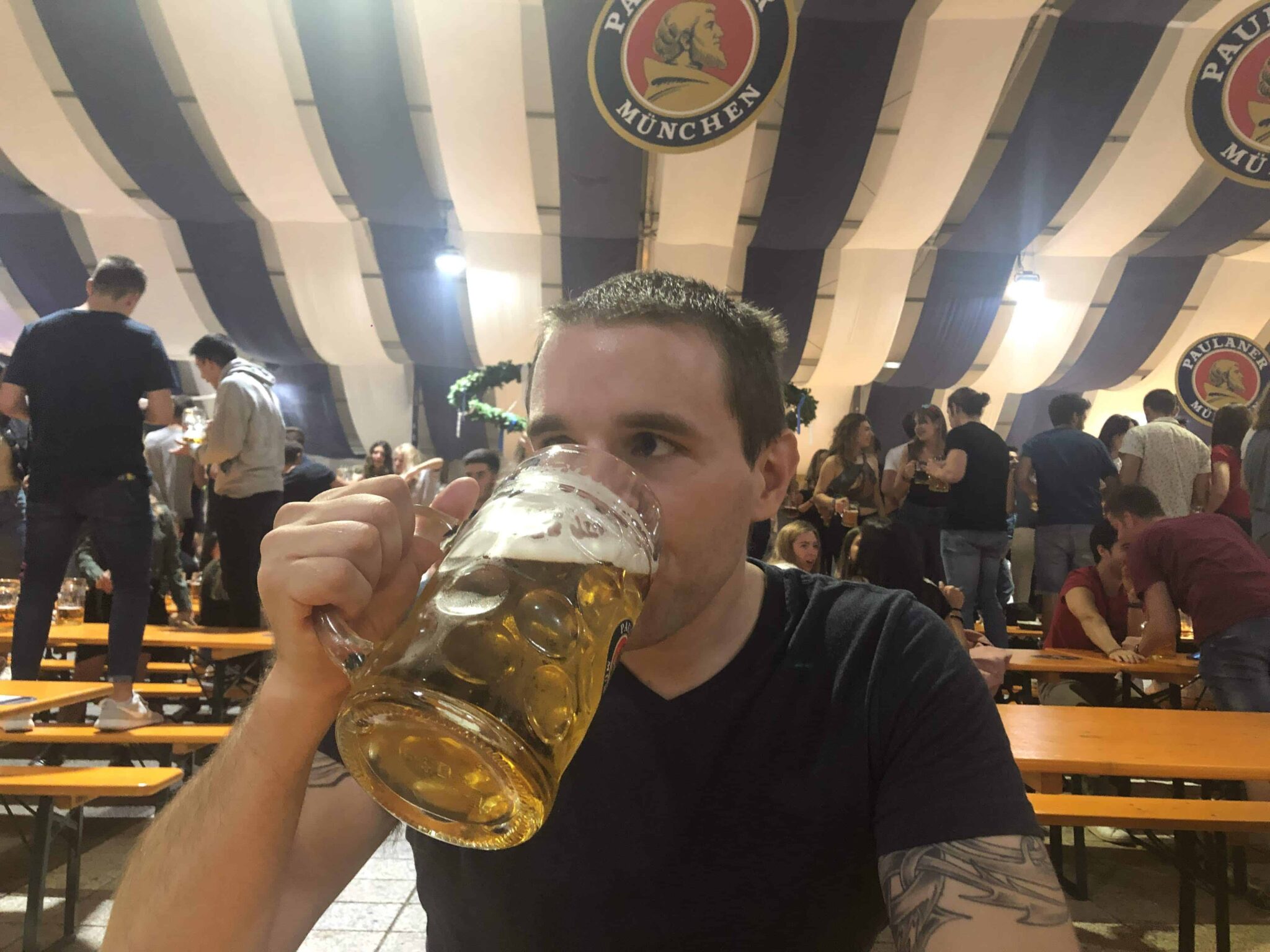 On our first day, we found out that there was going to be an Oktoberfest in Barcelona. It happened in the Fira Barcelona, close to Placa Espanya. It is cool because we had no idea it was going to happen. It was pure luck. And I never was into an Oktoberfest. So, even if it is not Germany, it was cool!
We went there one day later to enjoy the party. Since Mrs. The Poor Swiss does not drink much beer, we did not stay very long. But it was terrific to go to one of them. And it was a good occasion to drink beer!
There was a lot of fun at the party, even on a Thursday. This makes me want to go to an Oktoberfest in Germany now.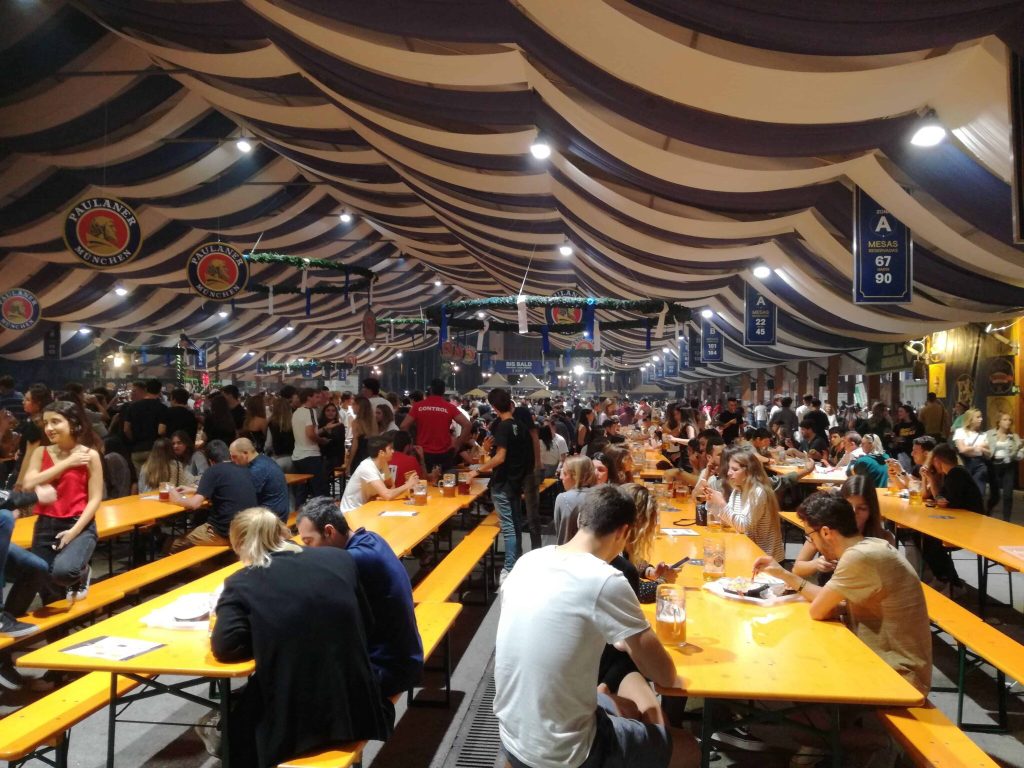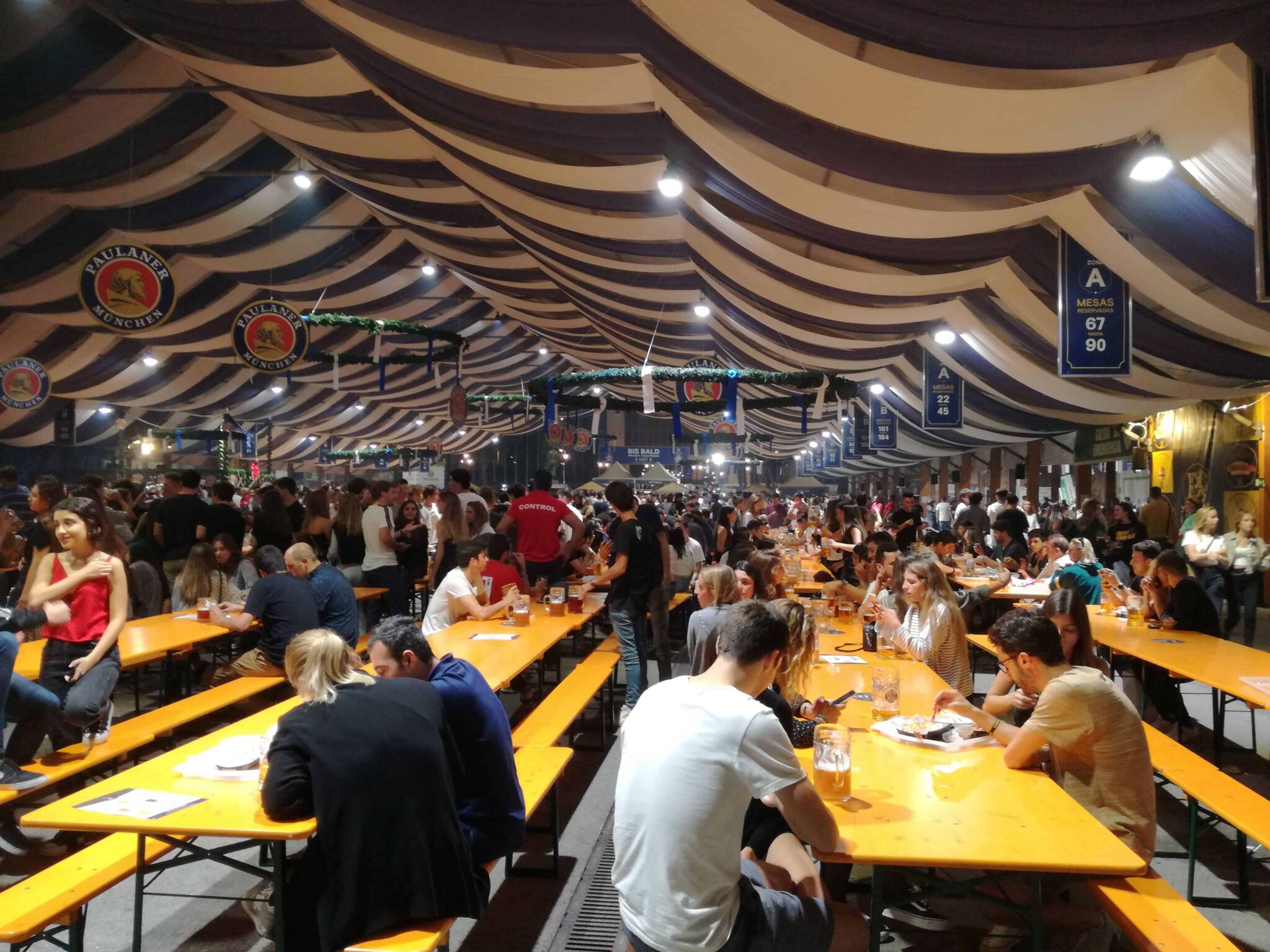 Save money on Sundays
During our trip, we almost did not purchase any tickets for tourist attractions.
First of all, we skipped several of them because they were way too expensive. We did not feel going to each attraction was necessary. For instance, the Casa Mila villa is nice from the outside. But looking at the pictures of the inside, it does not feel worth more than 20 EUR per person.
On the same idea, I already talked about the Sagrada Familia. It is too expensive.
Overall, I feel like most of the prices for visits are too expensive in Barcelona. We would have done more visits if the prices were fairer.
But we found out some nice trick: several attractions are free on Sundays from 3 pm. And they are also free each first Sunday of the month. Once again, we were lucky. We were there on the first Sunday of October!
We went for free in two attractions with this:
The museum of art of Catalunya
The Montjuic castle
The Montjuic Castle was really interesting. The only sad thing is that you cannot visit many things in the castle itself. But from the castle, you can enjoy a lovely view of the city and the sea. And the castle itself is pretty impressive as well.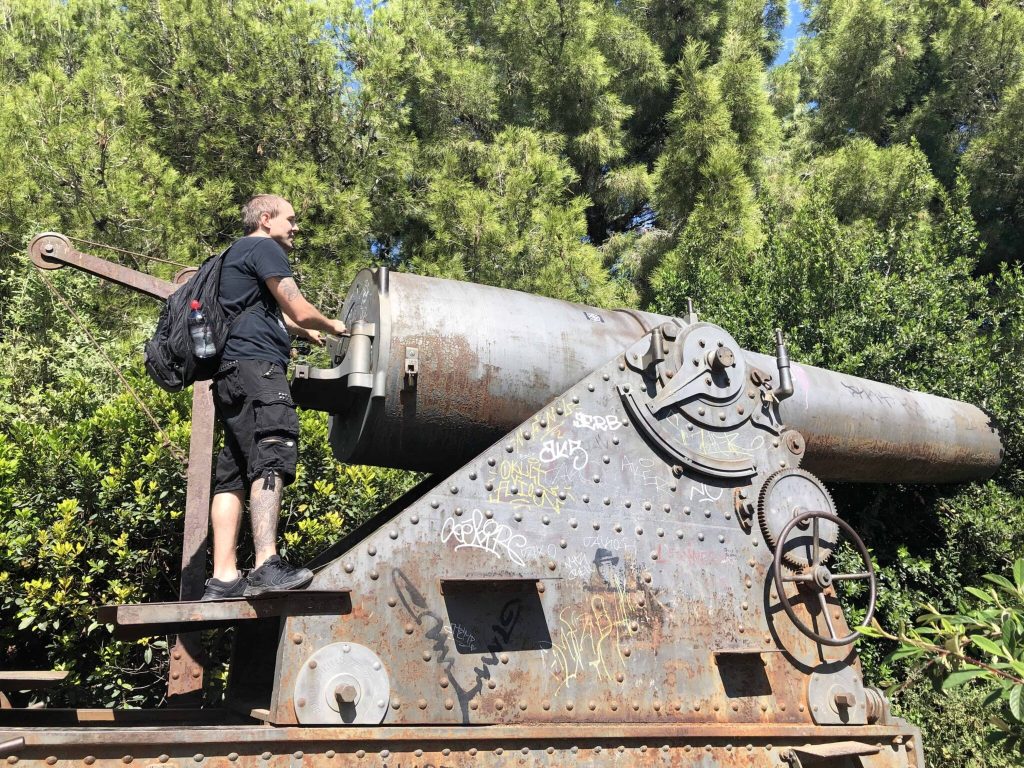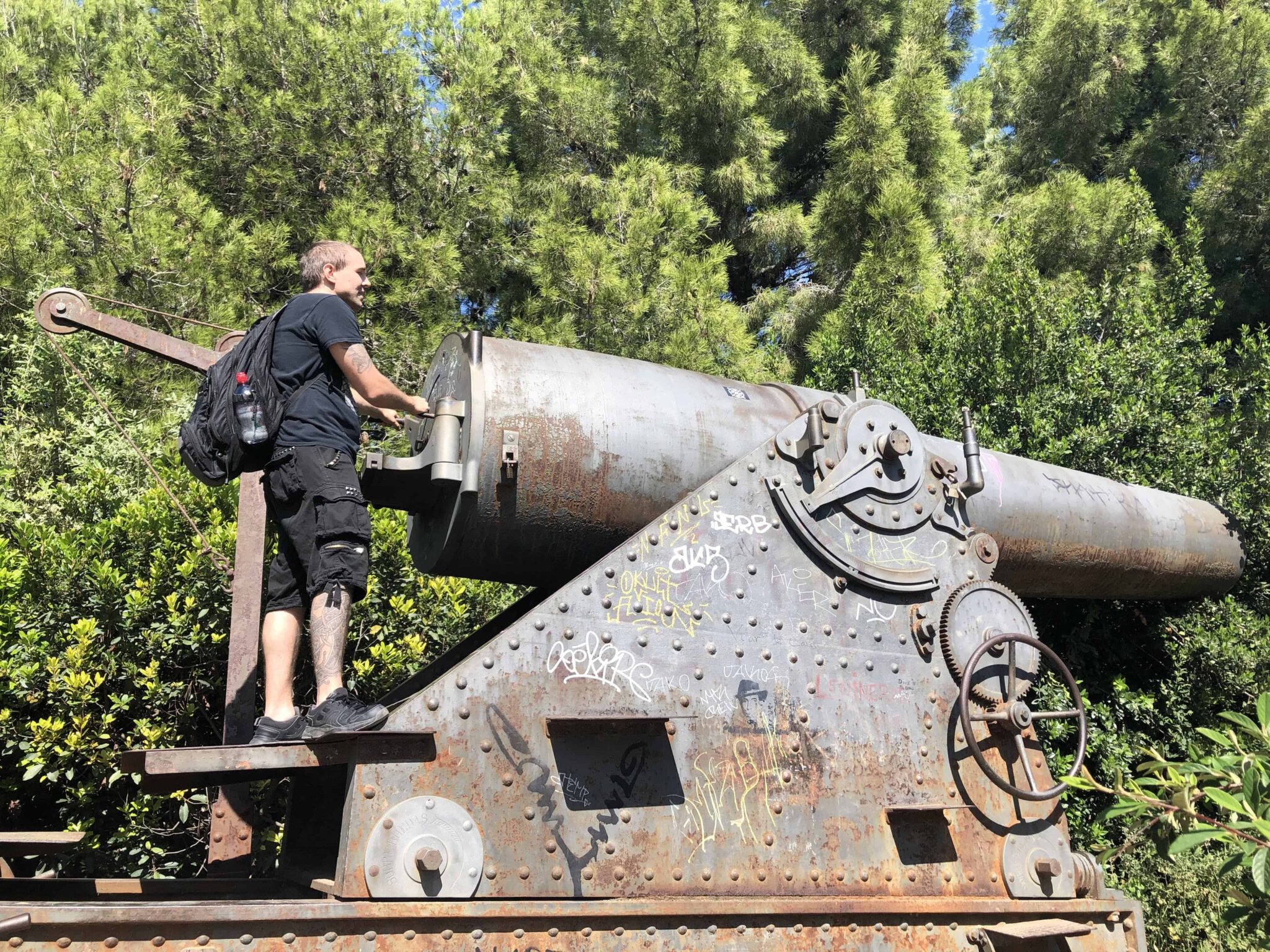 On the other hand, we did not enjoy a lot the museum of the art of Catalunya. It is a bit boring. There are too many religious art pieces and paintings. And there is a lot of modern art. And neither of us enjoys contemporary art that much.
Some late view of the city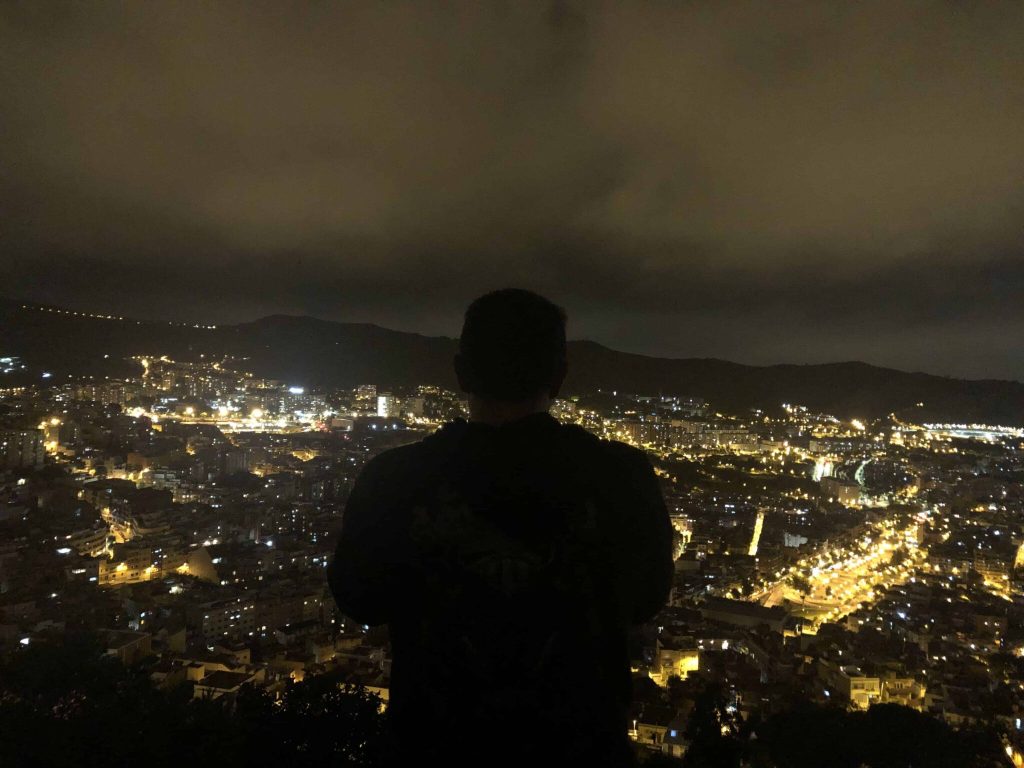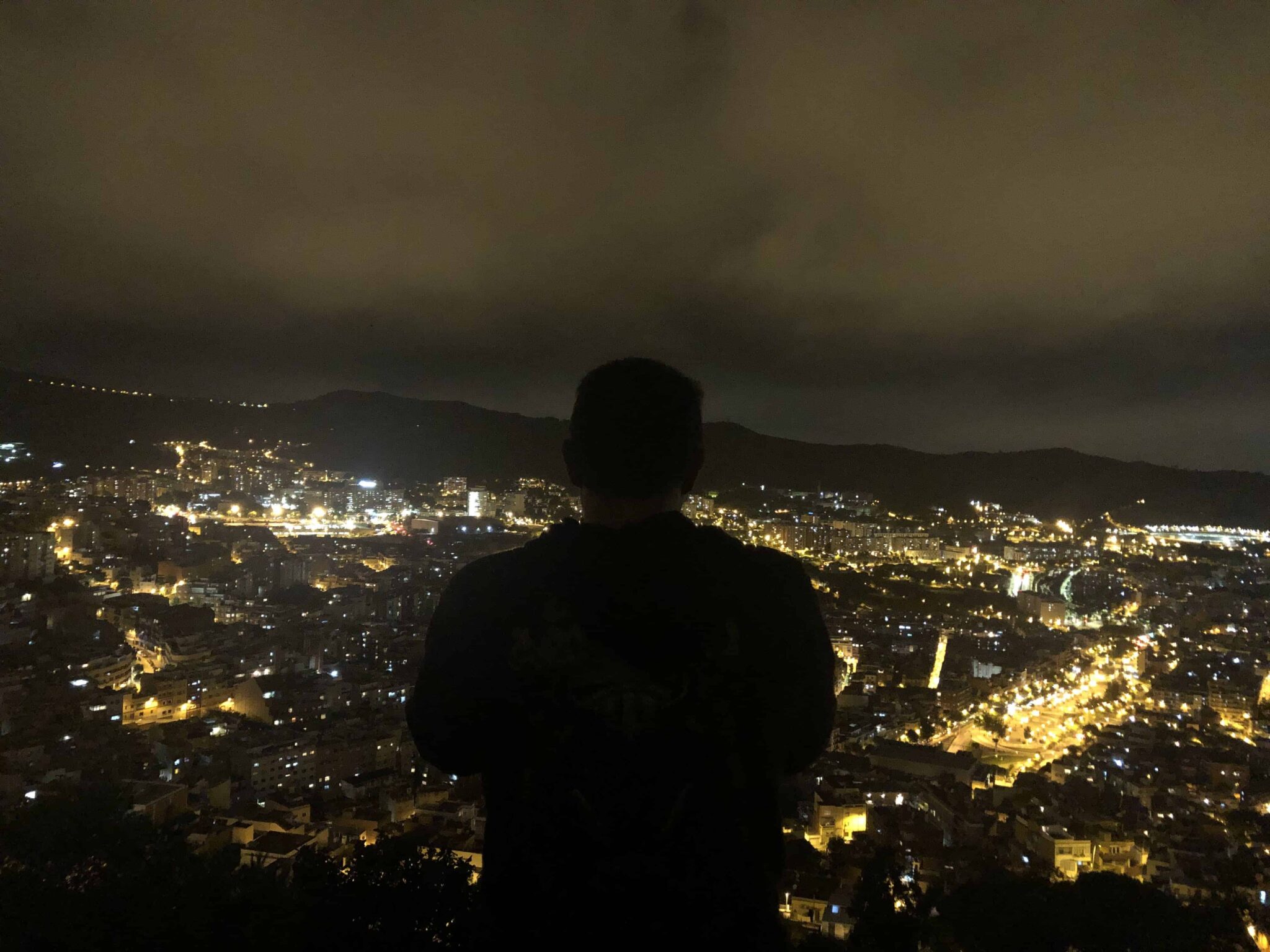 The last night of our stay, Mrs. The Poor Swiss discovered that there was a beautiful spot on a hill with a 360° view of the city. It is a great spot to view the city at night.
So we decided to go there and see what the fuss was about. The spot is called Tura de la Rovira. It is not very easy to find since it is not indicated once you arrive there. We followed the GPS instructions, and we managed to get to the top. There were quite a few people: mostly young people drinking and smoking. And a few tourists as well.
And the view is indeed quite impressive from there. We were glad Mrs. The Poor Swiss was able to find this spot. The only thing missing was a few beers!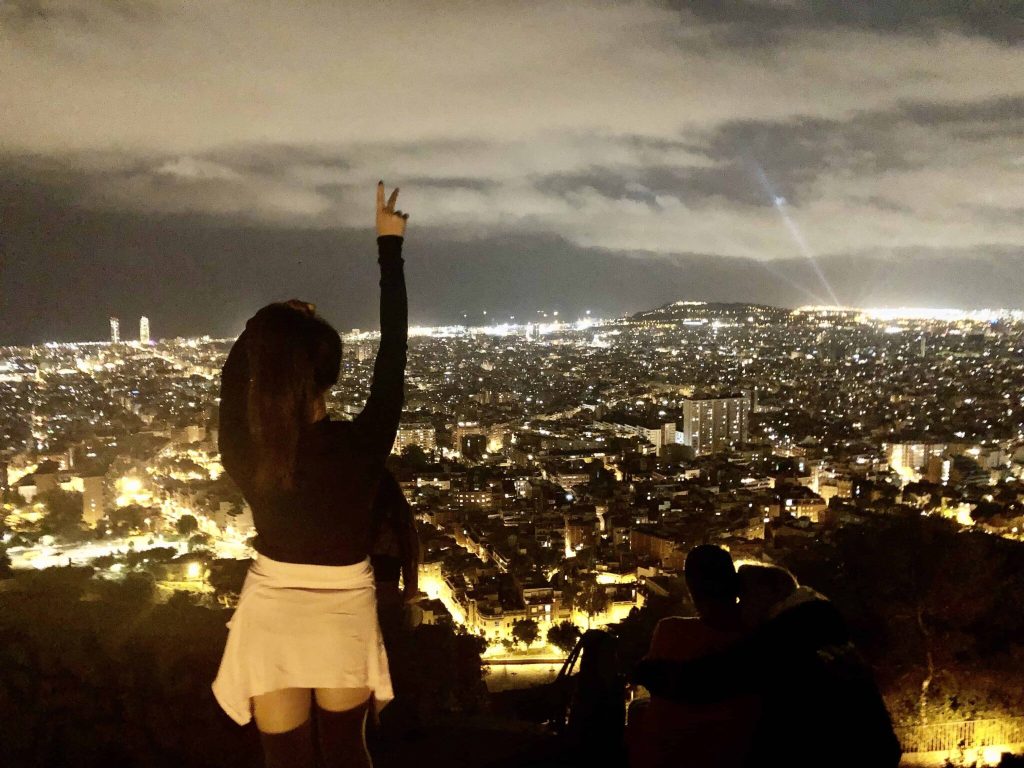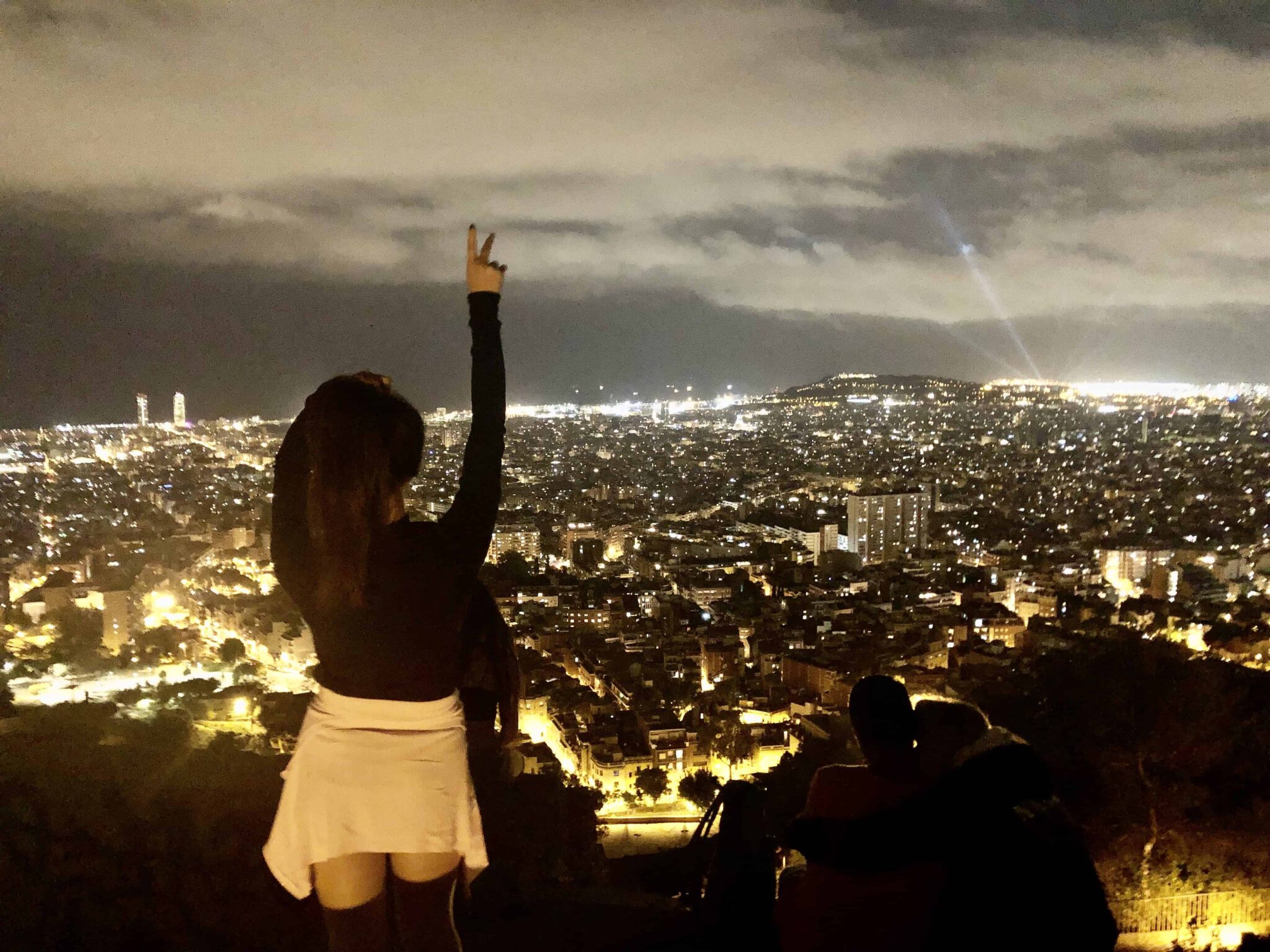 Costs
Let's see how much we spent during this trip:
Our apartment: 533.55 EUR (583.77 CHF)
Flights to Barcelona: 130.98 EUR (143.12 CHF)
Parking in Geneva: 147 CHF
Transportation in Barcelona: 101.20 EUR (110.42 CHF)
Various (Cash): 200 EUR (218.57 CHF)
Food: 90.47 EUR (98.87 CHF)
Total: 1301.75 CHF
In total, we spent 1301.75 CHF during our trip. This is about 108 CHF per person and per day for this trip. It is not so bad. But we could have done better.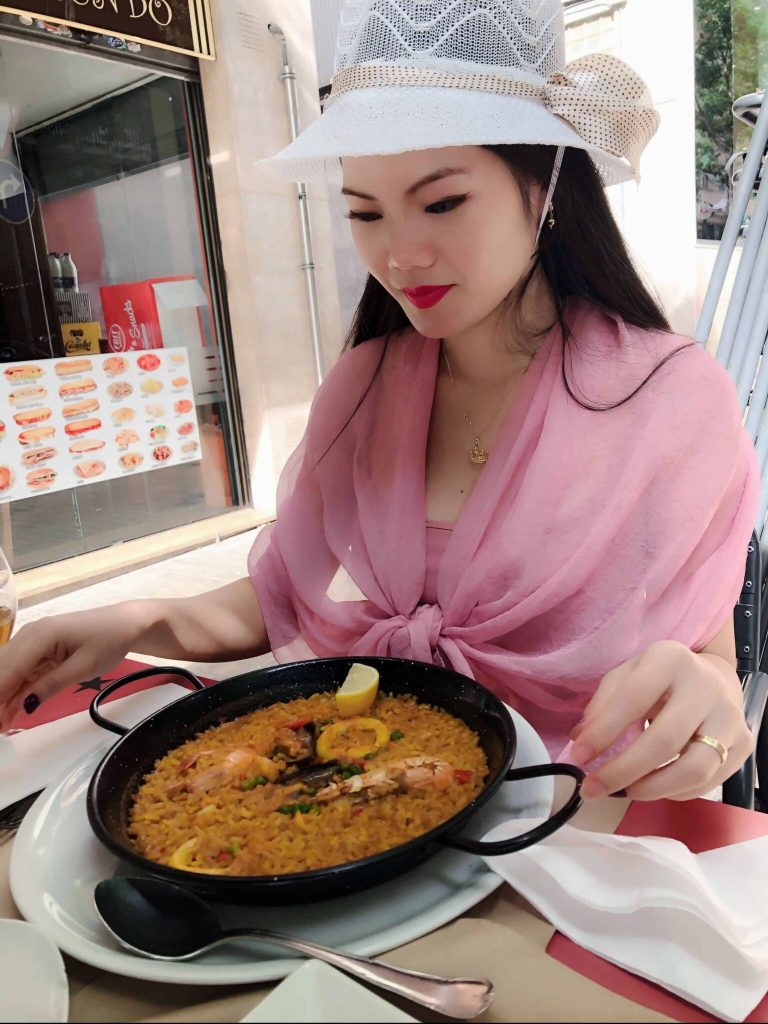 On the food side, we did a good job. But we spent a bit too much on various expenses such as shopping.
The first thing we should have done is to reserve the flights and the hotel earlier. We could have saved a bit on the flights. But we could have saved a lot on the hotel price, I think. It was pretty full in Barcelona when we were looking for a hotel. So we did not have too much choice. Our hotel was good. But the price was too steep for the value.
We could also have saved quite some money on the parking. Unfortunately, I reserved the parking too late, and the cheap parking (P26) was already full. So, we had to pay for expensive parking (P1). We could have saved at about 60 CHF on the parking.
So overall, we did not spend irresponsibly, but we could have planned the trip better.
Conclusion
We had a very good trip to Barcelona for six days. It was one of the best cities we visited so far. For me, Barcelona was even better than in Paris. Especially the ambiance.
Barcelona has tons of beautiful monuments to see. And there are several you can go there and do not have to visit inside if you want to save money. Overall, if you organize your trip better than we did, you could make it a cheap holiday.
From the money side, we spent about 108 CHF per person and per day on this trip. We could have done a bit better by organizing the hotel more in advance. But overall, I feel like this is not so bad.
To learn more about our trips, read about our fabulous trip to Orléans in France.
Have you ever been to Barcelona? What did you think about the city?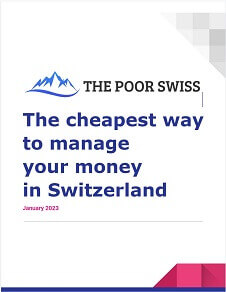 The best financial services for your money!
Download this e-book and optimize your finances and save money by using the best financial services available in Switzerland!
Download The FREE e-book