(Disclosure: Some of the links below may be affiliate links)
2021 really flew by. I cannot believe it is already over! Overall, this was a weird year, with COVID and then the birth of my son. It did not look like any other year.
Nevertheless, December 2021 still felt a little like a usual end-of-year month. We had the (mostly) usual celebrations and the usual end-of-year bills.
Overall, it was a good month for us. So, let's see the details of what happened in December 2021.
December 2021
For us, December has always been a month for the family, and this year was no exception. The parties were scaled-down but still great! One of the parties was canceled because two people had symptoms, but this will be done later in January instead. So, family time in December was quite good!
It was also the first Christmas for our son. He got plenty of presents and fun! It was not always easy going from one house to another and making him sleep, but overall, it was a good time.
As for sleep, this did not improve at all. We went from a cold into a growth spurt. And now, our son is having some pains, likely early teeth. We have realized that there is always something. We cannot wait for sleep to get better. It will not, at least not in the early years. We will have to make due. I plan to sleep entire nights again in four or five years.
But except for a few minor things, he is in good health, which is what matters most.
Financially, it was not a bad month but not a great month either. The end of the year is always a time with many yearly bills. Adding to that a few non-recurring bills, we spent more than we are used to. But in the end, we still saved 40% of our income. So, we cannot complain!
Expenses
Let's see the details of our expenses in December 2021:
| Category | Total | Status | Details |
| --- | --- | --- | --- |
| Insurances | 1237 | Above Average | Health and legal insurance |
| Transportation | 746 | Well above average | Car insurance and taxes |
| Communications | 141 | Above average | Internet and one online subscription |
| Personal | 2359 | Well above average | Bills for the blog, some wood, replacing an electric blind motor |
| Food | 309 | Below average | Standard groceries |
| Housing | 900 | Above average | Heating, mortgage interests, and power |
| Taxes | 3802 | Average | The usual taxes |
Overall, we spent 9465 CHF. Without taxes, we spent 5694 CHF. This amount is higher than our goal. However, the end of the year always has some extra bills. So, overall, it is not too bad.
For instance, every three months, we pay the first pillar for the blog and the power bills. And at the end of each year, we pay the car insurance, car taxes, legal insurance. When everything happens together, it makes a big difference to our expenses.
Aside from this, I also bought more wood. We now have more than enough for this winter and likely the next one. And we had to fix one of our electric blinds. The motor was dead. It was a huge pain to find a new motor since the company that did them recently went bankrupt. But we found someone that could repair the motor. And we only paid about 500 CHF for the entire repaid.
So, overall, we spent more than usual this month. But as end-of-year months go, this one was not that bad.
2021 Goals
Let's take a look at our goals by the end of December 2021: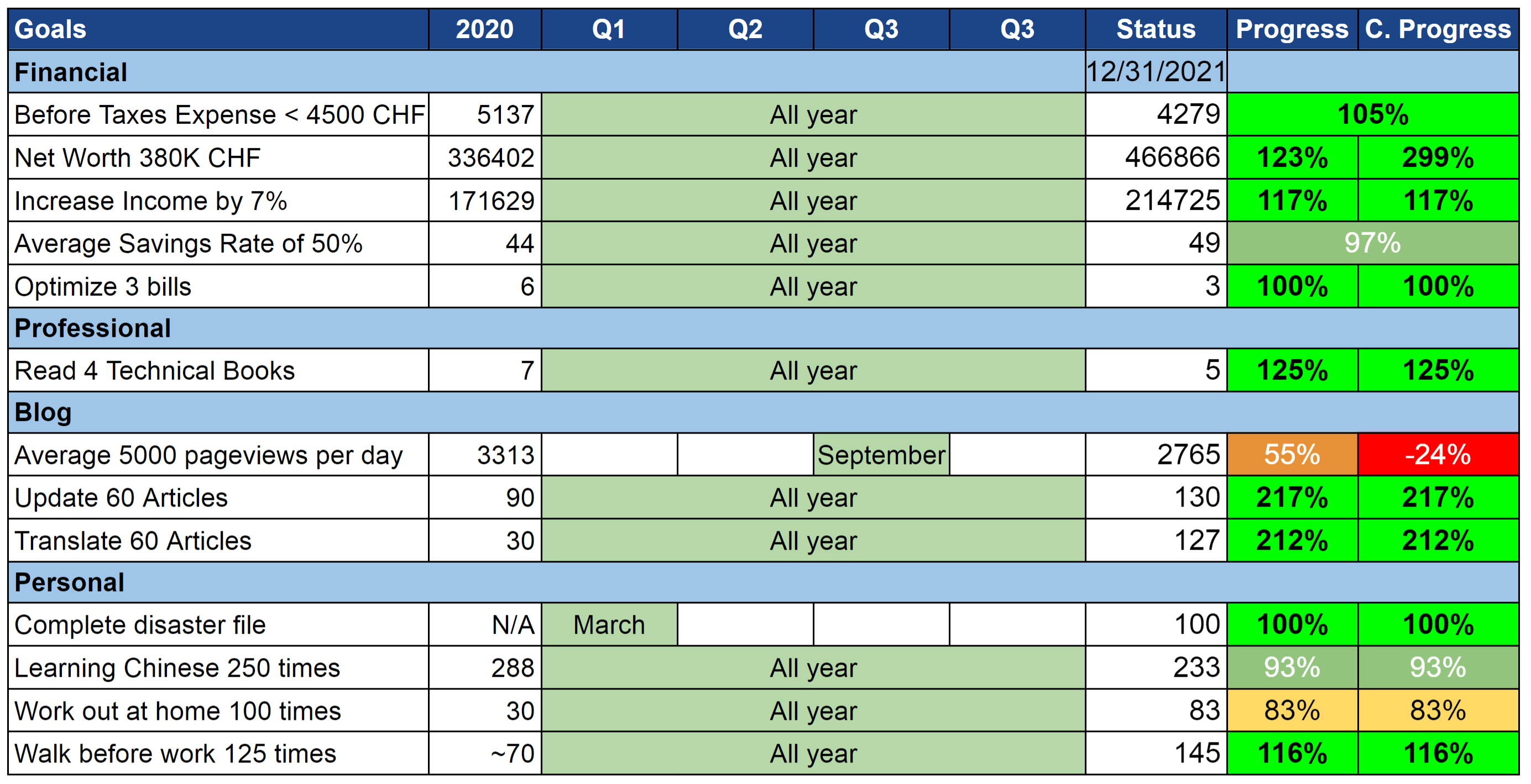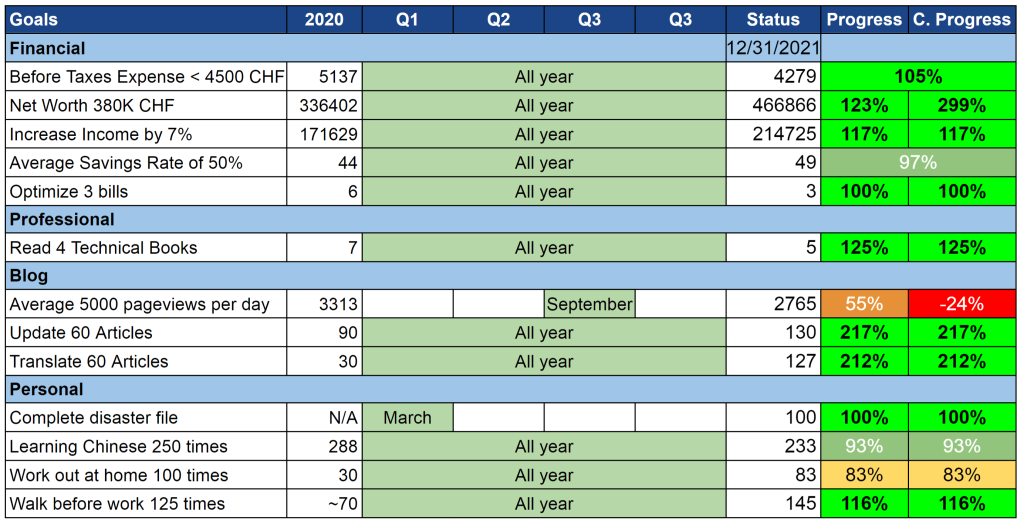 The year is over. It means that our goals are over as well.
Overall, I am satisfied with our goals this year. Not everything went well, of course. Indeed, we failed four of our goals this year. But most goals are passed, and some goals were not adequate.
I do not want to spend too much time on our goals in this article since I plan a full review and new goals for 2022.
During the month, I made some progress on several goals. I was able to walk again in the mornings and do some workouts. But the workout goal is still a big fail for this year. On the other hand, I worked out twice more (almost three times!) more than last year, so I should be happy about that. I also did not do enough Chinese.
Unfortunately, our savings rate this month was relatively low at 40%. We would have needed 56% to reach our goals of 50% average for the year. But 49% is already great!
FI Ratio
Let's take a look at our progress towards Financial Independence:


This month, we went from about 11% to about 11.5%. A 0.5% monthly increase is not too bad, but we would prefer to advance slightly faster than that.
However, when we look at the entire year, we barely made any progress in the second half of the year. The reason is that our average expenses increased significantly during the year.
One of my readers pointed out that this was not entirely accurate since I would not spend as much in retirement, especially for taxes. We currently spend about 120'000 CHF per year, including taxes. But I do not think we will spend more than 100'000 CHF per year once retired.
Once I get some quiet time, I will add fixed expenses to my graphs and show both lines in these monthly updates.
The Blog
Best platform to start a blog
SiteGround
SiteGround is a great hosting provider, with very low fees. It has one of the best user ratings of all hosting providers.
There is not much to report on the blog during December. I managed to do a fair bit of translation, but I did very little this month aside from this. I only work on important updates and projects and delay everything else for the time being.
As for traffic, it is the usual drop. Traffic went down about 10% compared to last month again.
Next month, I will continue doing little but translations. In 2022, I want to get to where new articles are directly published in two languages.
Next Month – January 2022
January means a new year! And a new year means new goals. I am still not entirely set on our 2022 goals, but they will be simpler than the 2021 goals. I do not have enough energy to take on large projects.
Financially, January 2022 should be very standard. I do not see anything special happening next month.