April 2023 – Another expensive month
|
Updated:
|
(Disclosure: Some of the links below may be affiliate links)
April 2023 was a month packed with events. We are still having many events with family and friends that we delayed until March. It was great to do these things, but there were too many.
Financially, it was a great month, and we saved nearly 70% of our income. But since we paid no taxes this month, we still spent too much on several fronts.
April 2023
Until the end of February, we did very few things to give time to my wife to do her HR courses and exam. This means many events were delayed, and our time was often split so she could have time.
She now successfully passed her exam! And we had the diploma ceremony in Bern this month. It was pretty nice.
But now, we have a kind of backlog of events that we have delayed. And while seeing people we have not seen in a while is great, our weekends are packed. We are already looking forward to a better balance and having a few weekends.
I was sick for several days again with a kind of stomach flu. I had to stay in bed for a full day, and it took me a few more days to recover. I have never been so often sick than in the last two years. I plan to do a checkup to see if I have some deficiencies that would explain that.
Other than that, it was a relatively normal month.
Financially, it was a great month since we had no taxes. We will start again to pay taxes next month. And potentially, we will pay extra taxes if we have not paid enough last year.
Nevertheless, even without taxes, we spent too much this month. We had several medium expenses and many smallish expenses that piled up.
We still saved about 70% of our income, but we should have saved more for a month without taxes. This is the worth April month of the last four years.
News: US ETFs and Interactive Brokers
At the end of April 2023, IB stopped offering US ETFs to Swiss residents. This is something we have been dreading for years.
While the MIFID regulations do not apply to Swiss residents, IB claimed they apply to all Interactive Brokers UK clients, the entity we use. And therefore, as of April 28th, 2023, we could buy US ETFs anymore.
Fortunately, it seems that this will not last. My contact at IB has confirmed that this will get fixed by IB, and updates are already rolling. Some Swiss investors already got back access to US ETFs.
Update in May: Every Swiss investor got back access to US ETFs!
Expenses
Here are the details of our expenses in April 2023:
| Category | Total | Status | Details |
| --- | --- | --- | --- |
| Insurances | 762 | Average | Health insurance only |
| Transportation | 97 | Average | Fuel only once, many buses and some parking |
| Communications | 119 | Average | Internet and phone subscriptions |
| Blog | 458 | Above average | Many featured images and standard subscriptions |
| Personal | 3028 | Well above average | Way too many things |
| Food | 765 | Above average | A few meals out, many groceries |
| Housing | 525 | Average | Interests and heating |
| Taxes | 720 CHF | Below average | The real estate tax |
In total, we spent 6512 CHF this month. Without taxes, this amounts to 5757 CHF. This is significantly higher than our goal of 5000 CHF per month.
This month is not entirely without taxes. We had to pay the real estate tax of our municipality. This tax is a percent of the house's value we must pay yearly.
Our food category is still better this month. We had one meal out and a few unusual expenses at the local market, but other than that, we were more reasonable than last month. I still think we can do better than that, but I will not obsess over it.
On the other hand, our Personal category is totally out of control again. Last month was already bad, but we knew it would be because we allowed splurging part of my bonus. This month, we have no excuses.
I feel like we are more and more materialistic and buy too many things. But looking at the list of things we bought, not much could have been avoided. We purchased a new bed for our son that outgrew his first bed. We also bought a trampoline for him. And we had to buy new luggage because all of ours were beaten up.
On top of that, we had several small health bills as well. We also got the first dose of the vaccines against ticks. We will get the second dose next month.
I hope that we will have fewer things to buy next month. But it seems I think the same each month.
Other than that, our expenses were pretty standard.
2023 Goals
Here is the progress on our goals by the end of April 2023:

Overall, the goals are okay.
The financial goals are good, except for the expenses goal. Seeing the craziness of this year for our expenses, I feel like we have already lost this goal. Every month of the year we have spent more than the same month last year. This is a bad sign.
We have made a little progress toward creating the LLC. But we were held up because we needed to wait for the new residency permit to arrive since both were happening simultaneously. This should progress quickly next month.
My working out goal is not doing great, as usual. I was sick for several days this month and could not work out. And being too busy, I skipped some even when healthy. I need to do something about the busyness. I cannot continue doing so many things.
My steps goal is improving, but it needs some more work. Since I started my morning walk routine again, my daily steps average has increased significantly. This is a good habit to keep. However, I was sick and skipped the walk for almost a week, dropping the average lower than expected. I am hoping to increase the average again next month.
Overall, I am satisfied with the status of our goals. I would prefer my goals not to be so fragile to health and busyness.
FI ratio
Here is the progress of our FI ratio until the end of April 2023:

This month, our FI ratio increased nicely. Our net worth has grown well, and our expenses did not increase too much. As a result, our FI ratio increased by about 0.80%, an excellent result.
The stock market increased well this month. On top of that, we had good savings that added to our portfolio. So, our net worth has reached a new all-time high.
On top of that, our expenses increased but not by a considerable margin. Our current 12-month costs are still growing too much, but this month was not too bad. This means that our target did not move too much.
So, I am happy with the progress on our FI ratio this month.
The Blog
I have not done much on the blog this month.
I have done minor optimization for performance on the home and category pages. This should load faster both on mobile and on desktop. But chances are most people will not notice anything.
I have also done some updates on some important pieces of content. I try to keep my articles as updated as possible. And this month, DEGIRO increased their fees, and Finpension added the option to do an identity check.
I am still watching both analytics: Google Analytics and Plausible. For what I am doing with the stats, Plausible will be more than enough. So, I will cut Google Analytics on July 1st.
Finally, I have started the procedure to create an LLC. But we only started the process, and the main steps will begin soon. I hope that this will get done next month.
Next month – May 2023
Next month, we have fewer events planned. This will be good to get at least some weekends for us three. We will likely spend a few days in France or Switzerland, but it will be good to disconnect a little.
Financially, we should return to paying taxes, so it should be an average month. But as usual, we may have to pay extra taxes if we have not paid enough last year. We should receive our tax statement next month.
What about you? How was April for you?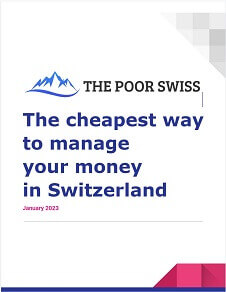 The best financial services for your money!
Download this e-book and optimize your finances and save money by using the best financial services available in Switzerland!
Download The FREE e-book