2023 Goals and 2022 Goals Review
|
Updated:
|
(Disclosure: Some of the links below may be affiliate links)
At the end of each year, I review my goals and plan for the following year. And to keep myself accountable, I publish them on this blog and follow them month after month.
So, in this article, I will review my 2022 goals and their progress, what went well, and what did not go well. And then, I will show and explain my 2023 goals.
2022 Goals Review
As a reminder, here is the status of our goals at the end of 2022:

Overall, our progress towards these goals went well. We failed some goals, some because of me, and others were poor goals. Overall our goals were better than last year, but they could still be better.
So, let's go over the details of each goal and how it went, category by category.
Financial Goals
Overall, we did not do very well on our financial goals. But at least one of the goals was not good. I failed three out of five goals.
Our first goal was to spend less than 4500 CHF per month, not including taxes. We failed that goal, unfortunately. We spent 4909 CHF per month on average. Considering our goal, it is not a good result. But because we are now a family of three and added a day of kindergarten per week at the end of the year, I think less than 5000 CHF is a great result. This goal was too optimistic.
I am amazed about how high we could get our income this year. I wanted to grow it by 7%, but we increased it by 22%. This result is quite insane. The bonus this year was very high, and I started getting higher RSUs. Also, the blog had slightly higher revenue this year, helping the result. So, we passed this goal.
Our FI ratio goal is a disaster. We wanted to be 20% financially independent. However, we are only at 12.6%. Retrospectively, this was a dumb ago because it is highly dependent on the stock market. 2022 was a bad year for the stocks, making our net worth stagnate. I am not disappointed we missed that goal.
I wanted to reach a 55% savings rate, but we only managed to get 48%. I am a bit disappointed because it means that our savings rate is lower than in 2021. The reason is multiple. Our base expenses significantly increased that year, and so did our taxes. And our taxes will also rise again next year. Currently, I do not think that we can reach 55%. However, 50% still seems doable for next year.
Keep in mind that I am using a strict savings rate calculation. If you want to compare it against others, keep in mind that many people use calculations that plays in their favor for savings rate.
Finally, I wanted to optimize three bills and managed to optimize four. So, we passed that goal. I have been using that goal for several years now and like it. This goal pushes to find optimization each year.
Blog Goals
I only had a single blog goal for 2022, and I passed it.
I wanted to complete the translation of the blog in French by the end of June. In the end, I managed to reach that goal several months early. Interestingly, I also finished the translation in German at the end of the year.
Personal Goals
I passed all four personal goals in 2022.
I have had knee pains since 2020 and wanted to know what was wrong with it. It took a while and some money, but this is just a sedentary issue because I sit too much at my desk. I need to walk more and not sit too much. The second part will be difficult since I am a developer and enjoy computers. Ideally, I should run or cycle, but I hate both. It is not the best result, but at least there is nothing deeply wrong.
I passed my workout goal but only barely. I managed to reach 100 workouts, but I had to force myself. I have not managed to make it into a habit. In 2023, I need to continue workouts.
I entirely passed my walk goal. I could do many more walks than I thought. It was much easier during summer than during winter.
I redesigned my office to my wishes in the first few months of the year. I passed that goal. It was challenging to find the time to do it and very stressful to do it within the little time I could steal. Nevertheless, I am thrilled with the result.
Overall, I did well with my personal goals.
2023 Goals
For 2023, I have two objectives for my goals:
Simple objectives. My time is horribly limited, so I cannot commit to a strong goal. However, I still want them to be challenging, not easy.
Only depending on us. Too many of my past goals depended on somebody else or the market. I need goals that only depend on us.
So, here are my 2023 goals:

These 2023 goals are relatively simple. They are not our best goals, but I think they are reasonable given the situation.
So, let's detail these goals.
Financial Goals
I mainly kept the same financial goals for my 2023 goals. I think these goals are working well for us. But I got rid of the FI ratio since that goal mainly depended on the market rather than our financials.
In 2023, we want to spend less than 5000 CHF per month, not counting taxes and blog expenses. Since we have our son and some kindergarten, our last goal of 4500 CHF is not reasonable anymore. We have systemically failed that goal every year, so we will see what happens this year.
In 2023, we want to save at least 50% of our income. Last year, we were close to 50% but failed at that goal, primarily because of large expenses. I believe 50% is doable, but we need to stabilize our expenses.
In 2023, we want to increase our income by at least 10%. Last year, the goal was at 7%, and we managed to increase by 22%, which is fantastic. I do not see us increasing by that much this year, but 10% should be doable.
In 2023, we want to optimize three bills. I like this goal because I have no idea what to optimize every year, but every year I optimize bills anyway. This is an interesting goal.
Overall, our financial goals are meant to push our income and expenses. The idea is to save as much money as possible and invest it in the stock market for our future financial independence.
Blog Goals
In 2023, I do not want to start a big new project for the blog. I do not think I will have any time for that. I will be happy if I can meet my only goal and the day-to-day activities.
In 2023, we want to create an LLC for the blog. Until now, I have been operating under a sole proprietorship. For various reasons, I want to switch to an LLC. Once I have the 20K CHF to lock into the LLC, I will start the necessary steps to create the LLC.
Once the switch is entirely done, this will remove some earnings and expenses from our budget, which may change our financials slightly. The taxes themselves will not change until 2024.
Personal Goals
I do not have any significant personal project I could take on this year. Therefore, my goals are minor improvements.
In 2023, I want to work out at home 100 times. This goal is the same as I had in 2022. I managed to pass that goal in 2022, but I could not get it into a habit. I had to force myself to do it. I hope I can get into the habit properly in 2023. I will follow the same workout routine as before.
In 2023, I want to walk an average of 6000 steps per day. You may think this is a very low average (and it is), but I am far from this goal (less than a 4000 average in the last two months). I think steps are a better goal than walks. I also have to consider that my step counter does not record any step whenever I push the stroller. And the same happens when I have my son on my shoulders.
In 2023, we want to reduce our energy consumption by 10%. We already made some effort in 2022 but want to get it further. 10% seems like a good start. I do not know whether that will be a reasonable goal. From May 2021 to May 2022, we used 6437 kWh. I will check our counters each month to see our progress. There are a few things we have already implemented, but we will go further later.
Conclusion
Overall, we did relatively well for our 2022 goals. We failed some of them because they were bad, and others because we did not do enough to achieve them.
I think our 2022 goals were already much better than our 2021 goals. Hopefully, the 2023 goals themselves will be better. I wish I had more time and energy to plan some more ambitious goals, but at this point, I do not think very optimistic about that. Therefore, I kept my 2023 goals very simple.
What about you? What are your goals for 2023? Do you have any suggestions for cool goals?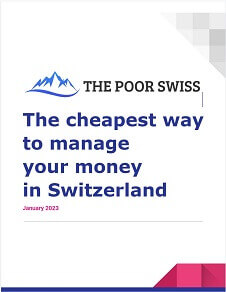 The best financial services for your money!
Download this e-book and optimize your finances and save money by using the best financial services available in Switzerland!
Download The FREE e-book