September 2023 – Finally colder but more expensive
|
Updated:
|
(Disclosure: Some of the links below may be affiliate links)
September 2023 was finally a colder month. It made it much more enjoyable.
On the other hand, it was also a tiring month, especially with the two-year birthday of our son. It was a fun event with many people but also very tiring to organize, especially given our continuous lack of sleep.
But overall, September was better than August, so it is a move in the proper direction.
Financially, it was an okay month but below our usual standard. We saved slightly less than 30% of our income.
September 2023
For me, the best part of September 2023 was that the heat finally went away. I could not take more of this horrible heat wave. Even my underground office was becoming too hot.
The main event this month was the second birthday of our son. Last year, we did too many things ourselves and could not spend much time with invitees. This year, we did much better, I think. Next year, we could optimize a little more, but this year, we had a great time. Our son was thrilled and spent the entire day without sleeping from 8 a.m. to almost 10 p.m.
Talking about sleep, we continue trying to make him sleep better, with mixed results. We had some improvements, followed by some awful nights. So far, we do not have a good pattern yet. But we will keep the same rhythm and see how it goes. If we need, we will call back again the people who helped us.
Financially, we spent slightly more than usual, and our income was below average. With that, our savings rate was about 30% this month. This is still quite a decent result. Our goal is an average of 50% savings rate. Currently, we are still meeting our goal for the year.
It is worth mentioning that the new health insurance premiums have now been published. Our premiums will increase by about 10% with Assura. We will likely change to Helsana next year because that will save us about 30 CHF per month (compared to staying with Assura). It is too much to pass on. But I will do further comparisons.
Expenses
Here are the details of our expenses in August 2023:
| Category | Total | Status | Details |
| --- | --- | --- | --- |
| Insurances | 762 | Average | Health insurance for the three of us |
| Transportation | 190 | Above average | A bit more public transportation than usual and more gas |
| Communications | 117 | Average | Prepaid reload, internet, and phone |
| Blog | 899 | Average | The first pillar bill |
| Personal | 2069 | Above Average | Daycare, dentist, some shopping, and some events |
| Food | 2466 | Record High | We paid for a whole pig and our son's birthday |
| Housing | 525 | Average | Mortgage and heating |
| Taxes | 5827 | Average | Taxes at all three levels |
In total, we spent 12858 CHF. Without taxes and the blog, this amounts to 6132 CHF. Considering some extra expenses, this is not so bad despite the high numbers.
As I mentioned before, we celebrated our son's second birthday. We had about 30 people for lunch. It was the occasion to see many of our friends and family. However, this meant catering for food for 30 people and renting a room. But I am pleased with this year's result, where we did much less ourselves.
Another significant expense is the 1000 CHF we paid for an entire pig. I mentioned that we bought a pig from my cousin several months ago. And now that we have received the last of the smoked meat, we paid for the 60kg of meat. Given the quality of the meat, this is an excellent price to pay, and we will likely do that again next year.
These two things put together, we reached a record high of 2466 CHF for food this month. Since this is quite exceptional, I am pretty happy about this result.
We still had one bill for the blog this month. This will likely not be the last one for the first pillar. But since income is now moving to the LLC, we should be reimbursed at least partially next year.
On the personal side, we had a few events where we spent more than usual, such as the anniversary of our village and the Désalpes. We also installed new lights in our dressing.
Overall, we spent a little too much this month. However, several expenses should be averaged over multiple months. We will see how the trend fares next month.
2023 Goals
Here is the status of our goals by the end of September 2023:

Overall, our goals are going well.
Again, we spent too much to meet our goal of 5000 CHF in expenses per month. But given our son's birthday and the payment for the pig, I think we are doing well. Also, this goal was made without considering the 500 CHF per month we pay in daycare costs compared to last year. I already know we will not pass that goal, but it is important for us.
All other financial goals are doing well.
As mentioned last month, I could also cancel our secondary building insurance for the end of the year. This was simply covering things we do not need. This will save us 420.80 CHF starting from next year.
Next month, we will look into changing our health insurance provider. This will not save us any money but will reduce the increase for 2024.
I am back on track with my workouts this month. I need to keep this going. My average steps are also going up, but I must be careful because we will likely walk less next month. And since our son goes to bed earlier, we do not walk much after dinner.
So, I am pretty happy about the progress on our goals.
FI Ratio
Here is the progress of our FI Ratio as of September 2023:

Our FI Ratio almost did not change this month.
The stock market was not good for us this month. Our portfolio lost about 4% of its value. And since we did not save much money this month, our FI ratio was stagnant. We did not invest any money directly but contributed to the third pillar of Mrs. The Poor Swiss.
Our expenses are almost in the same space as the same month last year.
Given the state of the stock market and our average savings this month, we can be content our FI Ratio did not decrease more.
The Blog
I do not have much to report on the blog. I have barely kept up with the basics of the blog, so nothing new is happening.
I got new data for Swiss stocks and bonds, so I am planning a refreshed article on early retirement in Switzerland. That will be interesting. And I took the opportunity to change the system I use for graphs to make it much more manageable. It will not be as nice looking, but it will save me time to update the next articles.
Other than that, I had little time to dedicate to the blog. I wish I had more time to update some older articles. But currently, I do not see how I will get time to do that.
Next Month – October 2023
In October, we have several events planned with family and friends. But we managed to keep it to a reasonable level. We have several free weekends and will have time to do some things independently.
Financially, October should be a fairly standard month. We do not expect any particular expense or earnings next month.
What about you? How was September 2023 for you? Do you have any plans for October 2023?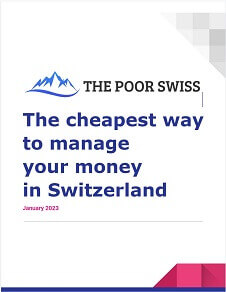 The best financial services for your money!
Download this e-book and optimize your finances and save money by using the best financial services available in Switzerland!
Download The FREE e-book