A Weekend in Brussels, Belgium – Beautiful Monuments and Good Beer
|
Updated:
|
(Disclosure: Some of the links below may be affiliate links)
Last weekend, we went to Brussels, in Belgium to visit one of my family members that has been living there for a few years. I had not seen him since last Christmas, so it was quite cool to meet him again. We always had a very good relationship.
Brussels is the capital of the country of Belgium. We had quite a good time in Brussels. It is a really nice city with some very nice monuments. There are also many nice wall paintings. And Belgium is also famous for its beers. You can find many pubs and bars in Brussels where you can drink quite good beers.
The weather was not great during the weekend. Nevertheless, we had a really good time in Brussels! I did not manage to take really good pictures, sorry about that.
Brussels, Belgium
Brussels is the capital of Belgium, in Europe. It is not a very big city, with about 176'000 people living there. However, the greater area around the city is also called the region of Brussels and is home to more than one million people. Most people speak French in Brussels, but Belgium has two national languages: French and Flemish.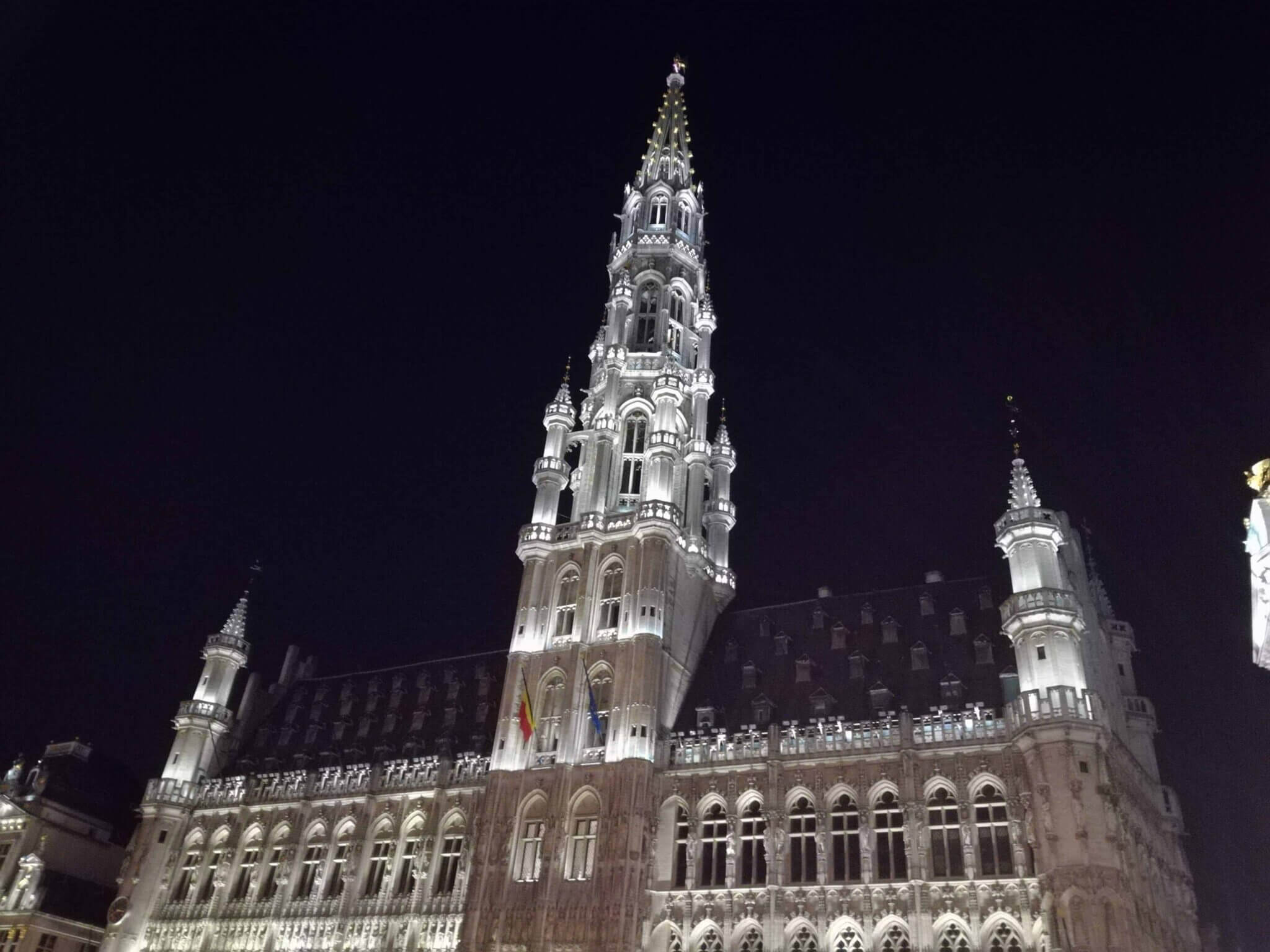 We arrived in Brussels by the end of the afternoon. It was already dark. But it turned out that it was a great thing. The Grand Plaza is beautiful by night. There are many beautiful buildings on this plaza and they are well-lit during the night.
Unfortunately, we had a quite and rainy weekend. We did not visit as many things as we would have liked. We have been a bit lazier than in our usual vacations. But we still managed to view quite a lot of nice things. Overall, the city is quite nice and clean. However, there are some areas, outside of the touristic places, that were really not clean. And there are also quite a few homeless people in the streets. I was a bit surprised by that fact.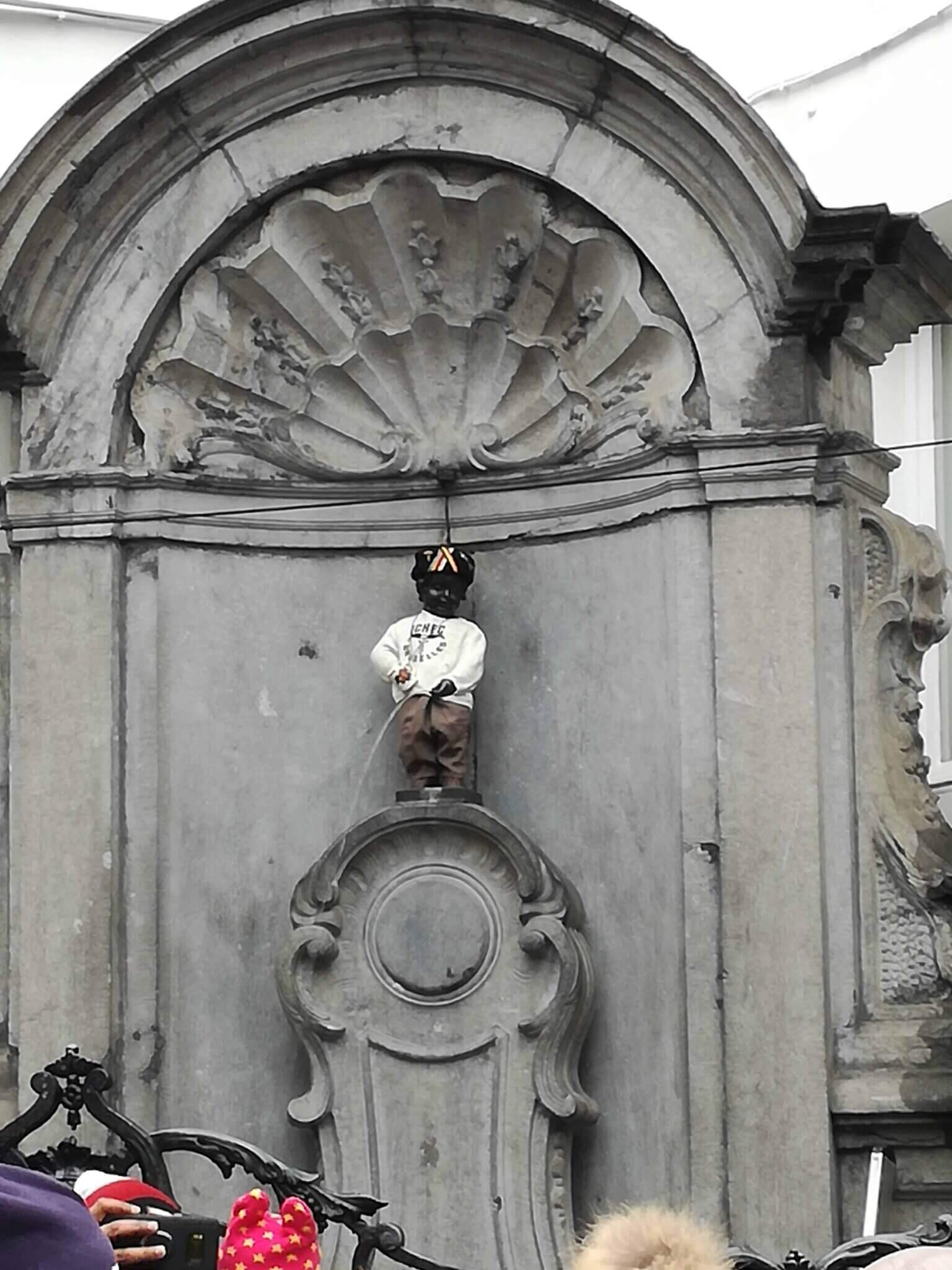 One of the most famous things in Brussels is the Manneken Pis. It literally means Little Pisser. It is a very little statue of a boy peeing. There are always a lot of tourists taking pictures of this. I do not really understand the craziness about this statue. But it is kind of funny. It is not known why this particular fountain was created like this. But the history of this statue and foutains dates back at least six hundred years.
There is actually also a female version, the Jeanneken Pis: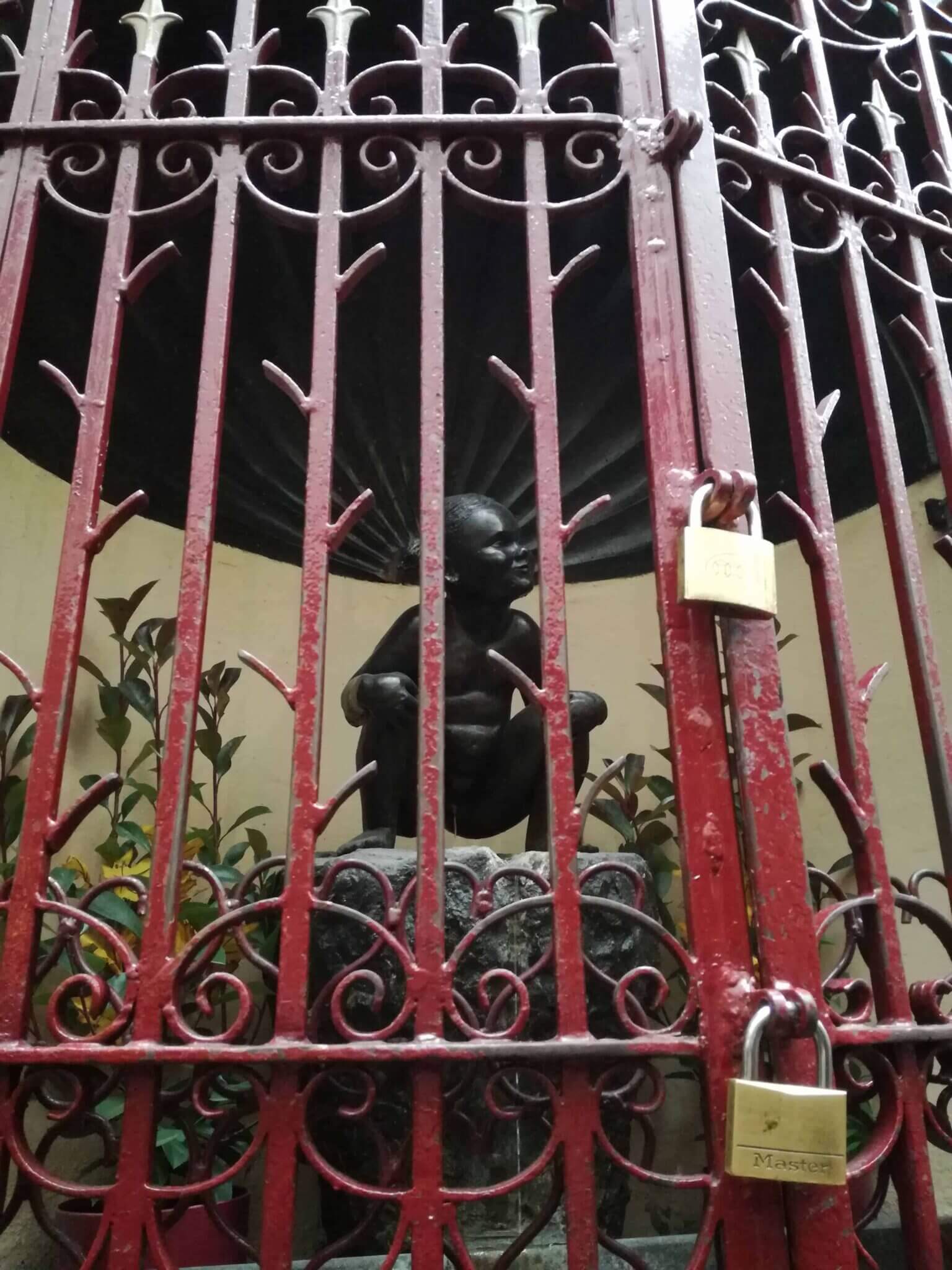 The monuments
There are more monuments to see in Brussels.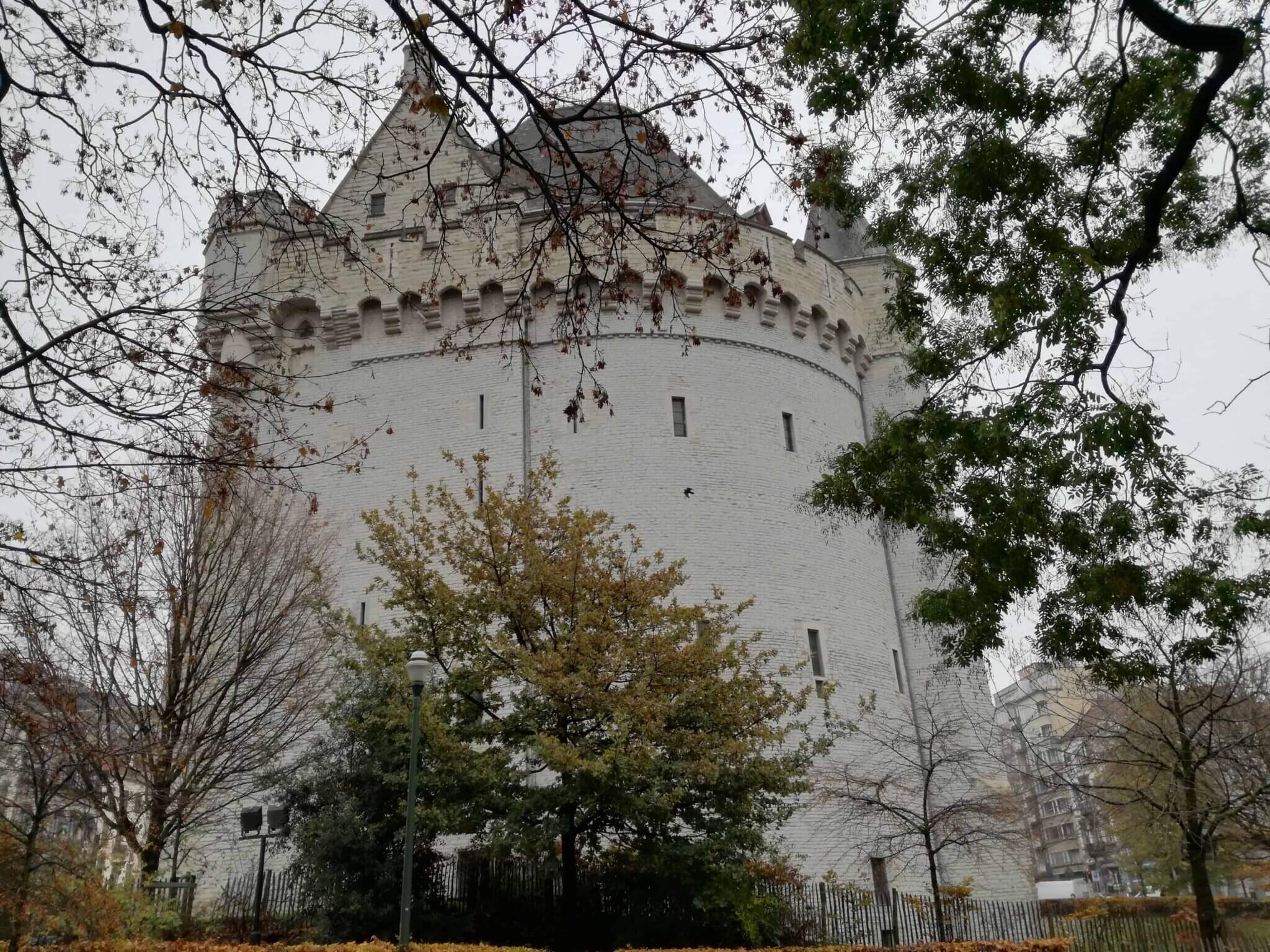 The Hal City door is pretty impressive. I was imagining a small typical city door, but this is really huge, almost a castle actually.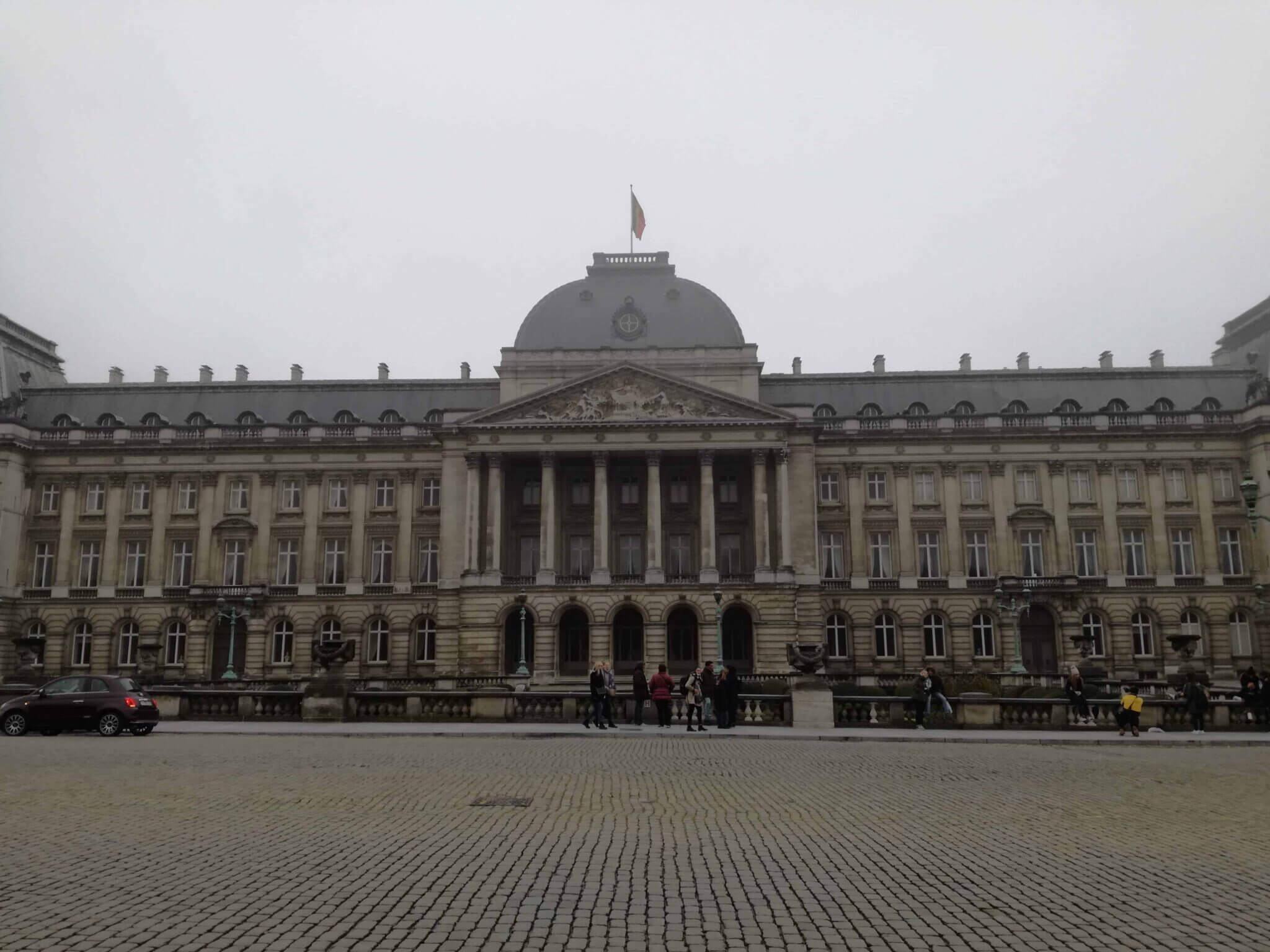 The palace of Brussels is also quite impressive. It is the historical palace of the King of Belgium. It is close to the park of Brussels which is quite nice as well.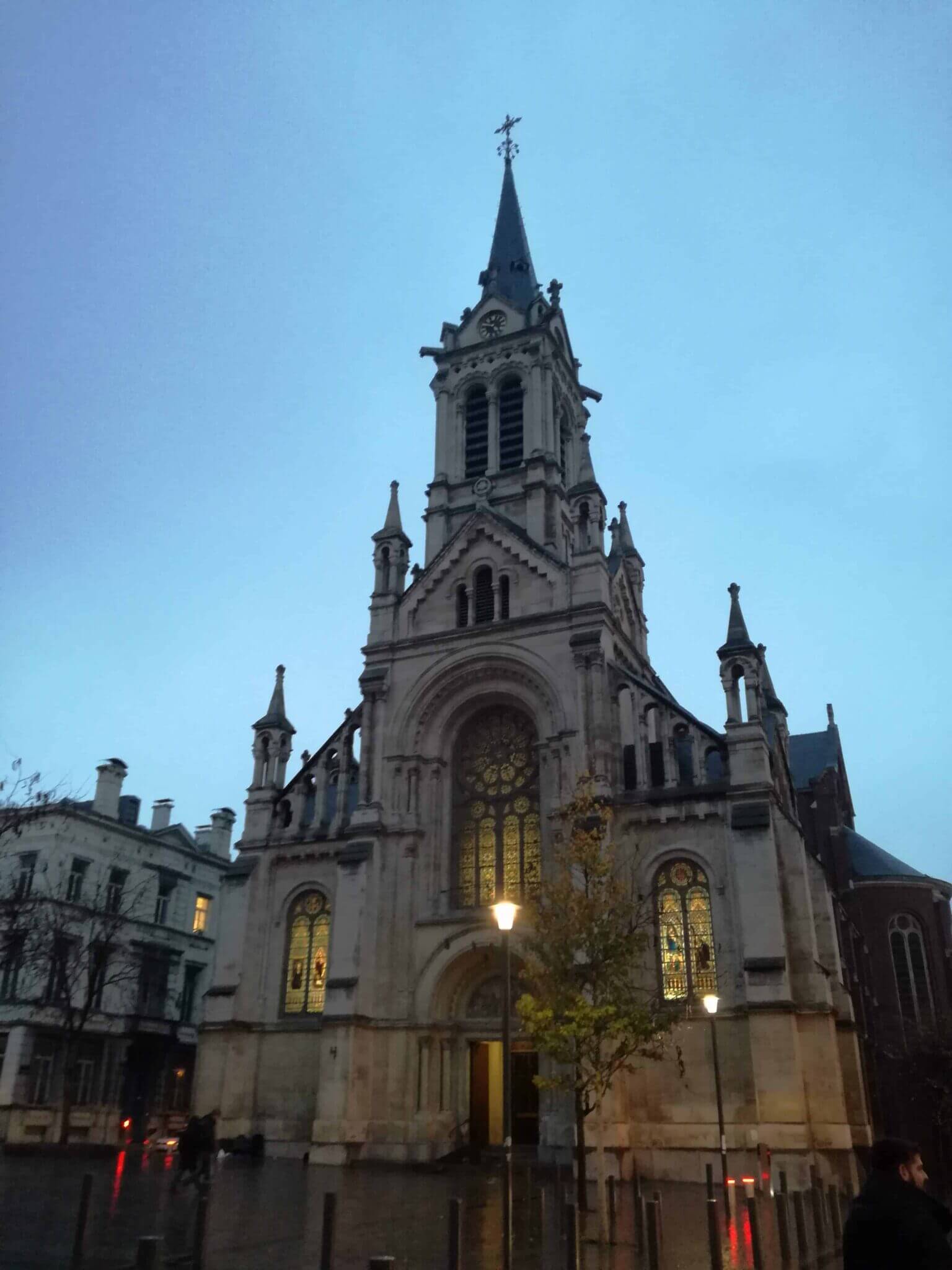 There are also some other monuments such as Sainte Catherine Cathedral. It is quite beautiful. There are also many other monuments that we did not see such as the Dark Tower (awesome name!) or the Atomium that is a bit too far outside the city.
The wall paintings
Belgium is also famous for its many comic books artists.  And there are many wall paintings in Brussels.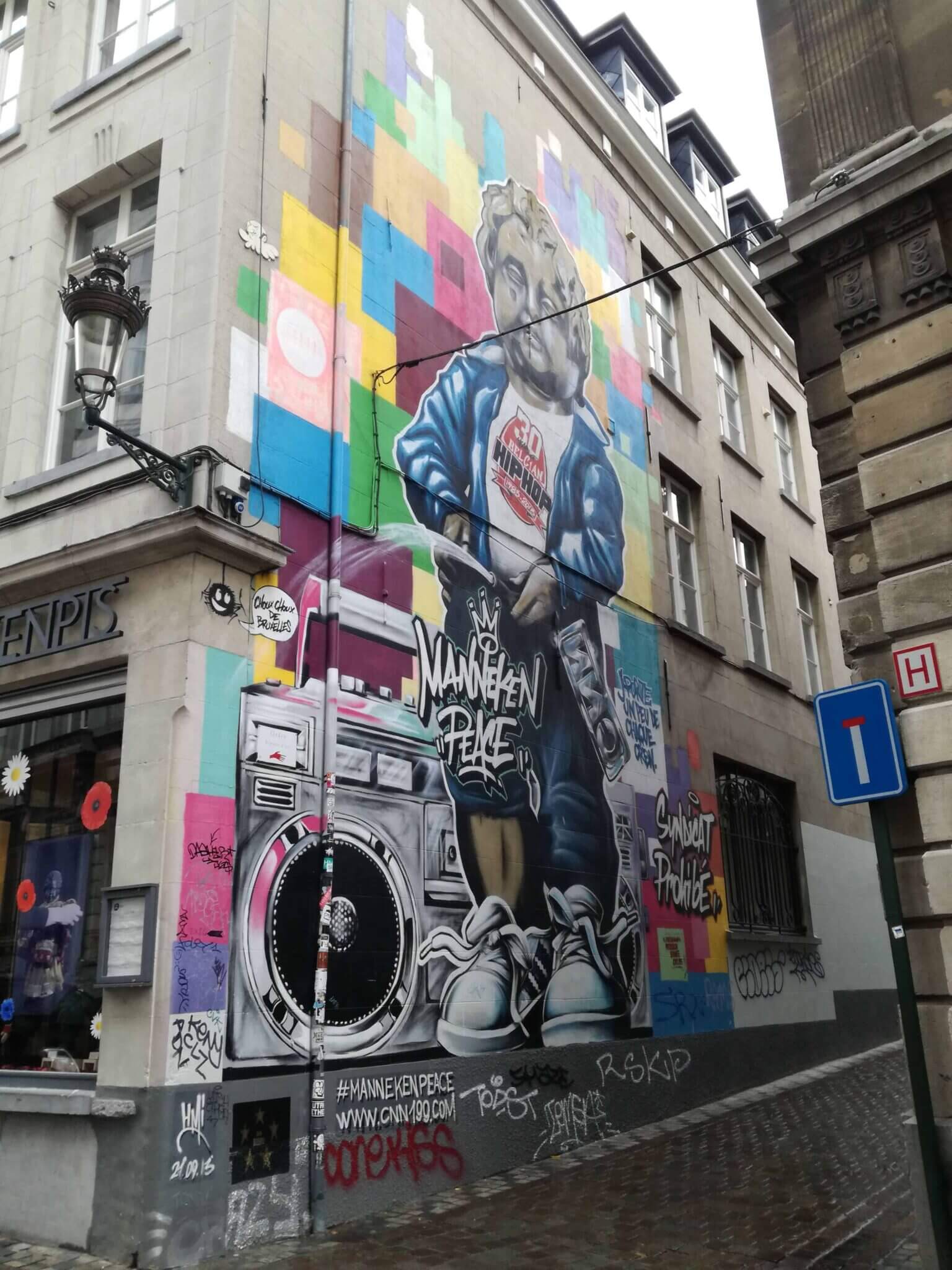 This is a wall painting o the Manneken Pis Statue. Actually, I found that the wall painting is more impressive than the statue itself.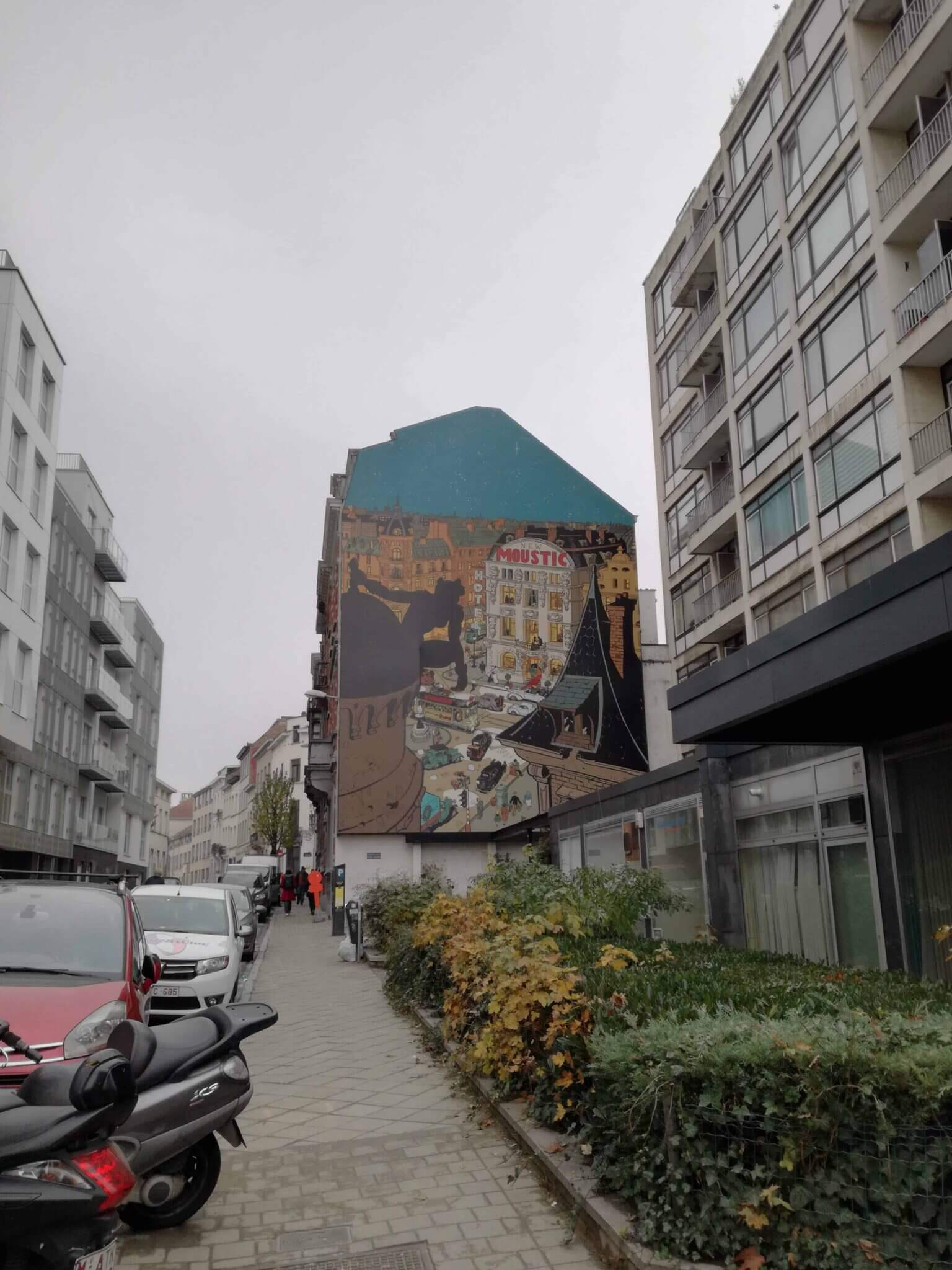 This one is pretty impressive as well!
Unfortunately, I did not manage to get more pictures. And some of my pictures are even worse than usual. I did poor job with taking pictures during this trip. And Mrs. The Poor Swiss only take videos. On our next trip, I need to improve a bit on my picture taking abilities.
The beers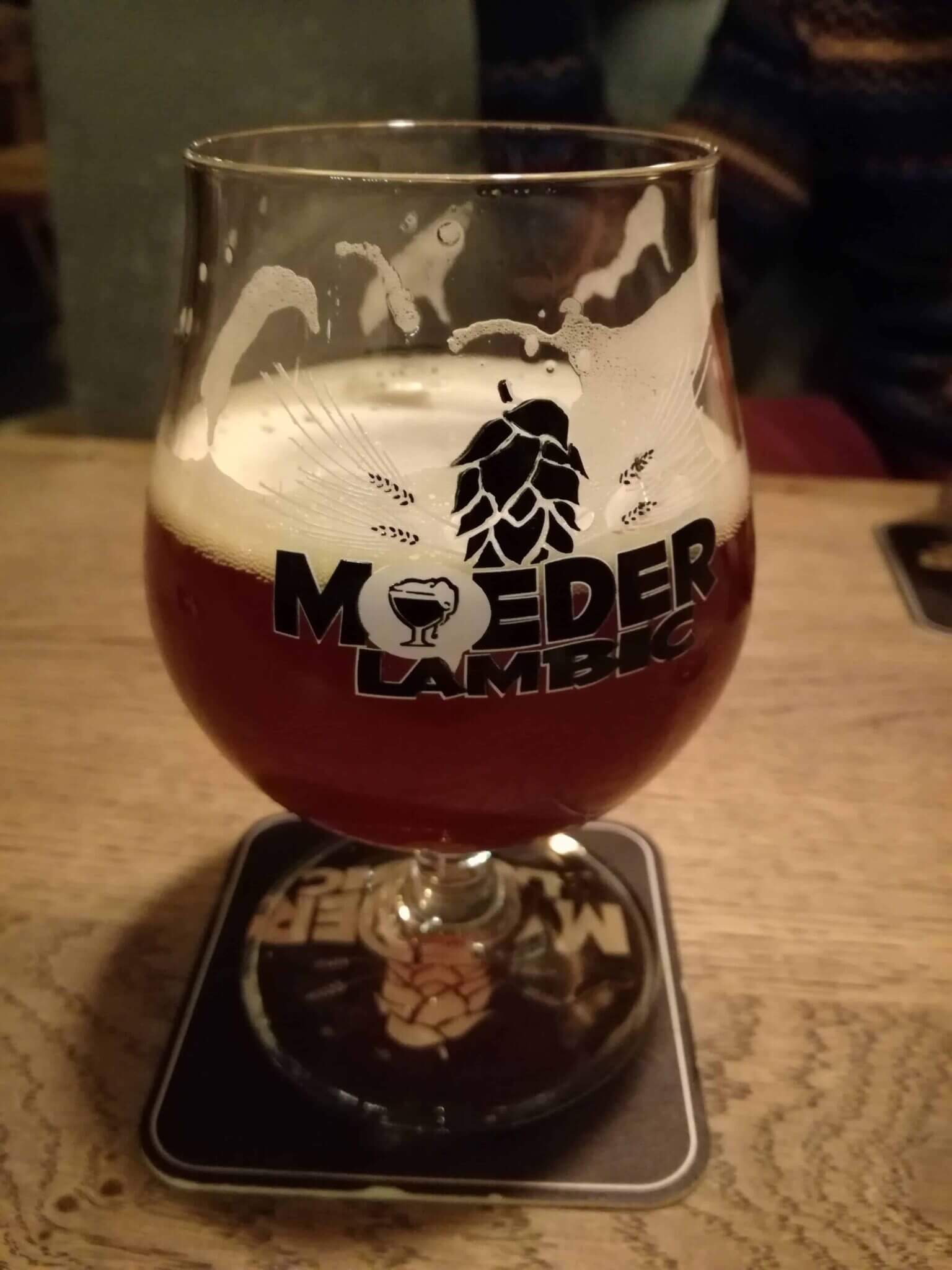 Belgium is famous for all the kinds of beers it offers. It is probably the most well-known country for beers, at least in Europe. I really like the Belgian beer selection. We enjoyed quite a few beers in different bars. I drank dark beers, stouts, and Gueuze beers.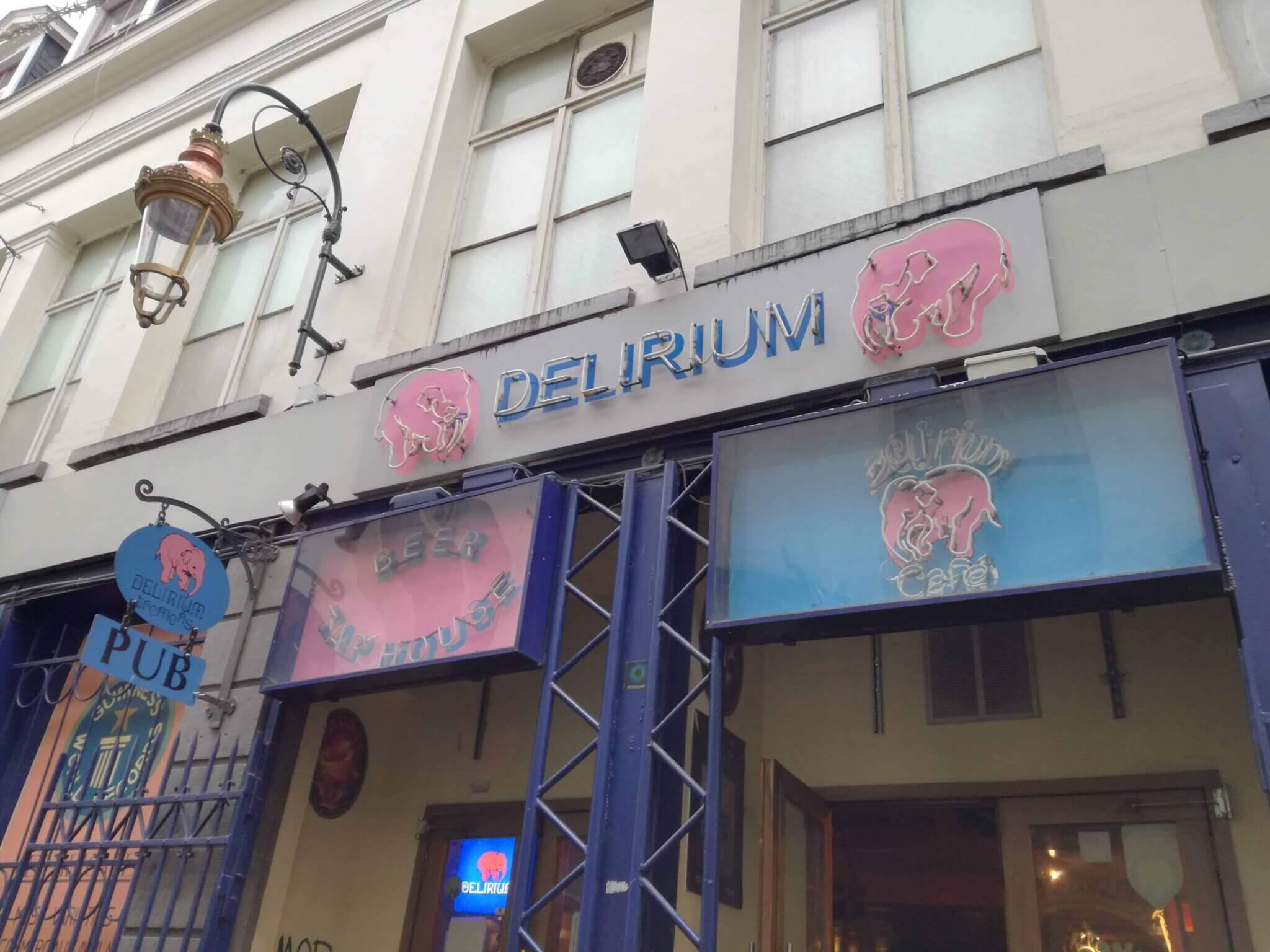 The most famous bar in Brussels is the Delirium Tremens Pub. It has over one thousand beers. It may not be the best pub in the city. But it is almost a place everyone has to see at least once in Brussels.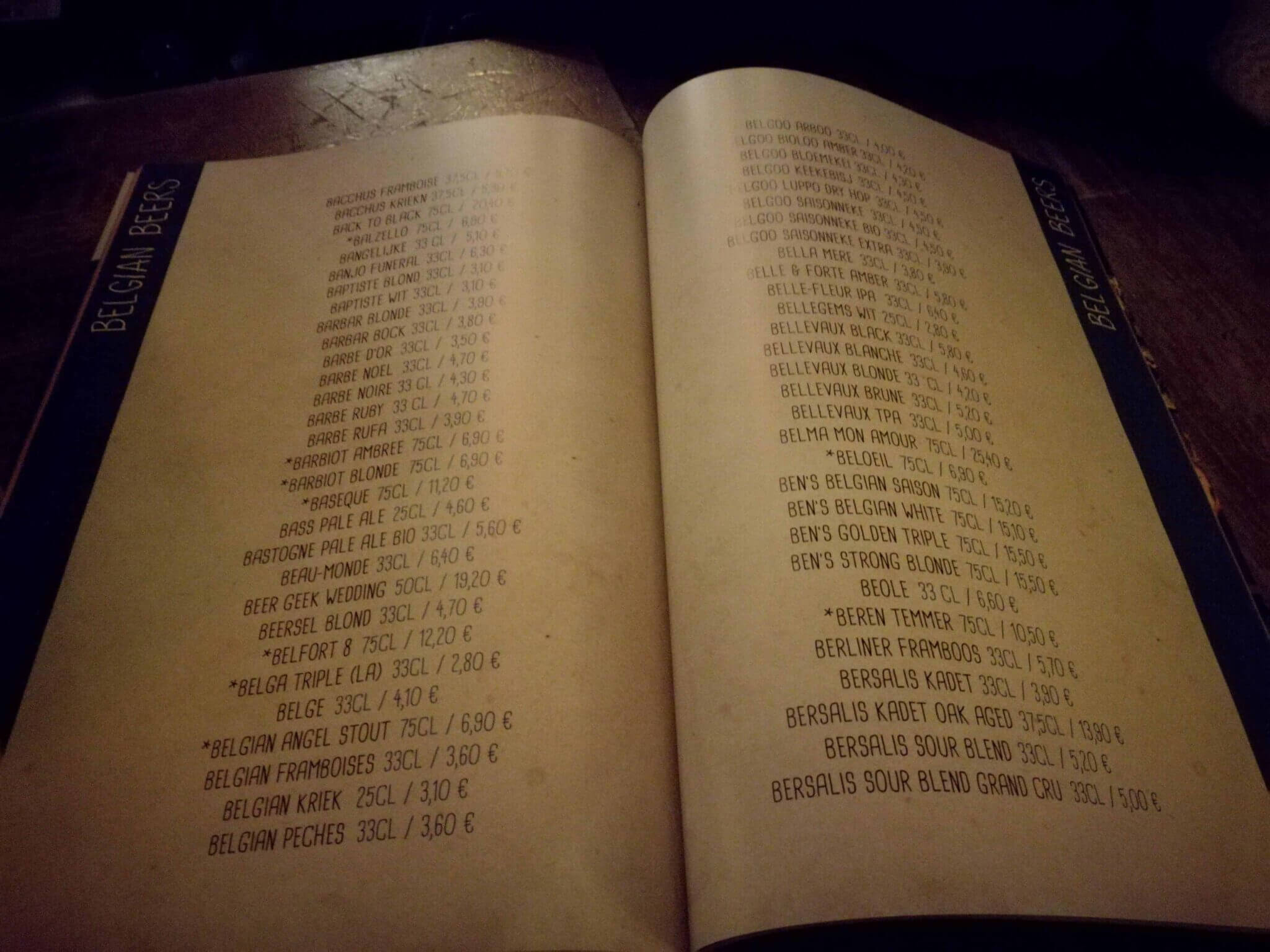 Look at that menu! Awesome place to have a beer isn't it :)
What about you, do you like beer? Did you ever drink beer in Brussels? Or Belgium?
The Costs
The trip was a bit more expensive than I expected.
Let's start with the transportation costs. We generally take our car to the airport and fly if it is in Europe. For Brussels, we paid for the plane tickets two months ago. This is a cost of  345.00 CHF. We waited too long for buying the plane tickets. Indeed, we could have saved a lot by buying them earlier. We paid 52 CHF for the parking of our car at the airport. In Brussels, we moved around with train, subway and uber. It cost us a total of 85.64 CHF. This is a total of 482.64 CHF for the trip.
As for the food, we paid a total of 215.52 CHF over the weekend. We treated my cousin to several meals. But he treated us to most of the booze!
In total, we spent 698.16 CHF for the weekend. This is a total of 116 CHF per day per person. Considering that we did not pay anything for the housing, it is not that great. We should really have bought the plane tickets early. I think we could have saved 40% on the plane tickets price. And we could probably have saved some money on the transportation in Brussels as well. The price of the food was not too bad overall. We will have to work on transportation for the next trip.
We paid for almost everything with my Revolut card. With this card, we did not pay anything in foreign exchange fees. And the exchange rates were really good, even during the weekend. We could have saved a little bit by converting some CHF to EUR before the weekend. I will have to remember that next time.
Conclusion
It was quite a good trip even in such a few days. I would have liked to spend more time there. Brussels has quite a few pretty spots to see. There are many monuments that are worth seeing. Most of the city is quite nice. There are some parts that are quite dirty and do not feel very safe. But for the most part, it is quite good.
And let's not forget that the city has some very good beer :) I really like beer, it is my alcoholic beverage of choice. We did not drink a lot of beer, but we enjoyed many different kinds of beers! And Belgian fries are really good as well :)
I would advise spending at least three full days in Brussels. That way, you would not be in a rush to visit the main things the city has to offer.  By not being as lazy like us, you could probably visit more things there. But the weather did not help. It was quite cold and we used it as an excuse
I have also been told that Bruges is a very good place to go out in Belgium. One of these days, I would like to go there for a visit. I have to put this city on my list.
Have you ever been to Brussels? Did you like it?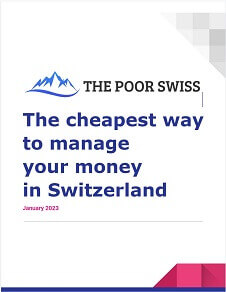 The best financial services for your money!
Download this e-book and optimize your finances and save money by using the best financial services available in Switzerland!
Download The FREE e-book