February 2023 – Expensive
|
Updated:
|
(Disclosure: Some of the links below may be affiliate links)
February 2023 was a month with a high income but high expenses. Ultimately, we reached an average savings rate, saving slightly more than half of our income.
Overall, our finances were good during the month, with some extraordinary expenses and extra income.
So, let's find out everything that happened in February 2023.
February 2023
February was tiring, with some good moments and some bad moments. Overall, it's probably an average month for us.
Financially, we had some extra income as RSUs from my employer that vested this month. These shares brought almost 9'000 CHF to our income this month, but this is a one-off event.
We also had to pay the remaining bill for the windows, for about 7000 CHF. We are still quite happy about the windows, but this makes a significant dent in our savings.
We also had to pay the stupid Serafe bill for several years. For some reason, Serafe could not bill most people living in our village, so many received a hefty bill for multiple years. This was even in the newspaper. This shows once again the incompetence of Serafe.
Overall, we saved slightly, about 48% of our income. Considering the extra expenses, this result is good even though we would have preferred a higher number.
Expenses
Let's go over the details of our expenses in February 2023:
| Category | Total | Status | Details |
| --- | --- | --- | --- |
| Insurances | 762 CHF | Average | Health insurance for three |
| Transportation | 127 CHF | Above average | More buses than usual and more parking |
| Communications | 99 CHF | Average | Phone and internet |
| Blog | 421 | Above average | Usual monthly bills and an extra one |
| Personal | 2149 | Above average | Large Serage bill, many small standard bills |
| Food | 572 | Above average | More groceries than usual, some snacks |
| Housing | 7864 | Well above average | Windows, firewood, and regular bills |
| Taxes | 1565 | Well below average | Only the county taxes and garbage bill |
In total, we spent 13563 CHF in February 2023. Without taxes, this amounts to 11997 CHF. And without the windows, this amounts to 5258 CHF. Unfortunately, this is still higher than our monthly goal of spending 5000 CHF.
We spent 600 CHF on firewood to refill our reserves of hardwood which were almost depleted. This should suffice for this winter and the next one normally.
We also spent almost 7000 CHF on the windows. This was the rest of the bill after the installation. And I already mentioned the stupid Serafe bill for three years.
Without these three expenses, our expenses would have been reasonable this month. Overall, I am still quite satisfied with this level of expenses.
2023 Goals
Let's take a look at our goals by the end of February 2023:

Overall, our goals are going well.
Our financial goals are going very well. The significant expenses this month were balanced with the low costs of last month, and we are still below 5000 CHF. Unfortunately, this will be challenged in March because plenty of small expenses are planned. Our income and savings rates are also well on track.
We reduced one bill this month by canceling accident insurance for my wife. Indeed, she started working as a day mom, and since she works more than 8 hours a week, she is covered against accidents. As a result, we will save 21.80 CHF each month.
We also reduced a second bill by reducing the size of one online server I had. I looked at the usage statistics on this server and saw that it was under-utilized. So, I resized it to a smaller instance and will now save 10 USD monthly.
My health goals did not go well this month. I was sick for about a week and then got a lingering headache that prevented me from working out, and I also did fewer walks.
As for energy, we used slightly less energy this month. We need to keep this level of energy consumption and still be careful.
So, overall, I am pretty satisfied with the progress on our goals after two months.
FI ratio
Let's watch our FI ratio until the end of February 2023:

Our FI ratio went up this month. We went to a 14.62% FI ratio. This is about a 0.6 increase, which is relatively good in a month.
The stock market recovered some of its losses during the early days of the month and then fell back again. Overall, it was quite flat. Nevertheless, we had enough savings this month to tip the balance in our favor and increase our net worth.
Also, our expenses were high, but our taxes were low, so our average costs did not move much. It is a good thing. Otherwise, our FI ratio would have gone down. Our fixed FI ratio (with 100'000 CHF expenses) is significantly higher than our current FI Ratio (average current expenditures).
Overall, this is a good result.
The Blog
I managed to do more tasks than I thought this month on the blog.
I have finished the rewrite of the theme I discussed last month. The new theme is now live. The differences are minor, but the code itself is much better. This will allow me to make changes much easier in the future.
This new theme was also the occasion to get a new logo. Let me know what you think about this logo.
I am also experimenting with a new server for the blog. Since most requests will be cached before my server, it should not make much difference for users. But it should make my life much better when editing articles. And it should save me about 5 EUR per month.
I am still keeping both hosts to switch back if the new server does not perform as well as I thought. But it seems to be holding up nicely so far. I will soon cancel the old host, but I have several months paid off already.
I have also reorganized the categories of the articles and made proper category pages. This should help to navigate the website.
Let me know what you think about these changes.
Next month – March 2023
In March 2023, we already have several events planned, and my wife will pass her HR exam. This will mean a return to normal with much less studying for her and a little more time for me.
March 2023 should be financially excellent because it is the bonus month. March is usually our highest income month. We will see if this year, it is still true.
What about you? How was February 2023 for you?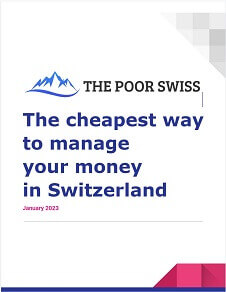 The best financial services for your money!
Download this e-book and optimize your finances and save money by using the best financial services available in Switzerland!
Download The FREE e-book