(Disclosure: Some of the links below may be affiliate links)
I cannot believe it is already the end of the year! This month went by so fast. And this year also crazy fast. It is already the end of December 2018. So, it is time for another monthly update!
This month was pretty calm. We did not do many things and not really substantial happened with our finances. Since this is the end of the year, some recurring bills are arriving now. There are also the recurring costs of gifts for our family and friends. But we have not been very spendy on that part for this year. We have been able to save 49% of our income this month. We are trying to limit gift giving and prefer doing things with friends and family.
And while nothing crazy happened for us, the stock market continued its fast decline. We are getting very close to bear market territory now. With this, we were not able to grow our net worth this month. We will have to watch the market closely next month to see how it goes.
Stay tuned to learn everything that happened to us and our finances in December 2018!
December 2018
December 2018 was not a very eventful month. We had quite a few events with my family and friends as expected for any Christmas. I really like this time of year.
We also started to have some nice snow. But not as much as I would like to have. I really like snow and I look forward to starting skiing this year. Especially since Mrs. The Poor Swiss will probably start skiing for the first time this year.
We also did our Christmas tree this month :) I went to take it from the timbermen of our own village. I found a really nice tree I think.  This was the first time Mrs. The Poor Swiss decorated a tree. She liked it a lot!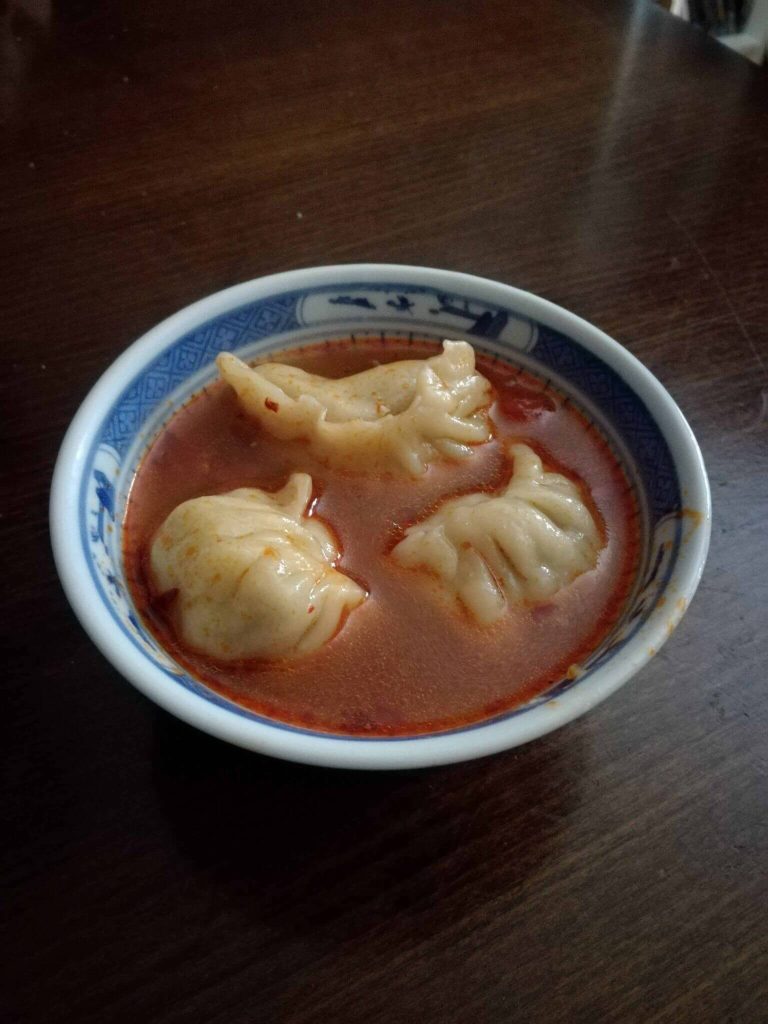 And since it was dumplings festival in China this month, we had to do some dumplings. Miam! I really like dumplings. We still have many in our freezer. For these ones, Mrs. The Poor Swiss did a wonderful soup. It was really good!
Talking about food, we had a big food budget this month. We had quite a few things to restock in our home. That means extra expenses for a single month. I also did my yearly foie gras. This is actually not very expensive to do a foie gras by myself. But it is still more than doing nothing!
Overall, we still were able to save 49.71% of our income this month. This is really not too bad. We are still increasing our twelve-month average. Next year, I am going to work on it so we can reach an average of 50%.
This month, I still had to work during the Christmas period. Since we planned to go to China for Chinese new year, I do not have enough vacations to take both. But I had three days off between Christmas and New Year's day. This is not bad. And I managed to get a lot of things done at work. Almost nobody was at the office and as such saved a lot of time on meeting and emails. I am wondering whether I should do that next Christmas as well regardless of vacation days!
Stock Market
As said in the introduction, the stock market was not as calm as our month! Last month, we already had a pretty bad result with our stocks. But this month is even worse.
It started well with some continued recovery from the end of November to the first few days of December. And then, it became quite bad going down and down almost every day. There was a crazy day recovery with almost 5% up around the end of the month and then the market stayed quite flat.


As you can see, it was a pretty brutal month again. And the entire global market actually followed much of the same route. All my funds are in negative now. Generally, that would mean I could buy some new shares at a discounted price. Unfortunately, we are still rebuilding our cash position that is too low. And a lot of my salary is invested towards my ESPP. We will have enough cash to invest again in February and March I think. We will see later if we can still invest at a better price or not.
Expenses
As usual here are the full details of our expenses this month:
Insurances: 1085.05: Well above average. We had to pay the law insurance that I have. And we changed health insurance and will pay more next year. 800 CHF will be the new average for next year.
Transportation: 184.01 CHF: Below average. Nothing special for transportation this month. Wpaidy payed for gas twice. This is pretty good.
Communications: 128.11: Above average. I had to pay a few roaming fees from last month in Brussels and a few yearly services were renewed.
Personal: 633.80: Above average. Nothing too bad here. Mrs. The Poor Swiss did some extra shopping and I had to pay for my dentist appointment of the previous month. And there were a few Christmas gifts as well.
Food:394.35 CHF: Above average. This is higher than usual because we had to restock a few things. We had to go to Aligro and to our Chinese shop. But this should go back down again next month.
Apartment: 1496.00 CHF: Above average. We had to pay the power bill this month.
Taxes: 694.10 CHF: Average
Overall, for spending, this was a good month. There are the usual bills of the end of the year. And we did some restocking. But, we did not spend a lot for a month of December.
2018 Goals
Here is the state of my goals at the end of December 2018: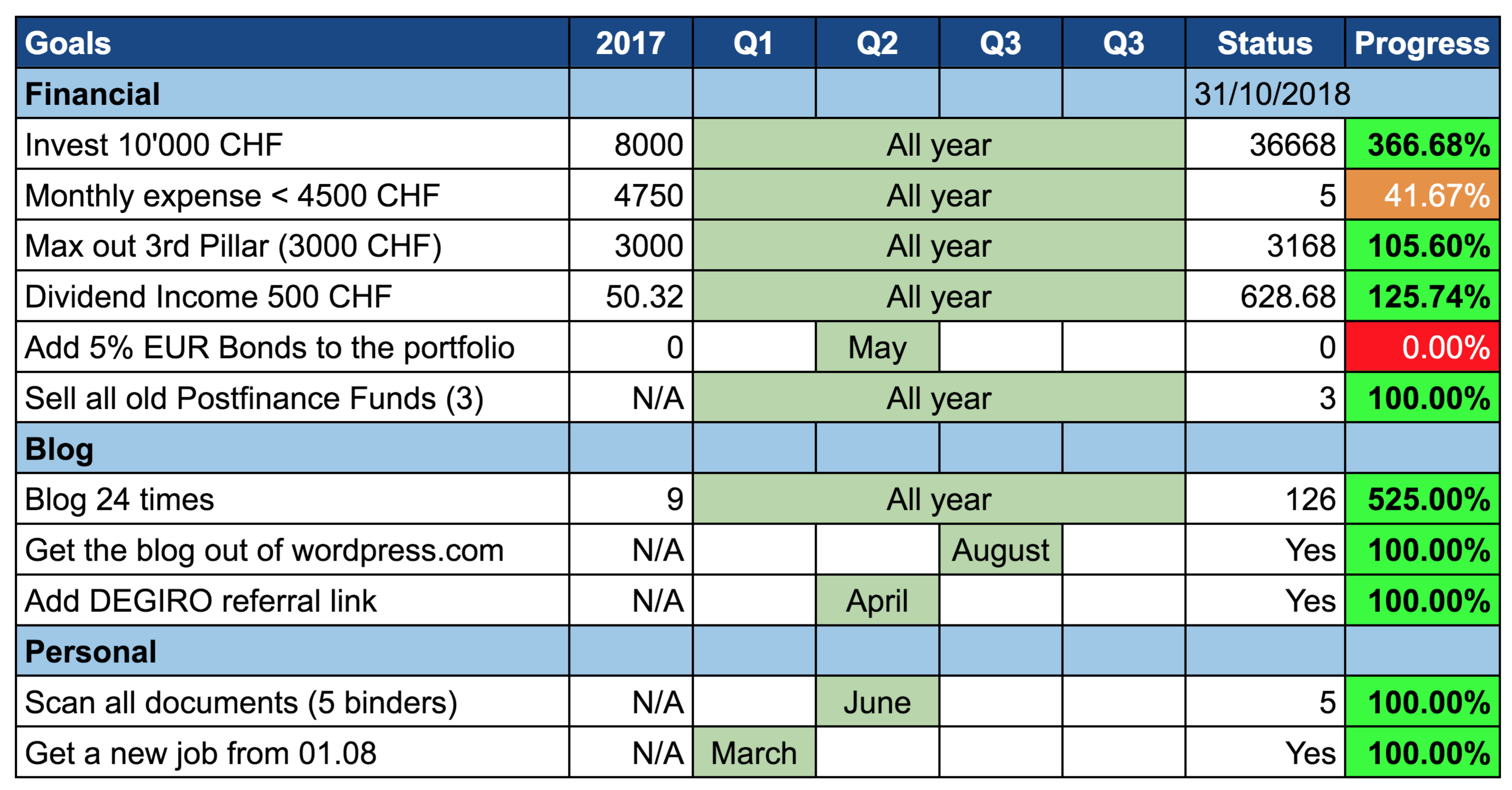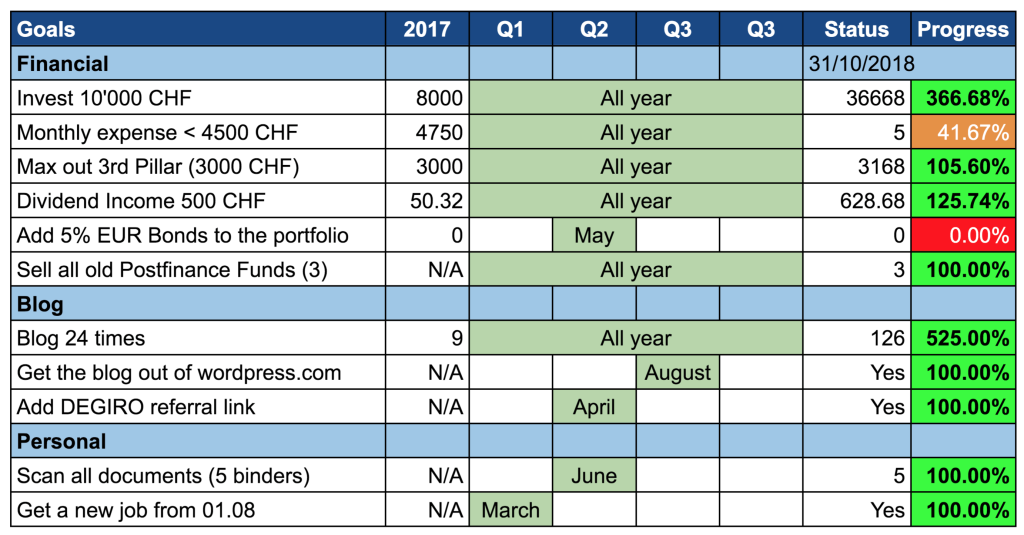 Once again I failed the goal of staying below 4500 CHF. But this is expected since it is the end of the year and the bills are piling up. This shows once again that this goal was not very well chosen. On a better note, I finally achieve my goal of 500 CHF dividends in 2018. I received dividends from my main position (Vanguard Total World) before the end of the year! This is quite good.
I am not going to go into more details for my goals. Indeed, I am planning to do a full article about the state of my goals for 2018. I will also soon publish my goals for 2019.
Net Worth
As mentioned before, the stock market was not very nice to us this month. So our investment portfolio and our retirement portfolio lost some value again this month. Here is the current state of our net worth:


Our net worth currently sits at 124829.15 CHF. For the last two months, our net worth has not really moved. Because the markets were down a lot, all we added to the net worth was negated in the total. This is not a great state but at least our net worth is currently not going down. I actually hope that the market will continue to go down to be able to invest at a better price next year once we have finished rebuilding our cash position.
There was great news from Revolut this month. They finally have a Swiss IBAN. I have not yet transferred any money to it since I already have enough money on it for a while. But the next time, I will use this technique instead of going through my Wise card. I am currently using my Revolut Card for all my expenses in foreign currencies. I will talk more about that in a coming post!
The Blog
The blog did well this month. There was an increase of about 25% users in December 2018. However, this is only an increase of 5% in page views. I got a lot more users this month but many of them only visited a single page. This is still good. But these are users that probably will not visit again.
I had a mention on RockstarFinance again for my article 11 personal finance things I do each month. This is something I really like because it shows that the post is of good quality. And it also brought some nice traffic to the blog through the links from this mention. Which is also nice of course! The first mention I had was only a link to the article. This time it is a feature of the entire post. It brings fewer visits. But I think it is better for SEO which should be better in the long-term.
As usual, here are the three most read posts of this month:
How to compute your Financial Independence (FI) Ratio – This post is not recent. But it got a lot of traction from the RockstarFinance mention. This post helps you computing your FI ratio. This will tell you how close you are to retirement.
Automating your personal finances is a mistake – This post is quite controversial since most of the personal finance community is all about automating everything. But I do not agree with that and think that automation in personal finance is mostly a mistake. What do you think about that?
Your assets are not equal – Introducing the FI net worth – Some of your assets should not be counted towards Financial Independence. For instance, the house in which you live is not helping you being financially independent. The FI net worth is the net worth that should count towards financial independence.
It seems that Financial Independence (FI) is still a very popular subject. I still have a few ideas on posts on the subject. What would you like to read about it?
What was your favorite post this month?
Next month – January 2019
Next month will be the first of the new year. I will soon publish my review of my goals for the year 2018. And I also need to prepare my goals for 2019. These posts will arrive soon this month. I also want to reflect upon the current year and see what we could have done better.
There is only one big event next month. Mrs. The Poor Swiss is going back to China for Chinese new year. And I am joining her two months later, in early February. This should not change a lot for January budget. But still worth mentioning! And this will definitely change the budget for February.
February 2018 will be expensive with the holiday in China and the second part of the dowry I have to pay.
How about your December 2018? How was it?