(Disclosure: Some of the links below may be affiliate links)
April 2021 was a fairly standard month for us. We had a few events with my family and friends, which was great. But less than last month so, we were able to enjoy some quiet time.
And with the nicer days, we could be outside a little more, even though not as much as we would have liked.
It was a good month with high income and extremely low expenses from a financial point of view. So, we managed to save 77% of our income during the month.
April 2021
In April 2021, we had a good balance of quiet time and events with family and friends. Overall, it was quite a good month. We are getting used to the state of COVID, and with some warmer days, it is more enjoyable.
Last month, we invited people too often (in small groups, so more events) and were tired of hosting. This month, we had a much better balance.
I still work at home and still enjoy it a lot. I really want to continue working at home forever. There are so many advantages in my case. It is better for my time, for my health, and my family as well. And my productivity did not suffer even though I take on more pauses.
Except for one large gift for a wedding, our expenses were very low this month. So, we managed to keep our expenses quite low this month. This is good after the fairly expensive previous month. Our income is back to normal this month, after the bonus from last month. But since our expenses are twice lower this month, we still managed to hit a 77% savings rate! This will change next month with the return of the taxes, but this is still great!
Expenses
Let's see the details of our expenses in April 2021:
| Category | Total | Status | Details |
| --- | --- | --- | --- |
| Insurances | 745 | Average | Health insurance premiums |
| Transportation | 67 | Below average | Some parking in the city, one gas refill |
| Communications | 70 | Average | Internet and one hosting service |
| Personal | 1434 | Slightly above average | Several health bills, a gift for a wedding, and many small expenses |
| Food | 446 | Slightly above average | Groceries and a few small lunches outside |
| Housing | 585 | Below average | Our mortgage payments and heating |
| Taxes | 23 | Well below average | Just a small real estate tax |
In total, we spent 3373 CHF in April 2021. Without taxes, this a total of 3349 CHF. This is an awesome result. I am quite happy about our expenses this month.
You can observe that I did not pay taxes this month. This is due to the system of taxes in Switzerland, at least in the canton of Fribourg. Indeed, we do not receive one bill per month, but a set of bills, and there are only 10 or 9 of them. So, by the end of March, everything is paid. And it starts again in May. This always makes April a very cheap month for us.
Next month, we should receive the new set of bills and any unpaid taxes from 2020. So, next month is not going to be so high in terms of savings rates.
I am happy that our food bill went back down again. Our groceries are at 390 CHF for the month, below my goal of 400-450. I am also happy about the other expenses this month. There is not much we could have done better.
2021 Goals
Let's take a look at the status of our 2021 goals at the end of April 2021: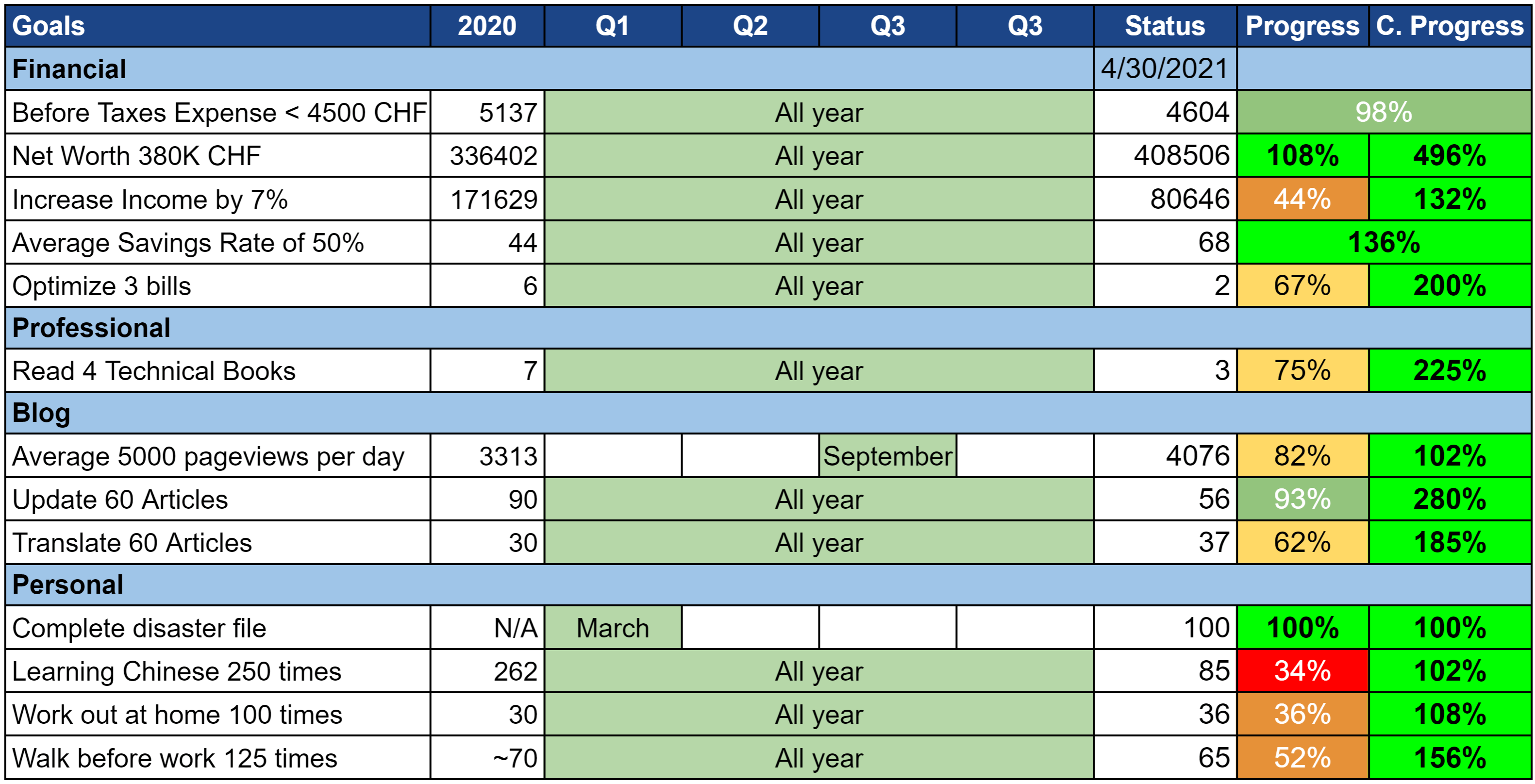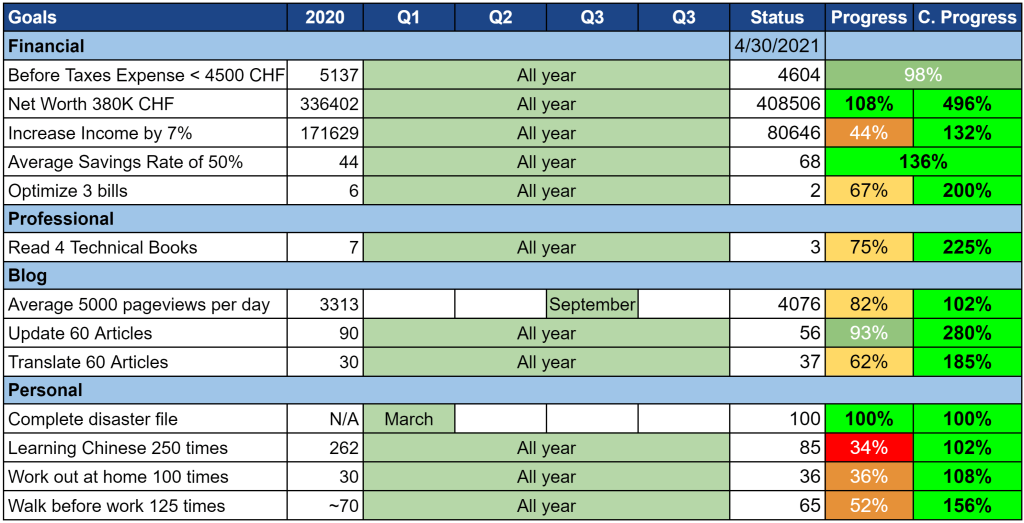 Overall, our goals are doing quite well! I could improve some goals that were a little late, and now we are back on track.
With the very low expenses this month, we have strongly improved our average expenses. If we manage to stick to a good level next month, we will back on track to meet our goal. Our savings rate goal is also going well, but with the next two months that will be heavy in taxes, it may not fare so well for long.
For the gym, I switched to a new routine of Monday, Wednesday, and Friday instead of Tuesday, Thursday and Saturday.  This is much better for me since I rarely did it on Saturday. Of course, I still do not enjoy it. But I can force myself to do it during the week, not the weekend. With that, I was able to do more than during the previous months.
For my Chinese learning, I was hitting a wall with my online learning. So, instead, we spoke more in Chinese with my wife. We generally try to speak Chinese during the entire dinner and sometimes on walks. This helps a lot more, and I feel like I am not wasting time. As a result, I missed fewer days.
The goal for the blog page views is one that I do not think we will achieve. It started great in January, but then kept decreasing month after month. At this point, I do not know what to do differently to reach that goal.
So, overall, everything is good for our 2021 goals!
Net Worth
Let's take a look at our net worth as of April 2021:


We have now passed the 400K limit! This is a great milestone that we achieved. We should be able to reach 500K in less than two years now.
There was really nothing special about the net worth this month. Most of the growth is due to our savings. The stock market did quite well, but the USD lost in value again compared to the CHF, which negated most of our growth.
The Blog
For the second month in a row, the traffic has decreased on the blog. Some articles did really well, while a lot of articles lost a lot of traffic. Overall, this is a decrease over most articles. I have continued writing new articles, updating old articles, and translate articles. At this point, I cannot do more than that for this blog.
Except for this, there was really nothing special on the blog. I did small tweaks to the design to improve it, but nothing dramatic. I do not plan on doing any large changes next month either. I will probably only focus on new articles next month. My efforts at keeping it updated and translated did not pay off much.
If you had to read a single article for this month, it should my article about withdrawing frequency.
Next Month – May 2021
On a personal note, April 2021 should be fairly good. We have a few small events planned with friends and family. But it should not be too much so it should be another good and quiet month. With the coming of the warmer days, we will be able to go for more walks and start working on our garden.
On a financial note, May 2021 is likely to be bad. Since my income increased significantly in 2020, I have not paid enough taxes. Usually, I receive the tax statement in May. So, I will receive a large bill for not having paid enough in 2020. So, we are unlikely to save any money in May. Of course, this sucks, but this is the consequence of increasing my income significantly, which is a good thing! And we were expecting this anyway.
What about you? How was April? Any plan for May?