June 2023 – Travel and new lows in sleep
|
Updated:
|
(Disclosure: Some of the links below may be affiliate links)
June 2023 was very eventful for us. I went to the US for a few days for work. We are back to not sleeping because my son did not cope well with my absence.
On top of that, we finally planned for some summer holidays. It seems that the July holidays are the most expensive holidays to plan.
Financially, it was an expensive month, but we still managed to save slightly less than 15% of our income.
June 2023
June was a very eventful month. At the beginning of the month, I returned to the US for five days to visit my employer's HQ. This is something I did not do since 2019. It was good to meet people in person from the US office. And I could advance many projects with that.
Unfortunately, my son did not like this. And since my return, he is once again sleeping very poorly. So, we are almost back to square one with sleep. It took us a week to make him sleep alone again, and we still had multiple wakeups each night. And even now, it gets increasingly difficult to put him to sleep after several weeks.
So, adding jetlag to not sleeping when coming back, I am back at very low energy levels.
We also had many friends and family events during the weekends. I keep hoping that next month will be less, but I still have not found a way to achieve that. July is going to be crazy as well.
Financially, it was an expensive month for several reasons, but the biggest tickets were the vacations (details later on). We still managed to save less than 15% of our income. This is our worst saving rate of the year, but it makes sense since we are paying for the holidays.
Summer Holiday
We finally settled on the destination for our holiday vacation: Santorini. We had difficulty finding something that would fit us both, with changing needs and wants.
And since Mrs. The Poor Swiss is working, we must go during official Swiss holidays. This means going either in July or August. And these times are expensive and popular.
Ultimately, the flight and the hotels were much more expensive than anticipated. We ended up paying about 2500 CHF for five nights for three persons (my son is traveling almost free). This is by far the most expensive trip we have taken so far.
We can afford this kind of expense. But that does not make it reasonable. Over 500 CHF per night is too expensive for two adults and one infant for a holiday. It seems to me that prices have gone up significantly in the last two years.
Expenses
Here are the details of our expenses in June 2023:
| Category | Total | Status | Details |
| --- | --- | --- | --- |
| Insurances | 1093 | Above average | Health insurance and household insurance |
| Transportation | 216 | Above average | More parking and public transportation than usual |
| Communications | 124 | Above average | Reload my prepaid, internet, and phone. |
| Blog | 2166 | Well above average | Fees for the LLC, AVS bill, and various renewals |
| Personal | 6022 | Well above average | Holidays, many health bills, and many small bills |
| Food | 582 | Average | Low groceries, but more eating out than usual |
| Housing | 676 | Above average | Mortgage, heating, and power |
| Taxes | 3577 | Below average | Only commune and canton taxes |
In total, we spent 14380 CHF. Without taxes and the blog, it accounts for 8636 CHF. This makes it a very expensive month, much more than average. This is well higher than our target. Even without the July vacation, this accounts for 6176 CHF.
Most of our categories are above average, but all categories are fine except for the personal category. Indeed, we had many bills that were not monthly, such as the household insurance or the power bill. This skews some of the months.
On the other hand, the Personal category is entirely out of control this month. Even when ignoring the July vacation, we bought too many things this month. This is not sustainable.
We are developing bad habits of buying too many things. Of course, not everything we buy is unnecessary. For instance, we bought a rain collector to save water for our garden. But in many cases, we should think longer before buying new things.
2023 Goals
Here is the status of our goals by the end of June 2023

Overall, the progress on our goals is quite mixed this month.
Our financial goals are doing well, but the significant expenses of this month destroyed our monthly expenses goal. I already knew this goal would be challenging, but now it seems impossible for us. I am wondering whether travel should be excluded.
I was hoping to be done with creating the LLC this month. But unfortunately, Migros Bank was much slower than expected to create the bank account (more on that later).
On the health side, my workout goals are still behind schedule. I could not do as many as I wanted this month. I also hoped my daily steps would be significantly higher this month, but it did not happen. Interestingly, I discovered that I miss some days in my health app. I will try to sync once a week with my watch instead of once a month.
So, next month, we must be careful about our expenses and health goals.
FI Ratio
Here is the progress on our FI Ratio as of June 2023 :

This month, we went from 16.5% to 16.9%. It is not a huge increase, but it still moves in the proper direction.
Our net worth has increased significantly, mostly thanks to the stock market. However, our expenses are very bad this month, increasing our average expenses.
We are in the right direction with our net worth but need to stabilize our expenses. The gap between a life of 100'000 CHF yearly expenses and our current life is increasing monthly.
The Blog
The main task done on this blog was creating the LLC for the blog. Unfortunately, this took longer than I expected.
The LLC itself was created and is now publicly registered. However, getting the bank account was much slower than I anticipated. I created a business bank account with Migros Bank because of their low fees (my review of Migros Bank private accounts).
However, Migros Bank's processes are highly antiquated. Every process is done by plain old mail. And I had to sign and fill out many forms to create a simple business bank account. Ultimately, creating the bank account took much longer than creating the LLC. This is an absurd state of things.
So, we could not start working with the new company this month. The bank account was only created a few days before the end of the month, and we still have no e-banking access. Hopefully, everything will be set up next month.
Aside from this, I updated a few older articles, but I have not had time to finish that effort.
Next Month – July 2023
In July 2023, we have plenty of summer events planned with our family and friends. At the end of the month, we will go on vacation to Greece. We will then have an extra week of vacation. This should be an expensive month, but less so than June (unless we have to pay extra taxes).
Next month, we should hopefully be done with working with the LLC. This means we will start operating on the new company.
What about you? How was June 2023 for you?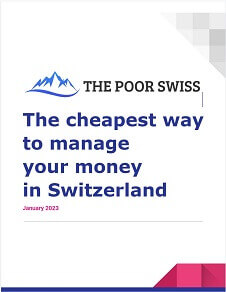 The best financial services for your money!
Download this e-book and optimize your finances and save money by using the best financial services available in Switzerland!
Download The FREE e-book