How much we spent in 2022 – Full Expense Report
|
Updated:
|
(Disclosure: Some of the links below may be affiliate links)
I try to keep track of all our expenses. I usually publish a monthly update. And once a year, I do a complete analysis of the costs for the entire year. That way, I can have a global view of what we spent.
I do not budget, but I think tracking expenses is essential. Monthly expenses are interesting, but having a yearly overview helps put things in perspective.
So, let's see the expenses of our family of three for 2022 in canton Fribourg. 2022 is the first year, with three persons for the entire year.
2022 Expenses
In 2022, we spent a total of 136'675 CHF. We spent 11% more than in 2021. Given the inflation, the higher taxes, and the fact that we were three people for the entire year, this result is not too bad. Nevertheless, we are still spending more yearly, which is not great for reaching financial independence.
Let's look at the detail. We are using eight categories for tracking our expenses. So, here are the totals of each category for 2022 (sorted by amount):
| Category | Total CHF | Difference | What is it? |
| --- | --- | --- | --- |
| State | 53'703 | +6658 | All taxes |
| Personal | 28'072 | +6'320 | Everything else, for us, is not mandatory |
| Housing | 33'008 | -13'889 | Mortgage, house fees, notary, and new windows |
| Insurances | 11'488 | +857 | All our insurance, primarily health insurance |
| Food | 9'046 | +2'410 | Groceries and eating out |
| Blog | 6'912 | +1'359 | Blog expenses, AVS mostly |
| Transportation | 3'675 | +490 | Car and public transportation |
| Communication | 1'050 | -99 | Phone and internet bills |
Most of our categories went up significantly. However, three categories took a big hit:
Just like last year, our taxes increased by almost 7'000 CHF. Our income rose substantially in 2021, leading to increased taxes in 2022. I expected 2022 to be better, but I again underestimated taxes.
Our Personal budget category also went crazy this year. There were many new expenses, like changes in my office, health bills, kindergarten, and a course for my wife.
Our Food budget category also was a little out of control this year. We were not very careful with it.
Only two categories went down this year. Our communications budget went down by about 100 CHF because we optimized it. And our housing budget went down by almost 10'000 CHF. This is because we had to pay a huge land register bill last year. So, this year is more reasonable even though we prepaid 10'000 CHF to change our windows.
Not counting blog and taxes, we spent 60'400 CHF in 2022. This gives us an increase of 15% compared to 2021. However, these expenses include 10'000 CHF for the windows, so a 15% personal inflation rate is not too bad. The personal inflation rate is a cool personal finance metric.
Here is a breakdown of our expenses per category for 2022: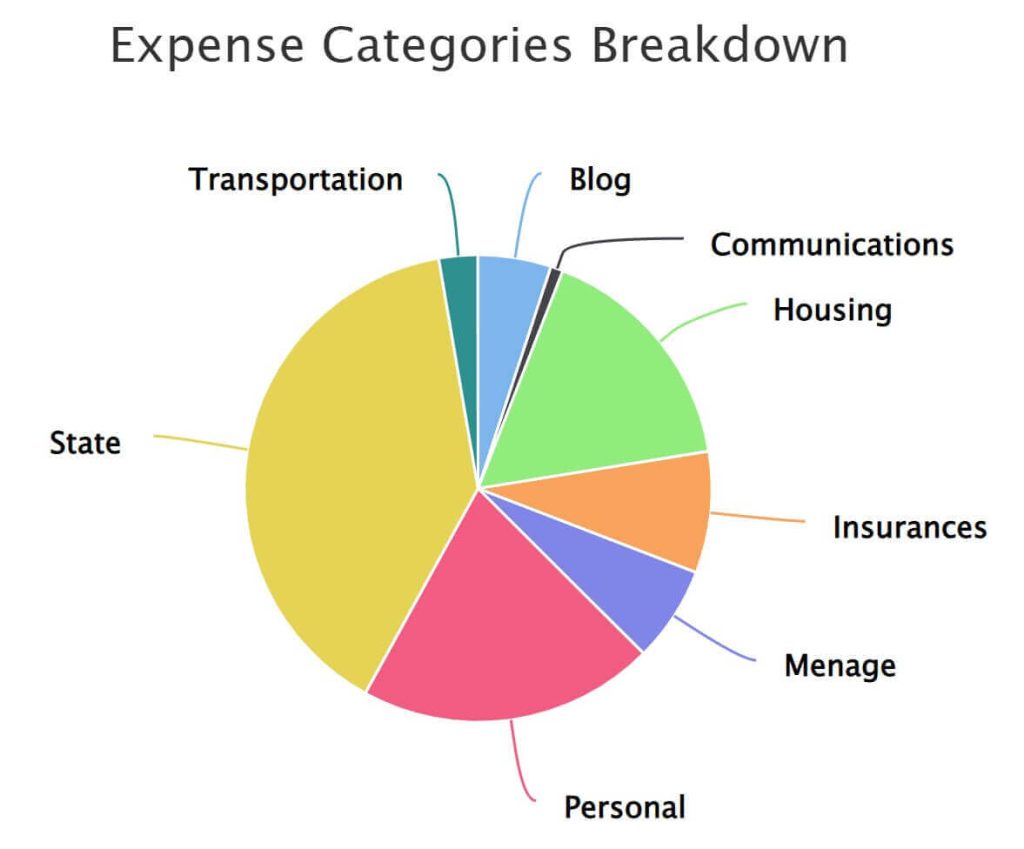 Every year, the taxes take more and more of our budget. We have a few plans to optimize this, but taxes will remain a large part of our budget for a long time.
If you want to compare your expenses with us, here are a few essential facts. We are a married couple with a one-year-old with a single income. However, I do not recommend comparing too much with other people. You should try to do better than yourself, not better than others.
I will also detail some of the larger expenses and what changed in 2021.
Biggest 2022 Mandatory Expenses
We can start quickly with the big mandatory expenses:
Taxes: 53703 CHF (+6658)
Health Insurance: 10'346 CHF (+852)
Groceries: 6'939 CHF (+751)
Mortgage: 3'661 (same)
These expenses together are already the bulk of our total expenses. Also, we cannot get rid of them entirely.
Last year, I said that our taxes would go down, but I was wrong. I underestimated the growth of our earnings. In 2023, I expect this to go even higher since our income in 2022 increased again.
Our health insurance should decrease slightly in 2023 because we have reduced our complementary policies.
Our groceries went up significantly again this year. I do not know why exactly. Some of the increase is due to inflation, but not the entirety. Some of it is because our son eats with us and has diapers. But overall, I think we are just less careful with groceries. In the totality of our budget, it is probably still fine.
As for our mortgage, nothing should change in 2023. It will go slightly lower yearly since we do some direct amortization, but not much.
We can also take a look at some individual expenses.
Health 3436 CHF (-31%)
Last year, we had big health bills for the baby, so they went back down this year.
Nevertheless, we still had significant health bills for my knees. And new health bills are coming for our son (but most of them are reimbursed).
I am hoping this will go down slightly in 2023.
Computers 1180 CHF (-10%)
In 2022, I thought of refreshing my computer configuration, but this did not happen.
I wanted to do it for gaming and development, but these are two activities I almost do not do anymore. So, it does not make sense to spend money on my computer.
Instead, we bought a new laptop, shared by my wife and me. We did that before her course, but it turned out to be very useful for the course since this laptop is much better than the old one.
I do not know what will happen to this budget in 2023.
Gas 838 CHF (+152%)
In 2022, we used our car a lot more than in 2021, and the gas price also increased.
Now that our son is older, we are doing many more things with him, often using our car. It is still a reasonable budget.
In 2023, I do not see that change. We are considering changing car, possibly for an electric vehicle, but that probably will not happen for a few years unless something bad happens to our car.
New expenses
There were a few new expenses this year compared to before.
In 2022, I redesigned my office. This meant buying a new desk and furniture and redoing an entire wall. This cost us close to 3000 CHF. I am pleased with the result. I do not have any such plan for 2023 (nor the time to execute them).
We have started putting our son in kindergarten one day a week. So far, this has cost us 1775 CHF. Next year, this will be higher (about 2500 CHF). And we are also thinking of having a second half-day, maybe in 2023, so this may increase further. Switzerland has expensive daycare.
We also spent close to 4000 CHF on a course for my wife. The course is almost over now. We probably will not have a course to pay for in 2023.
We had two extra bills for the house in 2022. We paid about 3500 CHF for the notary. We also prepaid 10'000 CHF on new windows that should be installed in 2023. We will have to pay for the leftover for the windows.
But overall, not that many things changed this year!
Things we improved in 2022
We did not improve many things in 2022.
We made a few improvements that should be reflected in 2023 expenses. For instance, we managed to cancel several complementary insurance policies.
We also managed our heating system better. This reduction should be reflected in 2023. And it should get even lower in 2023 (starting in September 2022, usually).
We are also planning to repay the withdrawal from our second pillar. The idea is that we will then make voluntary contributions to the second pillar to save on taxes.
Things that will change in 2023
Two changes may make our budget different in 2023.
The main change is that I plan to transform the blog from a sole proprietorship into a Limited Liability Company (LLC). Once this is done, the expenses and income from the blog will be separated from my income. I may not give myself a salary during the first few years, so we will see how that goes. We are currently waiting on the cash for the LLC. This may take a while since we have other priorities with the cash.
The second change is that we will likely introduce a Kid category to our budget. This will not change much, only the reporting.
Things to improve in 2023
We do not have big plans for our expenses in 2023.
We want to lower our heating and energy bills. We are still getting accustomed to the heating system in our house (remote heating with floor heating), so we have not got it to the ideal setting yet. Hopefully, we will manage to reduce it. As for energy, we are trying to reduce it by at least 10% this year.
These two optimizations will not make a huge difference considering they are small expenses, but there is not much we can do for the largest expenses.
Conclusion
Overall, we spent more money in 2022 than we ever did. It seems I am saying that every year. However, our taxes are the primary driver currently. Since our income is increasing steadily, it is not a bad thing.
Overall, we could have done better in 2022. But the situation is not always too bad. We only spent 11% more than in 2021 despite being three for the entire year. We are still getting used to being three people in the house, so our expenses may vary yearly until we get more stable.
If you want more details on our house expenses, we wrote down our expenses for owning a house after a full year.
What about you? How much did you spend in 2022?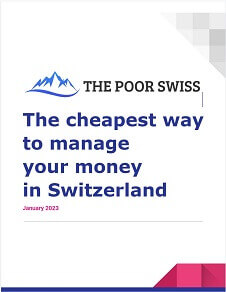 The best financial services for your money!
Download this e-book and optimize your finances and save money by using the best financial services available in Switzerland!
Download The FREE e-book