(Disclosure: Some of the links below may be affiliate links)
Each year, we set ourselves goals for the entire year. These goals are varied and cover different aspects of our lives. Many of them are financial since this is, after all, a financial blog. But we do have personal goals as well.
Since we are now well inside January, it is time to set up our 2021 goals. In this article, I will go over our goals for 2021. Some of them are very similar to our 2020 goals, but we try to do better every year with our goals.
So, without further ado, let's look at our 2021 goals.
Our 2021 Goals
We have been using the same spreadsheet for our goals for several years now, and it works well for us. So, here is the spreadsheet for our 2021 Goals: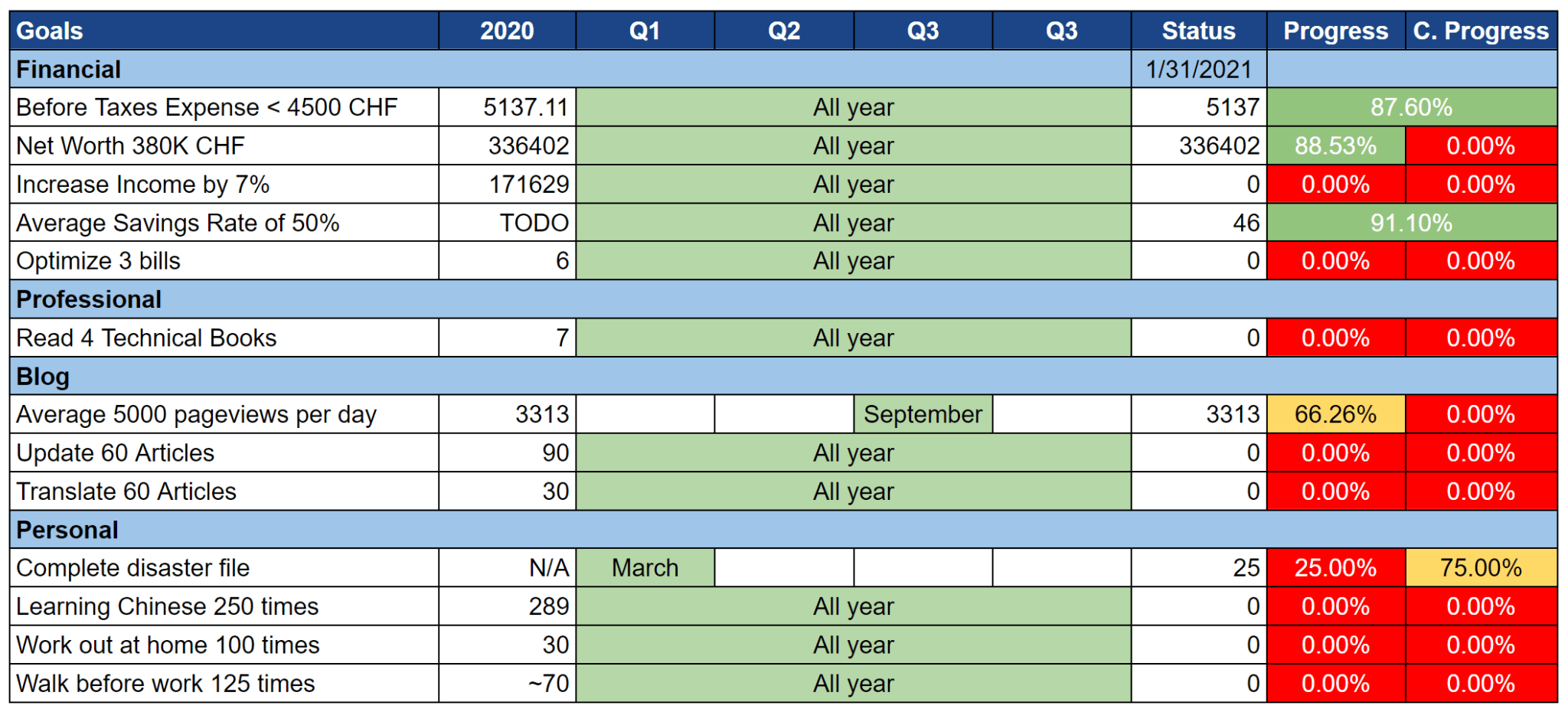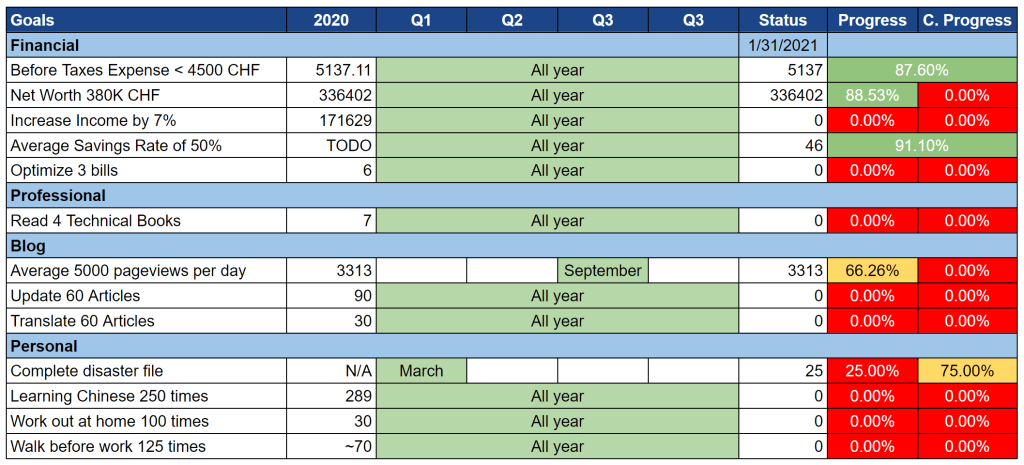 The Progress column indicates the total progress, while the C. Progress column indicates the current month's current progress. I think knowing the current progress is very helpful for tracking. But you may not need such a column!
We track our goals in Google Sheets. There is really nothing fancy about tracking our goals. If you are not yet setting and tracking goals, I would really encourage you to set goals for yourself.
We can now go over all our 2021 goals in more detail. Keep in mind that these goals are in no particular order. There may be some more minor goals, but all our 2021 goals are equally important to us.
Financial Goals
In our 2021 Goals, we have set ourselves five financial goals. These goals are made to improve our financial life and work towards Financial Independence.
I am aware that some of these goals somehow overlap in what we have to do to reach them. But these goals are also a way to improve our tracking. And they are also a way to share more information with our readers (you!). So, it is fine to have several overlapping goals.
Before Tax Expenses < 4500 CHF


In 2021, we want to decrease our before tax expenses below 4500 CHF per month.
I have had this goal for a long time now, and I could never reach it. The first year, taxes destroyed our goal. So, the next year (2020), we removed taxes from the goal. We were defeated by all the furniture that we had to buy for the new house.
In 2021, we are going to try again. Once we stop paying for the old apartment, our expenses should go down significantly. Moreover, we optimize some bills last year that will make a small difference this year.
I am not going to count expenses related to the house purchase like notary fees in this goal. Otherwise, we would not have a chance to reach our goal.
Net Worth 380K CHF
In 2021, we want to reach a net worth of 380K CHF.
For Financial Independence, the net worth is essential. It is what indicates our progress towards Financial Independence.
We are relatively conservative with this goal. Normally, we should save enough in a year to reach this without too many issues. However, we will have to pay some big bills for the house purchase in 2021. With these purchases, we do not know exactly what we will be able to do. So, this goal could end up quite ambitious.
For now, we are only tracking our entire net worth. But the value of our house does not do anything for us for Financial Independence. Therefore, we will have to start tracking our FI Net Worth in the future.
Increase Income by 7%
In 2021, we want to increase our income by 7%.
To reach financial independence, we need to increase our savings rate. For this, we need to work on the earnings side as well. For this, we are going to try to improve our income by 7% in 2021.
This goal is going to be difficult, maybe the most difficult of our 2021 goals. To reach that goal, we have to increase our income by an average of 1000 CHF per month. It is not going to be easy. Some of it will be achieved with higher income at work, and some of it will be achieved with higher side hustle income. We will see how well we can reach this.
Average Savings Rate of 50%


In 2021, we want to save 50% of our income on average.
To reach financial independence, the savings rate is a very important metric. When we started on our journey to FI, our average savings rate was about 10%. Now we are averaging about 45%. A perfect place to be for us would be at a 50% savings rate.
So far, we have never reached an average of 50% for an entire year. This goal is overlapping with reducing our expenses and increasing our income. But it is an important goal, so we want to track it here.
Optimize 3 bills
In 2021, I want to optimize (reduce) three bills.
Recurring bills (that occur regularly) are important to optimize. These are bills that you will likely pay for your entire life. For instance, you will probably be paying for your internet bills for your entire life.
To save as much money as possible, it is important to work on both the expenses and earnings side. For the expenses side, working on recurring bills and the big bills is what matters most. Our quality of life is currently excellent. So, we only want to pay less for the same thing. We are not going to lower our standards!
I do not yet know which bills I am going to optimize this year. But I was in the same situation last year, and I still managed to optimize six bills and save more than 1000 CHF for each future year. So, I should be able to optimize at least three bills in 2021.
Professional Goals
For our 2021 goals, I only set a single professional goal. I also have goals at work that are very specific. So, I do not want to have more there. But I need to stay current in my industry.
Read Four Technical Books
In 2021, I want to read four technical books.
In my field, it is important to stay current with new trends. Therefore, I read a lot of blogs online from experts in the field. But I also want to read books to improve or refresh my level at the things I want to be an expert at.
I generally focus on strictly technical (programming in my case) books. But these last few years, I have also read some self-improvement books that can help me at my job as well. For instance, I have read Getting Things Done and Making It All Work, which made me more effective.
Blogging Goals
For me, this blog is a hobby and a side hustle. I want to develop the blog so that I can help more people with their financial lives. As part of my 2021 goals, I have set myself 3 blogging goals to achieve.
Average 5000 daily page views

In 2021, I want the blog to an average of 5000 daily page views.
My main goal with the blog is to be able to reach as many people as possible. And for this, my main metric is the number of page views per day, on average. At the end of 2020, I was average about 3300 page views per day. So, going to 5000 means a 50% increase. Now that I have reached a considerable audience, it will not be easy.
To reach this goal, I will continue to write good articles twice a week, update older articles, and translate some articles into French. Together, this should be enough to increase the traffic on the blog to 5000 daily page views.
On top of that, I will be careful about how the blog is running. I need to keep the site fast and functional to be sure not to be penalized. But this part should not be too difficult.
Aside from this, I do not have a great plan to increase the reach of the blog. Let me know if you have any ideas!
Update 60 articles
In 2021, I want to update at least 60 articles.
For me, my archives are important. Older articles should not be forgotten. Some of my earlier articles could profit from a refresh. I have done a good deal of updating in 2020, but I can probably go one step further.
Updating could mean either update the content or merge several articles or delete an article. There are some articles on the blog that do not bring any value. My goal is to increase the average quality of the articles of the blog. If this means deleting bad articles, so be it!
Better and fresher content could mean more traffic for these articles. But this especially means that new readers to old articles will not find subpar articles.
Translate 60 articles
In 2021, I want to translate at least 60 articles.
In 2020, I have started to translate the blog into French. Since I am a native French speaker, this is something I can do myself. For now, it has not brought in a lot of traffic. But the traffic on the French articles is going up. And I have only translated about 30 articles for now. I want to bring that number to more than 90 in 2021.
The objective of this change is to bring in more new readers to the blog. It should be a great way to increase my blog's reach for people who do not speak English or do not want to read in English.
If this second set of translation is successful, I will plan to translate all my important articles on the blog.
Personal Goals
Finally, the last category of our 2021 goals is for our personal goals. These are goals that are related to health, happiness, and other personal matters.
Complete disaster file
In 2021, I want to complete my disaster file by the end of March.
I have already talked about disaster files on the blog before. The idea is to let notes to help people that depend on you after your passing. For instance, this disaster file can contain a list of people to help you if necessary. Or it could contain information on how to access bank accounts and pay the bills.
In our household, I manage most of the money. My wife is aware of all our numbers. But she is not aware of all the accesses to the accounts. So, if I were to die or be incapacitated, she could be in trouble. I have started a part of the disaster file, but it is far from complete. Therefore, I need to complete it.
Learn Chinese 250 times
In 2021, I want to do my Chinese lessons online at least 250 times.
I am still trying to learn Chinese online. My progress is really not great, but at least there is a semblance of progress. I am trying to do about 20 minutes each day. I feel like it should be enough for some progress. But it is not going as well as I would like.
Since Mrs. The Poor Swiss speaks good French now, we should speak a little Chinese to improve my Chinese further. We will see how that goes.
Work Out at Home 100 times
In 2021, I need to work out at home 100 times.
In 2019, I started going back to the gym around the end of the year. And then, at the beginning of the year, COVID-19 hit us. In 2020, I went to the office for only two months. And gyms were closed most of the year. So, my gym goal was destroyed.
I should have worked out at home more in 2020, but I did not take the time. And given the minimal space we had available, it was not very motivating. Now, I really need to get started on working out at home around twice a week. I never worked out at home for a long period of time. So, we will see how I can keep up.
This goal will highly depend on my capacity to work at home. If I have to go back to work in the office, I will waste a lot of time, and I may not have time to work out so much with all the other goals.
Walk before work 125 times
In 2021, I want to walk before work at least 125 times.
In 2020, I started walking before work since I was working from home. I figured it was a good way to replace my commute. I really like this habit, and I want to keep at it in 2021.
This goal will also depend on whether I can work at home or not. If I have to go back to the office, I will waste 50 minutes commuting each day. And the first thing to go will be my morning walk.
Conclusion
That's it for our 2021 goals.
After our review of our 2020 goals, we have improved the goals that were not that good and added a few new ones. The 2021 Goals are not perfect, but they are getting better. And we are getting better at reaching them and being motivated by them.
Some of the 20201 Goals are more ambitious than last year, and some other goals are less ambitious. But I think on average they are aiming better than last year. We will see how that goes.
The only thing I am not too sure about is regarding working at home. If I have to go back to the office this year, I will waste a lot of time, which will definitely impact some of my goals. I really hope we get rid of COVID-19, but I really hope remote work sticks in my company (unlikely…).
What about you? Did you set goals for 2021? And what do you think of our 2021 goals?