11 Awesome Tips to Save Money on Your Wedding
|
Updated:
|
(Disclosure: Some of the links below may be affiliate links)
Everybody will agree with me that A Wedding is a Special Day! But most people will also agree that Weddings can be very expensive. For our wedding, we managed to make a nice wedding ceremony while keeping it at a reasonable price tag. Here is how we did that!
In 2018, we celebrated our wedding! We had very good feedback from our guests, and we both enjoyed it very much. It was a very nice and happy day. And we managed to keep it under a reasonable budget. We did not go cheap, though.
This article talks about 11 Great Ways that you can use to make your wedding cheaper but not less nice! You want your wedding to be memorable, but you do not want it to hinder your entire finances. It is possible to organize a very nice wedding and still keep a tight budget!
1. Do not be cheap!
First of all, I think it is important to remind you to not be cheap! Your wedding will be one of the most important days of your life. It is okay to spend a bit on it! A budget wedding is fine, a cheap wedding is not really good. At least, you have to make sure that your spouse completely agrees with going budget wedding ;)
There is no need to go full cheap for it. It is likely that you will regret it if you make it too cheap. You should not feel guilty about spending more money than usual for your wedding if it makes you happy!
2. The wedding dress
There are several ways of saving money on your wedding dress. The first is to rent a dress instead of buying it. However, this is not always as cheap as you think. You often need to pay for the cleaning and the pressing of the dress after you wear it. When you put that together with the price of the dress, it is sometimes the same price as buying a new dress.
Another option is to buy a second-hand dress. You can find some very good bargains. The problem is that you may have to try many dresses in many places before you find the one you want. The last option is to buy it in a cheaper country while you are abroad. My wife bought her wedding dress in China. This was for a fraction of the price she would have paid if she had bought it new in Switzerland.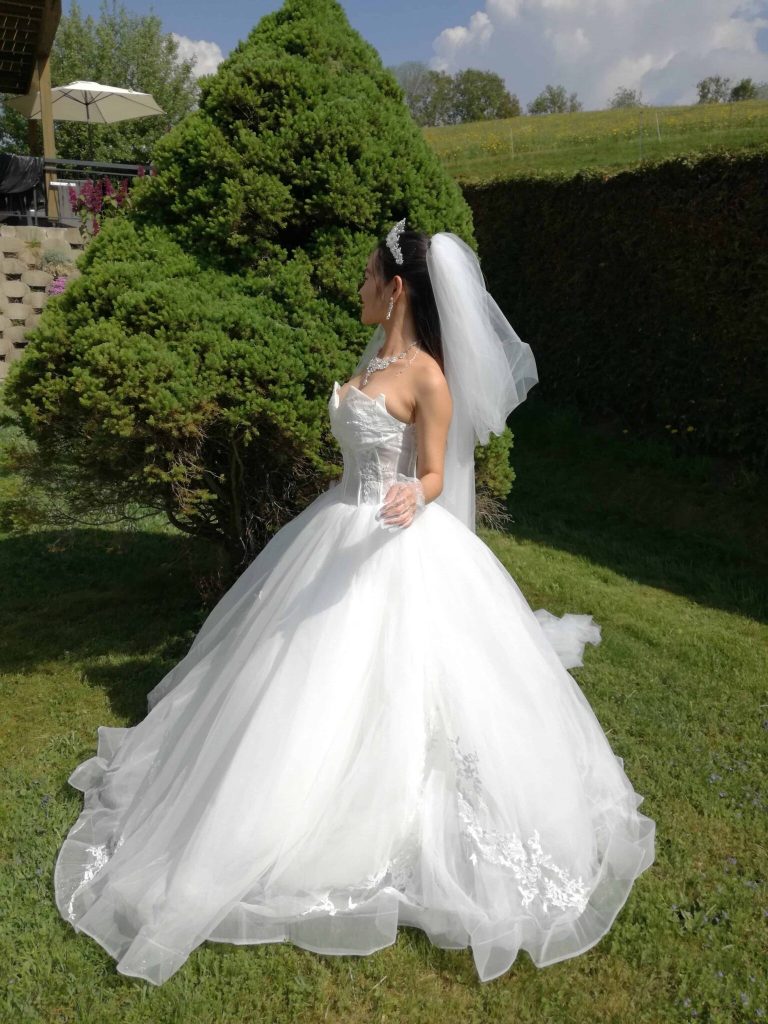 As you can see, it turned out awesome :)
Finally, the last tip is to try to sell your dress after the wedding. We used it for two ceremonies. That is already a lot for a wedding dress. Now we are trying to sell it. We will see how that goes :)
3. The wedding suit
Of course, all that apply to the wedding dress also applies to the wedding suit. You can try to buy it second-hand or rent it. You can also do as we did and buy it in a foreign country. We bought mine in China. It was relatively cheap even do it was tailor-made and with a good fabric. We paid 320 CHF for two entire suits and two nice shirts. So about 160 CHF for my suit. Which is several times lower than I would have paid for a tailor in Switzerland.
One thing you should do is try to buy one that you may wear several times. I already wore mine at another wedding. If you can wear it several times, it will make the price more useful.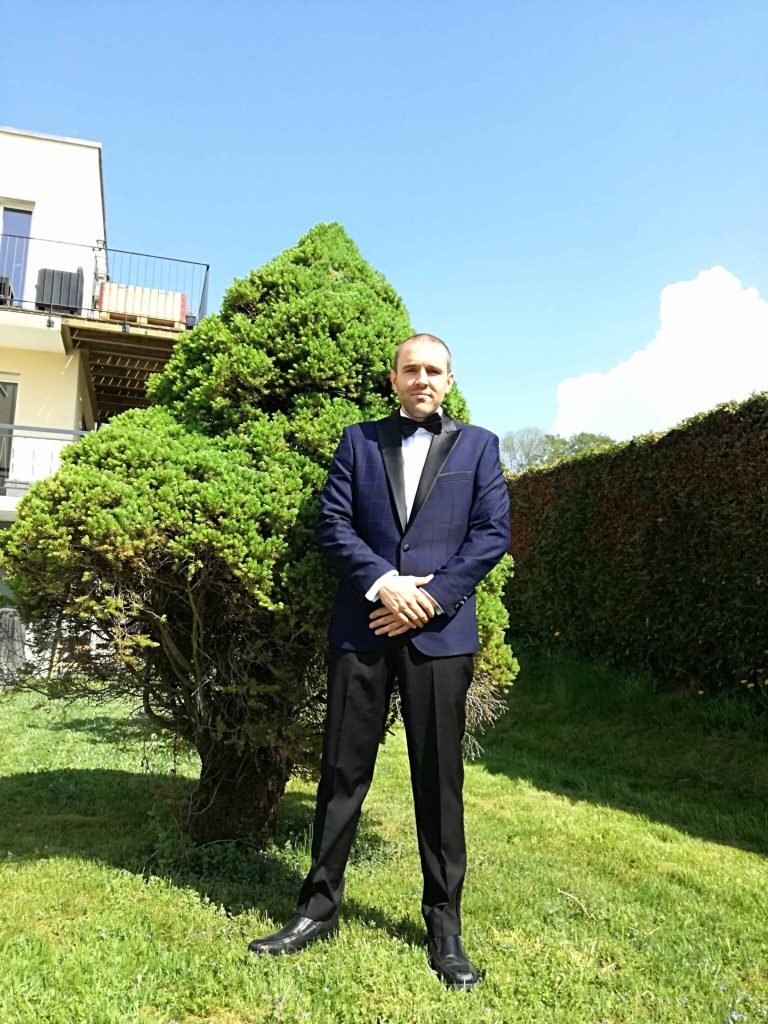 I am really satisfied with the way my suit from China looks like!
4. The photographer
Personally, I could have done without a photographer. But my wife would have killed me!
Nevertheless, there are ways to keep costs reasonable. A very good photographer for many hours could easily cost you several thousands of Swiss francs. A hobby photographer can still do a very good job and cost several times more. For our wedding, we found a hobby photographer for 200 CHF for about three hours. He really did a good job, and we are happy with the results.
You could also find out if someone in your family or friends is good with pictures. He may be able to help you.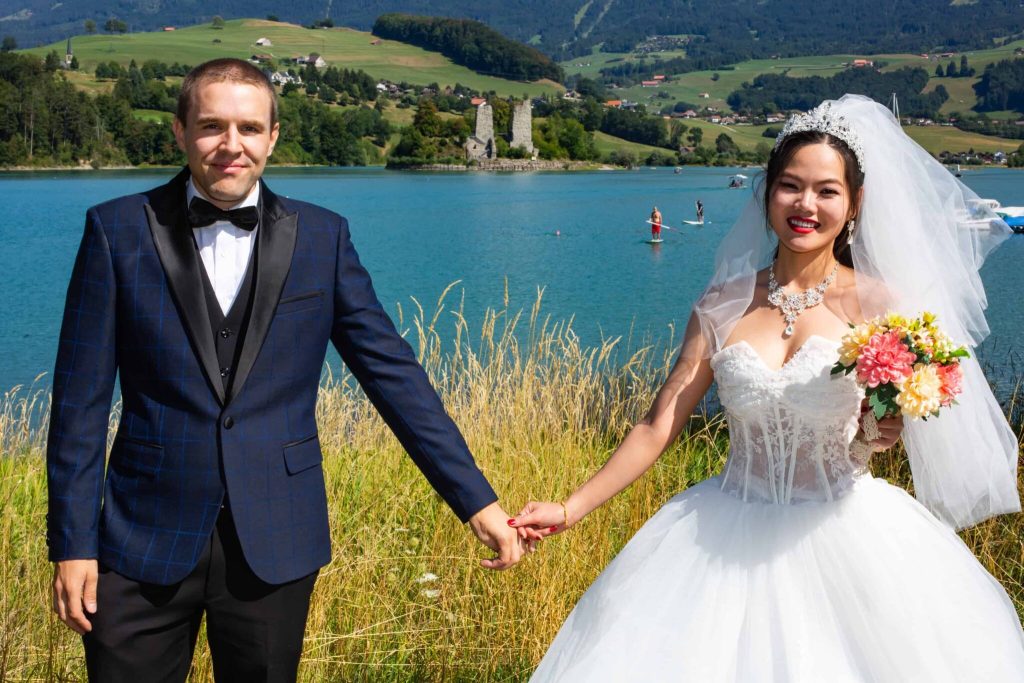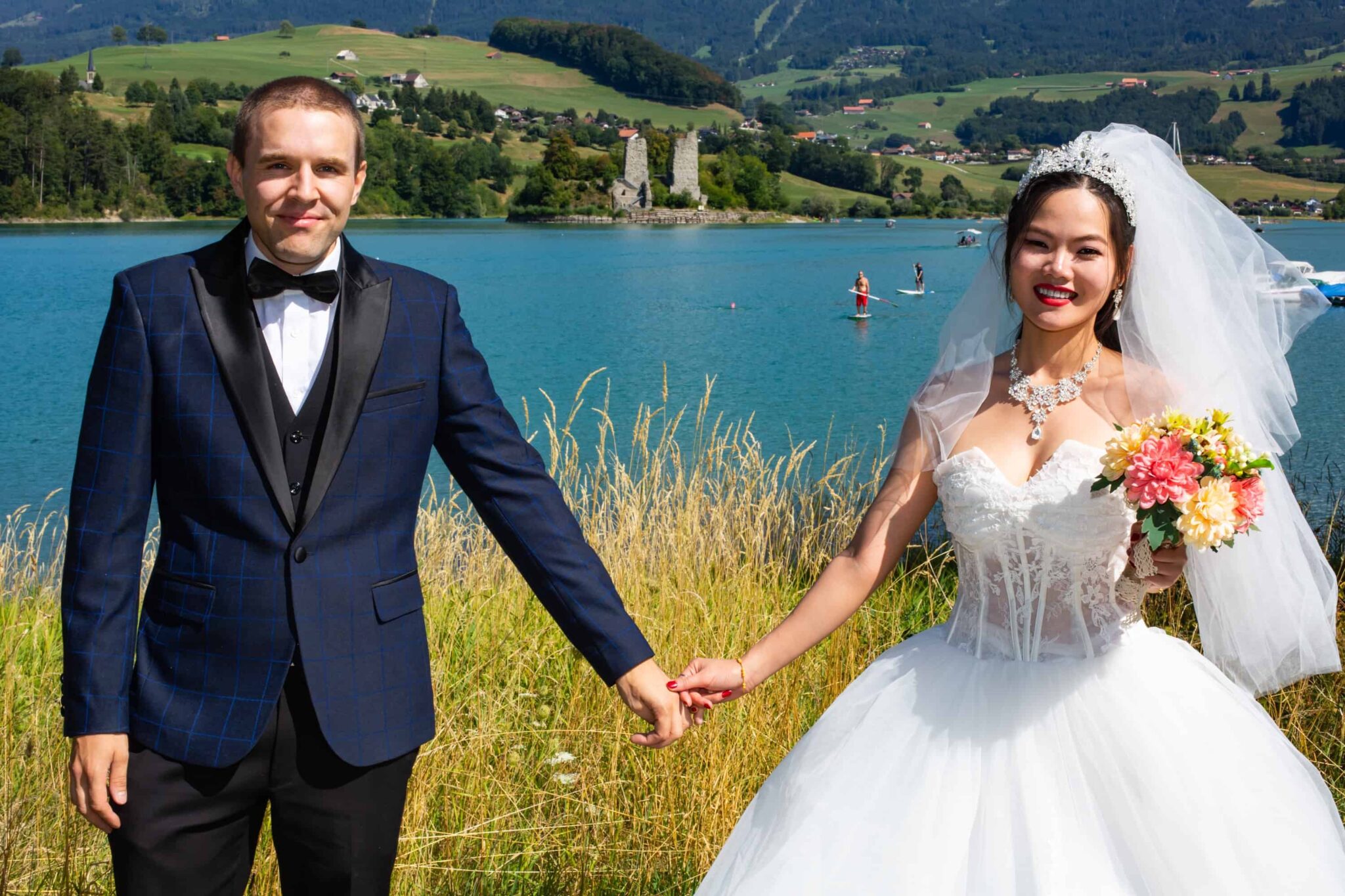 5. The ceremony
For our wedding, we did not do a religious ceremony, only a secular ceremony. We wanted to find someone to organize a simple ceremony for us. But the cheapest organizer was asking about 1000 CHF.
Another way to do it is to organize the ceremony yourself. This could end up being free for you! You can find some friends to help you. There are many ideas online. You can make it serious or make it fun as you wish. You can even choose a theme :) Our master of ceremony was dressed as Spock from Star Trek!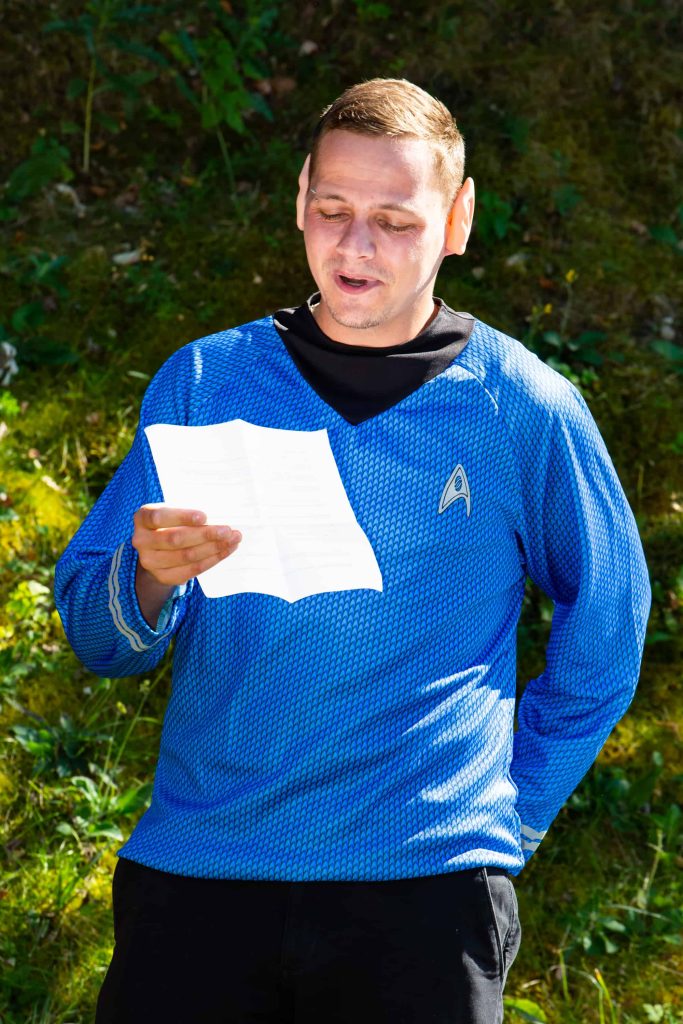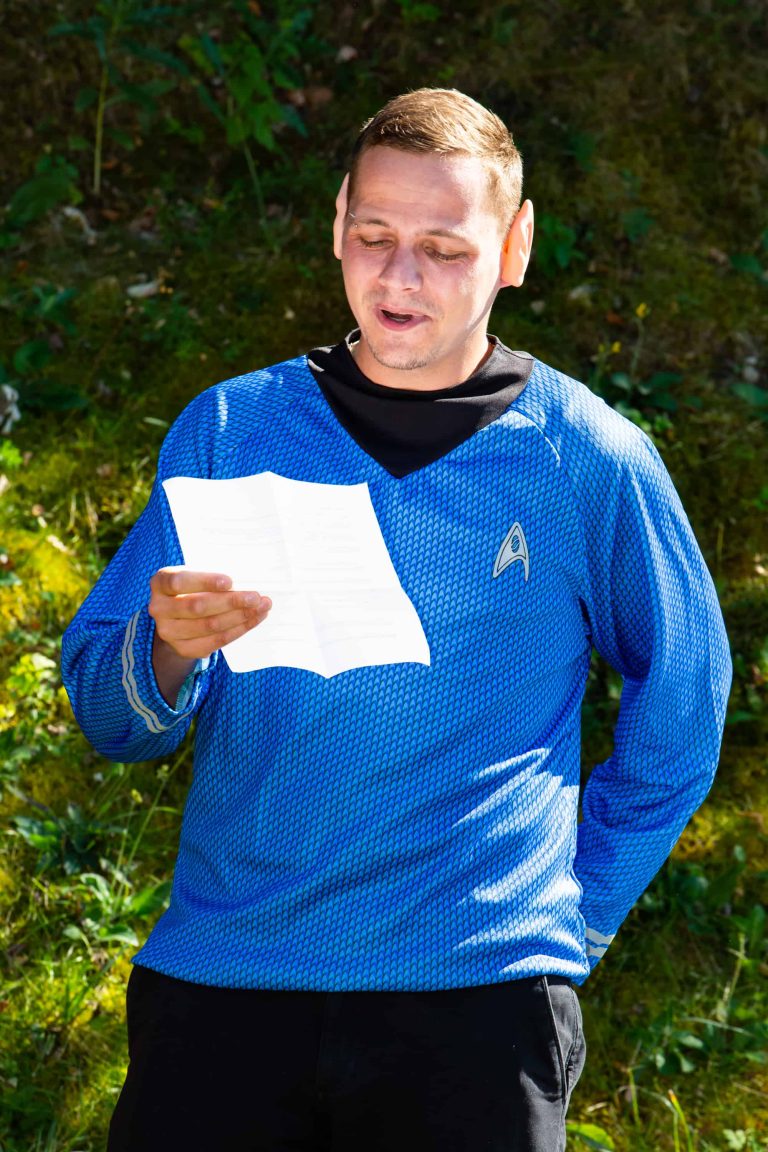 6. The decorations
The best way to save on decorations is to make your decorations yourself. It is a lot of work, but it can save you money. And most of your guests will be much more impressed by hand-made decorations than by fancy expensive decorations.
Another way to save money on decorations is to buy them back from someone else's wedding. I have seen a few online ads from people who wanted to sell back their decorations after their wedding. You can probably save a lot doing that. But of course, your choice will be limited. You can also try to sell your decorations after the wedding. Or you can also reuse the decorations in your house.
Personally, Mrs. The Poor Swiss did almost all the decorations by herself. She did a really great job!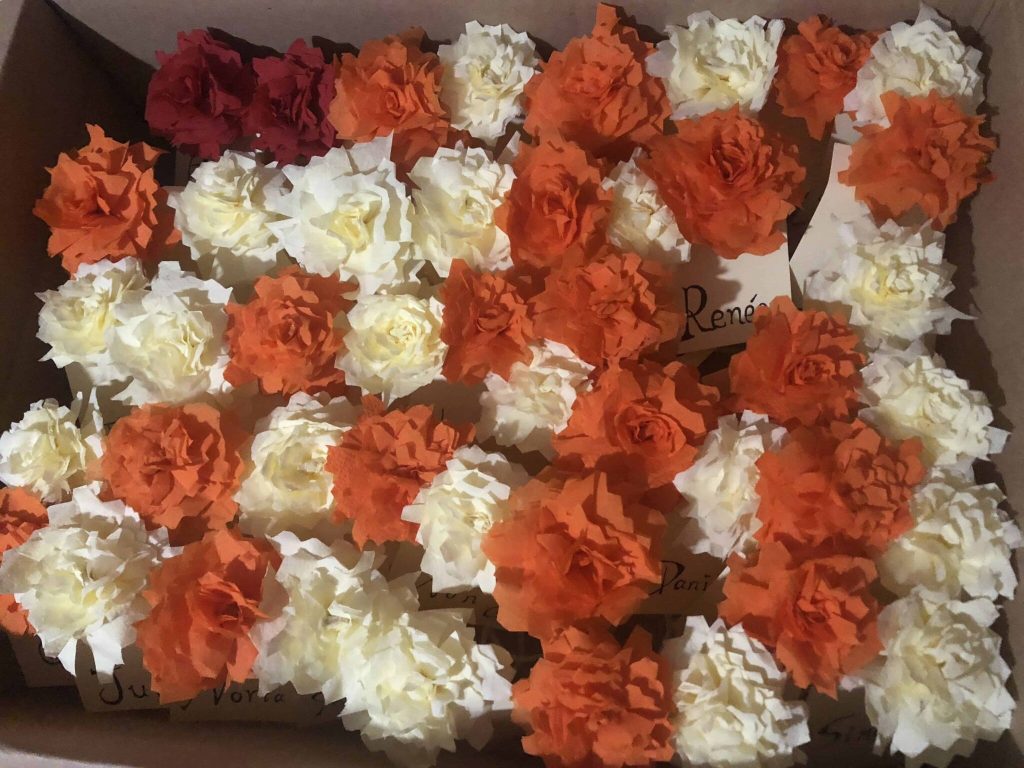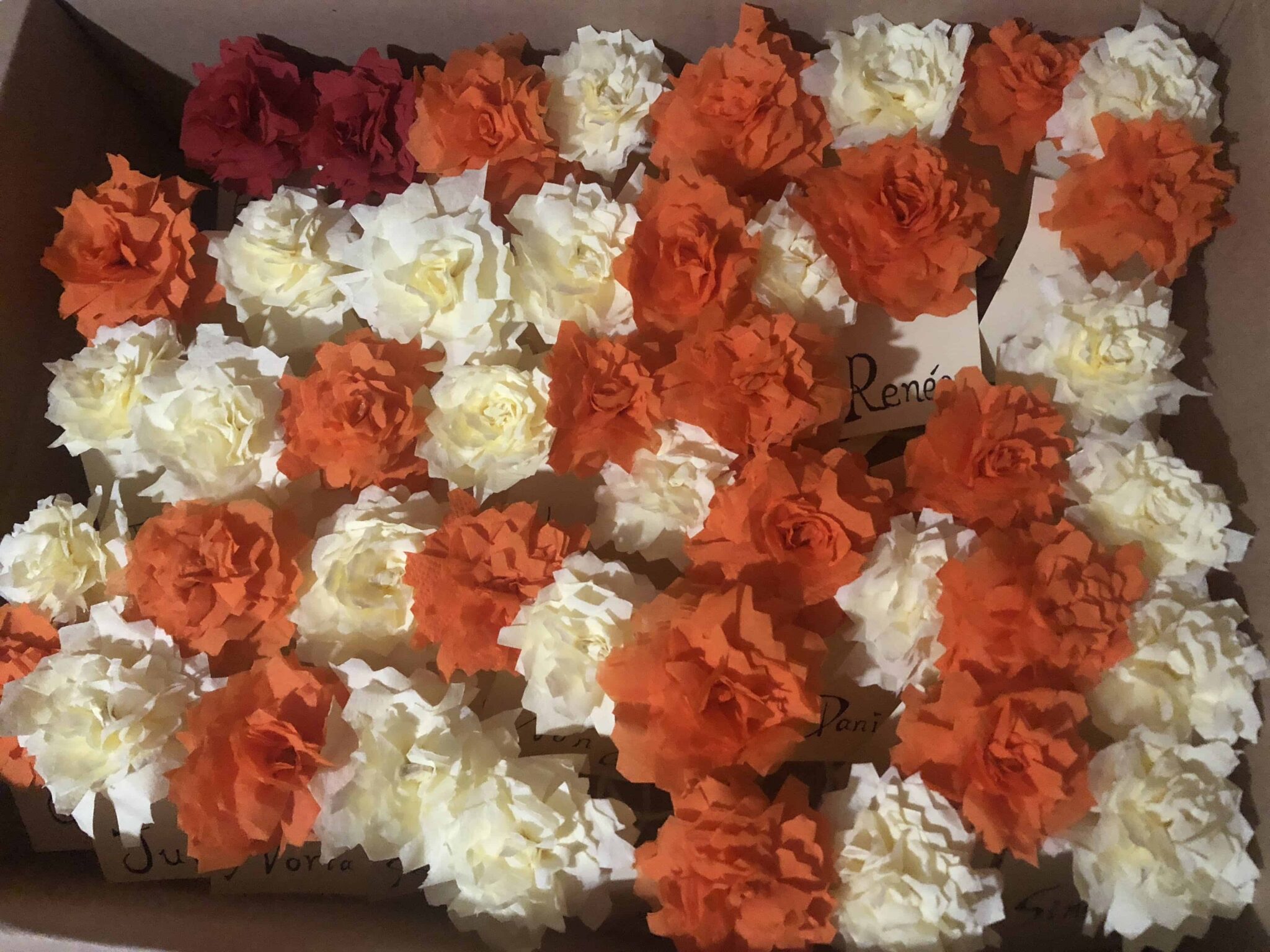 7. The venue
The venue can be a very expensive part of your wedding. It is also a very important part. A beautiful venue can make a big difference between a simple wedding and a memorable one. There are a lot of venues for weddings in every country. It is a bit difficult to save on this item for the wedding.
The most obvious you can do to save on the wedding is to organize your wedding in a restaurant. Most restaurants will be very happy to welcome 50 people (or more). You will only pay for the food and the drinks and will not pay for the venue. And you do not have to worry about the tables and the service of the food and drinks. It is a lot of things you do not have to worry about. If you find a beautiful restaurant, this can be a very nice option. This is what we did for our wedding, and it turned out really great.
Another option is to rent a grass field and install tents on it. If you live somewhere, there are many grass fields. It can be very nice. And it will make a nice change for many guests that do not expect it. In a nice location, it may make for a beautiful ceremony. The problem is that it will not be very nice if it rains. If you are lucky, you may also have a friend or family member with a very nice place that could serve as a wedding venue.
Otherwise, take a long time to check all your options before you decide. It is an important decision. It also may be a good time to haggle if you are good at it.
8. The dinner
If you choose a restaurant for your wedding venue, you can only choose the food they will offer you. The price tag will highly depend on the kind of restaurant you choose. You can find almost all ranges of prices. You should also consider that when you choose a restaurant as a venue.
If you do not choose a restaurant, you must choose a catering service. For this, you have an immense choice. You should be able to find the price tag you want. But you will also need to find the people to serve the food. Some catering services will also serve the food, which will cost you extra.
An option to save on food and especially on service is to prepare a big buffet and let people serve themselves. This can help you save a lot of money. But some guests may not appreciate it.
You will also have to think of the drinks. If you choose a restaurant, you should probably stick to their drinks. In my case, we chose two different wines for the different dishes. And we also let people choose other drinks. It was a very hot day, and we actually paid as much for beer as for wine. If you choose a catering service, you should organize the drinks yourself, especially the wine. You can find a wine that is cheaper than what you find at a restaurant. Do not go for bad wine either of course!
9. The guest list
The food and the drinks are likely what will cost the most at your wedding. Therefore, reducing the size of the guest list can really help with the price. I am not saying you should not invite your best friends, of course. But there may be no need for a huge wedding. It is also important to realize that the more people there are, the less you can talk to each of them. Our wedding had less than 50 people, and yet I would have liked to have more time with all of my guests.
If you have not talked with a guest in several years, there is no real need to invite him. Also, there is really no need to invite all your coworkers. If you are really close to them, invite them But otherwise, do not. There is also no need to invite your cousin to the third degree!
Personally, we invited our close family and close friends. There were 49 people at the aperitif and 46 at the dinner. I think a wedding between 40 and 60 people is very reasonable. Some people even like to have fewer guests.
I do not think there is any point with weddings of more than 100 people. You will not be able to say more than a few words to all these friends. And you will not really know half of them anyway. But some people like to have a grand party.  And that is fine as long as they are aware of the costs!
10. The music
Do you really need a DJ? This question will depend a lot if you plan to dance for a long time or not. Most of the people at our wedding are not big dancers. We did not hire anyone to handle the music. The best man actually used his phone and connected to the restaurant sound system by Bluetooth to make the music :P And it was absolutely fine. You can do the same at many venues. You can bring a small sound system and a phone or a laptop to play music.
If you really want a DJ or an entertainer, you may have to spend significantly more. But again, explore all the options before you make a decision. The difference in prices can be very important. But if you find a good entertainer, it can make the after-dinner fun for people who want to dance. It is also important to know your audience. My favorite music is death metal. But I do not think my guests would have liked it a lot!
11. The car
Do you really need a fancy limousine with a chauffeur to pick you up? You may make a good entry. But not even all the guests will see your car. Personally, I think that fancy cars are already too much for a wedding. You can simply use your car.
Or if you have a friend or family member with a nice car, just ask them a favor and use their car. There is no need to rent a huge car for this. Do not forget that you will be in your car only briefly. And while I understand not wanting at your wedding, you may not need a chauffeur. You can find a friend to drive you on your special day!
Personally, we used our own car (not fancy at all), and my brother drove us around. It was absolutely fine for us.
Conclusion
By following these 11 tips, you should be able to organize a wedding with a good budget. And you should still be able to organize a very nice wedding regardless.
I hope these tips will help you keep your wedding on a small budget. Do not forget that your wedding is an important day. You do not need to be cheap about it. But if you are smart, you can have a nice budget wedding.
With these tips, we managed to keep our wedding at around 5500 CHF. It may not be very frugal. But we think it is reasonable. Especially when you compare it with the insane average of 30'000 CHF in Switzerland. We both really liked our special day. And we only had good feedback about our budget wedding.
Do you have any more tips about organizing a budget wedding? Did you keep your own wedding on a nice budget? Or did you splurge?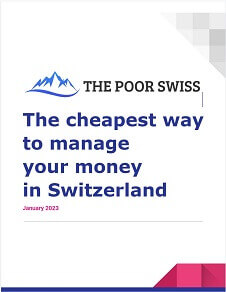 The best financial services for your money!
Download this e-book and optimize your finances and save money by using the best financial services available in Switzerland!
Download The FREE e-book