The Three-Fund Portfolio Makes Investing Simple – 3 funds are enough
|
Updated:
|
(Disclosure: Some of the links below may be affiliate links)
There is something fundamental with investing: you need to keep investing simple! Unfortunately, there are many ETFs and indexes. How can you choose your portfolio?
This is a critical question that you should spend some time thinking about. There is no one-size-fits-all investment, in my opinion. Many kinds of investments work. You will need some knowledge and time to make it work for some of them. The three-fund portfolio is a straightforward portfolio made of three funds that should work for most people.
This article covers two important things: your asset allocation and the Three-Fund Portfolio. Since there are also some direct variations of the three-fund portfolio, I also cover them!
Allocation to bonds
Before we go into details of the three-fund portfolio itself, there is something else we need to cover. We have covered bonds before. They are a safer investment than stocks, but they are not risk-free. And they have historically seen worse returns than stocks. People use bonds in a portfolio to reduce risk and volatility.
The amount of bonds in your portfolio is called asset allocation. The percentage of bonds in your portfolio will determine how conservative your portfolio is. Choosing your asset allocation is an important step. And you should not take it lightly.
There is a general rule of thumb in the community. That is to use your age in bonds allocation. If you are 40 years old, you allocate 40% of your portfolio to bonds. This rule is a good rule of thumb. But it is nothing more than a rule of thumb. And it is quite conservative, in my opinion. Most young people do not need that large bond allocation in a portfolio.
If you feel you want more bonds, you should go for it. If you feel you do not need bonds, nothing is wrong with it. Several personal finance bloggers do not use bonds. You need to understand the reasons for your choice. You should not decide not to own bonds just because somebody else does not. In that case, you should be ready for higher volatility.
Remember that if you do not have a proper asset allocation for you, it may be difficult for you not to sell in a downturn and realize large losses.
I do not own bonds. There are several reasons why I do not own any bonds in my ETF portfolio.
First, Swiss bonds are currently terrible. Currently, Swiss bonds have a negative yield. So you are guaranteed to lose money on this investment. I would strongly advise against using this investment. Cash is a better investment now.
Secondly, I have a large pension account (my second pillar). This pension is not aggressively invested. I can expect no return on this money. Therefore, I consider my state pension as bonds. That means I do not need more bonds.
Finally, I want to take an aggressive approach since I am still young and can afford it. I may change my allocation to bonds in the future.
In the end, it is always up to you. If you can access better bonds like U.S. bonds, you can consider adding some to your portfolio. Do not make the same mistake I did and invest a very low amount in bonds. Less than 10% invested in bonds is not worth it. Either you invest zero in bonds as I do, or you invest at least 20%. Remember the basic rule: keep it simple (and stupid!).
For more information, I have an article dedicated to asset allocation.
The Three-Fund Portfolio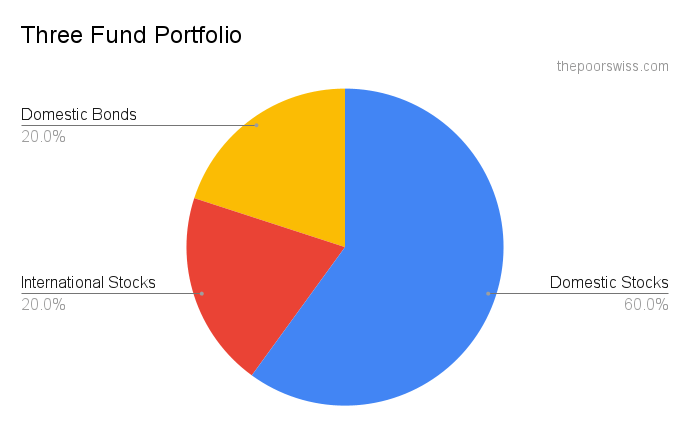 The three-fund portfolio, as its name indicates, is a portfolio made of only three funds:
A domestic bond fund. For instance, Vanguard Total Bond Market ETF (BND).
A domestic stock fund. For instance, Vanguard Total Stock Market ETF (VTI).
An international stock fund. For instance, Vanguard FTSE All-World ex-U.S. ETF (VEU)
With this portfolio, you have domestic stocks, international stocks, and bonds in your portfolio. This portfolio is a great simple way to have diversity in the different assets and different countries. This strategy is advised in several books, for instance, in The Bogleheads guide to investing.
The allocation to bonds is easy. It is the one you chose in the previous section. Then for the remaining, it is up to you. There are several models but no global agreement. You can go 50% domestic and 50% international. Or you can go 75% domestic and 25% international. In my opinion, it mostly depends on how much our country represents the global market. If you are in the U.S., I think 50% or 75% makes sense. But it would not make sense for Switzerland.
For instance, if you have decided to go with 40% of bonds. You can follow the 50% route and allocate 30% of your portfolio to domestic stocks. And 30% of your portfolio to international stocks. Or you can go the 75% way and allocate 45% to domestic stocks and only 15% to international stocks.
Three-fund Portfolio outside of the U.S.
Now, the three-fund portfolio was first devised for the United States. It is a good fund. But most examples of the three-fund portfolio will be highly tied to the United States stock market.
If I were living in the United States, I would use a Three-Fund Portfolio. But if you are not, like me, in the United States, you will have to adapt a bit to your system. The U.S. is a particular case because its stock market makes up a large part of the entire world stock market. The U.S. stock represents half of the world stock market. It means that your investment in domestic stocks will be very diversified.
On the other hand, the Swiss stock market is 2.5% of the entire stock market. So it makes less sense to allocate a large part of your portfolio to your home country.
I would say that the allocation to domestic and international will strongly depend on how well your domestic stock market is doing. And also how big it is.
I allocate 20% of my portfolio to Swiss stocks using one well-diversified index fund. At least 10% of domestic stocks make sense for most stock markets. You must realize that this will probably be the only fund in your local currency. The other funds will be in foreign currencies. As such, this will cause more volatility.
For real results, I have simulated the results of a portfolio with a varying allocation to Swiss Stocks. In practice, between 20% and 40% allocated to Swiss stocks work well. This simulation also shows that the currency risk is larger than most people realize. Therefore, you want to hold some part of your portfolio in your local currency.
The Two-Fund Portfolio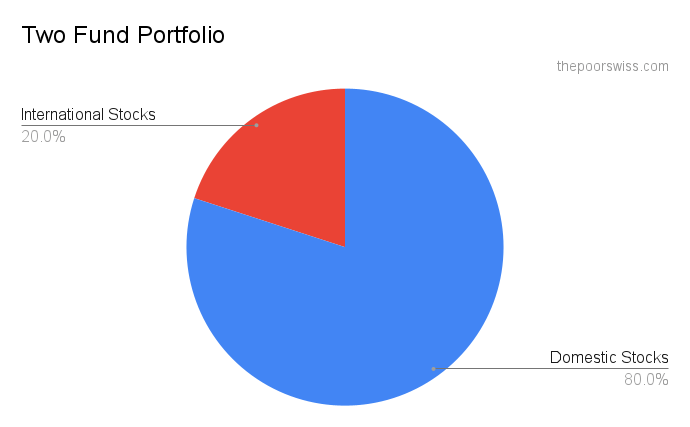 Another quite popular portfolio is the two-fund portfolio. There are more variants of this one. I do not think there is a single most popular version for the two-funds portfolio.
The first version is simply the three-fund portfolio but without any bonds. You will be left with a two-funds portfolio if you do not intend to hold bonds. You will keep one domestic stock fund and one international stock fund.
Some people also do not like to invest in international stocks. Therefore, they are back to the two-funds portfolio. They have a domestic bond fund and a domestic stock bond. I like to have strong international diversity. But that is mostly a matter of preference. Nobody can know the future. Many people believe they can, but they will be proved wrong. Avoid having all your eggs in the same basket is always a good idea.
Finally, some people use a single fund for domestic stock and international stock funds. Some funds hold shares of all the stocks of the entire world market, for instance, the Vanguard Total World Stock Market (VT) ETF. Using a global world stock market and a domestic bond fund will have the same result as the three-fund portfolio. The main difference is that you cannot choose the allocation of domestic and international. But you will have a market-cap weighted allocation of domestic against international, which is not bad!
The One-Fund Portfolio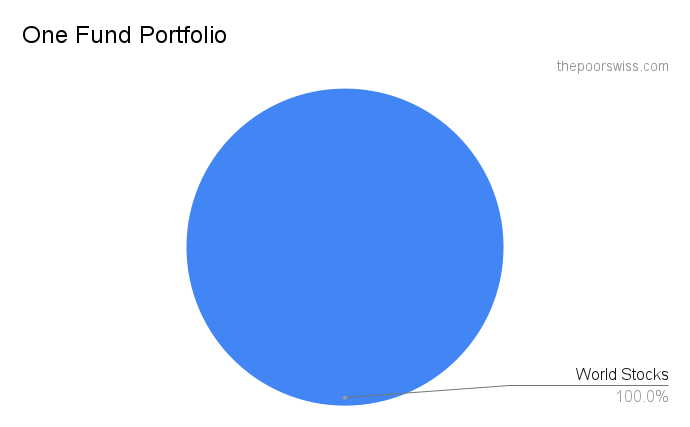 Why not make things even more simple? The three-fund portfolio is straightforward, but we can do better. The most straightforward portfolio of all is the one-fund portfolio. There are many ways to create a one-fund portfolio.
But I think the one-fund portfolio that makes the most sense is one with only a global world fund. The Vanguard Total World Stock Market (VT) ETF is the best example. That means you will have stocks from every country in the world. Doing so makes for a portfolio that is very straightforward to manage. And it is also great since you do not have to rebalance!
The only downside, in my opinion, is that you will likely have only foreign currency in your portfolio, probably in USD. It is not a big deal if you are in the United States. You could also hedge against your home currency. But currency hedging does not make a lot of sense for long-term investing.
Another one-fund portfolio is to hold the entire domestic market simply. It is worse than holding the entire stock market, but it may be easier. You will have no currency risk. And you should know better what you are investing in. But if the domestic stock market completely crashes, you may be able to withdraw for many years. Nevertheless, it is not such a bad idea for a U.S. investor to hold only the entire U.S. stock market.
Another example of a one-fund portfolio is with target retirement funds. These funds are based on your retirement year. And based on how many years remain, they change their bond allocation over time. That way, you should be able to own a single fund. But if you look at the detail, it is not that perfect. And it is also not available for every country.
Summary
You should now have a better idea of the kinds of existing portfolios.
The three-fund portfolio and its variants with one and two funds are the most popular. They are also the most simple. That is why I chose to talk about them first. Given the state of bonds in Europe and the small stock markets here, these funds may not directly apply to European investors.
Nevertheless, the most important thing about these funds is that they are simple. I firmly believe it is essential to keep investing simple. By keeping it simple, you will avoid making mistakes by thinking that you are smarter than everybody else (you are not, and neither am I).
Another thing you need to keep in mind is that many portfolios you will see are tailored to the United States. It is especially true for the Three-Fund Portfolio. The stock market in Switzerland is 25 times smaller (and three companies represent half of it). You cannot invest in the same way as a U.S. citizen.
If you do not know much about investing, you should keep things simple. In one of the next posts of the Investing series, I will talk about alternative portfolios. They are a bit more advanced, but the results are similar in the end.
Personally, my portfolio is a two-funds portfolio. I allocate 80% of my portfolio to a world stock market fund. And the 20% allocation is for domestic stocks.
If you want more examples of very simple portfolios, plenty of lazy portfolios are available.
If you want to design your portfolio from scratch, you should read how to design your ETF portfolio from scratch.
What do you think about the three-fund portfolio? What kind of portfolio are you using?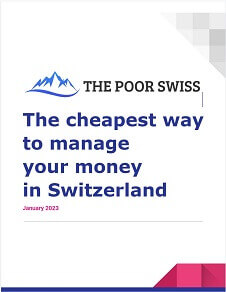 The best financial services for your money!
Download this e-book and optimize your finances and save money by using the best financial services available in Switzerland!
Download The FREE e-book