How to Get Swiss Driving License as a Foreigner
|
Updated:
|
(Disclosure: Some of the links below may be affiliate links)
Mrs. The Poor Swiss, my wife, recently started the procedure to get her driving license in Switzerland. The procedure is not too difficult. But not all the steps are obvious in the process. My wife is Chinese and has a driving license from China. This is what interests us in today's post.
In this article, I will explain the different steps in getting a Swiss driving license for a foreigner. First, it depends on whether you already have a driving license in your country. If you already have a driving license, it will depend on your country. Since Mrs. The Poor Swiss is Chinese, this post will have a Chinese bias, but I will try to cover other countries as well.
You already have a driving license
Here, I use Fribourg as an example. It can change a little from one state to another. But it should not change much.
You can drive in Switzerland for one year if you already have a valid driving license. After this, you need to exchange your driving license for a Chinese driving license.
If you already have a driving license, it is easier to get a Swiss driving license. Depending on your country, there are several possible outcomes:
If you are lucky, you can directly get your Swiss driving license. For a small fee, you will have a driving license. This is possible for almost all countries of Europe. For instance, France, Germany or Sweden. If you have a driving license from one of these countries, you can get a Swiss driving license for a small fee.
In most cases, you will have to pass a driving test before you can get a driving license. This is a small driving test that will assert that you are able to drive. If you do not pass the test, you will have to do the entire process. For instance, this is true for Taiwan, the United States or Canada.
In some case, you must pass both a driving test and a theory test before getting the driving license.  This is true for all the other countries.
You can find the list of countries for the state of Fribourg on the website of your local circulation office. If your driving license is not in a language recognized in Switzerland (French, German and Italian), you will have to translate it. And the translation must come with a certificate of authenticity. I would still advise you to call the traffic office before starting the procedure.
For Chinese people, the license will be valid one year. In China, you will have to go to the traffic office to get a form with the information of your driving license (Information form of the driving license). Once you get this form, you will need to translate it by an official notary.
You will have to pass a driving test before you get the final Swiss driving license. What is very important here is that your translated Chinese driving license will only be valid for one year in Switzerland. That means you must pass the test in less than one year. After that time, you must go through the entire process again.
If you are already very comfortable driving in Switzerland, you can pass the test directly. If you are uncomfortable, you can do some hours of accompanied driving. Mrs. The Poor Swiss is driving with me as often as possible. And she is also taking courses with one of my friends, that is a driving instructor.
You do not have a driving license.
If you do not have a driving license, the steps will be the same for a Swiss person. You will have to go through all the long and expensive, steps. Obtaining the Swiss permit is not very difficult, but it involve many steps, and each of these steps will make you open your wallet. The price will highly depend on which state you are living in. The examples in this section will be based on Fribourg.
Before passing the theory test, you must pass a first-aid course. And get a certificate. For this you can do it at most of the Swiss learning schools. It is an eight hours course that will teach you how to react in case of an accident. It will also teach how to help injured people after an accident. Generally, this will go from around 150 CHF to 200 CHF. You will also have to do an eye control with a specialist. This will attest to whether you need glasses to drive.
Once you get all this, you are ready to pass your driving license theory test. You do not have to do any mandatory training for this. But some people do train with a driving school. You need to get the official driving theory book. There is also a computer version of the theory book. You must be aware that these tests are only available in French, German, and Italian.
Once you are ready, you can go to the driving office (Office Cantonal de la Navigation (OCN)) from your state. There, you will pass the theory test. If you pass it, you will directly get a temporary driving license. You will have to pay 180 CHF for this. If you do not pass, you must pass the test again. You must wait at least one day until you can pass again.
Now, you got your temporary driving license. This driving license is valid for two years. You can start driving but must be accompanied by a valid assistant driver. An assistant driver is at least 23 years old or has been driving for at least three years. For the car driving license, there is no mandatory driving lesson. You could pass your driving test the day after you get the temporary driving lesson.
I would advise getting at least a few driving lessons. Some people do with two hours of driving lessons. But some people need ten hours. It depends on how well your lessons are going. In any case, you should practice a lot with assistant drivers. I drove with my parents at that time.
You must do a mandatory course before going to the practice test. It is called the Sensitization course (Sensibilisation in French). It is an eight hours course that will go for about 150 CHF. You need to take it at one of the driving school. It is not something difficult. You basically just have to be there.
Once you feel ready for the final test and got your Sensitization course done, you need to get an appointment for the test. Normally, your driving teacher will do that for you. The test is about one hour. It consists of some regular driving as ordered by the test official. You will also have to park your car correctly. If you have practiced enough, this should not be an issue. The official will directly tell you after the test if you passed or not.
If you do not pass, you must pay for the next test again. You can only fail twice. You may have to do more tests if you fail three times. If you pass, you will be delivered your driving license for another extra fee.
Unfortunately, this does not stop here. Your driving license is not final at this point. You still have two courses to do. They are called Level 2 (L-2) courses. It is two days of useless, courses. They are mandatory. You have to do the first one within six months of your exam. And the second one in the first three years. And they are expensive, about 700 CHF in total.
Once you finish the courses, you can return to the traffic office and ask for your final driving license. If you have any road infraction during these three years, the probation period will increase to four. If you have a second infraction, your driving license will be revoked. And you will have to start the entire process again.
Once you have passed both L2 courses, you must return to the traffic office and give them the certificates. They will finally deliver the final driving license.
Conclusion
Getting a Swiss driving license if you have a driving license from outside the European Union is not very easy. And getting it from scratch is very complicated. It is expensive. I think this should be simplified. And this should be less expensive than it currently is. Nevertheless, I hope these steps will help you get a Swiss Driving license if you need one?
We do not have a date for Mrs. The Poor Swiss driving test. But we will let you know how that goes once it is done!
To learn more about Switzerland for foreigners, I wrote a guide on how to get a Swiss Marriage Visa.
Did I forget anything? Do you have more questions?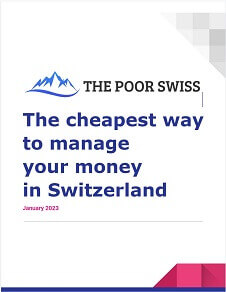 The best financial services for your money!
Download this e-book and optimize your finances and save money by using the best financial services available in Switzerland!
Download The FREE e-book