How to Get Swiss Marriage Visa for a Chinese
By

|

Updated:

|

Save
(Disclosure: Some of the links below may be affiliate links)
Before Mrs. The Poor Swiss could join me in Switzerland, we had to go through the procedure to get her a visa. Since we knew that we wanted to get married in Switzerland, we used a visa for marriage. This kind of visa allowed her to come to Switzerland and to get married to me!
The steps are not intuitive and take a lot of time (and money). For us, it was a bit overwhelming. In this article, we are cover all the steps that we had to do. From the application in China to the reception of the residence permit in Switzerland. This should help any Chinese that wants to get married in Switzerland to get a Visa for this!
Before you do any procedure, there is one thing you need to decide together. The wife can take the name of the husband after the marriage. This is optional. This can be surprising since people do not change their names after marriage in China. Even if the wife is from China, she can decide to change her name after the marriage.
However, her name in China will not change. And you will also need to decide which name will the children take. In our case, Mrs. The Poor Swiss decided to take my name after the marriage and our future children will take the same name as well. This is an important decision of course for the couple.
General tips
As you will discover, the entire procedure is quite long and you will have to provide quite a few documents to each administration. In order to stay organized and calm during the entire progress, you should follow a few tips.
The most important for both persons is to keep all documents handy. Every time you get a letter from an office, I would advise you to scan it and keep it online. I  am using my phone to scan every official document. You can also use a scanner if you wish. I would also advise you to do a few copies of each original document. Keep everything in a folder. Once you meet in Switzerland, put both folders together.
Another tip I would give is to always communicate all the information you get. It can be stressful to wait for information during this process. Many time, you will just be waiting until one of the administration finishes one step. As soon as you get one information, inform your partner! Everybody will feel better like this :)
And finally, stay patient! The entire procedure takes at least one month. No need to rush. As long as you provide the correct documents, there will not be any problem. You just need to be patient. In the end, you will be able to greet your loved one in Switzerland, that is worth the wait!
Prepare your Chinese documents
During the procedure, you will need to apply for a Visa and for marriage in Switzerland. You will need many important documents for these two applications:
Declaration of celibacy: This document must state that are you single and that you can get married. You can get this document at the notary.
Birth Certificate: This document must state where you were born and who are your parents. You can also get it from the notary. For the notary application, you will need to bring your Chinese ID, your hukou (family certificate) and your family hukou. If you still living at home, you will only have one hukou. You also need to bring your birth certificate.
Resident Certificate: This document should state that you are living in China and exactly where. If you have a house, you can bring your house certificate. If you are renting, you will need to get it from the renting management office. After you got it, you will need to authenticate it at the notary.
Some embassy will ask only one set of each document. But some embassy like Guangzhou will ask for two sets of each document. Make sure to check with your embassy to know how many sets of document you should ask the notary to do.
Authenticate and translate the documents
As you can see, you will need to find a notary to translate and authenticate the documents. You can do it either in one of the languages of Switzerland (French, German or Italian) but you can also do it in English. Generally, translations to English are cheaper in China. In Shenzen, Mrs. The Poor Swiss paid about 500 RMB (about 70 CHF) for the translations and authentication of the documents. The price can be very different from one notary to another. Make sure all your documents are ready before you go to the notary.
Once you have submitted all the documents to the notary, they will do the translation and authentication. This can take around one week. After which, you can go back to the notary to fetch the documents. At this point, you can ask the notary to legally verify the documents. For this, they will send your documents to the Chinese Ministry of Foreign Affairs office. You can choose the single-verification process, it is enough.
After a few days, the Chinese Ministry of Foreign Affairs will call you back. At this point, you can go fetch your documents at the office. You will have to pay around 300 RMB (about 45 CHF) for the verification process.
Prepare your Swiss documents
For the visa and marriage applications, you will also need some documents from the Swiss counterpart (Mr. The Poor Swiss):
Certificate of civil state: This will show that you are single. You can get this at the civil office of your state. This will cost you 30 CHF. In my case, I could pay by debit card, but some offices may only accept cash. I advise you to bring cash.
Certificate of Residency: This will confirm exactly where you are living. You should be able to get this at your county administration office. In my case, I could do it directly and it only cost me 5 CHF.
Copy of the Swiss passport
Copy of the Swiss Identify Card. Do not forget to copy both sides.
You will also need to make sure to have some information handy (printed on paper):
Home Address
Civil Center Address. This is the address of the civic center at which you will marry. This is the same at which you got your certificate of civil state.
Getting the information for the Swiss person is not too difficult at this state. You do not need to get anything checked by a notary and only two documents are official to get. Do not forget to support the Chinese person because she or he will have much more work than you at this part ;)
Prepare your application
Once you get all the documents, you must submit your application to the Swiss embassy in China. There are not so many of them in China, so you may have to travel a bit. Or even a lot depending on where you live. Indeed, there are only four Swiss embassies in China: Beijing, Guangzhou, Shanghai, and Chengdu. For instance, my wife comes from Shenzhen but she had to go to Guangzhou, the nearest embassy. You will have to find the closest embassy from where you live.
You can find the application form on the website from the Swiss embassy. The visa you are looking for is the "D Visa", long-term visa. In the reasons for the Visa, you will need to fill "Others". You will need to fill three forms in the same way. I recommend to do the three forms by hand, do not copy it. With each form, you will need a picture of your face, on a white background. The dimensions are quite precise. You should take a look at the specifications online before you do the picture. They are quite strict.
You also need a few copies of official documents:
Two copies of your Chinese passport.
Two copies of each Schengen Visa you had done before.
Submit your application at the embassy
Once you have all the documents ready and the three forms correctly filled, you can get an appointment online. You can go to the website of the Swiss embassy you have chosen to make an appointment.
Once at the Swiss embassy on the day of the appointment, you go directly to the Visa counter. They will check all your forms. You will explain at the embassy that you want to get married in Switzerland. You can do both on the same day. After the application of the visa, at the visa counter, they will bring you to the marriage counter (or immigration counter).
At this second counter, you will fill two forms about the authorization of marriage in Switzerland. The first form is about whether you want to keep your name or take the name of your husband. In it, you can also choose which name your children will take. And the second form is the actual application of marriage form. The forms will be in French, German or Italian. But they will give you a translation in Chinese to help you fill it. If you do not speak any Swiss language, you can fill the blanks in English too.
After this, one employee from the Swiss embassy will check your form and interview you about your demand. If there is no issue, you will be asked to pay for the application. You need to bring cash for this!  Some embassies may accept payment cards. But at least not the one from Guangzhou. This is about 2000 RMB (300 CHF). And then, you need to go back to the Visa counter. And you need to pay again for the Visa application. You will pay about 500 RMB for this. You can ask your embassy for exactly how much you have to pay. Make sure to bring a bit more cash since there is no ATM on the premises. Once you paid, they will ask for your address to send the documents by courier.
Be aware that for as long as the application is in progress, your passport will remain at the embassy. It is important to plan a time when you do not need your passport. It is probably possible to get your passport back. But it is a complicated process and that will likely interrupt the entire procedure. I would not recommend it.
Continue the procedure in Switzerland
Once you have submitted your application in China, you will need to wait for the Swiss authorities to contact the person from Switzerland. You will be contacted by two authorities. You will be contacted by the service of foreigners to validate the application of the Chinese person to enter Switzerland. The civic center will also want more information for you. You should receive a second letter from the civil center asking you for some information and documents.
You should try to respond to these letters as soon as possible. And make sure that you give them all the documents they want. Once you have sent the documents to them, it will still take a few days to continue the procedure. The only thing you can do to accelerate the procedure is to answer them quickly.
Information for the service of foreigners
The service of foreigners will want plenty of information from you:
Copies of your three last payslips. You should also write down on them if you receive a thirteenth salary. If you cannot have a payslip with the thirteenth salary, you can simply write on one payslip whether you receive it.
A copy of renting contract. They want to know how much you are paying for rent each month. If you are owning your house, you should provide the amount of interest you pay each month.
A copy of your health insurance policy. Once again, they want to know how much you pay per month. They also may ask for an insurance proposal for the Chinese person. Normally, this step is optional. Because you will have to do it later anyway. And most insurance will not give you a proposal without an arrival date.
Attestation from the office of proceedings and bankruptcy ("Office des poursuites" in French). They want to know that you do not owe money to anyone and that you have paid all your bills. For this, you need to order it from the office of proceedings and bankruptcy from your state. In my state, I can order it online. But you can always go to the office and get it directly. It will cost you around 17 CHF for this.
Attestation from the Social Service. This will state if you are a beneficiary of social help and how much you were given. In most cases, this will simply state that you do not use social services. This can be obtained from the social service office from your county. It will cost you around 10 CHF for it.
A letter that must contain information about your couple. They are asking when you met your loved one, how did you keep up contact and if the Chinese person already went to Switzerland before. The questions may differ from one case to another.
A form that will state that you will financially take care of the Chinese person as soon as he or she arrives in Switzerland. The form will be attached to the letter they sent you. This document must be validated by your county. You need to fill the form and then ask your county administration to sign it. Some counties will ask for an insurance proposal for the Chinese person. This is a bit dumb since at this point you still do not know the date of entry in Switzerland of the Chinese person. It was a bit disappointed by the overzealousness and dumbness of my county. What I did is to ask for a proposal from my insurance, fill it and then simply give the signed contract to the county administration. It has no value. But they accepted it.
Proof of payment for the fee. You will need to pay in advance the fee and attach the proof of payment to the document. In my case, I had to pay 95 CHF.
Once you have all the documents, you can pack them in a big envelope and send them to the address they gave you in the letter. After this, you will have to wait for them to contact you again for the continuation of the procedure.
Be aware that the information may depend slightly from one state to another. In my case, the entire procedure was done in the state of Fribourg.
Information for the civic center
The civic center will also send you a letter asking you for information and documents. You will need to answer this letter with the following information:
Certificate of Residency: This will state where you live. You may remember that you already did that and send it to the Chinese person. If you still have it, you can use it again now since you probably only sent a copy to the Chinese person. Otherwise, you can get this from your county administration. In my case, it cost me 5 CHF. You can send a copy with the letter.
Copy of your passport. Once again, you already sent it to the Chinese person, but you need to copy it again for the civic center.
The filled form for the names after the marriage. This concern the name of the wife after the wedding and the name of the future children. The Chinese person already filled half of this form in China at the embassy. Now you need to fill the other part.
Once you have filled all the information, you can send it all by letter to the civic center. At this point, you only need to wait for them to contact you again.
Meeting at the civic center
The next step is to meet a civic center official at the civil office of your state. Once they will have handled the documents you sent them, they will contact to fix a meeting in person.
At this meeting, you need to take all the original documents of what they asked you to send before. I would advise you to take all the documents you already have to make sure you do not miss anything. They will check the documents, copy them and ask you a few questions. You will have to pay the fees at this point. I had to pay 125 CHF of fees for the handling of the case. The civic center of my state takes debit cards and cash, but no credit cards. Since the amount will already be mentioned in the previous letter your receiver, I would advise you to take the exact amount in cash at the meeting. You will avoid any surprises like this ;)
Once the meeting is over, they will verify all your documents at the civic center. Once they are done, they will transfer the case to the office of foreigners and to higher Swiss authorities for marriage. You need to wait again for the next step.
Set a date for the wedding
Once the procedure of the civic center is finished, you will receive a letter that they just need a copy of the Visa of the Chinese person to go ahead. Later you should also receive a letter from the office of foreigners with the authorization of Visa. At around the same point, the Chinese person should finally receive its Visa! You can start planning for plane tickets at this time ;)
Once you have a copy of the Visa, you can go back to the civic center to set a date for the civil wedding. You have to choose a date before the end of the visa of the Chinese person. You will have to answer a few questions about how you want your ceremony. At this point, you will only need a copy of the visa to close the procedure. This will cost you between 300 and 400 CHF. We paid 380 CHF for this ceremony.
Before the ceremony, you should go back to the civic center with your loved one. They will need official documents again. The Chinese person should bring her or his ID and passport so that they can do copies. Even though they already have them, they will want to check again.
Civil wedding ceremony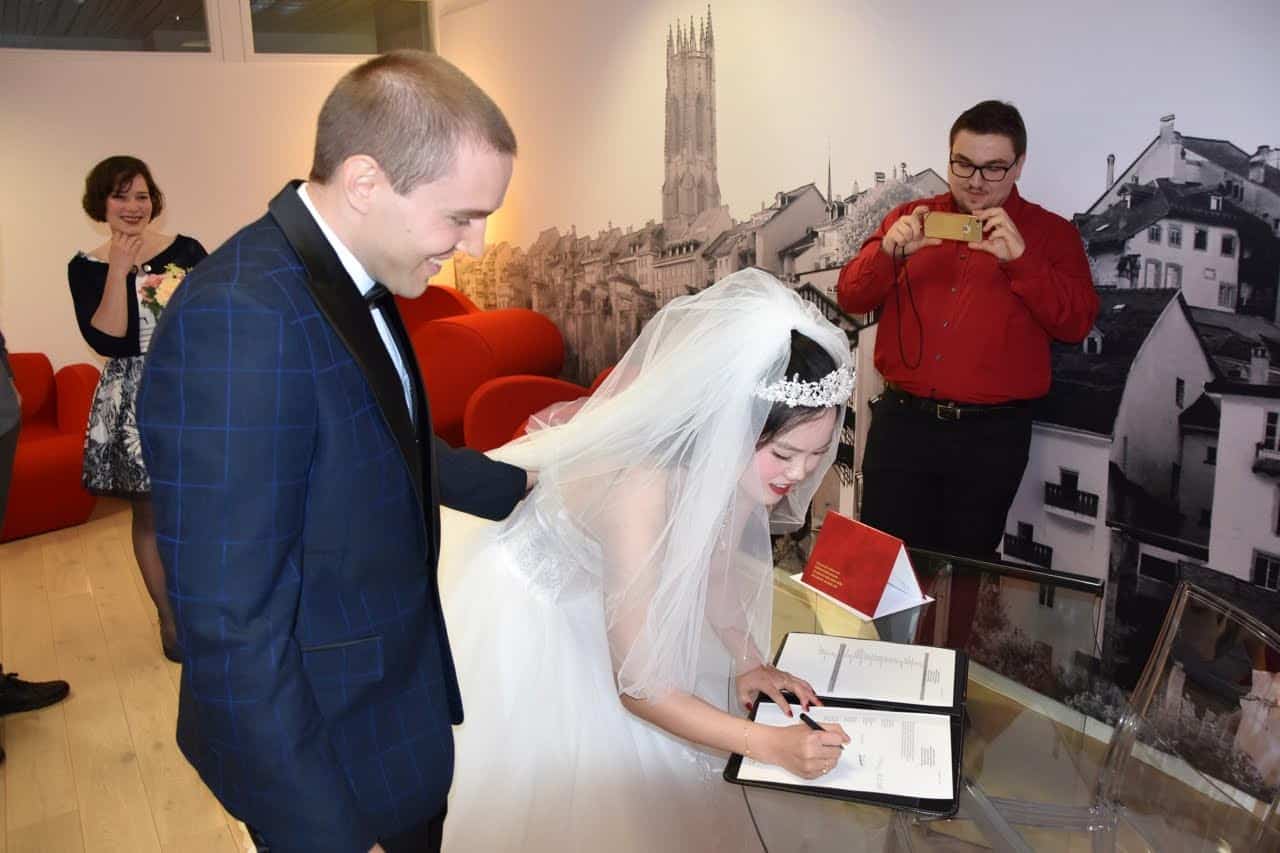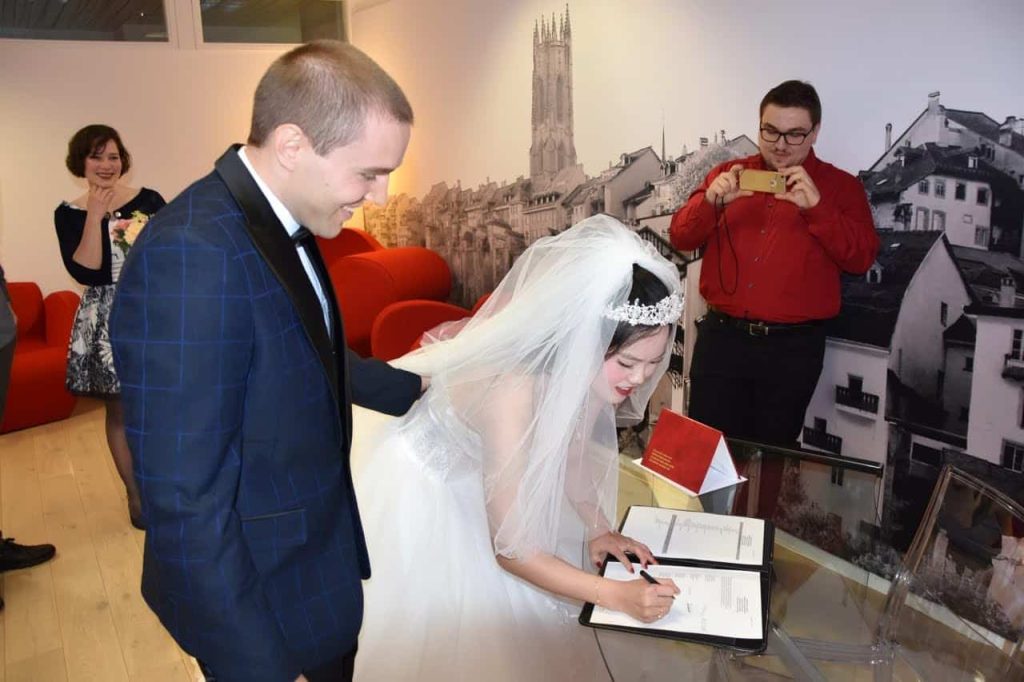 For the ceremony itself, it will depend on what you have chosen. You can do with or without guests. In any case, you will need two official witnesses to the wedding. If you want, you can choose some music. Unless the Chinese person perfectly speaks French, you will have to hire a translator. The civic center of my state directly gave us information to find a French to Mandarin translator. At the end of the wedding, you will have to sign the marriage. The witnesses will also have to sign it. I wrote a post about our civil ceremony in Switzerland if you want more details about this point.
After the ceremony, you will be given your family certificate. You will also receive the attestation of marriage. These documents are very important, you should be careful in keeping the originals.
Apply for your residency permit
Now that are you married (Congratulations!), the Chinese person is entitled to get a residency permit. This is the last step of the things you will have to do :)
You need to go to the office of foreigners in your state. You need to go both together there. And you will need to take with you a few documents:
The passport of the Chinese person and a copy of the passport.
A copy of the Visa of the Chinese person.
The family and marriage certificate and a copy of both documents.
The ID and passport of the Swiss person and a copy of both.
Even though you probably will not need it, I would advise you to take all your documents from the entire procedure with you. It could be useful.
Once at the office of foreigners, you can ask for a residence permit after marriage. They will ask for the documents I mentioned before. And they will also ask you to gather biometric information of the Chinese person. In my state, it is in the same place, so we did both at the same time. If you are not lucky, you may have to go to another place or in two different days. The person from the office will tell you what you need to do. They took a picture of Mrs. The Poor Swiss and collected her fingerprints. They also verified her passport. In total, this cost us 172.30 CHF.
At the meeting, they will also give you a form that you have to fill and that they will sign. You will have to give this form to your county administration office.
Conclusion – Your residence permit
Congratulations, you have reached the last step! You are now married in Switzerland and have a residence permit for Switzerland. It is time to celebrate!
Your residence permit will be valid for one year. After this, you can renew it for two years. If you want to take on the Swiss nationality, you will have to wait at least five years. But that is far in the future!
I hope these explanations will help you if you need to go through the same process as we did. I wish we had such a guide when we started doing the procedure. Writing about it made me realize it is even more overwhelming than I realized at the time. Do not hesitate to ask any question you may have on the subject. And if I forgot something, please let me know!
If you are planning to come to Switzerland, you should also read how you can get a Swiss driving license as a foreigner!
Did you successfully get a visa to Switzerland to get married? Was it difficult? Was the procedure different from ours?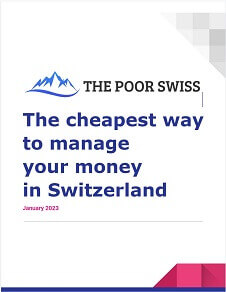 The best financial services for your money!
Download this e-book and optimize your finances and save money by using the best financial services available in Switzerland!
Download The FREE e-book