Retiring early is simple but not easy
|
Updated:
|
(Disclosure: Some of the links below may be affiliate links)
Many say I make FIRE and early retirement look too simple. And many people are falling into the trap of believing that retiring early is easy.
I want to delve into that critical subject. For me, retiring early is simple. There is no doubt. However, it is not easy! The difference is fundamental. And there are no secrets to getting to FIRE. You need to focus your efforts on that goal. And how much effort you put into it will shape how fast you can retire.
So, we should see why FIRE and early retirement are simple concepts but not easy to reach.
Retiring early is simple
The math between early retirement is extremely simple: you withdraw X% of your portfolio yearly, and you can sustain your lifestyle for enough years. X will be your withdrawal rate.
For instance, if you submit the famous 4% rule, you will withdraw 4% of your portfolio every year, adjust that amount for inflation and pay all your expenses with this money.
You will need your money invested in the stock market in a healthy mix of bonds and stocks during that time.
I do not think we can do much simpler than that! The most complicated part is choosing an asset allocation and a withdrawal rate. But many guides and calculators are available to help you with this task.
Retiring early is not easy
It is essential to come to the second part of this article: retiring early is not easy! Simple means that it is not complicated and easy to understand. On the other hand, easy means you can achieve it without effort.
And anybody telling you it is easy to retire early is lying to you. And unfortunately, there are too many such claims online.
So, why is it not easy? It requires dedication. It will require you to keep your expenses in check. And it will mean you must save significantly more money than the average household. For some people, this is easier than for others, but this does not come naturally for most people.
You can estimate how long it will take to retire early Using your savings rate. Your savings rate will define how many years you will need for a given withdrawal rate.
Most Swiss households barely save 10% of their income. And in fact, when your factor vacations into the mix, most households save less than that. With a 10% savings rate, retiring will take more than 50 years. It means you can forget about retiring early. And even with a 20% savings rate, you will still wait 36 years before retiring. If you start in your 20s, this could still qualify for early retirement.
But in general, if you want to achieve early retirement, you will need at least a 30% savings rate. If you want to retire in the next 20% years, you will need to save 50% of your income.
This is not easy to achieve and not common.
There are no secrets to retiring early
I am sure you have already seen such claims on the internet: I retired at 35 with these five simple money principles
The claims are always the same: just follow a few rules, and you will be on your to retiring early:
Set a strong goal
Invest your assets
Eliminate debt
Automate your money
And while these rules are important (except maybe for automation) and will help you, just following these rules will not be enough to retire early. If you have a great goal but have no positive cash flow, you will go nowhere for a long time.
The truth of the matter is that to retire early. You will need to save a large portion of your income. And for that, you can either:
Spend very little money
Earn a ton of money
This is the only way you will retire very early. If you have a 5000 CHF salary, you will not be able to retire in 5 years unless you live in the woods. And if you spend 10'000 CHF per month, you will not be able to retire very early unless you earn a huge income (talking 20'000 CHF per month).
And just saving on your 5 dollars coffee will not make you rich. In fact, for the immense majority of people, it will not make a significant difference. No one thing will make you retire extra early.
I am not saying it is impossible to retire early on a low income. It is. But it will require either more years to reach your goal or to spend very little money. This is just simple math. There is no way around it.
The road to FIRE is paved with inequalities
Looking at early retirees, we can see a few important points that come often.
First, most early retirees do not have kids. While it is up to them to have kids, the important point is that not having kids helps your expenses. If you do not have kids, you spend less and can travel more outside school time. Of course, there are some early retirees with kids. It is just more difficult.
Second, many early retirees are software engineers. There is nothing wrong with that. I am a software engineer myself. But the fact is that we earn more money than average. Earning more money makes saving a larger part of our income easier.
Finally, many early retirees are spending well below average. Some people live in an RV while others live almost in autarky in nowhere. It is important because not everybody can spend that little.
Again, there is nothing wrong with any of that. But it makes retiring early easier for some people than for other people. That does not mean it is impossible to retire early if you have kids, are not a software engineer, and live a normal life. But it means it will be less easy for you than it was for some people.
The best way to retire earlier is to increase your income. But, again, this is nowhere near easy. But there quickly comes the point where you can't spend less money, and many people still do not save much when they reach this point. So, they should try to earn more.
Read between the lines
The main problem is that many media try to make retiring look easy when it is not.
The reason is simple: it is much simpler to sell easy things than to sell hard things. For instance, which article do you think will work better:
I retired at 32 by doing these five simple things, so you can you!
I retired at 32 with a very large income and living with my mom!
Hint: Number 1 will be read many more times. People want easy things. So the media is trying to sell them easy things. It is as simple as that.
So, when you read all these success stories online, you must read between the lines to find out what happened.
For instance, some people retired in 5 years in the best bull market, having 20% yearly returns. On average, you will get much less than that. And if you start your journey before a bear market hits, your journey will take longer.
Another important thing you need to consider is that most FIRE bloggers are getting significant income from their blogs. This income makes two differences:
The extra income is helping them to retire.
The additional income makes them not entirely retired.
I have to say that I am making some money from this blog, which is not very significant compared to my main income. But this will help me on my way to retirement, no doubt about it.
Finally, do not believe having a budget and optimizing your expenses will be enough to retire in a few years.
For the immense majority of people, this will not be enough. If you are not among the high-income earners or very frugal people, it will take you many years and tons of dedication (not easy!) to retire early.
Conclusion
Financial Independence Coaching

1:1 Coaching
You are looking for financial independence or just achieved it, or living it?
Make the most of each phase with support from Dror, a certified professional coach (having been through all the phases).
Get your first session for free!
Tell Dror you come from The Poor Swiss to get the first 45 minutes session for free!
I do not want to discourage anyone from retiring early! On the contrary, I still believe that most people can achieve that goal. But it will not be easy. I do not think my journey to early retirement will be easy. But I think it is worth trying for me.
My main point with this article is that I do not want you to believe that retiring early is easy because it is not. It is pretty simple, but it is not easy. There are no secrets to early retirement! You need to put in the work.
It is also important to realize that while the math behind early retirement works for everybody, it will favor high-income earners and frugal people. This is a simple truth.
I wish that there was more transparency online and less clickbait content. However, you need to be aware that most examples are exceptional examples. They should not be used as validation of the lie that retiring early is easy.
If you want to learn more, you can read the basics of early retirement.
I was motivated to write this article after reading this excellent article from Nick Maggiuli.
What do you think? Do you think retiring early is simple?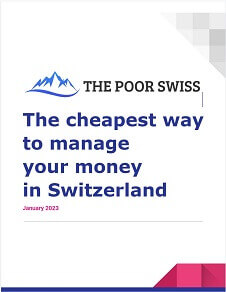 The best financial services for your money!
Download this e-book and optimize your finances and save money by using the best financial services available in Switzerland!
Download The FREE e-book