Why do so many software engineers choose FIRE?
|
Updated:
|
(Disclosure: Some of the links below may be affiliate links)
You have probably seen that many prominent bloggers behind the Financial Independence and Retire Early (FIRE) movement are programmers. At least, they used to be before they retired.
I am a software developer, or a programmer as you would like to call it. Since I discovered the FIRE movement, I have been wondering why there are so many programmers in this community.
In this article, I try to answer this question. We see what are software developers to start with. And I have listed eight reasons I have found why there are so many of them trying to retire early.
If you know any more reasons a programmer would want to FIRE, please let me know in the comments below!
Programmers / Software Developers
Before we start, we can answer an important question: what is a software developer or a programmer? These two terms are the same things.
A software developer is a person that writes software. There are tons of software on your computer. And there are tons of software on the internet. Software developers like me to write all this software. You often do not see the programs directly since they are used by the website you are using. But there are tons of software powering Google and Amazon and the whole internet infrastructure. And some parts of a website are software themselves. WordPress is a software, for instance, and this is what I am using to write this blog.
But how does one write software? We are writing code in a specific language. There are tons of programming languages. For instance, WordPress is written in PHP. And the PHP language itself is written in C. My favorite programming language is C++. It is also the language Windows is mostly written with.
A programming language is just a way to talk to the machine and to tell it what to do: print stuff, draw a window, … Programming languages are generally very logical. For instance, you instruct the machine to print something if the user answered yes to a question. It is not much different from English.
I think this is enough to understand what we are doing. I do not want to turn this post into a software development post! If you want to know more about software development, let me know in the comments below.
Programmers on FIRE
Many of the prominent FIRE bloggers are programmers or software engineers. Here are some examples: Mr. Money Mustache, Joe Udo from Retire By 40, Mr. Retire In Progress, and Steve from Think Save Retire.
And there are many more on smaller blogs (like me).
And very interestingly, some people are now trying to switch to programming during their journey to Financial Independence. For instance, Mrs. Frugal Asian Finance started to learn to code recently.
So why are so many programmers trying to retire early?
1. The salary
I am not sure this is the main reason, but the fact that software programmers are well-paid is an excellent reason to pursue Financial Independence.
In the United States, the median salary is about 102'000 USD per year. But there are huge discrepancies between states and cities. And some companies are paying higher than that. It is not unheard of to have people with salaries of about 150'000 USD per year.
In Switzerland, the median salary for a software programmer is about 93'000 CHF per year. And it can easily climb up a lot more once you become a senior developer.
When you compare the price of living in Switzerland and the United States, you can understand that many people in the U.S. are pursuing a career in programming. You can achieve a very high savings rate when you get 150'000 USD per year in the U.S.
Now, I do not pretend to know why software companies pay so well. But these companies are trendy right now and are making a lot of earnings. These high earnings can explain why they pay so well. Moreover, a lot of their employees are very educated.
Having a substantial income makes it easier to have a high savings rate. And having a high savings rate helps you become Financially Free faster. That is not to say you cannot retire early without a huge salary. But this helps.
2. The analytical mind
I think that a big reason for programmers to pursue Financial Independence is because of their analytical minds. You need to have a great analytical mind as a software programmer. Everybody is about logic.
And FIRE is nothing more than mathematics and logic. For people with a very analytical mind, it just makes sense that it is possible. And it even makes sense!
And if you couple an analytical mind with a high salary, this makes it even easier to reach Financial Independence.
For me, when I discovered the Trinity study and all the things about the FIRE community, it just clicked. It makes a lot of sense. Why work all my life when I could retire before I am 50. And even if I do not retire, I could still enjoy the freedom of being financially free! It is great!
3. The stress of the job
Another thing that could lead many programmers to this route is that the job can be stressful.
First of all, it is a sector that is evolving very fast. That means you need to learn new things regularly. And you need to stay informed of what is going on. Otherwise, you may become obsolete faster than you may want. Of course, there are some niches where you are at much fewer risks (COBOL in banking, for instance). Some people do not want to keep learning once they have reached a certain age.
Another thing is that there is a lot of competition. There are many new talents, and it can be challenging to keep up. It will, of course, depend on the company you are working in. Some companies are more relaxed than others. But this work requires a lot of concentration and focus.
Finally, many programmers are quitting because their work is evolving toward management. Once you have reached a certain age and a certain level of institutional knowledge, you may be more valuable as a manager than a programmer. And sometimes, you do not have the choice. But this is not something that everybody wants. I do not see myself as a manager. But who knows what will happen in the next 20 years?
4. The politics of the job
If you are in a big software company, politics will play a significant role. I am not talking about state politics, although this also plays a role in some companies.
I am talking about corporate politics. Sometimes, it is just dumb to see what is coming from multiple layers of management on top of you. Sometimes, it just does not make sense. There are companies with excellent corporate politics. But there are companies where several managers have entirely different politics, and you will end up doing and redoing work because of this competition.
And sometimes, you know you are doing some specific work because one of the top manager's quarterly goals is to do it. It is not necessarily for the good of the company but because of the bonus of said manager.
The company I work for is not that bad in that regard. I would say they are average for American companies. But I have heard many things about other companies, and I could understand people wanting to retire because of it.
5. Ageism in software programming
Software programming is not the best industry to age inside.
I have already mentioned that it is an ever-changing industry, especially in recent decades. It is challenging to keep up with this when you are getting older. If you have a family with children, you probably do not have enough time to keep up with the latest changes in the industry.
And the competition from new graduates is also very hard. Some people put it more than 10 hours a day when they start a job. Working so much is all fine when you are very young and have no kids. But it starts to wear off after a while.
And when you get older, it is more difficult to change a job unless you are a programming rock star (yes, there is such a thing!). People want to hire younger people who they can pay less and that will likely work more.
6. Programmers do not have to stop programming
If a person is passionate about software programming, he can very easily continue programming outside of the job. You do not need anything else than a computer and an idea to program something.
Before my current job, I had many programming hobby projects:
A compiler for a custom programming language.
An operating system.
A full media management tool.
And a lot more of them. I am still doing some little work on some of them occasionally. I am sure that if I were to retire, I would continue working on some of them. And I would probably start some new projects as well since I would have more time.
Of course, programming is not the only job you can continue after retirement if it is your passion. But there are some jobs where you cannot continue after retirement. For instance, have you ever seen a surgeon operates in his garage? I hope not!
7. The technical capabilities for a blog
Of course, we are much more aware of early retirees with a blog. We have almost no knowledge of early retirees that are not on the Internet. But I am sure they are many of them as well.
Here, software programmers have some advantages, at least from the tech side. I do not say that software developers are the best bloggers. But they have a technical advantage over non-tech-savvy people. There is no denying that.
Some of the FIRE blogs started a long time ago. And at that time, it was more complicated to start a blog without technical knowledge. I am sure that their programming skills were more than handy.
And some of these early FIRE blogs are making a small fortune with their blog. Some people make much more money than they did as software developers. It leads me to wonder whether it is possible to retire early without blogging income.
And this is still an advantage today, even though it is becoming more accessible and more comfortable to blog. For instance, last month, there was a bug in one of the plugins I used. Instead of waiting a long time for them to fix it, I looked into the code and found the bug. And then, I fixed it and submitted the fix to the maintainers of the plugin. That way, it will directly be fixed in the next release. And it is already fixed for me.
8. It is just a job!
This last decade, people have made it look like software programming was the best job ever. I do not think it is the case.
Do not take me wrong; it is an excellent job for me! I do not think it is a job for everybody. And it is just a job. It is something you do for money to live. If you are lucky like me, it is also your passion. Tech is probably one of the industries that have the most passionate workers. But there are still a lot of them that only do that to earn an income.
Thirty years ago, people were looking upon software programmers as weird nerds. Now, it has become a popular job. It seems that people think that everybody should become a software developer. They want to teach programming in the early years of school. I do not understand that.
I do not think this job is better or more useful than any other job. Every job is necessary.
Conclusion
As you can see, there are many reasons why software developers/programmers are likely to want to retire early. These are probably the main reasons why there are so many programmers who retired early and started a FIRE blog.
Although many people make it a very nice work, it is a stressful job, and tech companies are not always the best environment to work in.
But the main reason is probably because of the high salaries. Once you couple that with the very analytical people that programmers are, you get a perfect combination for early retirement. It is not difficult to realize that if you can save a large portion of your income, you could live forever on your nest egg. And software developers are doing just that!
What do you think about these reasons? Do you see another reason I would have missed?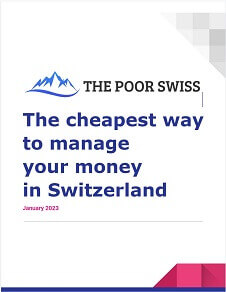 The best financial services for your money!
Download this e-book and optimize your finances and save money by using the best financial services available in Switzerland!
Download The FREE e-book