(Disclosure: Some of the links below may be affiliate links)
October 2019 started with our vacations in Barcelona. We spent six great days in this lovely city. It was a perfect trip!
Of course, with the vacation, our budget suffered a bit. But we still managed to save a substantial portion of our income. So, I am not going to complain, this time!
Even though we spent more than 5000 CHF this month, we still saved more than 50% of our income. I am getting happy about the state of our finances. And our goals are also going great!
So, let's see everything that happened to us and our finances during this month.
October 2019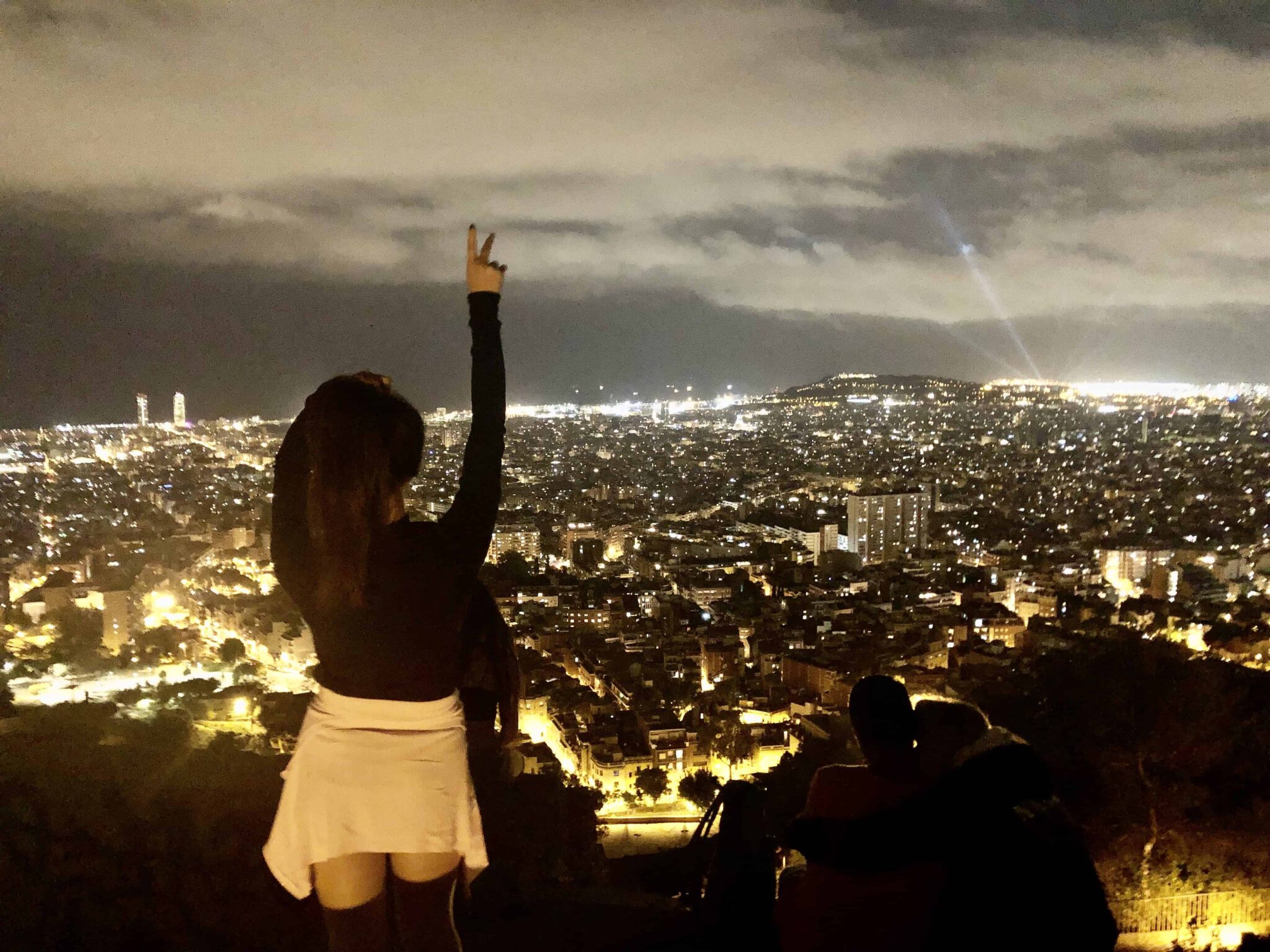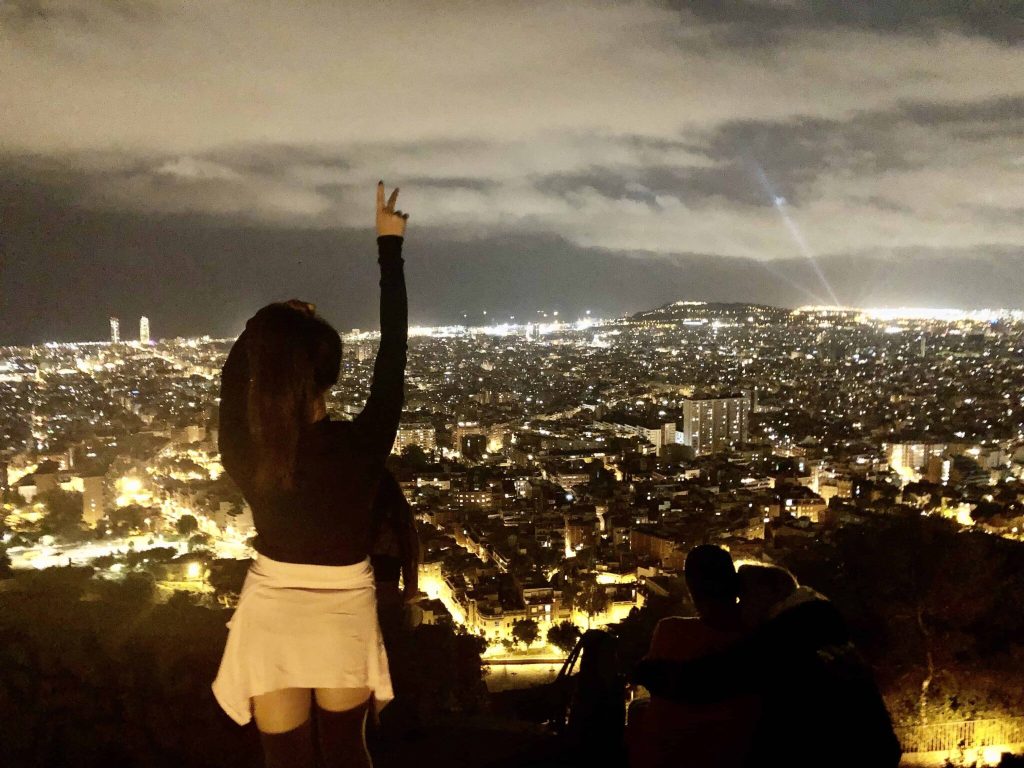 At the beginning of October, we went for six days in Barcelona. It was a great trip! We went there by plane. We rented an apartment for five nights. The apartment was in a nice and quiet place in Barcelona. And we took the metro for all our trips.
We went to see many places in Barcelona and ate great food! It is a nice city!
We were quite fortunate with our timing. A few days after we left, there were several riots for the independence of Catalunya. When we were there, there was nothing of that sort, fortunately.
Aside from this, it was a quiet month. We went out a few times. We went to see a conference by the only Swiss astronaut, Claude Nicollier. It was interesting.
There is a new Chinese restaurant that opened just in front of us.  So we went there twice. Everything was half price for the opening days. So we did not spend a lot. But we will probably go back there.
The only other significant expense this month was for repairing Mrs. The Poor Swiss phone. The screen died why we were in China. And it cost 170 CHF to fix it.
Overall, it was an excellent month for our savings rate. We saved 55.80% of our income! It is an outstanding result for us! Our 12-months average savings rate is now almost 50%! If we do not spend too much next month, we are going to bring our average to 50%!
Expenses
Here are the details of our expenses for October 2019:
Insurances: 790.05 CHF. Average. Our two health insurance and complimentary insurances.
Transportation: 557.42 CHF. Well above average. We spent very little on gas this month. However, we had to pay for the parking at the airport and the subway in Barcelona. And we reserved train tickets for next month for Mrs. The Poor Swiss and her niece to travel.
Communications: 103.98 CHF. Average. It includes the internet and my mobile phone.
Personal: 1382.31 CHF. Above average. It comes mostly from the price of our holiday in Barcelona.
Food: 525.82. Above average. We ate out a few times in Barcelona. And we went twice to the new Chinese restaurant next to our home. And we invited our friends over for a big dinner. Considering all that, we did pretty well in that category.
Apartment: 1247.00 CHF. Average. Just our rent.
Taxes: 799.45 CHF. Average. Swiss taxes.
So again, we fell short of the goals of spending less than 5000 CHF each month. However, considering that we paid for several things for the vacation in Barcelona, it is not too bad. I was expecting a worse month. I am happy about this level of spending.
And this is still more than 50% of our income that we saved this month.
2019 Goals
Let's take a look at how our goals look like after October 2019: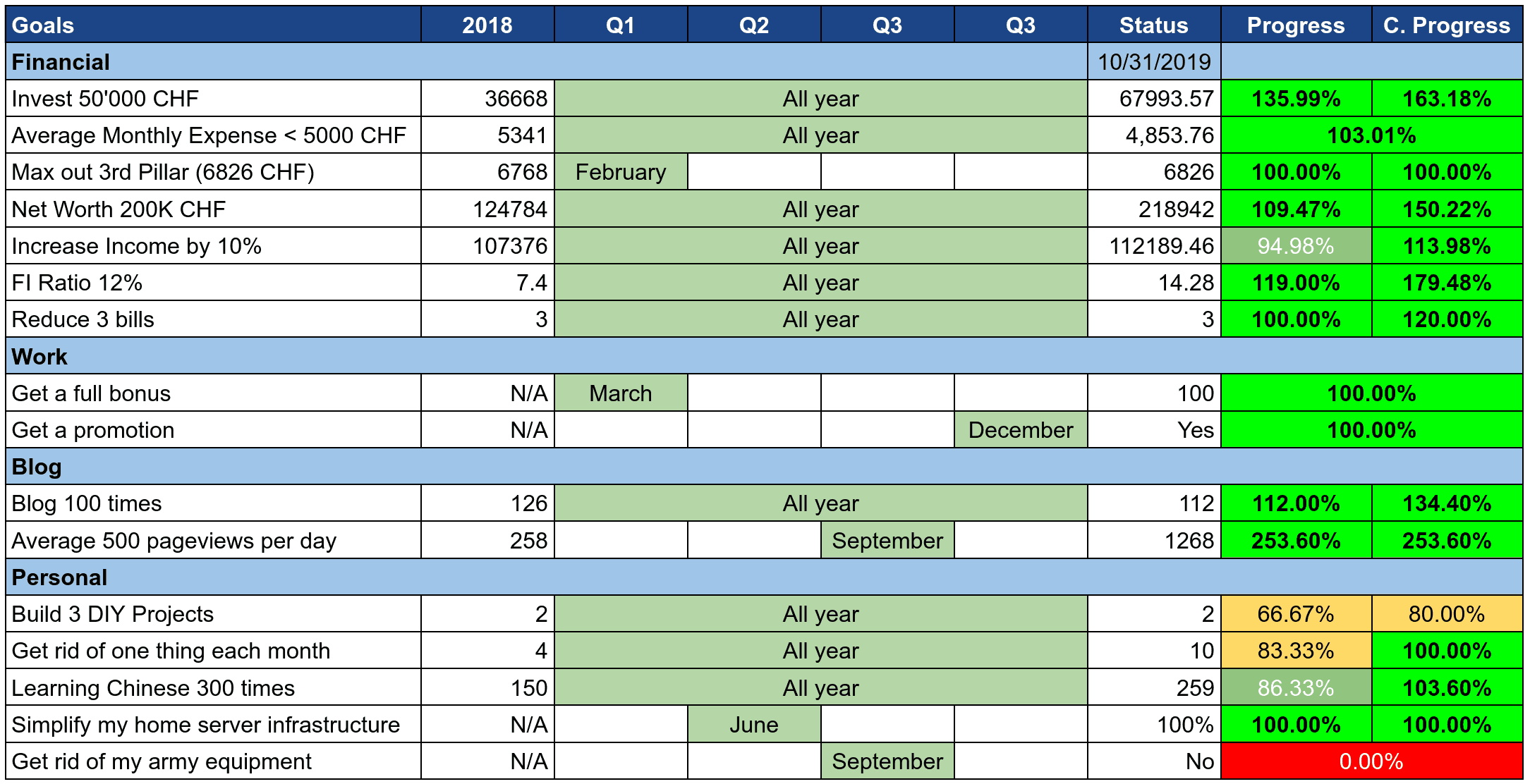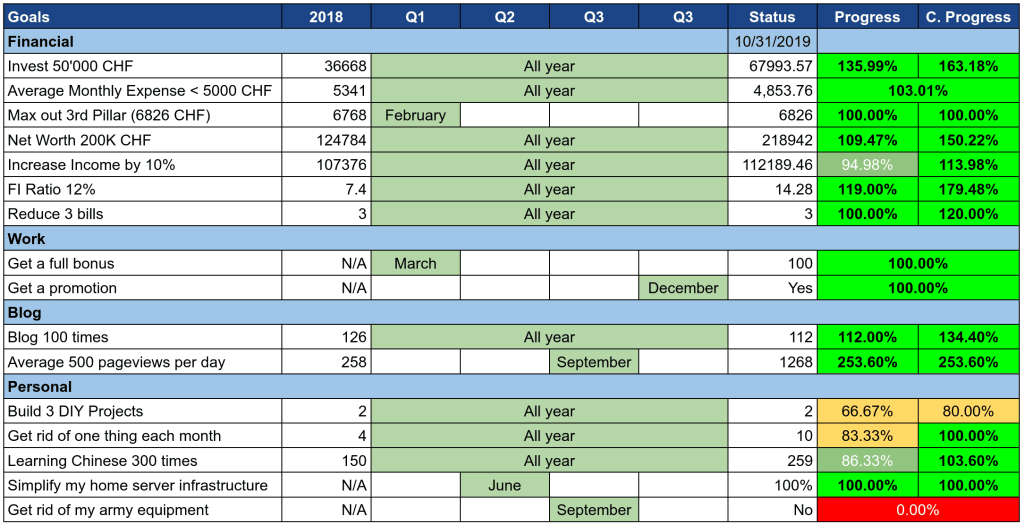 As you can see, our goals are going great.
We are above all our financial goals for the year already. I would not say the goals were too easy. It is much more than I could have saved the year before. But I underestimated our income this year.
This month, we got rid of a set of cameras that I had at home. It was one of my ideas before to start a simple home security system. But finally, they were disabled most of the time. And they were not recording in case something happened. So they were pretty much useless. And they would not have stopped anything probably.
Now that the weather is turning cold again, I am probably not going to do a third DIY project this year. I have plenty of ideas for next year. But this will have to wait. I do not see how I would finish this goal this year. And I think that I will only do them if I have a workshop to work in. It takes too much time to move everything from the cellar to outside.
I am already starting to think of our goals for next year. Some of the goals will stay the same. But they will probably see their numbers increase. And we are thinking more and more about buying a house next year. So this is likely to be present in our goals.
Net Worth
Let's see what happened to our net worth during October 2019: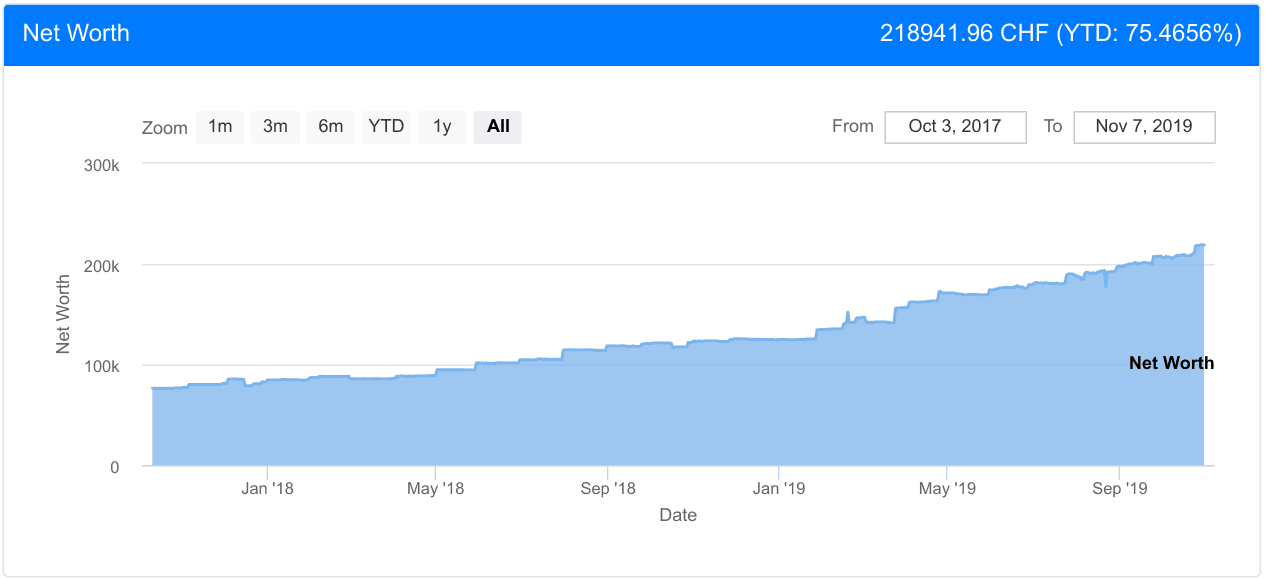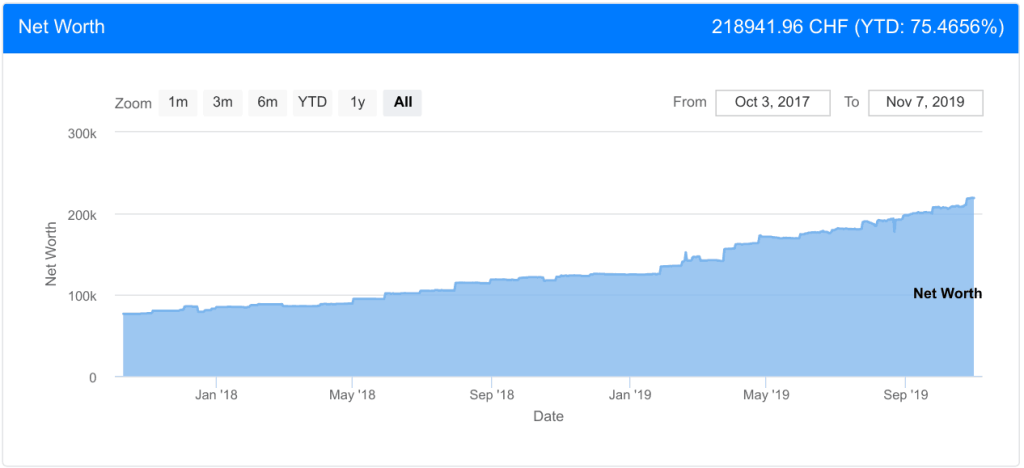 On the net worth side, everything is going well, as well. We were able to save a lot this month. And the stock market also went well this month.
I got a few shares from my company, but this is less than one thousand francs. Next month should be a bit lower in terms of income. But I still expect our net worth to grow. We should be able to reach 230K CHF by the end of the year.
Now, a lot will depend on the stock market next month. This month, the stock market reached a new high. But then after that, it started to go down once again. So, we will see how it goes.
The Blog
Last month, the traffic on the blog went down significantly. I still do not know why this happened. But I suspect a Google update since this affected my organic traffic.
Fortunately, it seems that everything is back to normal in October! The traffic on the blog is great again. It increased by more than 50% over September. But more importantly, it went over August 2019 as well. So this is the best month on the blog so far!
October 2019 is also the best monthly income from the blog. The blog generated almost 300 CHF this month. It is an exceptional result because I received an affiliate payment from TransferWise that was for several months. But it is great! Next month should be much lower again.
In October, the blog turned two years old! I am still very motivated to write on this blog. And I have many projects for the coming months. I will have to balance the projects and the articles on the blog. Otherwise, I will run out of articles. But this should not be a big issue!
As usual, here are the three most viewed posts of October 2019:
TransferWise versus Revolut: As usual, this post is the one with the most traffic on the blog.
Revolut Swiss IBAN: Top Up Revolut For Free: Although this post did very well, it is getting significantly less traffic than last month.
Updated Trinity Results for 2019: I am thrilled that this post is doing well. It was a lot of work, and I like that it gets attention!
What about you? What was your favorite post of the month?
Next month, there will be several big things for the blog. I did my first podcast interview! And it should be released sometime next month. I will let you know once it is the case!
I will also release a calculator based on my code for the historical FIRE simulator. Everybody will be able to use it. And the code for the tool will also be released!
As always, I will be happy to get any advice to improve the blog!
Next Month – November 2019
November 2019 should be a relatively quiet month. We do not have much planned. I will be a few days in Berlin for work. And Mrs. The Poor Swiss niece will join us in Switzerland for a few days as well. Except that, we only have a few lunches and dinners planned.
From a financial point of view, it will depend if we plan our trip to China or not. If we plan it, we will have spent too much. If we delay it further (unlikely), it will be a cheap month. In any case, it will be between November and December to be a cheap month.
Mrs. The Poor Swiss is also considering starting a new French course. It could add a lot to the expenses of the month.
What about you? How was October 2019 for you? What do you have planned for November?