December 2022 – Glad it is over
|
Updated:
|
(Disclosure: Some of the links below may be affiliate links)
December 2022 was a bad month for many different reasons into which I do not want to go. So, I am happy the month is over, and it seems to have ended relatively better than I expected.
Financially, it was the usual end-of-year month, slightly lower than average but not terrible. There are always many more bills in December than in most months. We still managed to save a significant portion of our income this month.
December 2022
As mentioned before, I do not want to go into the month's details. Suffice it to say that it was the worst month of the year for me.
As for our finances, it was not that unusual. We had extra bills pushing our expenses higher than average, such as the yearly insurance bills. Despite the higher base salary (thanks to my promotion last month), our income was slightly lower this month. Indeed, last month I received some shares from my employer, and the blog had slightly more income.
Overall, we saved 35% of our income. This is a typical savings rate for December.
Expenses
Here are the details of our expenses in December 2022:
| Category | Total | Status | Details |
| --- | --- | --- | --- |
| Insurances | 1179 | Above average | Health insurance and legal insurance |
| Transportation | 1381 | Well above average | End-of-year bills and car maintenance |
| Communications | 113 | Above Average | Internet and mobile |
| Blog | 1408 | Above average | Several yearly bills and AVS bill |
| Personal | 1498 | Above Average | One expense for a course exam and many health bills, mostly |
| Food | 462 | Good again | Standard groceries |
| Housing | 884 | Above average | Heating and mortgage interests and power bill |
| Taxes | 5107 | Average | Taxes at each level |
In total, we spent 12033 CHF in December 2022. Without the blog and the taxes, this amounts to 5517 CHF, which is relatively good for an end-of-year month.
The car and legal insurance always happen in December for us. I also had to expertise our car and spent almost 500 CHF servicing it to pass (the first did with minor service did not pass).
Our personal budget is relatively high. We made several gifts for Christmas. And we also had to pay several health bills.
Our food category is finally back under control. We only had the usual groceries during this month.
Other than that, our expenses were relatively normal. It is a better result than last month when several avoidable categories were out of control.
2022 Goals
Here is the status of our goals by the end of December 2022:

Since the year is over, this image will not change again this year. There are some good things and some bad things about these goals. Overall, it did not end too poorly.
We have failed three goals. First, our before taxes expenses did not stay below 4500 CHF. It is not a big deal because they still end up below 5000 CHF, which is perfectly fair. I will likely use 5000 CHF next year as a goal.
Our average savings rate is also significantly below our goal. This is primarily due to having some very expensive months during the year. And I have probably underestimated the taxes again. Aiming for 50% next year is more reasonable.
Our FI ratio is also well below our goal, almost below where we started. The stock market results were negative this year. Our net worth almost did not move the entire year. But we increased the number of shares of our ETFs, so this will pay off in the long run.
And I am quite happy about our income goal. We increased our income by 22% this year, much higher than I thought possible. In the end, my personal goals also turned out well. December did not add much to my workouts or walks, but the overall results are okay.
So, overall, I am happy with our 2022 goals. In a future article, I will review these goals in more detail and discuss my 2023 goals.
FI Ratio
Here is the progress of our FI Ratio until the end of December 2022:

Our FI Ratio went down significantly once again during the month. The stock market lost about 5% again. We still had savings, but the stock market losses exterminated them.
Overall, we cannot be very satisfied with our FI ratio during the year. However, we must expect years like this when heavily investing in stocks. We still had considerable savings during the year, resulting in many more ETF shares than where we started (and other assets, such as our second pillar). So, this is an expected year.
We hope for a better year next year, but it could be a bad one too. We will have to wait and see and stay the course.
The Blog
At the beginning of the month, I completed the German translation. This went faster than I expected. I am glad this is over. I do not know what will be the next project on the blog, but I know that I will not do anything significant for several months.
During this month, I got close to ending the blog entirely. In the end, I paused it for about ten days and got back (writing this article).
Given the extremely limited time I have, I will continue next months just writing articles and doing necessary updates, but I will not do any other significant projects.
Next month – January 2023
We do not have anything planned for January 2023. It should be a very calm month (hopefully!).
Financially, it should be entirely standard.
What about you? How was December 2022?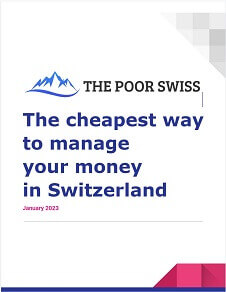 The best financial services for your money!
Download this e-book and optimize your finances and save money by using the best financial services available in Switzerland!
Download The FREE e-book