November 2017 Update
|
Updated:
|
(Disclosure: Some of the links below may be affiliate links)
November 2017 is over, it is time for another monthly update. After a bad October 2017, I have seen some improvements.
November 2017 was not bad in terms of savings, but it was a bit lower than I was expecting. The savings rate for the month is 14.25%. It is not perfect, but still better than last month. My goal is to go to 25%.
November 2017
I have gone to China to meet with my girlfriend and visit some of her family. We have had a great trip to Haikou, Sanya, and Xi'an. We saw many people and visited many very interesting things. Xi'an was especially very interesting given that it is the previous capital from China.
I had a few expenses while I was in China at the beginning of the month. Moreover, I also bought plane tickets to return to China in February. It is a very fair price (598.50). But it still puts a big dent in my savings. I will go back to China for the Chinese new year. Since I will stay with her family, it should not be a very expensive trip.
Here is the detailed overview of my spending by categories for the month:
Insurances: 255.75 CHF – average
Transportation: 140.43 CHF – below average
Communications: 163.35 CHF – average
Personal: 1318.56 CHF – above average (plane tickets)
Food: 297.47 CHF – below average
Apartment: 1300 CHF – average
Taxes: 805.45 CHF – above average (firefighter tax)
I have started to transfer my investments to DEGIRO. I still need to transfer quite some money and I still need to sell some PostFinance funds, but they are at a loss now. Therefore I am still waiting before I sell and transfer. I still have to decrease my cash and bonds, but that will be done slowly in December. I will post an update once my portfolio is updated and ready. Once my portfolio is more or less ready, I will also include my net worth in the monthly update.
Next Month – December 2017
December 2017 should be quite good since I will have half of my 13th salary. However, there will some big expenses as ever at the end of the year (already paid 245 CHF today for parking at my company). Moreover, I will spend three more weeks in the army. Even, if it is not a happy deal, it will help me save some money on food.
This month, I have done some effort to reduce my recurring monthly expenses. Indeed, I have reduced my rent and changed my car insurance.  Moreover, I have also changed my Internet provider contract, saving about 50 CHF per month starting this month! I plan to continue to try to reduce my expenses in the coming months. I really need to get my budget into better control.
What about you? How was your November 2017?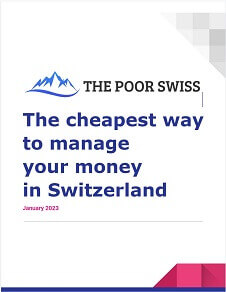 The best financial services for your money!
Download this e-book and optimize your finances and save money by using the best financial services available in Switzerland!
Download The FREE e-book