(Disclosure: Some of the links below may be affiliate links)
Finpension just started their third pillar offer: Finpension 3a. And it is extremely interesting. So much so that I started using them!
Finpension is already behind Finpension's vested benefits, the best vested benefits (second pillar) account in Switzerland. So, it is great that they have now started offering a third pillar account.
So, let's review Finpension 3a in detail.
In this article, I look at many things about Finpension 3a: its fees, its investment strategy, and its security. Finally, I also compare it against other third pillar providers.
And if you use my code, you will have a chance to win 6883 CHF in your third pillar!
Finpension 3a
Finpension 3a is a pension foundation managed by finpension AG. Finpension 3a is related to the third pillar offer. But finpension has managed other kinds of pension assets, such as vested benefits, with their valuepension offering, since 2017.
Finpension started with the yourpension collective foundation, a 1e pension plan. Customers liked it so much that they wanted to keep their account after they stopped working. So, finpension started its vested benefits offering (Finpension Vested Benefits). And now, they have begun their third pillar offering: Finpension 3a, in 2020.
It is important to note the foundation itself is separated from the management company itself. Doing so allows for a clear separation of books for the assets.
There are two ways to access the third pillar account:
A mobile application on the App Store and the Google Play Store.
A web application on all browsers.
I greatly appreciate the fact that they have a web application as well. Most platforms only have mobile applications these days.
If you want more information, I interviewed finpension's CEO.
Investment Strategies
Finpension 3a heavily focuses on investing in the stock market. For this goal, they offer access to 6 different strategies:
Finpension Equity 0
Finpension Equity 20
Finpension Equity 40
Finpension Equity 60
Finpension Equity 80
Finpension Equity 100
The number in the strategy is the allocation to stocks in the portfolio. The remaining portfolio is allocated to bonds and 9% to real estate. But each strategy has 1% allocated to cash. For instance, Finpension Equity 100 is 99% stocks and 1% cash. Finpension Equity 60 has 60% stocks, 30% bonds, 9% real estate, and 1% cash. Finpension Equity 0 has 99% allocated to bonds and 1% in cash.
And on top of these strategies, you can choose three different investment focuses:
Global: A globally diversified portfolio.
Switzerland: A portfolio with a focus on primarily Swiss equities.
Sustainable: A portfolio investing only in sustainable companies, mainly with ESG principles.
So, together, you can choose between 18 strategies. There should be enough for everybody! If you are not satisfied with the strategy proposed, you can create your strategy. For this, you can pick from their large range of index funds.
finpension 3a does not invest in Exchange Traded Funds (ETFs) but in index funds. There are several advantages to doing that from a pension foundation perspective:
They can reclaim the withholding taxes on dividends on foreign stocks.
There is no stamp duty to pay for these funds compared to ETFs.
They access extremely cheap funds that are normally reserved for institutional investors.
To be precise, they invest in Credit Suisse institutional funds, which are large, efficient, and affordable.
The website details all the strategies very well. You can see in which index funds each strategy is investing. For instance, here is the finpension equity 100 strategy: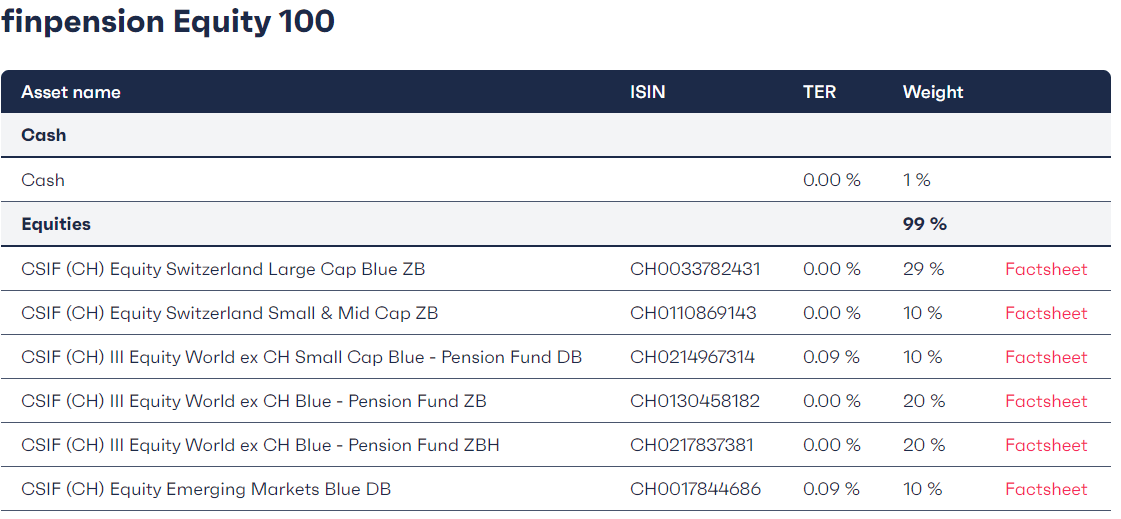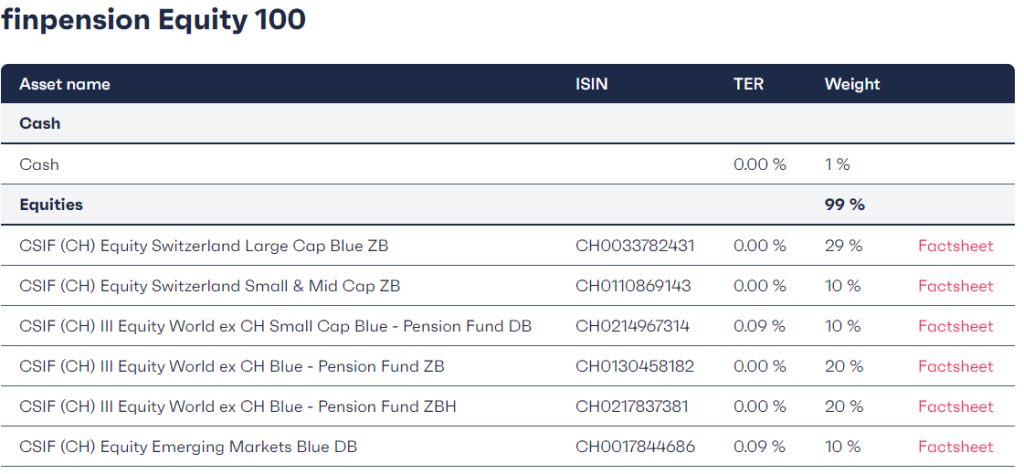 This strategy has a good mix of Swiss Stocks and Global Stocks. And it also has a good diversification between small caps and large caps. If I were doing it myself, I would use fewer funds, but this strategy should be a good fit for most people.
Keep in mind that you cannot be uninvested with Finpension 3a. You cannot have an account with 100% in cash. If you do not want to invest 99% in stocks, you will have to invest in bonds. The problem is that currently, Swiss and European bonds have negative yields. As such, they are a poorer investment than cash. This state may change in the future, but this is the case. So, strategies that invest in bonds are not that good.
Creating your custom strategy can be done from the mobile application. It is straightforward, and you have very few limits on your actions. You can invest 99% in a World index fund (minus CH), and you will have an extremely simple and well-diversified portfolio. And it will be an extremely cheap portfolio! One of your limits is that you cannot have too much invested in a single stock. You will have limits on Swiss Stock Market Indexes heavily weighted in three giant companies.
It is interesting to note that all their strategies have only 1% cash. You cannot have a cash third pillar account.  However, if you choose a custom strategy, you can use a money market fund. So, you can invest mainly in stocks, bonds, real estate, and alternatives.
Interestingly, Finpension 3a is the first third pillar to allow investments in cryptocurrencies as an alternative investment, next to gold. In December 2021, they started allowing investing in a crypto market fund, up to 5% of your third pillar. This fund is quite expensive (like all crypto funds) but is an index fund of cryptocurrencies. I would not recommend investing in that fund, but many people will be happy!
Finpension 3a uses the cash in your account (after a deposit) to buy shares of the funds on the second banking day of the week. And if you want to change strategy (free of charge!), Finpension 3a will do the change on the second banking day of each week.
Your portfolio will be rebalanced weekly on the second banking day of the week. Rebalancing happens if the allocated deviates for more than one percentage point.
It is interesting to note that you can disable rebalancing. For each of your portfolios, you can choose to disable rebalancing. For most people, I would recommend keeping rebalancing by default, but some appreciate that rebalancing is optional.
Overall, the investing strategies of the finpension 3a accounts are great! I do not have much to say about it. They offer a great allocation to stocks, great diversification, and an excellent ability to customize the portfolio. And on top of that, they do not force currency hedging on you, which is another excellent thing.
However, if you do not want to invest 99% in stocks, you will be forced to invest in negative-yielding bonds. So, these accounts are great for 99% in stocks but not that great for people with a smaller stock allocation.
Finpension 3a Fees
Now that we have seen their investing strategies let's look at investing fees with finpension 3a.
Finpension is using a flat rate for their fees. This flat rate is set at 0.39%, without VAT. With a VAT of 7.7%, this flat rate is 0.42%. Therefore, we will use 0.42% as the base fee. The 0.39% fee is the marketing number.
On top of that, you will pay the product costs. These costs depend on which strategy you are using. Fortunately, finpension is an institutional client of  Credit Suisse. And institutional clients can get zero fees on some of the index funds. So most of the funds will have zero fees. There are a few exceptions, like Real Estate funds and Emerging Funds. But even these exceptions have very low fees.
For instance, the finpension Equity 100 strategy has 0.02% product costs. And even better, if you do a custom strategy, you can reach 0% product costs!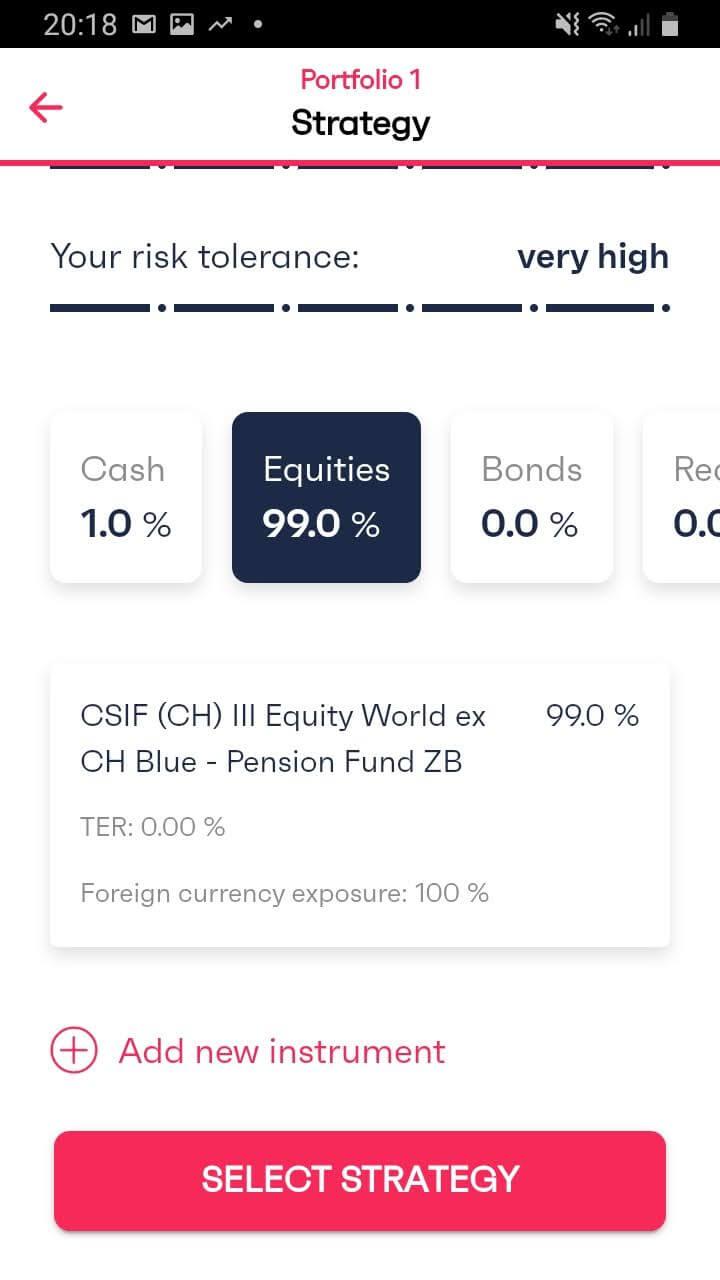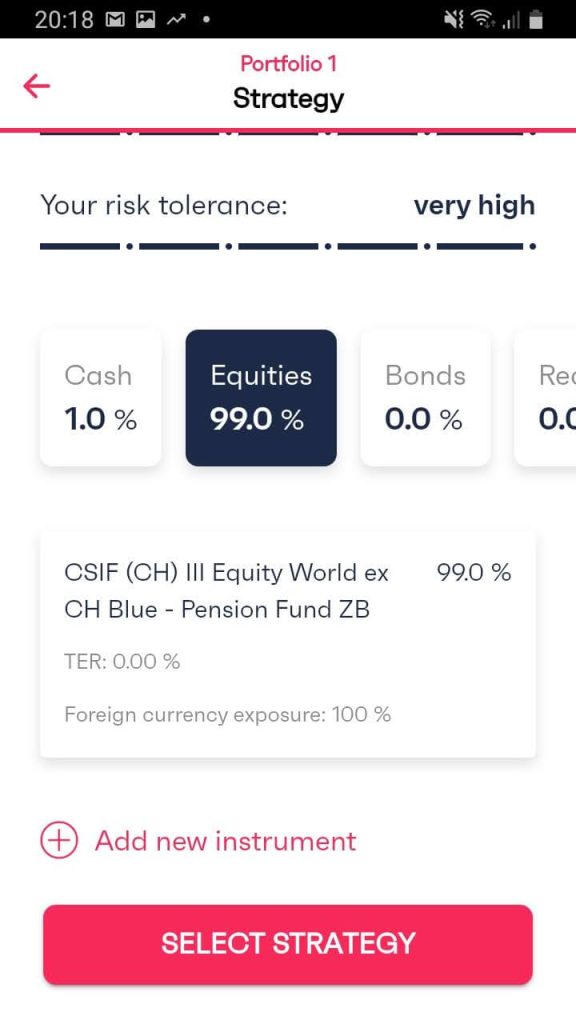 So, with the Equity 100 strategy (the best strategy for the long-term), you will have total costs of 0.44% per year! This fee is incredibly low, 10% cheaper than the cheapest alternative! And if you use a custom strategy, you can reach 0.42%!
And it is it! Finpension does not charge any margin on foreign currency exchanges. But the bank they use has a spread of 0.05% on currency conversion. However, many of their funds are in CHF.
However, we have to keep in mind that most of the funds used by Finpension have small load and redemption fees. They seem to have 0.02% to 0.1% fees on load and redemption. You can look at the fact sheet of each fund to see the detail. However, this is not Finpension getting that money, it is Credit Suisse.
Finally, you can even save on fees! If you recommend Finpension 3a to somebody that actively uses it, you will receive a fee credit of 25 CHF. This means you will save 25 CHF for each user you invite, and there is no limit to how many users you can invite. And if you use my code (in the next section), you can even win one year of the third pillar contribution.
Overall, the fees of the Finpension 3a account are excellent! All of their fees are at least as good as the cheapest third pillar in Switzerland and often better. The Finpension 3a account is the cheapest third pillar account for people wanting to invest heavily in stocks!
Extra fees
There are a few extra fees if you are making an early withdrawal from the third pillar.
If you make an early withdrawal for a house, you will have to pay 250 CHF. And if you pledge your third pillar for a real estate property, Finpension charges 200 CHF.
If you transfer your Finpension 3a assets less than one year after creating your account, you will have to pay 150 CHF.
Finally, if you withdraw your assets while abroad, you will have to pay 750 CHF if that happens during your first year at Finpension and 250 CHF after that.
Since these fees are exceptional and unrelated to investments, they are less significant. But you should still consider them if you think you fall into one of these categories.
Open a Finpension 3a account
If you use my code FEYKV5, during the process, you will have a chance to win 6'883 CHF (if you transfer or deposit CHF 1'000 within the first 12 months).
Opening a Finpension 3a account is easy and can be done in a few minutes. Open your phone, download the finpension app on your favorite app store, and follow the process as you go.
They will ask for your phone number and a password for your account. Then, they will compute your investment horizon based on your age.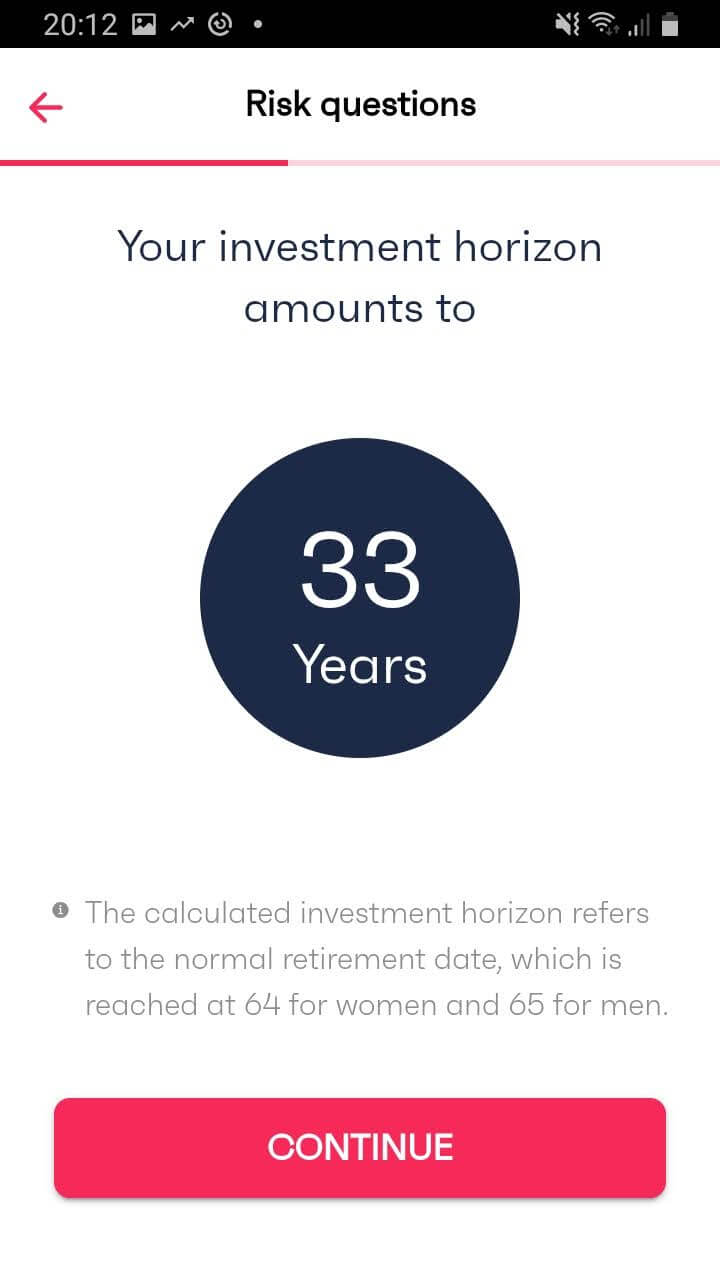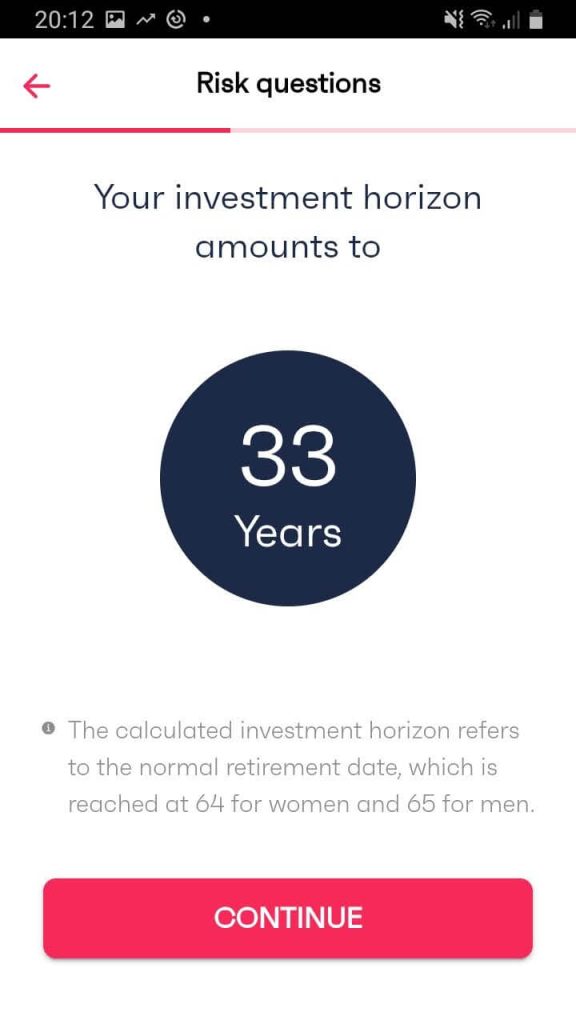 After that, you will have to answer the common questions about risk tolerance. And they will use that to choose an investment strategy for you. But if you do not like the suggested strategy, you can choose your own. And do not worry, you can change it later too.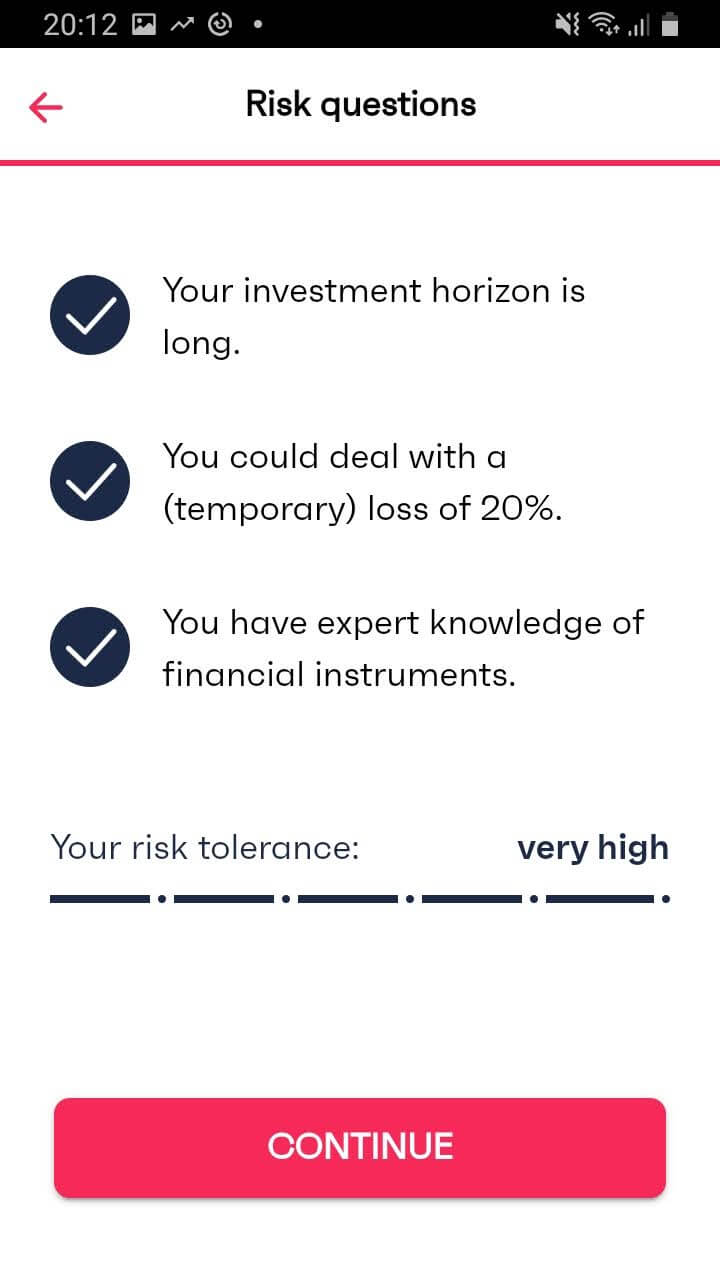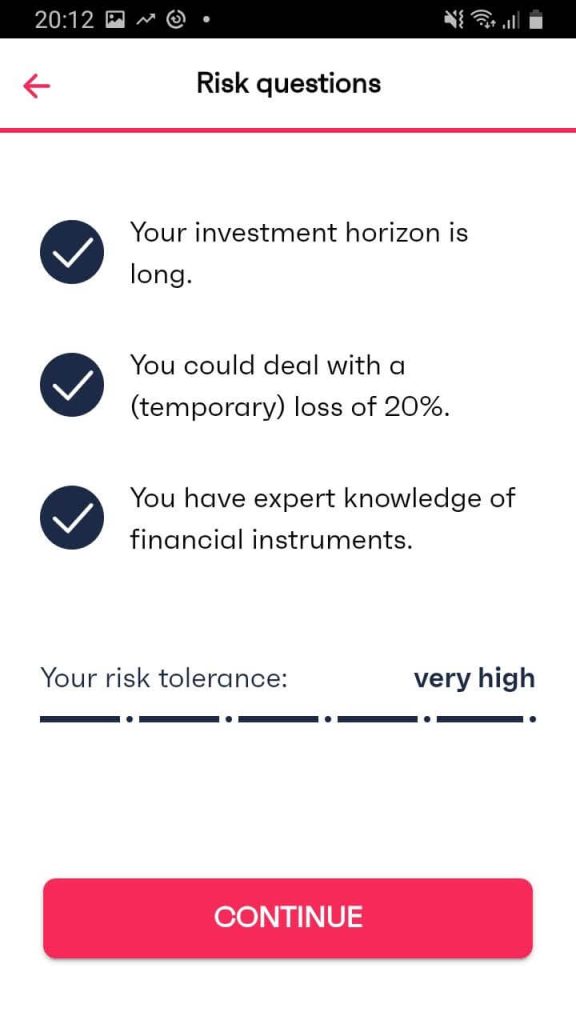 After you have chosen the strategy, you will have to fill in your personal information, and that is it! Your account is ready to welcome a deposit already. It is very smooth.
A great thing is that you can create up to five portfolios per person. It means that you can make staggered withdrawals to optimize your taxes. For more information on this optimization, read my article on the third pillar.
Security
If you want this money to last for a long time, it is essential to consider the security of each institution.
Let's start with the technical security of the Finpension 3a application. All the communications between the application and the servers are encrypted. And you will connect with a phone number and a password.
You can choose to activate the second factor of authentication for your account. This will bind your account to your phone number with SMS authentication. This adds a good layer of security to your account.
Also, I would prefer a proper identification check when creating an account.
Your cash will be held in the custodian bank of the finpension 3a foundation. The current custodian bank is Credit Suisse. This cash is protected by Swiss law, up to 100'000 CHF. Since strategies at Finpension 3a have very little cash, this should not be an issue.
As for your securities, they are invested in Credit Suisse's institutional funds, and credit Suisse is managing more than 100 billion CHF in pension assets. It is a good point to have a large manager, not a small unknown bank.
All the funds are set on the balance sheet of the foundation. And this foundation only has client assets on its balance sheet. So, even if finpension (the asset managers) goes bankrupt, the funds are safe in the foundation. And the foundation will have to find a new manager.
Overall, I think that the security of Finpension 3a is good. The fact that the foundation is separated from the asset management company is a great thing for safety.
Alternatives
In Switzerland, there are many third pillar providers. However, most of them are not nearly as good as Finpension 3a.
The one that is worth mentioning is VIAC. So, we compare both in detail.
Finpension 3a vs VIAC
In the past, I have recommended VIAC as the best third pillar in Switzerland. So, let's see how Finpension 3a compares to VIAC. Is it the new best third pillar account of Switzerland?
Let's start with the fees. Finpension 3a is slightly cheaper, with 0.44% (0.42% with custom strategy), than VIAC at 0.45%. This is not a very significant difference.
On top of that, Finpension has a very low spread (0.05%) for currency conversion, while VIAC has a large one (0.75%). It is true that VIAC is using netting to reduce that fee. In practice, it costs less than 0.25% with netting. Also, a lot of funds are in CHF, which makes it cheaper. And it is a one-time cost. But it is still cheaper at Finpension 3a.
With Finpension 3a, you can invest up to 99% in stocks while you are limited to 97% with VIAC. Again, it is not a huge difference, but it will add up in the long term.
You also have more freedom when creating a custom strategy with finpension 3a than with VIAC. For instance, you can create a portfolio with a 99% foreign currency exposure with Finpension 3a, while VIAC limits you to 60%! This feature is great for investors with particular needs!
If you do not want 99% invested in stocks, VIAC may be better than Finpension 3a. Indeed, they let you invest in cash. With finpension 3a, you will have to invest in negative-yielding bonds, which may not be great. So, for low allocation to stocks, VIAC may be better.
Both VIAC and Finpension have a mobile application and a web application. So, they are both very practical.
Both services are quite transparent and look very honest. They both have a good level of security and safety for your assets. Finally, they both have a great reputation as well.
Given the higher allocation to stocks and the lower fees, Finpension 3a is a better third pillar than VIAC. This makes Finpension 3a the new best third pillar in Switzerland! However, VIAC is only slightly worse and is still a great option.
For people that do not want to be fully invested in stocks, VIAC is probably still better. It does not make much sense currently to invest in negatively-yielding bonds. But if you have a long horizon, you should consider investing fully in stocks.
If you want more details, I have an entire article about VIAC vs Finpension 3a.
Finpension 3a Pros
Let's quickly summarize the advantages of Finpension 3a:
Extremely low fees!
You can invest up to 99% in stocks.
No currency hedging is forced on the investors.
Straightforward registration process.
You can create a custom investing strategy with a  lot of freedom.

No foreign equity limit
No foreign currency limit

Excellent transparency on all the funds and fees on their website.
You can create up to five portfolios.
Mobile and web applications
Finpension 3a Cons
Let's quickly summarize the disadvantages of Finpension 3a:
Finpension is a young product
The identity is not verified during account creation
Invest in negative-yielding bonds.
No second-factor authentication on the mobile application.
These cons are quite minor.
Conclusion
I was expecting a good third pillar account by finpension, and I am not disappointed. The finpension 3a offer is a great third pillar account. It is the best third pillar in Switzerland (for people investing fully in stocks).
The fees are very low, with a minimum of 0.44% with the proposed strategies. And you can even go to 0.42% with a custom strategy. The overall pricing system is very advantageous, as well.
On top of that, you can invest up to 99% in stocks. And with a custom strategy, you can have an extremely well-diversified portfolio with only one or two funds.
All this makes Finpension 3a better than VIAC! I have moved all my accounts to Finpension 3a now. I have four different portfolios with them and will open the fifth next year.
Now, there is one area where Finpension 3a is worse than VIAC. If you do not invest fully in stocks, VIAC may be cheaper. Indeed, with Finpension, you will have to invest in negative-yielding bonds. At VIAC, you can invest in cash (with a 0.1% return), which is currently better than bonds. And at VIAC, you will only pay the fees on the invested part.
But for aggressive investors like me, Finpension 3a is currently better than VIAC.
If you open a Finpension 3a account, please use my code FEYKV5. This will give you a chance to win 6883 CHF!
If you liked this review and this company, you would like my review of finpension vested benefits offer.
What do you think of this new Finpension 3a account?