(Disclosure: Some of the links below may be affiliate links)
Once again, it is time for a new monthly update from us! This month has passed incredibly fast. I do not know what happened. But I fell that the month was twice faster than other previous months!
There were not many big events this month. But a lot of small events. We went several times to restaurants. We spent a weekend in Brussels, Belgium. And we also had many events with our friends and family. And we went to two concerts. All these small events and some shopping by Mrs. The Poor Swiss made this month more expensive than usual. We managed to save about 45% of our income this month. Although it is not really bad, it is not as much as last month and not as much as I was expecting.
The stock market continued to be very volatile this month. After last month big loss, the market started going up for the first week of the month. But then, it started going down once again to reach a new low for the month.
In this post, I am going to describe all that happened for us, and especially for our finances, for November 2018.
November 2018
November 2018 was a pretty uneventful month. We had many small events like dinners with friend and family and we went to Brussels for one weekend. However, we have spent too much this month. We had quite a few dinners out. And Mrs. The Poor Swiss went a bit crazy with shopping this month. This plus some end of year expenses that started and it is a more expensive month than I would have liked. We still have a savings rate of about 45% this month. But I was expecting a bit more.
You may remember that I decided to switch bank account from PostFinance to Migros. It is now almost done. I got my salary on the new account this month. And most of the bills of the month were paid using the new account. I just have to transfer a bit more money from the old account to the new one. Then, I will be ready to close it totally. It was a bit stressful because I was not totally sure of not missing some of the expenses. But it went all right in the end I think. To improve on my account switching capabilities, I wrote a post on how to change bank account. I am going to try to make it easier to change my bank account in the future.
I will save some money with the new account next year. However, the online banking capabilities of Migros is plain terrible. I have never seen anything so bad. They do not have online access, you need to use an application even on the computer. And they do not support Linux which is a pain in the ass for me. The mobile application is pretty bad and slow as well. And you need to validate some bills using two applications. If you only have a phone, you cannot use their online banking system. This is really a poor excuse for a banking application. But I am guessing that is the price to pay for a cheap bank.
Brussels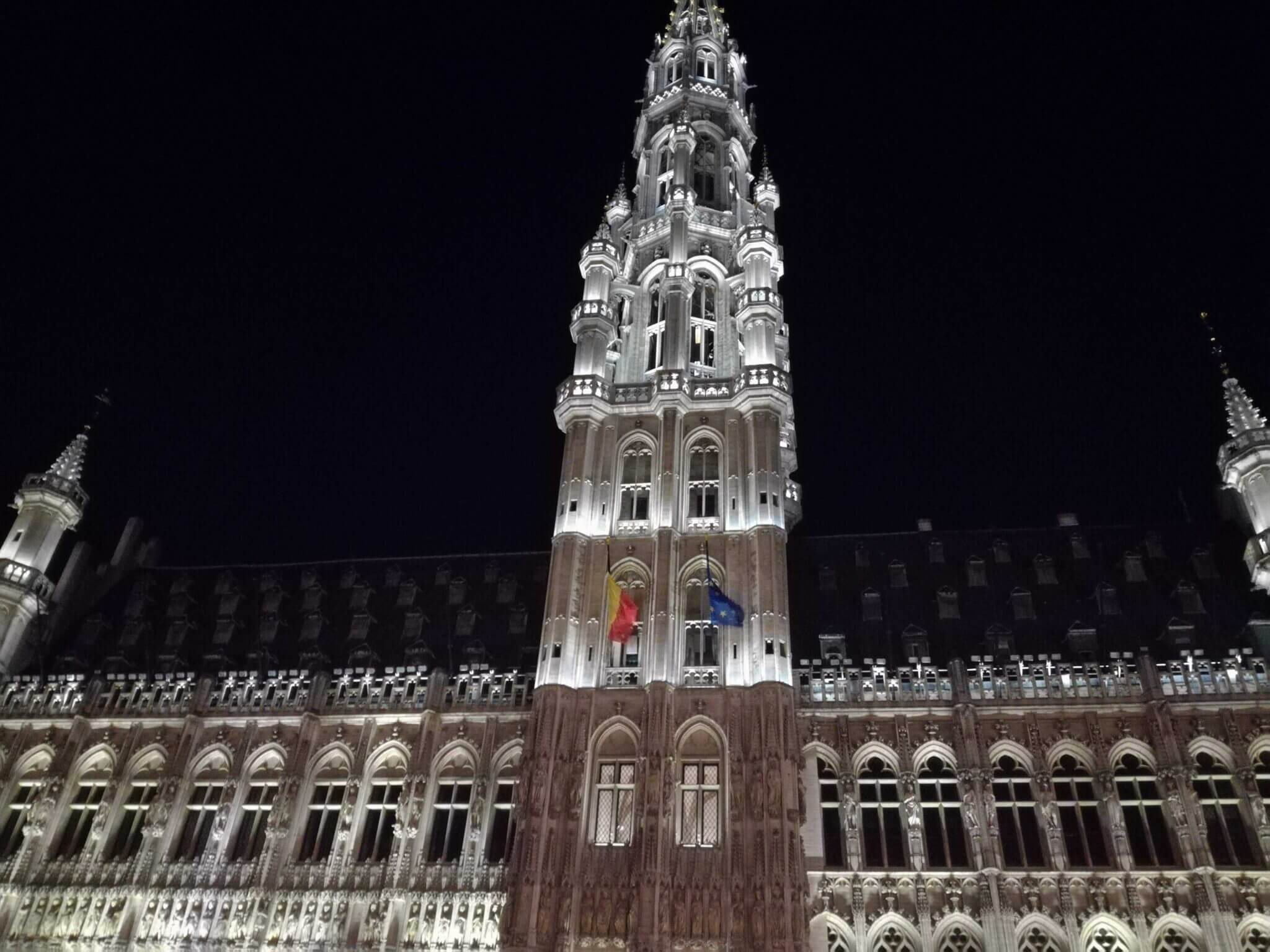 This month, we went to Brussels, in Belgium for a weekend. We went there to visit my cousin who has been living there for a few years now. I had already been there, but more than 10 years ago. It was a really nice trip. We saw many things in the city. And we drank many beers ;)
It was a bit more expensive than we had planned. We paid for the flights in September 2018. But we should have taken them earlier because they were already expensive. And we spent quite a lot on food and transportation inside Brussels which inflate this month budget.
I am going to write a fully detailed post about Brussels this month. But I have not yet had the time to do it.
Stock Market
After going down in October 2018, the stock market started going up at the beginning of the month. We saw a nice recovery with a high November seventh. However, this was not as high as the previous high. That means we stay in correction territory. But then it plunged again! It went on to reach a new low on November 23. It then recovered a bit to close the month at around the same level where it started the month.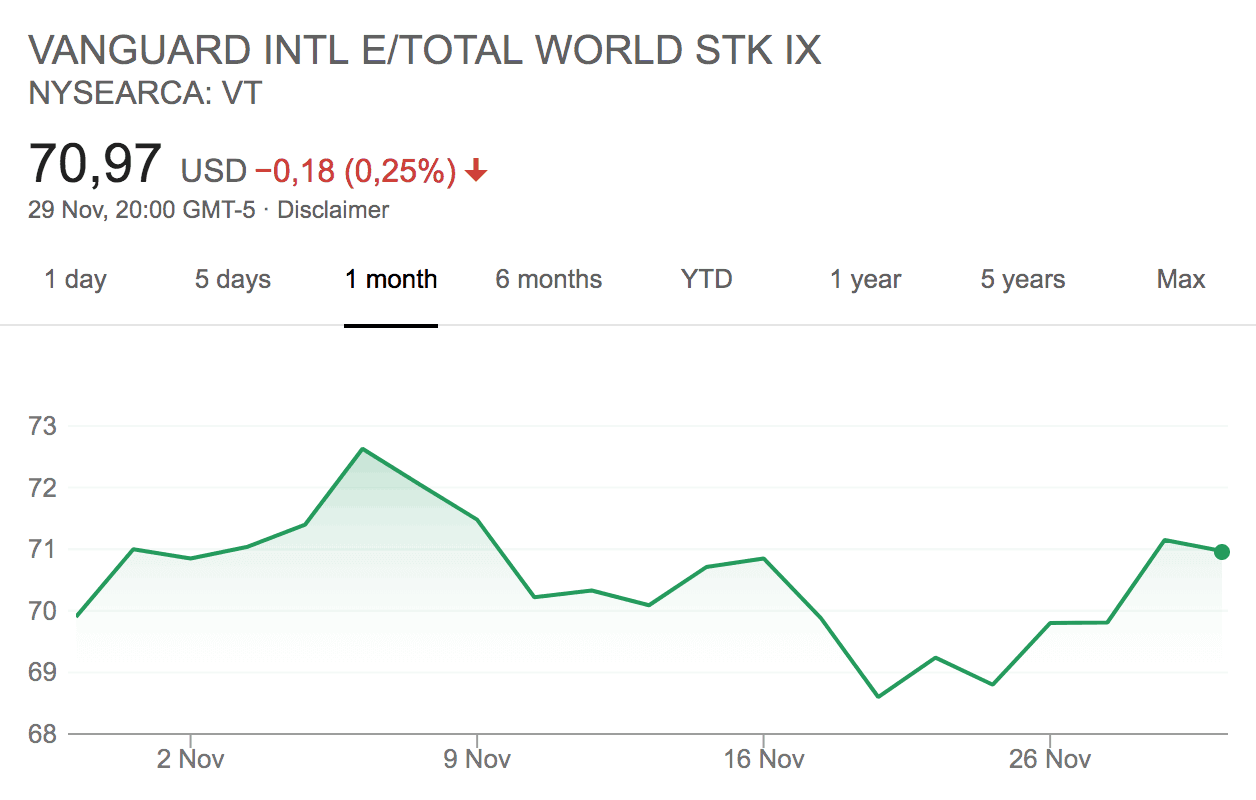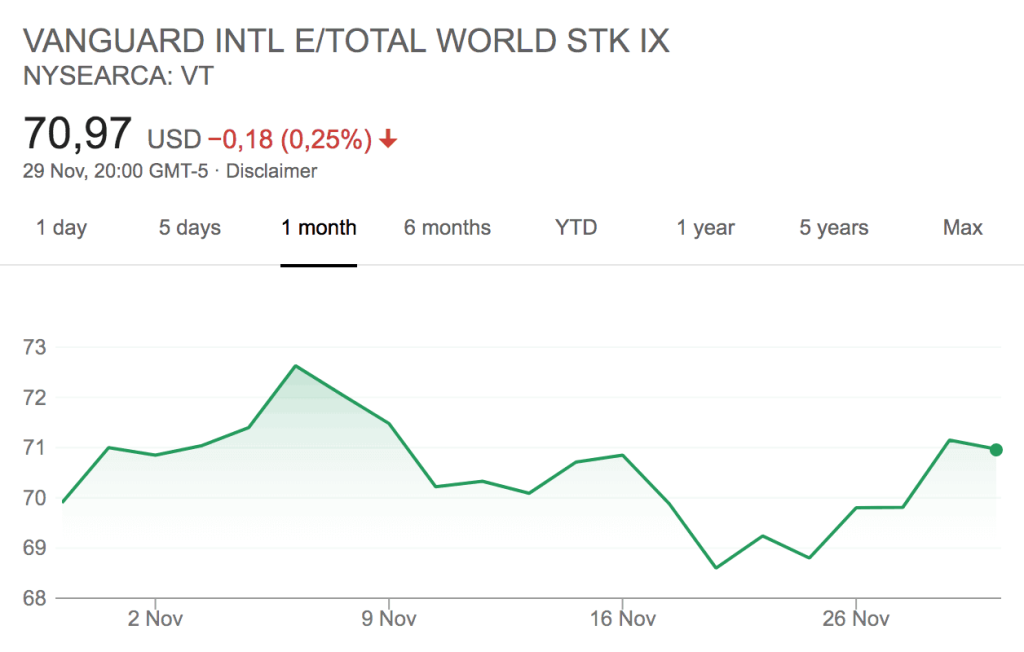 As you can see, the market did not take any clear direction this month. Technically, we are still in correction territory until it goes back to the previous high level of September 2018. We will see how it goes.
We were not able to invest anything in the stock market this month. Indeed, we are running a bit low on cash since we have to transfer about 3500 CHF to a rental guarantee deposit account. And I did not account correctly for a large credit card bill this month.
Expenses
As I said, this month was full of small expenses that piled up during the month. We had to pay the car insurance this month, this is about 443 CHF spent. Mrs. The Poor Swiss also went shopping several times for a total of about 600 CHF. We went to Aligro to refill our meat supply. This means about 200 CHF of meat. There also were quite a few dinners out, especially in Brussels.
Here is the full breakdown of our expenses for the month:
Insurances: 508.60 CHF: Average
Transportation: 965.64 CHF: Well above average: Transporation in Brussels, car insurance and train tickets for our trip to China next year.
Communications: 105.69 CHF: Average
Personal: 728.66 CHF: Above average: Mrs. The Poor Swiss was a bit too enthusiastic about shopping this month.
Food: 787.12 CHF: Well above average: Way too many eating out dinner and lunches. And some big groceries as well, but necessary.
Apartment: 1247 CHF: Average
Taxes: 777.15 CHF: Average
Next month, we are going to have to work on our Food expenses. This is really not satisfying. And we are going to have to reduce a bit our expenses in general.
2018 Goals
Not many things changed on the status of our goals for the year. Here is the status as of November 2018: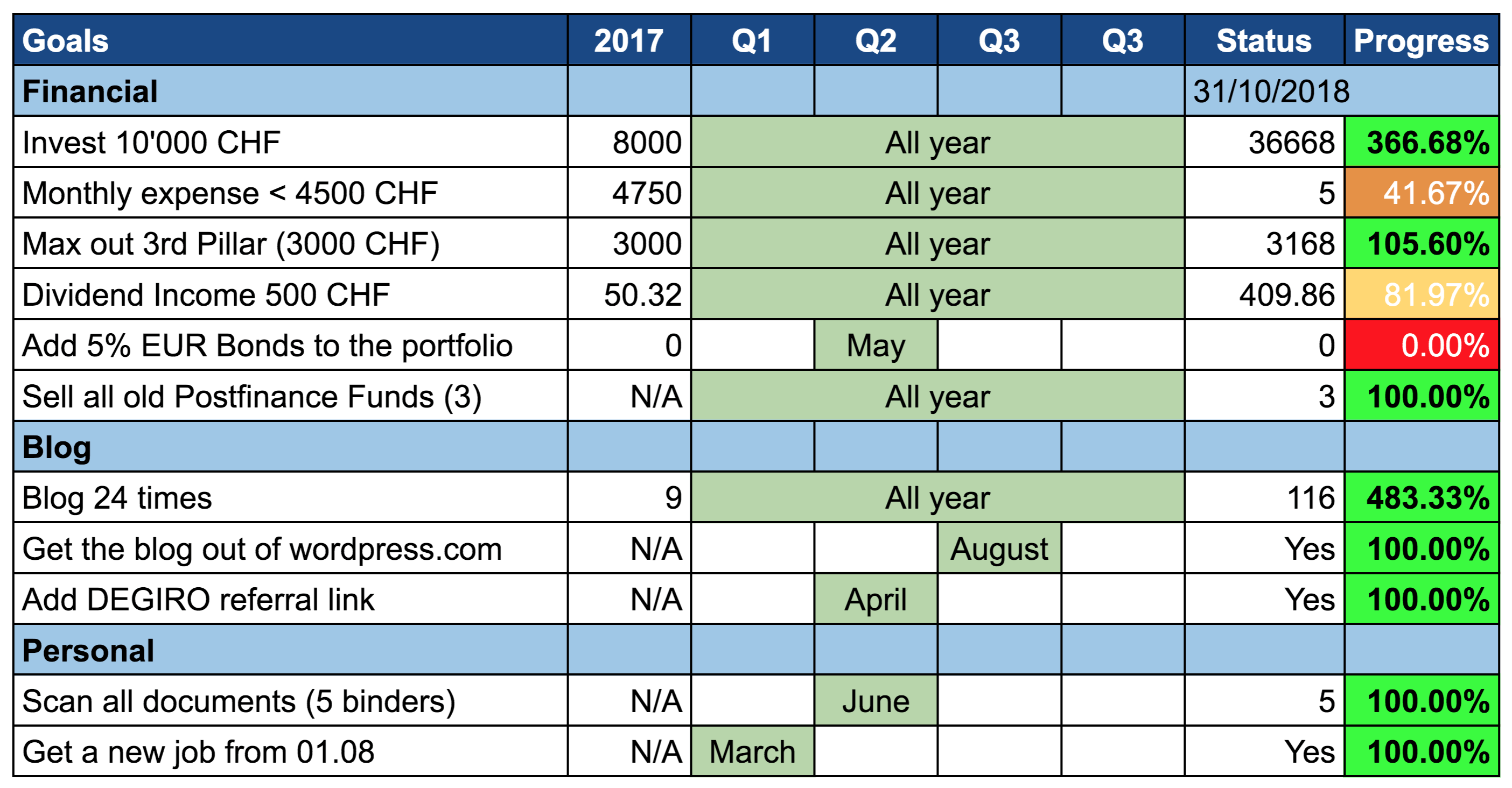 Once again we failed the goal of staying below 4500 CHF expenses this month. I really wish we would be able to do that. However, I set that goal before I married Mrs. The Poor Swiss. I do not think it is a good goal with two people living together. Our 12-month average expense is actually higher than 5000 CHF. We will see how we set that goal next year.
We did not invest any money this month since our cash was a bit too low. And we had to move some money into a rental guarantee account (more details in the next section) to save money on our rental guarantee insurance. The dividend goal did not move. But it should move next month once we get the dividends of the last quarter.
There is only one month left in the year. I am already thinking of the goals for the next year. I have to make them more ambitious and more difficult to reach. Moreover, I would also like to make them a bit more original. But I am not yet set on them. I will present my new goals in early 2019.
Net Worth
Even though the stock market caused us big losses, we still managed to increase our net worth. You can see the status of our net worth as of November 2018:


Our net worth now sits at 125448 CHF! This is the first time we reach 1/8 of a million. Our next goal is to reach 150K in our net worth. This should be doable by the middle of the year. Let's just hope that the stock market will start to go up a bit.
You may remember me mentioning paying for a rental guarantee insurance as one of my biggest mistakes! I finally fixed this mistake! I opened a special bank account with the amount of cash for three months rent (the base rent is 1175 CHF). With this blocked amount, I will save 206 CHF per year. This means that the return on this money will be about 5.84% per year. This may not seem much to some people. But this is more than the 5% I am expecting from the stock market in the future. Unfortunately, this will not compound. But I am glad I finally did this.
It was actually pretty easy to get rid of Swisscaution. The property management company simply set an account for me and I had to deposit the money onto it. The account is in both my name and the name of the owner. Unless there are some things to fix in the apartment, I will get back the money once I leave this apartment. This is a really good thing for next year! This new account is counted as cash into my net worth. However, this is not available cash. I will not count this amount into my emergency fund amount.
The Blog
I got a second affiliate income from my blog this month :) I got 20 CHF from my affiliate link to DEGIRO. This is pretty cool.
Last month, I got some money from my TransferWise affiliate link. I do not expect this to last. This is probably a single event like this. But this feels pretty good.
As for the audience, the blog is still slowly growing. There were about 20% more visits this month than last month. This is not bad since I did not do anything special on the blog. I did not have as much time as I wanted to work on the blog. Fortunately, I had a lot of articles scheduled in advance which means I was still able to keep on my schedule of three posts a week. I also managed to continue updating some of my old posts. But I am far from finished.
I tried once again to go on Pinterest. But it is really not working on this blog. I got about 50 visits from Pinterest for one month. It is not that bad, but I paid 15 CHF for Tailwind. It is really not worth it. I canceled my Tailwind subscription. I will continue using it until my subscription is finished in two weeks. For now, I will focus my efforts on Twitter and Facebook which are doing much better. My Twitter followers have been increasing.
Here are the three most-read posts of this month:
5 Sure ways to reach Financial Independence – It seems people are really interested in Financial Independence. I have one more post about it scheduled, we will see how it goes
How much will you spend in retirement? Retirement is also something that This was an interesting post to write since I did not consider this before in details.
How to buy an ETF (VT) on DEGIRO – It seems people are wondering how to buy ETF on DEGIRO a lot. This post is consistently one of the most-read posts on the blog.
And you, what was your favorite post of the month?
Next Month – December 2018
December 2018 should not be too expensive in our normal expenses. However, there are always some expenses coming up at the end of the year.
For instance, there will be the home insurance bill to pay, for sure. There will probably be the new Billag company to pay as well. And I am also expecting the power bill soon. And probably also the state taxes on my car. All of these put together means that this will not be a very good month for our savings. I am not expecting more than 30% of savings next month. And I really hope that we can keep our Christmas shopping to a minimum.
What about you? How was November 2018 for you?