February 2021 – More and more taxes
|
Updated:
|
(Disclosure: Some of the links below may be affiliate links)
Overall, February 2021 was not very eventful. We had some dinners with friends in small groups. Other than that, we did some walks around the wife and me. But nothing special.
Financially, we had to pay some extra taxes related to the withdrawal of our pension money for the house. And we had a few extra other large expenses this month.
In this article, you will find all that happened to us and our money in February 2021.
February 2021
Overall, February 2021 was an okay month. There was not much special. We have invited a few friends at home and could visit a few more too. We still have to do everything in groups of a maximum of five. So basically, we invite a couple, and that is about it. This is getting a little boring to do that, but we can do nothing about it.
I had to file my taxes this month. And when I saw the estimation for next year, I was not too happy. The taxes will be significantly higher than I thought. So, our taxes this year will increase very significantly. In my estimation, I did not consider the income from the blog.
Also, I forgot that the ESPP gains are taxable. I am losing about 35% (estimated marginal tax rate) of my ESPP gains. Since we have a guaranteed 15% returns over 6 months, I still think it is worth it. But it sure is not that great. This is the only kind of capital gains that are being taxed in Switzerland.
We also had to pay the last taxes to withdraw our second and third pillars for the house and talk about taxes. This adds a significant expense (more than 2000 CHF) to this month.
Overall, this large amount of taxes to pay reminds me that we live in an expensive canton for taxes. If we move out of our house in the future, I will have to consider moving to another canton to optimize our taxes. We could save a ton of money by doing so. And if I can work at home after COVID, this would not be too bad.
And another thing regarding mortgages. Many people think that having a mortgage help with taxes. But this is not really true anymore. With a house, you have to declare the rent value (valeur locative in French) as income. This is a stupid notion, in my opinion, but there is nothing we can do about that. Currently, mortgage rates are really low. So, the amount of taxes you will pay on this virtual income is likely to be higher than the amount you can deduct. In our case, our house is increasing our income taxes.
Other than that, we only had one big unexpected expense. I had to change some parts of the brakes of my car. So, this adds 530 CHF to the month.
One good thing is that we finally found a new tenant for the previous apartment. And it started on February 1st. So, we got back half of the rent (we offered half to get a new tenant) from last month. And we did not have to pay this month. Next month, our housing costs will go down significantly.
Overall, the month is not that bad from a financial point of view. We still managed to save 55% of our income.
Expenses
Let's see the details of our expenses in February 2021:
| Category | Total | Status | Details |
| --- | --- | --- | --- |
| Insurances | 745 | Average | Health insurance |
| Transportation | 682 | Well Above Average | A large repair of the brakes of my car |
| Communications | 85 | Average | Internet and online services |
| Personal | 933 | Above average | A few things for the blog, two dentist appointment, one other health bill |
| Food | 371 | Average | A little more groceries than usual but nothing special |
| Housing | 953.10 | Below average | Half-rent for the previous apartment and mortgage interests |
| Taxes | 2856 | Above Average | Canton and county taxes and withdrawal taxes for the second and third pillar |
Overall, we spent 6627 CHF this month. This is a good result. We had a few unexpected expenses but still managed to keep our expenses under control. Without taxes, we only spent 3771 CHF. This is well below our goal of 4500 CHF per month. So, this is great!
The fact that we only paid for a half-month of rent for the previous apartment helps a lot! And next month, we won't have to pay anything for it. So, our expenses will go down as well next month.
Other than that, there is not much we could have done better this month. So I am happy about this result. This month was not perfect, but still very good on the expenses side!
2021 Goals
Let's take a look at our goals by the end of February 2021: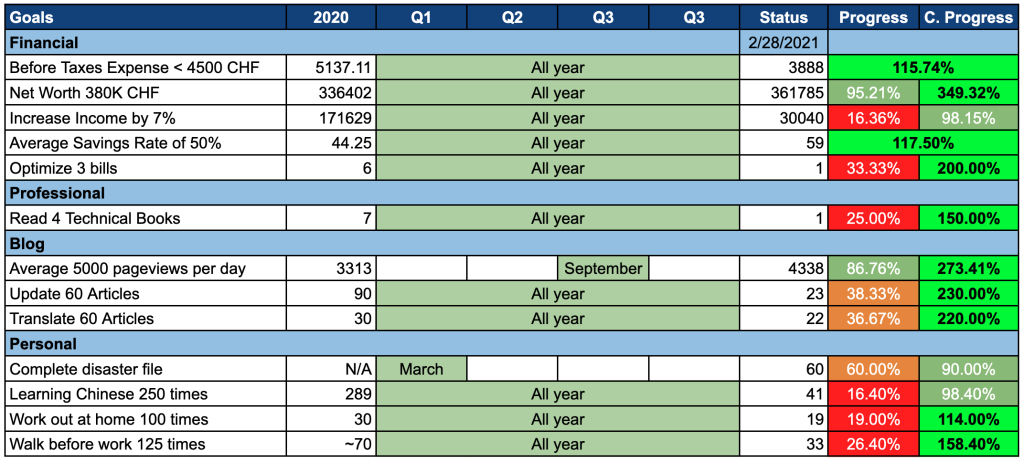 Overall, our goals are going great! All our goals are green. Many of the goals are well ahead of the current target. This is a great place to be in February.
Last month, two goals were red, and I was able to work on that this month. I finished reading a professional book. It was not as good as I was thinking, but I still managed to learn a few things and refresh my memory on some things.
I also managed to optimize one bill. I still had a .ch domain with my name that I was not using. It is a bit dump to keep it without using it since it only has value for my homonyms. It only saves me 15 CHF per year, but it is better than nothing.
Three goals are slightly behind schedule. I did a little work on the disaster file but not as much as I wanted, so I will need to push this task next month. I am also slightly behind on my Chinese learning goal. I really have to force myself to do my lessons. It is not great. And our income goal is very slightly behind, but this does not matter much since next month, I will receive my bonus, making a big difference.
I will need to make sure I keep working on these goals during the entire year. It is still early in the year. But for now, it is looking great. Some of the goals were probably not ambitious enough, though.
Net Worth
Let's take a look at our net worth as of February 2021: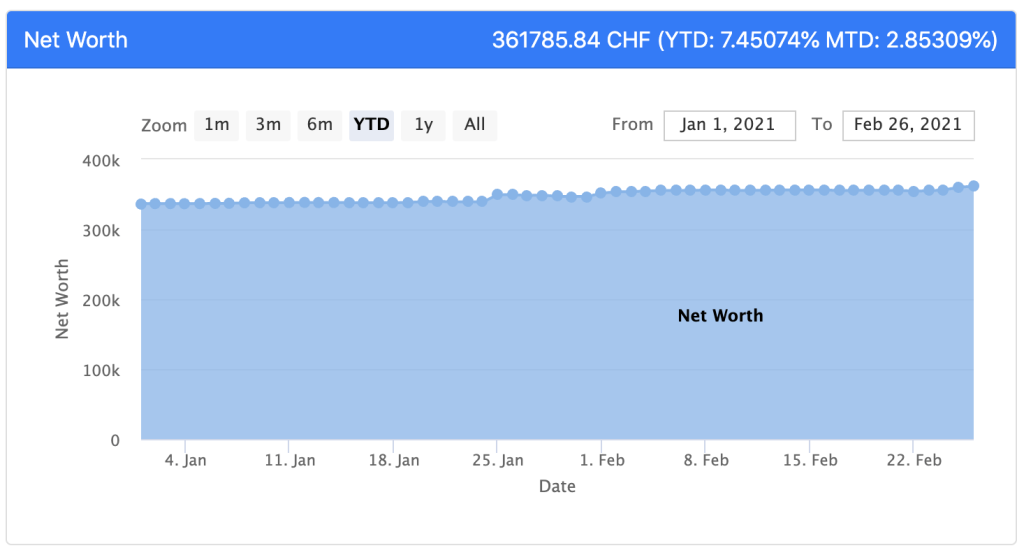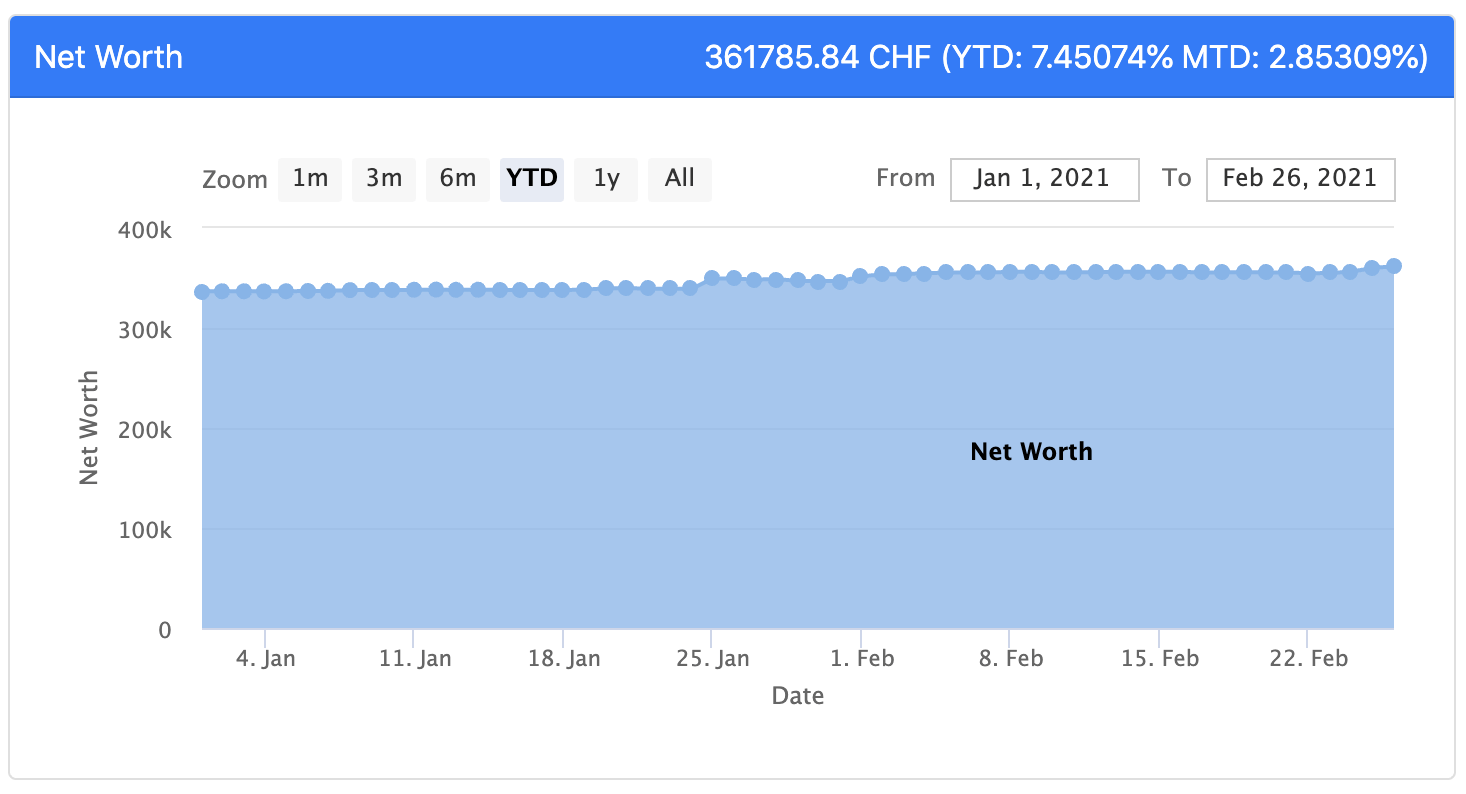 At the end of February 2021, our net worth stands at 361'785 CHF! This is a YTD growth of 7.45% and an MTD growth of 2.85%. These results are slightly ahead of what I expected, but I will not complain about that!
So, overall, our net worth is doing great. This month, nothing much happened. The market had up and downs but no real direction. My ESPP shares vested this month, and I made about 2000 CHF in profit, which helped push the net worth further. But most of the growth this month is still driven by our savings.
Next month should have a nicer boost with the bonus! But this is still a very nice growth!
The Blog
Overall, the blog did quite well in February 2021. The traffic went down a little, but that is alright because last month had very nice traffic. And the income went down a little as well, but I am totally fine with that.
I did not do anything special on the blog this month. I have continued updating articles (more than last month) and translating articles (less than last month). I still have enough articles planned for next month, and I think that the quality has been good on the blog. Hopefully, you feel the same!
The comments and emails went slightly down this month. This is great because I was close to the limit last month. I have started being a bit more succinct in my comments and my emails. Even though I am glad to help, I cannot help everybody in my free time.
If you had to read a single article from this month, I would recommend my article about the advantages of U.S. ETFs.
Next Month – March 2021
There will not be any special even in March for us. We have a few friends invited over in small groups next month. But aside from this, it will be 2020-business as usual.
From a financial point of view, I will receive my bonus next month. So, this will make a big bump in income and net worth! But I have planned one large expense for which I have been waiting many months: changing my computers' monitors. I have worked hard to get a nice bonus. I need to use it a little for me as well! Spending is something I actually struggle with. But next month should be a great financial month.
What about you? How was February 2021 for you?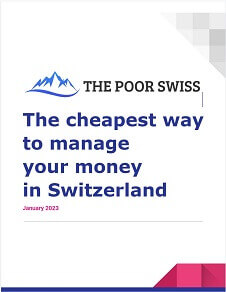 The best financial services for your money!
Download this e-book and optimize your finances and save money by using the best financial services available in Switzerland!
Download The FREE e-book