November 2022 – A normal month?
|
Updated:
|
(Disclosure: Some of the links below may be affiliate links)
November 2022 was a relatively normal month but an expensive one. Not much happened, but several of our budget categories went crazy. Some small events can explain some of that, but we were not very careful overall.
Nevertheless, we still managed to save some money.
So, let's find out what happened to us during this month!
November 2022
We had quite a few events this month, but nothing really out of the ordinary: the usual friends and family events.
We also started to adapt our son to have a babysitter and found a great babysitter. We will see how that goes, but he is not very keen on staying with her.
As mentioned in the introduction, several of our budget categories are a little out of control this month. We did not pay enough attention to our attention, especially our food budget.
On the good news side, I had a promotion at work! I am now a Senior Software Engineer. It is good to see my hard work being recognized. This promotion will make a nice increase to our income next year. My promotion and salary increase will increase our tax bill as well. But this should help us push our savings.
Overall, we still managed to save 37% of our income.
Expenses
Let's see the details of our expenses in November 2022:
| Category | Total | Status | Details |
| --- | --- | --- | --- |
| Insurances | 1299 | Above average | Health insurance and house insurance |
| Transportation | 805 | Well above average | Usual costs and car maintenance and new tires |
| Communications | 84 | Average | Internet and mobile |
| Blog | 587 | Above average | Usual expense and upgrade to email marketing plan |
| Personal | 2215 | Above average | Many dentist bills, a large gift, two daycare months |
| Food | 986 | Out of control | Too many groceries, Aligro, and too many eating out |
| Housing | 525 | Average | Heating and mortgage interests |
| Taxes | 5157 | Average | Taxes at each level |
In total, we spent 11661 CHF. If we exclude taxes and the blog, we get 5917 which is much higher than our goals of 4500 CHF. These numbers give us a saving rate of 37%, which is not great but not terrible.
Several trips to the dentist hit our Personal budget category. We both had a checkup, and my wife needed two extra appointments. These appointments added almost 1000 CHF of expenses to the month. On the positive side, we should be good for a while.
I had to buy new winter tires for my car. My mechanic also added oil and changed my window wipers. All of this cost us a little more than 600 CHF. This bill seems fair to me since I have not changed these tires in several years. Also, our yearly transportation budget is pretty good so far.
Our food budget is entirely out of control this month. We had many small shopping trips and meals outside the house. Our food budget is quite bad this year, almost 50% higher than last year. We will need to reconsider this category.
It is worth mentioning that we got some money back from the tax office. When we bought the house, we used 50'000 CHF from my second pillar. And I now have put back 10'000 CHF into it. So, the tax office has to reimburse me for the withdrawal taxes. I plan to continue reimbursing that money in the next few years.
Other than that, the other categories are relatively average.
I am not satisfied with this level of spending. Some of the bills, like the dentist's, are one-time expenses. But several of the expenses in the food and personal budget are unexpected, especially considering the poor previous months.
2022 Goals
Let's take a look at our goals by the end of November 2022:

Overall, our goals look good. Most of the yearly goals are already achieved. However, our expenses and FI Ratio goals are doing poorly.
Indeed, we spent too much this month, again. This level of spending pushed our savings rate down. And since our income was
We managed to reduce one more bill, our tax bill. I have increased my contribution to the second pillar by 1%. This increased contribution reduces my net income and, as such, will reduce our taxes. I estimate that this action will save us about 600 CHF next year.
My health goals are not going very well this month. I missed many workouts this month. And because the sun sets earlier, I do not do many walks with my son during the week. I will have to improve next month. But overall, the yearly goals are almost reached, so that is not too bad.
Overall, I am still happy with our goals. I wish we had reached the spending and savings rate goals.
FI Ratio
Let's watch our FI Ratio until the end of November 2022:

Our FI Ratio went down significantly during the month.
The results are mixed for our FI ratio. The stock market went back up. But the USD got stronger, so our value in CHF went down. However, we still saved enough money to increase our net worth.
On the other hand, we increased our average expenses again, pushing our FI Ratio down again (by increasing our FI Number). The Fixed FI Ratio (expenses of 100'000 CHF per year) is excellent, but the current FI Ratio is not so good. We are increasing our FI number faster than we are growing our FI Net worth, which is not great.
I hope we can stabilize our expenses at this level (or lower!) next year. If we manage to do that and still increase our FI Net worth, we should finally manage to increase our FI Ratio.
The Blog
I have started working actively on the translation to German. I have decided that this will be my next project on this blog. After this project, I want to take it easy for a while before the next project (no idea about the next one).
So far, the translation is going quickly. I have decided to do it fast so I do not have to worry about all the translations for long. I do not enjoy dealing with the translation plugin.
Aside from this, there is nothing new on the blog. Let me know what you would like me to work on next!
Next month – December 2022
Next month will be hectic, as are all December months. We already have several family events and plan to do some extra activities. But this is normal and expected.
Financially, it should not be great but also not terrible. December is usually the month when several yearly invoices are coming. But these invoices should not amount to a lot of money.
What about you? How was November 2022?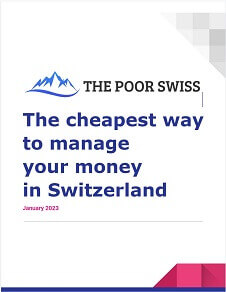 The best financial services for your money!
Download this e-book and optimize your finances and save money by using the best financial services available in Switzerland!
Download The FREE e-book