Everon Review 2023 – Pros & Cons
|
Updated:
|
(Disclosure: Some of the links below may be affiliate links)
Everon is a Swiss digital bank private, focusing on the mass affluent people. The company wants to open private banking features to more people than traditional private banks.
If you are looking for a private bank, should you use Everon? This review will answer this question by examining Everon's features and fees. We will also compare this service with other similar financial services.
By the end of this review, you will know whether you should use Everon.
About Everon

| | |
| --- | --- |
| Monthly fee | 0 CHF |
| Users | Unknown |
| Card | Mastercard Debit |
| Currencies | CHF |
| Withdrawals in Switzerland | 1 free per month, then 3 CHF |
| Withdrawals abroad | Unknown |
| Currency exchange | Unknown |
| Management fee | 1.05% |
| Product costs | 0% |
| Languages | English, German |
| Custody bank | Hypothekarbank Lenzburg |
| Depositor protection | 100'000 CHF |
| Established | 2022 |
| Headquarters | Zurich, Switzerland |
Everon

Everon is among the first digital private banks. It was created in 2019 already.
The digital private bank focuses primarily on mass affluent people. These people have a net worth between 100'000 CHF and 2 million CHF. You can use Everon even if you have less or more than that, but that is their target audience. Traditionally, private banks would target people with higher wealth than this.
One interesting difference between Everon and a traditional private bank is that they plan to also offer traditional bank accounts on top of the wealth management features. Most private banks would only focus on the investment side of things.
Since November 2022, the private account has been live. However, there seems to be very scarce information on the website. I had to ask Everon about the details.
On top of banking and investment features, they also provide extra features:
Vested benefits
Pillar 3a
Private markets
Overall, Everon tries to be a fully-fledged digital private bank. Theoretically, you could use only their services and have enough for everything.
Currently, the app is available in German and English.
Everon Features
We should now look at the features of Everon, both on the banking and investment side.
Banking features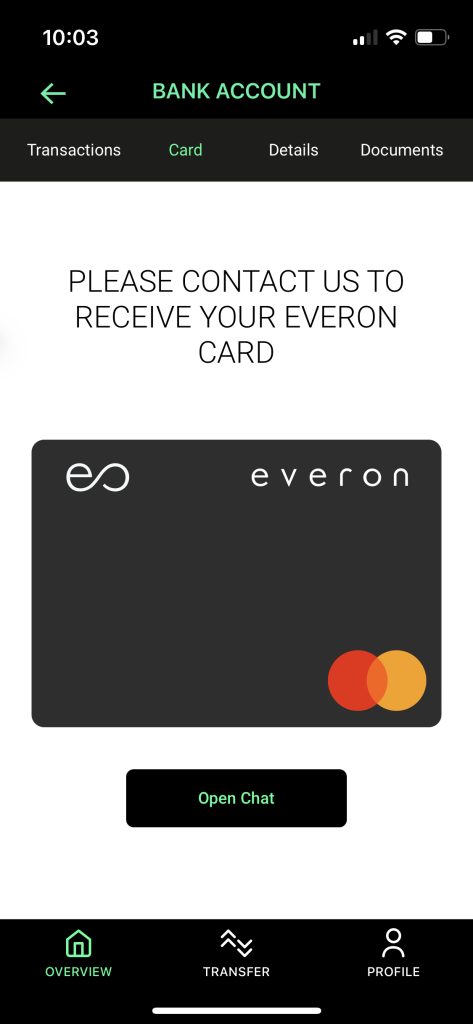 As mentioned before, the information on the private account is very scarce. But this should be improved on the website in the next few months.
Every client of wealth management or private markets service will also get a private account. With this private account, you can get a metal debit card from Mastercard on request.
The default custodian bank for banking is the Hypothekarbank Lenzburg. In 2023, they added a second custodian bank, UBS. Clients can then choose the custody bank as part of onboarding.
The bank account has all the standard features: blocking the card, changing the PIN, getting statements, and making domestic payments. On top of that, we also get instant transfers between Everon accounts.
Many new features are also planned:
Google Pay / Apple Pay
International Payments with Wise
I would say that this bank account has all the necessary features for most people. Some people would prefer mobile payment features, but this is likely not a blocker for everybody.
Investment features
Everon provides several investment services. The first of their service is wealth management. For that service, you will get a custom portfolio for your own needs. This will be done by talking with you and creating a portfolio of securities based on your risk profile, preferences, and strategy.
In most cases, Everon will invest directly in securities, not funds. This makes it more personalized. But then, it is active investing, so you must trust the wealth managers to beat the market by more than their fees.
Wealth managers make investment decisions. They still give you several choices should you want to make it more personal:
Exclusion or inclusion of individual stocks
Choose themes such as regions or sectors
Determine your asset allocation
It is important to note that wealth management starts at 30'000 CHF. It is not a hard rule but a threshold at which diversification becomes good. Below that, you would not have enough stocks to be diversified.
Your stocks will be held by the Hypothekarbank Lenzburg (HBL) bank.
Everon also provides vested benefits accounts. These accounts hold assets from the second pillar when you are not employed. The investment philosophy seems to be the same as for wealth management. There is no minimum on this feature.
They also have a third pillar account. Again, the investment philosophy is the same, but there is no minimum. You can open up to 5 third pillars at Everon. This is great since this is the optimal number for tax optimization.
The 3a and the vested benefits accounts use the Liberty Foundation in Schwyz. The custodian bank is also HBL.
Finally, Everon also gives you access to private markets. This could be a significant advantage for some people since it is difficult to access private markets for most investors. Private markets are financial markets that are outside of public exchanges. This could be shares of companies not publicly listed, like SpaceX.
Everon partners with Stableton to provide its customers access to private equities. These investments generally have a minimum of 10'000 CHF to 25'000 CHF.
Overall, Everon has all the investment features we can think ok for a digital private bank.
Everon Fees
When considering any place for your money, it is essential to look at the fees. So, we should look at Everon's fees for their banking and investment services.
Banking fees
The basic private account is free of charge. Currently, the interest rate on the cash is 0%. The card is also free of charge.
You get one free domestic withdrawal per month in CHF. Then, all other withdrawals are charged 3 CHF.
It is very interesting to note that the card can be used abroad without any fees from Everon. There is no exchange rate surcharge. However, they are using the Mastercard rate. On average, this is about 0.40% worse than the interbank exchange rate. This is the same rate that Neon uses. This is great if you want to use this card abroad!
Overall, the fees for the bank features are fair. And it is a very good card to use abroad.
Investment fees
After the banking fees, we look at the fees for wealth management services.
Wealth management services have a 0.35% fee from the custodian bank and a 0.70% fee for Everon. This makes a total of 1.05% fee for wealth management. This is not cheap but not terrible, especially compared to traditional private banks, which would cost more than 2% on average.
The vested benefits account has three components:
0.15% custodian bank fee
0.40% Everon fee
0.25% pension fund fee
This makes a total fee of 0.80% for the vested benefits. Again, this is not cheap but also not horrible. We can find some good accounts below 0.50%.
The third pillar has the same components as the vested benefits account, 0.80%. This is about twice more expensive than the best third pillar accounts available.
Finally, private markets are priced differently. You will pay 50 CHF per transaction. Then, the custodian fee is 0.125% per year, while the management fee from Everon is 0.60% per year.
On top of that, each private market investment product can have some fees, apparently ranging from 0.50% to 1.50% per year. I cannot comment on whether this is expensive since I have never invested in private equities.
Overall, prices for wealth management at Everon are not too bad but not particularly interesting. Of course, these fees are pretty cheap if we compare them only with private banks. But comparing it with public services, these fees are relatively high.
Alternatives
Everon proposes many different services, so we cannot compare everything. However, we should still compare against some alternatives. Since private banks are primarily about investments, we will compare them against some investment platforms.
First, we will compare the other digital private bank, Alpian. Then, we can compare it against some robo-advisors that provide automated investments. Robo-advisors will be less personalized, but the return difference is unlikely to be significant.
If you are willing to manage your investments directly with a broker account, any good broker will be much cheaper than any private bank or even Robo-advisor.
Everon vs Alpian
I have recently reviewed Alpian. Alpian is another digital private bank with several of the same objectives as Everon. So it makes sense to compare them together.
As far as banking features are concerned, Alpian comes slightly on top. With Alpian, you get a multi-currency account for payments in multiple currencies. On the other hand, Everon does not support international payments.
However, Everon's card can be cheaper when spending money with the card since the exchange rate is slightly better. Both private banks are missing mobile payment features and ebills.
For banking fees, Everon is better since it is free, while Alpian has an expensive custody fee until you reach 50'001 CHF in your account.
On the investment features side, Everon is better, with more features. Indeed, it offers access to private markets, 3a, and vested benefits on top of the standard features that both banks offer.
Alpian has a total management fee of about 1.00% (0.75% plus TER of 0.25% on average). So, Everon is slightly more expensive than Alpian. So, without considering operations, Alpian is cheaper.
On the other hand, Alpian has extra fees that are not included. Indeed, you need to pay a 0.20% currency exchange fee. This will make any foreign investment with Alpian more expensive than with Everon.
Both private banks have similar fees on average. Overall, both Alpian and Everon have merits. You will need to find the one that fits you most.
There is one significant difference that we must mention. Everon uses a Swiss custodian bank for your shares, but Alpian uses Interactive Brokers. So, if you are only comfortable with Swiss custody, you should use Everon.
Everon vs Selma
Perfect to get started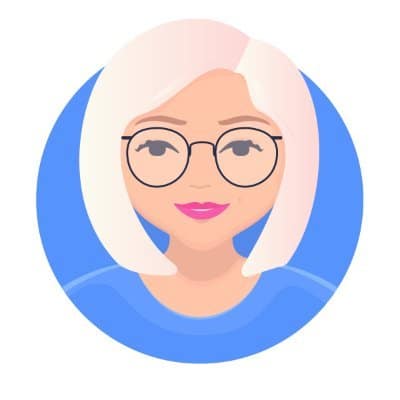 If we only focus on the investment side, we can compare the Swiss digital private bank with Selma, a standard Robo-advisor.
With Everon, a team of wealth managers will make investment decisions for you in an active way. On the other hand, at Selma, automated systems will passively make decisions. So, Everon can provide much more customization for your portfolio. The private bank will invest in single stocks, while Selma only has ETFs.
The main difference will be in the investment fees. Selma will cost about 0.67% in total if you have 250'000 CHF (a reasonable amount for a private bank). Everon will cost about 1.05% per year. This is significantly more expensive than Selma.
For me, the extra customization provided by Everon does not justify its fees over a Robo-advisor like Selma. And Selma is not the cheapest Robo-advisor out there.
Everon FAQ
Is Everon safe?
Everon has an asset mangement license by FINMA. This makes it well regulated and official. Everon uses Hypothekarbank Lenzburg as the custodian bank, ensuring your deposits for up to 100'000 CHF. And you investments will also be held by the same bank, wtih a good reputation. Overall, Everon appears to be safe.
How much do you need to open an Everon account?
There is no minimum to open an Everon account.
How much do you need to invest with Everon?
There is no strict rule for wealth managment services. However, your portfolio will only be well diversified when reaching about 30'000 CHF.
Everon Summary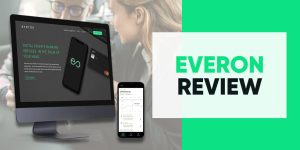 Everon is a Swiss digital private bank, trying to make private banking more available.
Product Brand: Everon
Everon Pros
Let's summarize the main advantages of Everon:
Offers access to private markets
Cheaper than a traditional private bank
Very transparent pricing
Everon Cons
Let's summarize the main disadvantages of Everon:
Expensive for investments
Not the cheapest Swiss digital private bank
No international payments from the bank account
No mobile payments from the bank account
Conclusion
Overall, Everon is offering a cheaper alternative to traditional private banks. However, it remains expensive at more than a 1% yearly fee.
Some better alternatives exist, like significantly cheaper Robo-advisors. That said, some Robo-advisors are even more expensive than Everon and do not provide more features.
Interestingly, Everon offers access to private markets. This is the only bank I know that offers this to many people and not to a limited few.
We should also note that they try to be a fully-fledged bank account. So you could have all your banking and investment in the same place. I am unsure if this idea is great since no service can do everything well. I prefer having a great bank and a great investment service.
I also believe that passive investing is the best way to invest for 99% of investors. Therefore, I do not think the fees asked by digital private banks are justified by the results they offer compared to investing yourself or through a Robo-advisor.
What do you think of Everon? Are you interested in private banks?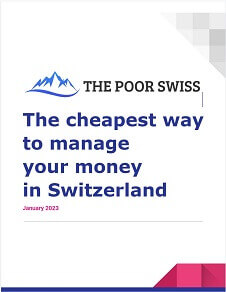 The best financial services for your money!
Download this e-book and optimize your finances and save money by using the best financial services available in Switzerland!
Download The FREE e-book