Yapeal Review 2023 – Pros & Cons
|
Updated:
|
(Disclosure: Some of the links below may be affiliate links)
Yapeal is a very recent digital bank introduced to the public in 2020. They are the first bank in Switzerland to have a Fintech banking license.
Yapeal is advertised as the next generation of banking with many features and straightforward onboarding. They have a free tier, but several features are not free.
In this review, we see precisely what Yapeal is: its features, its price, its advantages and disadvantages, and much more!
About Yapeal

| | |
| --- | --- |
| Monthly fee | 4.90 CHF |
| Users | Unknown |
| Card | Visa Debit |
| Currencies | CHF |
| Withdrawals in Switzerland | 2 CHF |
| Withdrawals abroad | 1.5% |
| Languages | English, French, German, and Italian |
| Custody bank | Yapeal |
| Depositor protection | Money stored in SNB |
| Established | 2018 |
| Headquarters | Zürich, Switzerland |
Yapeal
Yapeal was founded in 2018 and is trying to introduce a completely different style of banking. It is an entirely digital bank without any offices for its clients. Everything is done on mobile directly.
Interestingly, Yapeal is the first bank to obtain a Swiss Fintech License. A Fintech license is a new kind of banking license. So, Yapeal is officially a Swiss Fintech Bank. We will see in the next section precisely what this means for their customers.
While they claim to offer a completely different banking style, they still provide the same features as most banks in Switzerland. You can pay your bills with this account and make domestic transfers. They only offer a Visa Debit Card with your account. I cannot see anything different about the style of banking at Yapeal than at any other digital bank.
Since they are focused on mobile banking, they offer support for Apple Pay, Google Pay, and Samsung Pay. This is great for people that like paying with their smartphones. But this is hardly a novelty since most digital banks now offer these features.
They also have support for e-bills that a lot of people look after. E-bills are a great thing since few digital banks already have this feature. Also, they are the only digital bank with full integration inside the app. Other digital bank apps bring you to a website from inside the app to handle e-bill. So, if you have an avid user of e-bill (I am not), you may like this.  But you should not be blindsided by looks. The features are what matters, not the looks.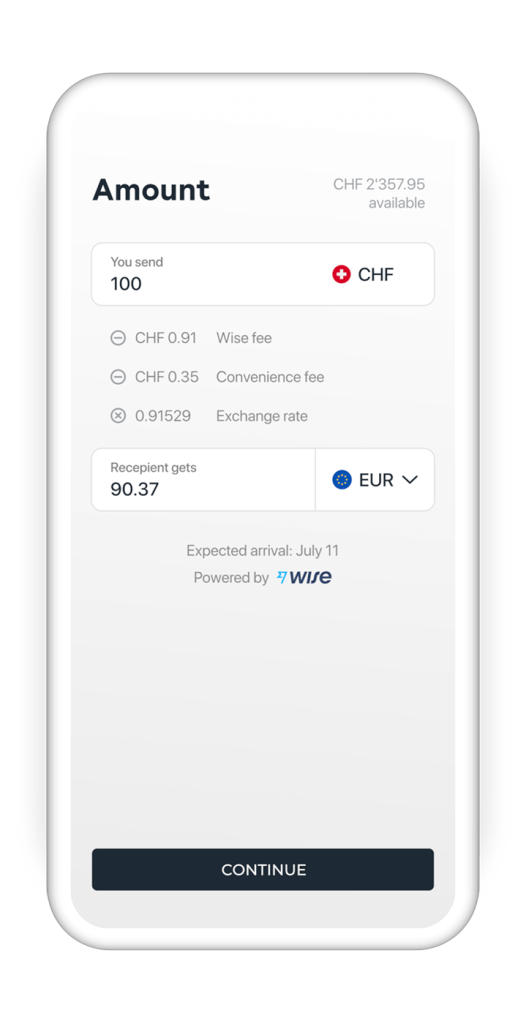 In 2021, they partnered with Wise to offer international payments. Users can make international payments in many currencies using Wise's extended network.
Finally, you can also transfer money directly to other Yapeal users. These transfers are instant.
On their website, they are trying hard to be a bank and a community. They are trying too hard, and this makes their website appalling to me. But this may be different for other people. I could not care less about the community of my bank. I want good features that work and a reasonable price for them.
Yapeal and the Fintech License
As mentioned before, Yapeal has a special Fintech banking license. FINMA launched this new kind of license in 2019. But Yapeal was the first institution to get one.
Compared to a standard banking license, there are several limitations:
The bank is limited to deposits up to 100 million CHF
The bank is not allowed to invest its client assets
The bank is forced to deposit all the money of the clients in the Swiss National Bank (SNB)
So, this license is a limited banking license. But this new license is supposed to be easier to obtain than a standard banking license.
Another difference is that there is no security deposit protection. If the bank goes bankrupt, the money is not protected up to 100'000 CHF like other banks. On the other hand, this does not matter since they will directly store your cash in the SNB. So, security should be fine.
Overall, it does not change much for customers whether the bank has a full banking license or a fintech license. It is only a limitation for the bank itself.
Yapeal Fees
Swiss banks are expensive, and it is essential to avoid paying too much banking fees. So, we take a look at the fees of Yapeal.
They have three different pricing tiers:
Loyalty is free
Private costs 4.90 CHF per month
Private+ costs 8.90 CHF per month
The free Loyalty account is quite limited:
No domestic payment
Not possible to pay bills, and no e-bills
No free cash withdrawals, even in Switzerland
You have to pay 7 CHF to get the Visa debit card.
No foreign payment
You can only use mobile payments (Google Pay, Samsung Pay, and Apple Pay). You can also transfer money to other users of Yapeal. All cash withdrawals in Switzerland in CHF will cost 2 CHF and 5 CHF for EUR. Cash withdrawals abroad have a 1.5% fee.
I do not even see the point of this Loyalty account tier. The Loyalty account is free but useless if you cannot make a domestic payment or pay your bills.
The Private account adds support for domestic and foreign payments and paying bills (QR bills and e-bills). Also, the Visa debit card is now free with this tier.
The Private account is already more interesting. But all the features are basic since you would get them with most Swiss banks. And 4.90 CHF per month is not cheap for a bank account. Also, you still do not get any free cash withdrawals with this tier.
I do not understand this pricing. All the features of the Private account are available in other banks for free! Why would anyone pay for features you can get for free at other banks and nothing special?
Finally, the Private+ account adds free cash withdrawals in Switzerland in CHF and EUR and abroad. If you are doing a ton of cash withdrawals, this may be interesting, but this account is not interesting for most people.
International transfers are done using Wise. On top of Wise fees (0.40% – 1.30%), you will pay a 0.35% convenience fee.
If you pay annually, you will save two months of subscriptions. You would pay 89 CHF per year for the Private+ account and 49 CHF per year for the Private account. But that remains too expensive.
One good thing about Yapeal is that international payments are very cheap. They are using the Visa transfer rate, which is generally quite good. And Yapeal does not add any markup to the transactions.
Security
The technical security at Yapeal is good. They verify all their customers during the onboarding process. And they are emphasizing security for their transactions as well.
We already talked about depositor protection. Since they have a Fintech license, they have no depositor protection guarantee (no esisuisse). On the other hand, they are forced to deposit your money in the Swiss National Bank. So, the security will be about the same in case of bankruptcy.
So, overall, there is nothing wrong with the security of Yapeal.
Alternatives
Finally, we should also compare Yapeal with another digital bank.
Yapeal vs Neon
For me, the best digital bank in Switzerland is currently Neon. So, we can compare Yapeal and Neon.
While Yapeal has a Fintech license, Neon does not have a banking license. But they are depositing your money in an official Swiss bank. So, from a customer perspective, there is no difference between the two models.
There are a few differences between these two banks on the feature side. They both offer the same features for mobile payments and domestic payments. Both also have a partnership with Wise for international payments.
Both also offer purchases abroad for free with their card. Neon has a Mastercard, while Yapeal has a Visa. It should not matter since both are pretty equivalent.
Where the differences start is when we look at the fees. The Neon account is always free, while only the basic Loyalty tier of Yapeal is free. And Neon has much more features than the Loyalty account of Yapeal.
At Neon, you get two free withdrawals per month. With Yapeal, you must pay 2 CHF per withdrawal with the Private account or get them free with a Private+ account. The Private account is 49 CHF per year, while the Private+ account is 89 CHF.
The only advantage of Yapeal is that you can get cash withdrawals abroad for free with the Private+ account. This would cost 1.5% with Neon. So, if you withdraw more than 6000 CHF abroad annually, Yapeal will be cheaper. But very few people are withdrawing this kind of cash abroad.
Best App to Pay, Save and Invest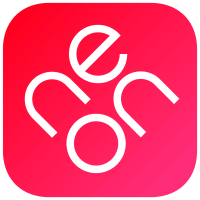 Neon
All the services you need to pay, save and invest, in a neat package, with extremely good prices!
Use the poorswiss code to receive 10CHF!
Pros:
Pay abroad for free

Invest with great fees
Use the poorswiss code
Read my review
Overall, Neon has the same features as Yapeal but is also significantly cheaper in almost every use case. If you want a digital Swiss bank account, I strongly recommend Neon over Yapeal.
For more information on Neon, you can read my review of Neon. Or, if you prefer a traditional bank, you can also take a look at Zak. Zak will still be significantly cheaper than Yapeal.
Yapeal FAQ
Is Yapeal free?
Yapeal has a free tier. However, this tier is extremely limited and unlikely to be enough for your banking needs.
Does Yapeal support TWINT?
Can you transfer money internationally with Yapeal?
Yes. Yapeal has partnered with Wise to offer international transfers directly from the app. This adds a 0.35% convenience fee on top of Wise's fees.
Can you use Yapeal on your computer?
No, Yapeal is a fully digital bank, only used on smartphones.
Is Yapeal a bank?
Yes, Yapeal is a Fintech licensed bank (the first with this license). This means they are regulated by the FINMA. And contrary to standard banks, they have to deposit all the money directly in the Swiss National Bank (SNB).
Yapeal Summary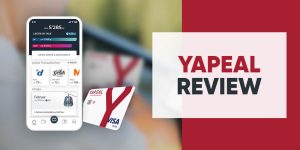 Yapeal is a Swiss digital bank, with a Fintech banking license. They are planning to be the next generation of banking.
Yapeal Pros
Let's summarize the main advantages of Yapeal:
Good integration of e-bill
Access to Google Pay, Apple Pay, and Samsung Pay
Cheap international payments and transfers
Available in four languages
Yapeal Cons
Let's summarize the main disadvantages of Yapeal:
The free account of Yapeal does not have enough features to be useful
The paid tiers are more expensive than most other Swiss banks
Extremely cringy website
Minimal information on the website
No TWINT
Conclusion
Overall, Yapeal is not very appealing. They have interesting features, but these features are already available in most digital Swiss banks.
On top of these features, Yapeal is significantly more expensive than other digital banks like Neon and Zak. Even my traditional bank, Migros, is cheaper than Yapeal!
I see no advantage of Yapeal against other digital banks. It feels like an expensive gimmick that tries to build a community and insists on trying to appeal to young people with mobile phones. People should focus on a bank's features and prices rather than its looks and community. But maybe I am already too old for this kind of bank?
If you are looking for a bank, you should read my comparison of Switzerland's best banks.
What about? What do you think about Yapeal?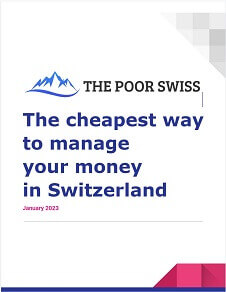 The best financial services for your money!
Download this e-book and optimize your finances and save money by using the best financial services available in Switzerland!
Download The FREE e-book