(Disclosure: Some of the links below may be affiliate links)
There are many third providers in Switzerland. Some of them are good, but most of them are too expensive. You do not want to waste your retirement bank in fees. Therefore, you need to choose the best third pillar provider.
Let's compare the available third pillar account in Switzerland. And let's try to find the best third pillar account for you.
In Switzerland, there are several advantages to invest in the third pillar. Mainly, this will reduce your taxes since you can deduct your contributions from your taxable income. Moreover, this is an excellent way to invest for your retirement.
However, there are a lot of third pillar providers. Every Swiss bank will offer you one or several third pillar accounts. But most of these options are pretty bad. Either they have very little interest, or they have huge fees.
Recently, one new actor started to offer options for the third pillars: VIAC. VIAC offers very cheap options, with up to 97% exposure in stocks. It is significantly better than what I have found before in other third pillar providers.
In this post, I am going to compare the primary third pillar providers in Switzerland. And I am going to check which is the best third pillar in Switzerland.
The third pillar in Switzerland
If you do not know it yet, the third pillar is a personal retirement account. You can contribute up to a certain amount every year. And this amount is deductible from your taxes.
It is the only part of the retirement system in Switzerland that is optional. Many people do not contribute to it. It is a mistake. You should contribute the maximum to the third pillar every single year.
Doing this will allow you to increase your retirement capacity significantly. Before you look for the ideal third pillar account, you may want to refresh on the details of the third pillar.
The ideal third pillar
First of all, we have to think about what makes an ideal third pillar. It is essential to decide which factors will drive the choice.
For me, there are three critical factors to compare third pillars:
Large allocation to stocks
Diversified stock allocation
Low
Let's delve more into details in the three factors.
An excellent third pillar has a significant allocation to stocks. It will depend on your situation, of course. You need to decide for yourself the allocation to bonds that you need. Moreover, Swiss bonds are in the negative territory now. So you may be better off with cash. For me, I want as much as possible of my third pillar into stocks. I already have bonds in my second pillar. My current allocation to bonds is more than enough. Ideally, a third pillar will have a 100% allocation to stocks.
An excellent third pillar has a diversified stock allocation. Switzerland is too small a country to only invest in it. I would like to have global stocks in my third pillar. Ideally, the allocation should be the same as a world stocks fund. Unfortunately, this is not possible in Switzerland. The law states that the third pillar must have at least 40% allocated to Swiss stocks. So an ideal third pillar should have 60% of international stocks and 40% of high-quality Swiss shares.
And last but not least, a good third pillar has as little fees as possible. I want my third pillar to have zero load fees. I do not want to pay to get money inside the fund. The absence of load fees is essential. You should never use any fund with load fees.
Moreover, the yearly fees must be low as well. The TER must be as little as possible. Most third pillar accounts in Switzerland have high TER, higher than 1%.
With this in mind, let's compare the main options out there.
Third pillar providers
There are many third pillars providers in Switzerland. Almost every bank offers a third pillar option. However, a lot of them do not run their funds. Some of them provide funds from bigger banks. For instance, many Swiss banks offer third pillar funds from Swisscanto or UBS.
Unfortunately, it is quite challenging to get a list of all the third pillar funds. In practice, you would have to go to the website of all the banks in Switzerland to find their offers. And some of these are only in German, and some of these offers are not well documented. Fortunately, moneyland provides a PDF list of most of the Swiss retirement funds (here).
The list has not been updated for a few months. But it is a pretty nice list. It saved me quite some time. And I also knew about a few options that I wanted to mention in this post.
I am only going to compare the good options. There is no point in discussing funds such as UBS Vitainvest 75 World that has a TER of 1.72%! Nobody should consider such funds for their third pillar. The fees will eat most of your returns.
But you would be surprised by how many people do not know about TER. I did not know about TER a few years ago. For comparison, I selected only the third pillar funds that had more than 60% allocation to stocks and only the ones that had reasonable TER.
PostFinance Pension 75
The first fund that I am considering is the one I owned before, the PostFinance Pension 75 fund.
This fund invests in 75% of stocks and 21% of bonds. The fund contains about 4% of real estate as well. This allocation to stocks is not as much as I would like. But this is already quite good. In total, it is more than 50% invested in Switzerland.
The fund has a TER of 0.98% and no other fees. This TER is not great. But, this is not too bad compared to some additional funds in Switzerland. Ideally, I would like a fund with a higher allocation of stocks and lower TER.
Migros Bank Fund 45
Since my new bank is Migros, I wanted to check their offer. I am a bit disappointed by it. First of all, the information on their website is not great. It took me quite a while to find the information I needed.
They have very few retirement funds. The most interesting fund is the Migros Bank Fund 45. It has 45% in stocks and a TER of 1.16% (1.09%, according to Morningstar).
I do not think it is a great offer. An allocation of only 45% to stocks is not acceptable for me now. And the TER is higher than my current third pillar. So there is no point at all changing to this fund.
LUKB Expert Fund 75
This fund is only available at the Luzerner Kantonalbank, which is the bank of the state of Luzern.
It has 75% of stocks, which is quite good. It has a TER of 0.8%. For third pillar accounts in Switzerland, this is a good TER. However, it has a load fee of 0.4%. The TER is okay, but the load fee makes it highly undesirable. Once again, I do not have any advantage of transferring to this fund.
Raiffeisen Index Fund Pension Growth I
The Raiffeisen Index Fund Pension Growth I fund is available at the Raiffeisen Bank.
I did not know about this fund before I read about it while researching for this post. It has around 67% of stocks. This allocation is quite reasonable. It has a TER of 0.8%, which is good. But it has a second management fee of 0.45% per year, which makes a total fee of 1.25%. This real TER is way too high.
This example shows that it is crucial to read all the details when comparing different funds. I wish that Swiss banks would be more transparent. This fund is the most expensive of the funds I checked. However, this is not the most expensive third pillar in Switzerland.
Swisscanto Fund 75 Passiv V
The Swisscanto Fund 75 Passiv V fund is quite interesting. It is available at the Zurcher Kantonal, which is the bank of the state of Zurich. It has 75% of stocks. At first sight, it is good with a TER of 0.43%. It is the lowest TER I have seen for a third pillar in Switzerland.
However, you need to read more information because there are more fees. They also have a 0.38% management fee. And it is not over. They have a 0.15% fee when you buy shares of the fund (issuance fee). And finally, they have a 0.08% fee when you sell shares of the fund (redemption fee). It is the most complicated fee system I have seen during my research. They use several small fees not to scare customers away. But when you put all the fees together, this does not make them very attractive.
VIAC


VIAC is the newest actor in the third pillar game in Switzerland.
It is new compared to other big banks. It is important to mention that VIAC is not a bank. The money that you have invested with them is stored in the WIR bank. As such, you will have full protection up to 100'000 CHF like the other banks. This protection is very important. Without that, I would not consider this provider at all. You want your money to have maximum protection.
VIAC is quite different from the other providers. You will only have access through a mobile application or web application. They do not have offices where you can do operations with them. This absence of bank offices is what makes them offer very low fees.
They started with only a mobile application. But since then, VIAC added support for a web application. The web application is great for people like me who are not fond of mobile phones. And most people will probably like the mobile application since people are fond of phones these days.
They offer three sets of strategies: Global, Switzerland, and Global Sustainable. The first one is investing in the entire world. The second one is focusing on Swiss stocks. And the third one also invests in the whole world but omits some stocks such as nuclear, tobacco, or weapons stocks.
For each of these strategies, they have five variants: 20, 40, 60, 80, and 100. These variants are specifying the allocation to stocks. You can also define your strategy by composing it with the different underlying funds that they are using. But that is a bit outside the scope of this article. You can also have several portfolios, up to five.
VIAC Global 100 Fund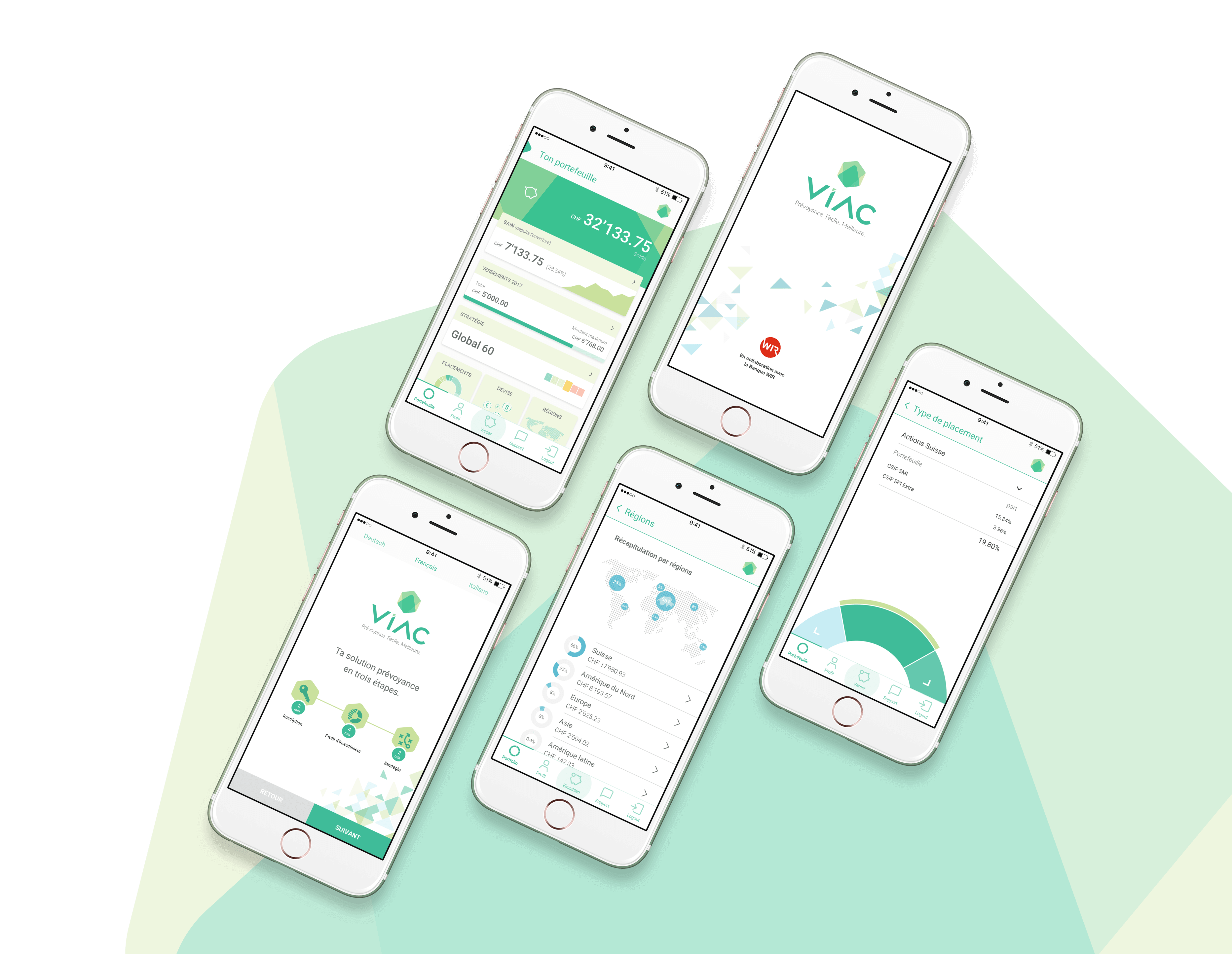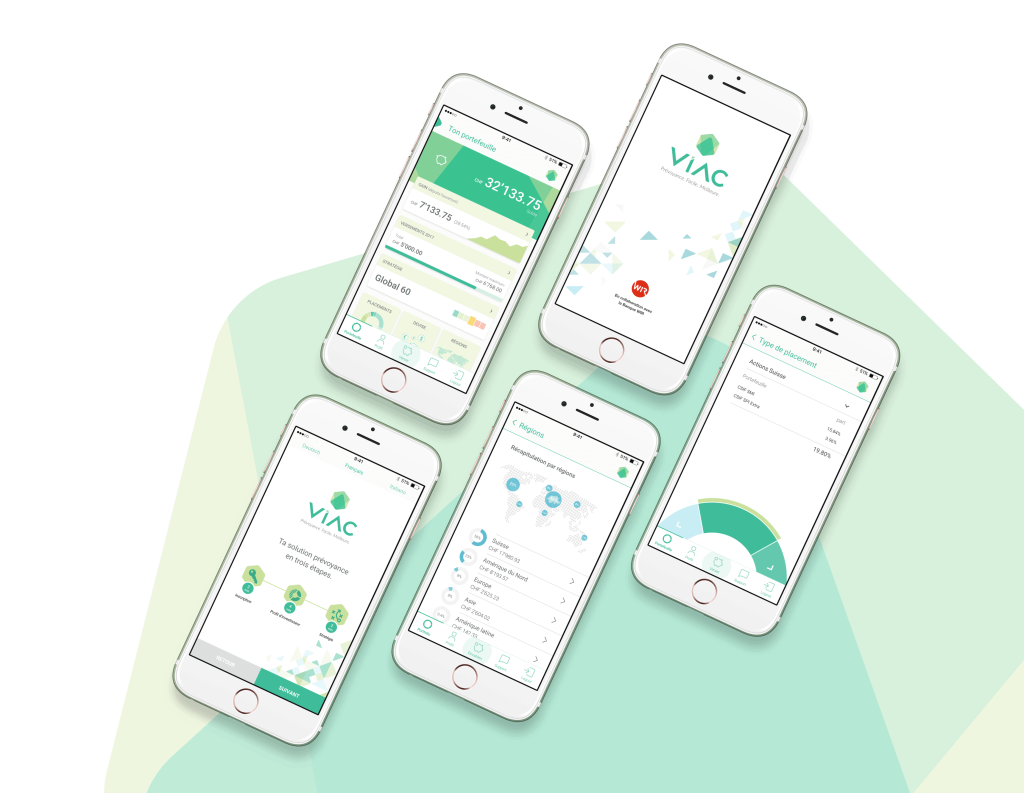 The most interesting strategy is the Global 100 strategy.
This fund invests 97% in stocks. Out of these stocks, 40% are Swiss stocks. This is a legal limit that we cannot cross. The rest is invested in the entire world based on market-cap weight. The remaining 3% is allocated to cash.
They do not use bonds since Swiss bonds have a negative yield. Swiss cash is currently much better than Swiss bonds. And the TER is o.53%. And there are no other fees!
Here is the allocation by region of the Global 100 fund: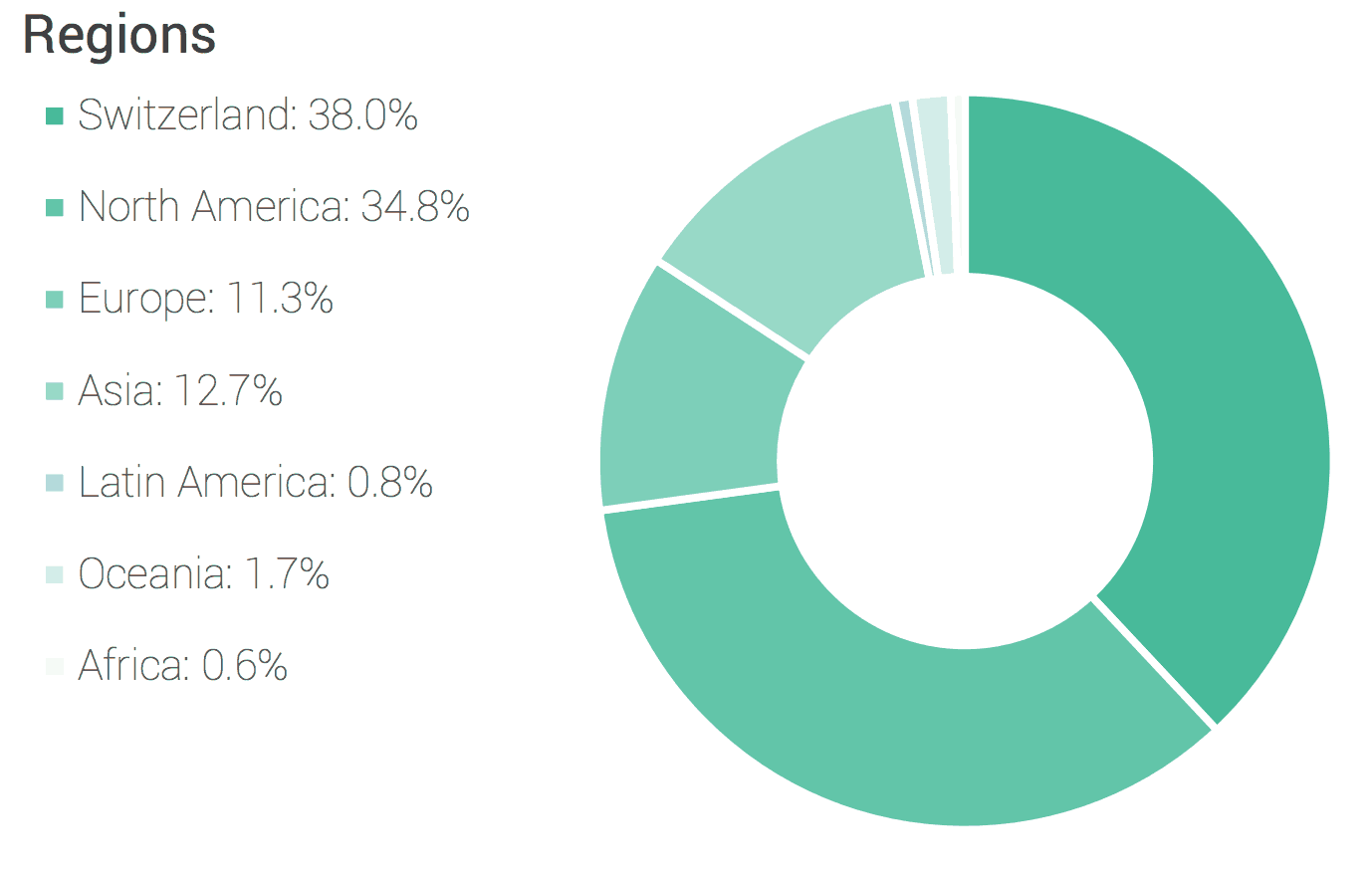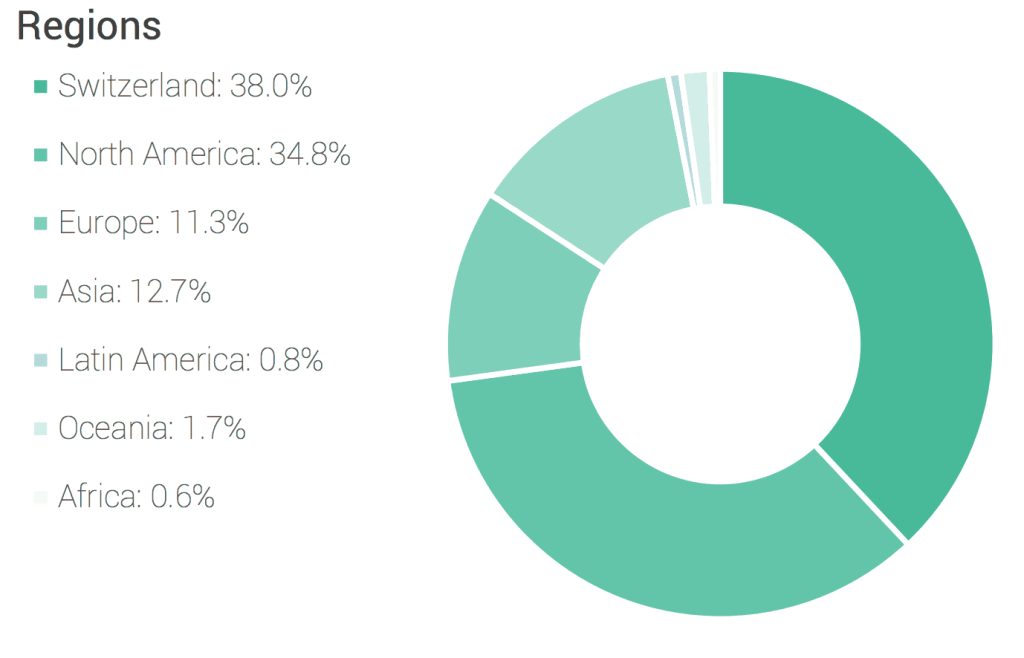 And there is the exact allocation of each sub-fund (as of September 2018):
SMI (Swiss): 27.75%
SPI Extra (Swiss): 9.25%
Europe ex-CH: 10.60%
S&P 500: 31.51%
Canada: 1.93%
Pacific ex-Japan: 2.54%
Japan: 4.46%
Emerging Markets: 8.96
Cash: 3.00%
This offer is great. It is much better than all the other candidates:
The allocation to stocks is the highest in Switzerland.
The allocation to international stocks is the maximum permitted by law.
TER is the cheapest in Switzerland.
In the long-term, this nice allocation to stocks and the relatively low fees will result in significantly more returns.
Pros
Let's summarize the pros of VIAC:
You can allocate up to 97% in Stocks
The fees are very low
VIAC is very transparent
Cons
Let's summarize the cons of VIAC:
You need a minimum of 40% in Swiss Stocks
You need to keep 3% in cash
Conclusion – Transferring to VIAC
The conclusion is pretty simple! VIAC is undeniably the best third pillar provider in Switzerland. It has almost only advantages. The fees are the lowest in Switzerland. And the allocation to stocks is the best, by far.
There is something else I like about VIAC. It is their transparency. They communicate well, and they share as much information as possible. VIAC is the best third pillar provider for the information they share. The information is also very clean and modern. They do not try to hide fees.
When I made this comparison and found out about VIAC, I directly decided to transfer my current third pillar from PostFinance to VIAC. I wrote how to open a VIAC account and transfer money to VIAC. I think that VIAC is the best option for a third pillar.
To learn more about VIAC, you can read my Interview of Daniel Peter, CEO of VIAC.
Which third pillar do you use? What do you think of VIAC?