The 6 Biggest Problems of Investing in Cryptocurrencies
|
Updated:
|
(Disclosure: Some of the links below may be affiliate links)
Recently, we talked about how cryptocurrencies worked. Then, we looked at the history of cryptocurrencies. Finally, I discuss what I think is wrong with them.
Cryptocurrencies are not an investment. When you buy a cryptocurrency, you do not buy any value. You speculate that other people will later give a higher value than what you paid. This speculation, or even gambling, is not investing. Moreover, there are several problems with investing in a cryptocurrency that you do not have with stocks. So, we will see what these problems are!
1. Cryptocurrencies have no real value
I am not saying you cannot buy things with cryptocurrencies because you can. You can also exchange them for standard currency and do what you want with them.
However, as an investment, they have no real value. When you invest in a company by buying stocks, you buy a part of the company. This company has assets and generates earnings. Your shares represent a part of these assets and earnings. They may even grant you some dividends.
But when you buy some cryptocurrencies, you do not buy any value. You buy a coin with some currency, and you hope to exchange the coin for more currency later.
This lack of value is also the opinion of Warren Buffett, who said, "You are just hoping the next guy pays more. And you only feel you will find the next guy to pay more if he thinks he will find someone that will pay even more".
Investing in something without value is not an investment. It is speculation! There is nothing wrong with speculation. You need to be aware of what it is. And you should be mindful of the risks. You should not treat cryptocurrencies like you treat stocks.
2. Cryptocurrencies are highly volatile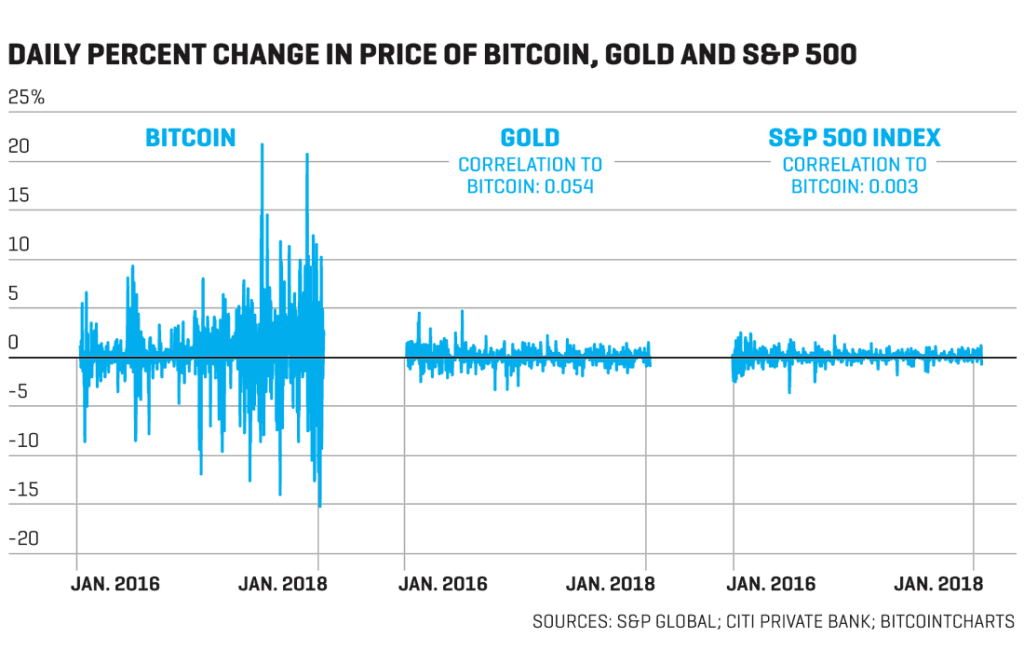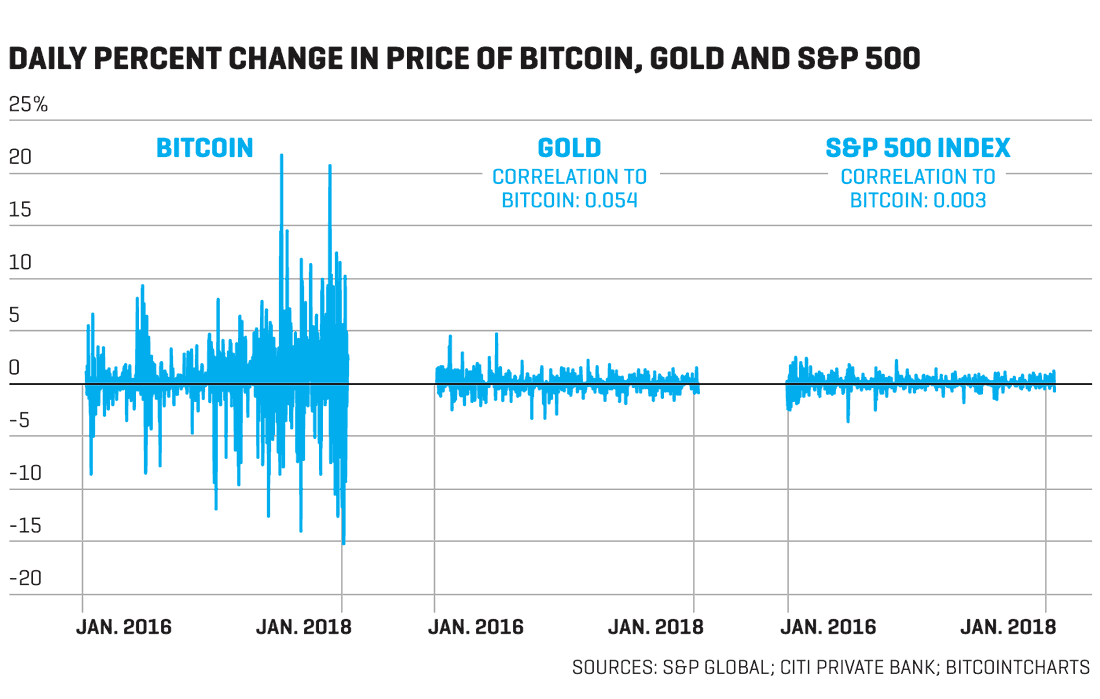 Bitcoin's price has been highly volatile since the beginning. And it has been the same for most cryptocurrencies. Just take a look at the chart above. It is very easy to see that daily volatility in the last two years has been much higher on bitcoin than on gold or stocks.
Moreover, the price of a cryptocurrency is not tied to any value like the price of a stock. So they mostly react to news and investor appeals. There is an extreme herd mentality with them. And this can change very fast. It is not uncommon to have a daily change of more than 10% with cryptocurrencies.
On the other hand, this is very rare for stocks. But not impossible for stocks either. You need to remember as well that stocks can be quite volatile!
An extreme example is the TerraUSD currency which lost 90% of its value in one week. It is currently almost worthless. In one month, people lost 99% of their investment. About 60 billion USD has been erased in the crash.
3. Cryptocurrencies are too anonymous
Cryptocurrencies are highly anonymous.
I believe they are too anonymous. There is a record of all the transactions. The record is the base of the blockchain. But the only thing recorded is your public key or your user name. If you know the public key of someone, you can know how much he got in the public information. However, typically, you do not know who is behind the public keys. That means you can send money to someone, and nobody will know that the money is coming from you if they do not know who is behind your public key.
This total anonymity is a severe problem, in my opinion. It is too easy to use cryptocurrencies for criminal activities. While they could do the same with cash, now they can instantly send money from one account to another. And all this in total anonymity. Criminals can also use this for tax evasion.
Bill Gates also shared this concern in a recent Reddit Ask-Me-Anything (AMA) by saying, "The main feature of cryptocurrencies is their anonymity. I do not think this is a good thing.".
I think cryptocurrencies need more regulations and security before they can become mainstream.
4. Cryptocurrencies have a terrible environmental impact
The mining of cryptocurrencies, which is at their heart, consumes a lot of energy. As of 2022, we estimate that the bitcoin network consumes about 150 TWh per year. This consumption is more than the energy consumption of a country like Argentina (45 million people)!
Some miners use renewable energy for their operations. However, most of them are in rural areas where cheap energy is. For instance, there are many of them in China, where the primary energy source is coal, which is hugely environment-unfriendly!
You can do what you do with cryptocurrencies with other currencies. But without the extreme energy consumption. It does not make sense to consume so much energy for a simple currency. Something should be done to reduce their energy consumption in the future. We already have enough environmental concerns in the world without this one!
5. Cryptocurrencies lack protection
There is much less protection when you trade cryptocurrencies than when you trade stocks. First, there is no protection against insider trading. In stock trading, insiders from a company are prohibited from using the internal knowledge of the company to make a profit on the stock market. There is no such thing in the cryptocurrency market. If an insider has more information than the others, he can still do what he wants.
Another lack of protection is in the guarantee. If you invest 100'000 dollars in cryptocurrencies and keep your coins on the exchange website, nothing is protecting you against the exchange's bankruptcy. If the exchange closes down, you lose everything. Stocks and cash are insured in most countries (by FDIC and SIPC in the U.S., for instance).
There are also some guarantees for the price you pay for stocks. For instance, they are laws that make sure you do not get a worse price than the best offer there is at that time. But there are no such things for cryptocurrencies. As such, different exchange websites can have a large difference in price.
6. Cryptocurrencies encourage criminal activities
Since transactions on a cryptocurrency exchange remain anonymous, many criminals use cryptocurrencies to get money.
On top of that, it is a global network without any borders. So, it is easy for a criminal in Russia to ask for money from someone in Switzerland, for instance. And since it is not regulated, nobody will go and block you from using the crypto exchange.
For instance, in most ransomware situations, the criminals ask for a ransom in bitcoin and give several wallets for the payment to make it even more challenging to trace them.
Overall, cryptocurrencies make it easy for criminals to get or move money.
Conclusion
While I am very interested in the technology behind cryptocurrencies, I am not interested in them as an investment.
Cryptocurrencies are not an investment. They are speculation. When you invest in stocks, you invest in some value, generally the company's value. Or the future value of the company. However, cryptocurrencies have no intrinsic value. If you want to gamble your money, it is okay. You need to be aware that you are doing it. Do not start gambling a second mortgage on cryptocurrency and saying it is a safe investment. It is not!
For now, I do not want to invest in cryptocurrencies. I already gambled some money into them in the past. And I consider this one of my biggest investing mistakes. In the past, I believed it was an investment. But now I know that they are not an investment. You can use them as your fun money. But you need to be prepared to lose it all!
I am not saying you cannot make money with crypto-currencies. Many people have made a ton of money with crypto-currencies. I am only arguing that they are not a good investment.
What about you? What do you think about cryptocurrencies? Are you speculating on them?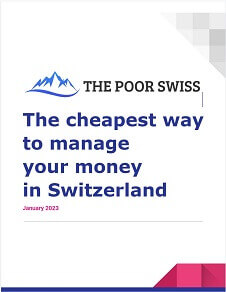 The best financial services for your money!
Download this e-book and optimize your finances and save money by using the best financial services available in Switzerland!
Download The FREE e-book