Just Keep Buying – Book Review
|
Updated:
|
(Disclosure: Some of the links below may be affiliate links)
I have not done a book review in a long time on this blog. I felt like most books did not deserve to be talked about. However, I felt like Just Keep Buying, from Nick Maggiulli, deserved to be talked about.
In this article, I will review this book, what I liked, and what I did not like. By the end of the book review, you should know whether you want to read that book.
Just Keep Buying
The book's title already tells the main investing principle that this book is about. If you want to build wealth, you should always keep buying, regardless of the state of the stock market. But we will come back to that.
Nick Maggiuli is the author being the Of Dollars And Data blog, an excellent blog about investing and personal finance based on data. The blog is of excellent quality, so I had to read it when I saw he wrote a book.
Just Keep Buying explains how people can build wealth in a simple (not necessarily easy) way. A large part of Just Keep Buying is about investing, but it is important to note that the first part of the book is about general personal finance advice.
I will not spoil the entire book, but I will talk about the main messages.
Save before you invest
Interestingly, the author starts with the message that you must save before investing. You will not get rich by investing if you invest a tiny amount once in a while.
The author says that saving is for the poor while investing is for the rich. This is an excellent way of putting it. If you can only save 100 CHF monthly, you should not focus on tuning your portfolio. Instead, you should focus on saving more money. With a small amount of money invested, a slight change in TER will make no difference.
That is not to say that you should delay investing. We have seen that investing early is important. Nevertheless, while saving little, your focus should be on saving more. And when you are saving enough, you can focus on optimizing your investing.
He also makes a great point about not using a fixed saving rate. This is something I have said already on my blog. Using a fixed savings rate does not make sense when your income increase. It is only a complacent way of thinking you can spend more whenever you get a raise.
Finally, he discusses a big issue with many personal finance blogs and news. They will tell you you can become rich and retire early by having a budget and cutting your expenses. But for the large majority of households, this simply will not work. Many households do not have enough income to retire early.
You can indeed retire early with any income. However, your fixed costs must be low. So the recipe for retiring very early is either very high income or extreme frugality. And this is often hidden in articles. Skipping your Starbucks coffee will not be enough to retire early.
Investing is simple
Just Keep Buying does an excellent job of showing that investing is simple. Many people make it appear complicated, while investing is very simple.
The investing recipe is in the book's title: Just Keep Buying. Regardless of the market conditions, you should invest your money into your balanced portfolio as often as possible. It is as simple as that.
Some people try to be smarter and pick stocks, but in most cases, they would have been better off with index ETFs. Others are trying to wait to buy the dip, but in most cases, they miss either the top or the bottom and should have kept buying.
This book will not directly tell you what you should invest in. However, it will tell you how to invest and show that this is simple.  And I think it is a nice change of pace.
I agree entirely that investing is simple. Now that I have set up my portfolio, I spend less than 10 minutes monthly on investing. Is it not on auto-pilot (I do not like automating my finances), but once I receive my salary, I invest what I can in my ETFs, and I am done until next month!
I think these two messages are saying enough about Just Keep Buying. I do not want to spoil more content. If you are looking for a great personal finance/investing book, this is one you should consider.
What I liked
I liked Just Keep Buying.
What I liked the most is that the message is extremely simple and straight to the point. Also, the book did not only focus on investing but focused on the path to building wealth. Both personal finance and investing advice are extremely potent.
For instance, I liked that he mentioned that saving is for the poor and investing is for the rich. This is an excellent point that we do not make often. Even though that may not be what people want to hear, it is essential to know.
Even though the book references the United States retirement system, like the 401(K), the principles can apply to everybody. Only one chapter is specific to the US. The other chapters are useful in any country!
Finally, I enjoyed that most of what the author says is backed by data and references from official sources. It is not like he is getting data out of a hat like many people on the internet.
What I did not like
Overall, there was very little I did not like about Just Keep Buying.
I think the book should spend more time on asset allocation. This subject is covered, but it should be more detailed.
The other thing I would have liked in his book is more details about his portfolio. It would have been great to know his portfolio. He changed several things over time, generally shared on his blog. But it would have been a great addition.
I also wish he talked more about early retirement and withdrawal rates. He talked a little about the 4% rule, but I felt this could be extended with his experiments.
A good discussion about ETFs vs mutual funds would also have been welcome.
Conclusion
Overall, I was very pleasantly surprised by Just Keep Buying. I would put this book in the top investing books. With The Simple Path to Wealth, this book is among the best investing books I have read.
The principles explained in the book are really simple and yet very powerful. The author focuses on the most important things and does not hesitate to go against common personal finance advice.
If you want to check out the book, you can use the official website for more information on how to purchase it. I can only recommend checking out the blog as well. It has great personal finance and investing content.
What about you? Have you read Just Keep Buying? What did you think of it?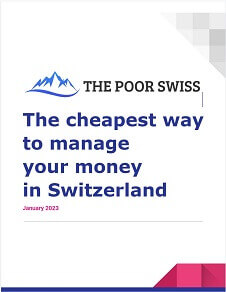 The best financial services for your money!
Download this e-book and optimize your finances and save money by using the best financial services available in Switzerland!
Download The FREE e-book