(Disclosure: Some of the links below may be affiliate links)
After a  very cheap month of May, June 2019 comes back with a very expensive month. This is often the case in June since this is the middle of the year and this is when I pay some of the bills. But this month is worse than usual.
From a financial point of view, this is the worst month in the last 16 months. I would not have thought we could come back to this level. But this is proof that I do not plan my spending very well. I knew it would be bad since several bills were planned. But I underestimated some of them.
On the other hand, we had a nice holiday in the Swiss mountains. And another nice family weekend in Jura. So, from a personal point of view, it was a good month.
June 2019
During this month, we have been to vacations one week in the Swiss mountains. And we also had a nice family weekend in Switzerland. It has been a very hot month. But overall, a good month.
From a financial point of view, the month is not good! It is the month we saved the least part of our income since February 2018! This is insane!
We had to pay back some taxes because they increased compared to what we paid in advance. We also had to pay the middle of year insurances for the car and the apartment. There is really not a lot we could have done to save money on these bills.
When you put all this together, we only saved 15.2% of our income this month. This is pretty bad. But we are going to go back on the right track for next month.
On a side note, we are having many issues with our building managers. They have been so incompetent and unprofessional, it is absolutely incredible. They do not do anything and yet still increase the charges and send us more bills. We are really considering leaving our apartment just to stop having anything to do with these very limited people (I am trying to be nice…).
Frugal Holidays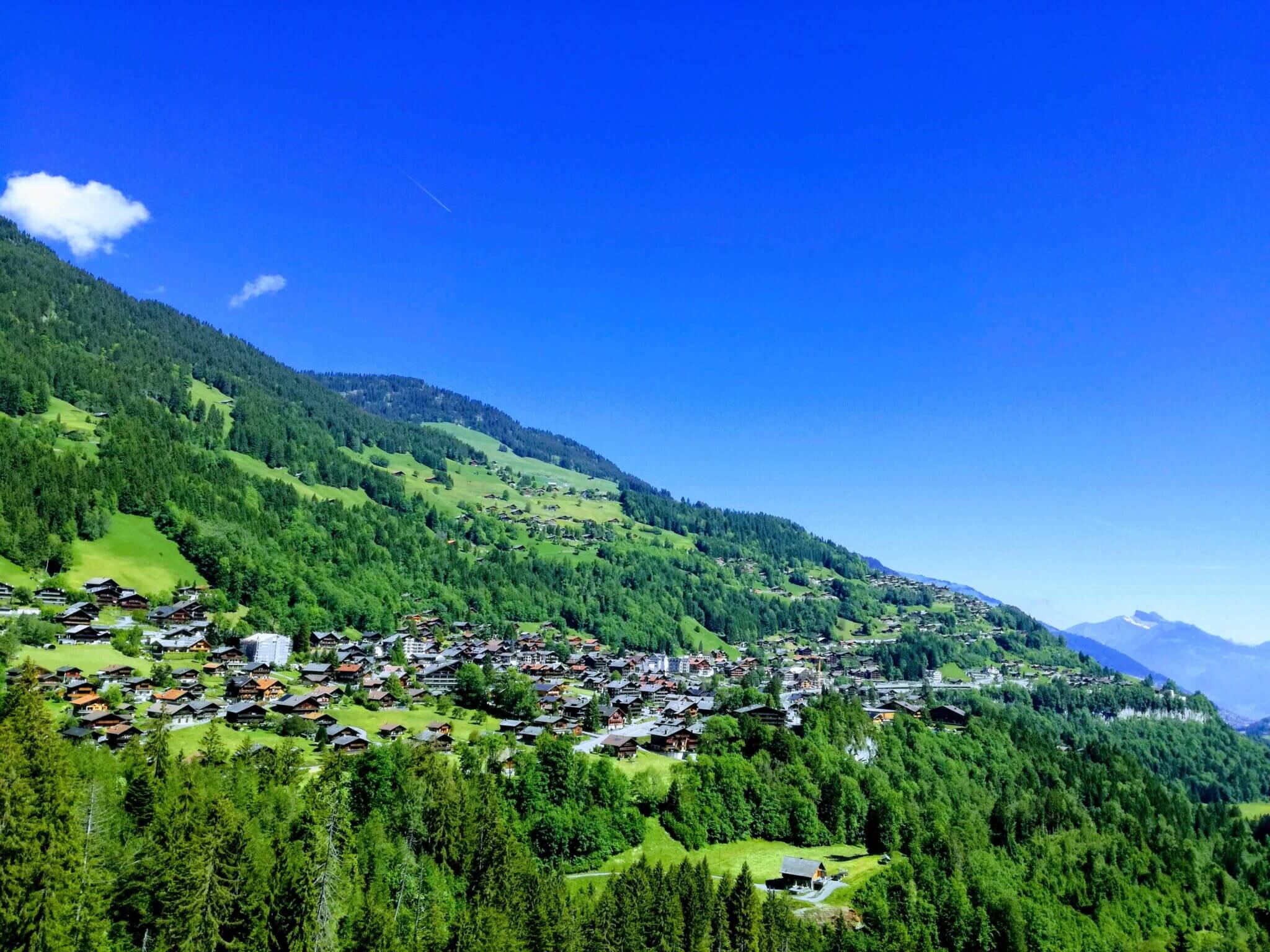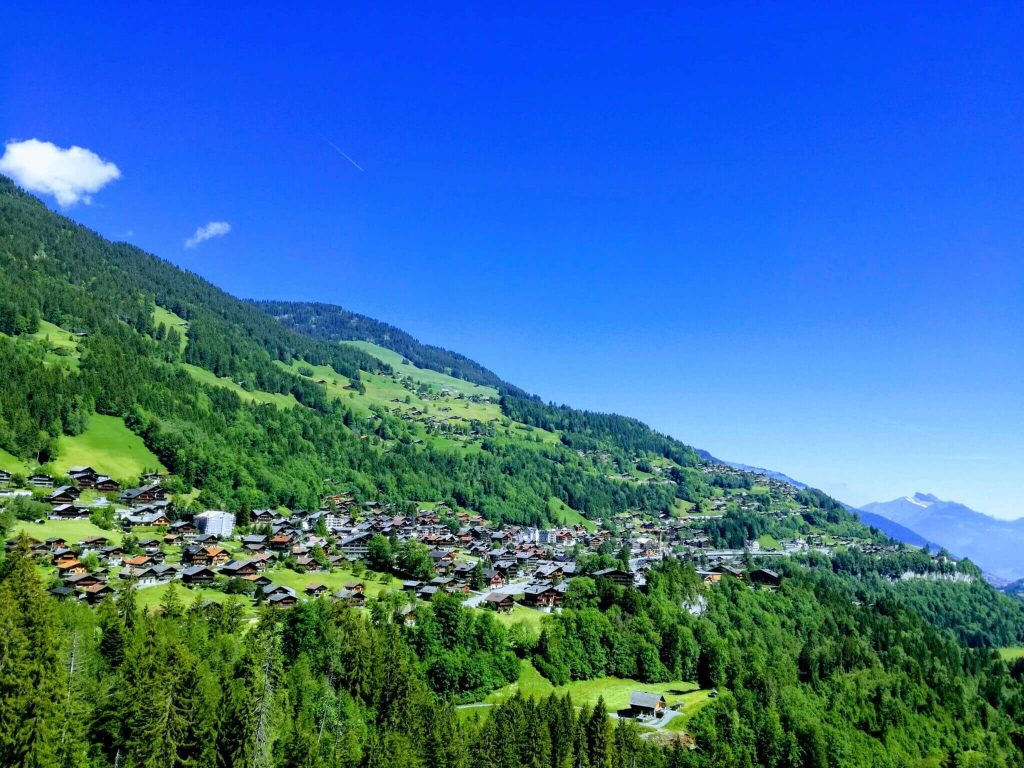 In June 2019, we took a one week holiday with Mrs. The Poor Swiss. We went into the Swiss mountains, in a small village in the state of Valais. As you can see from the picture above, taken from one of our hikes, it is quite pretty!
We managed to keep our vacations very frugal. The apartment belongs to someone from my extended family. We paid 300 CHF for one week in the apartment. We brought food from home in order to be able to cook for cheap. And we only went once to a restaurant. So, we did a good job keeping it cheap!
Moreover, our host provided us with Multipass cards. This pass allowed us to take the cable car for free for instance. And it gave us a lot of reductions at different tourist attractions. It also gave us access to the village's swimming pool for free.
We made nice walks around the village. It is a really nice place to hike. We did not do long walks. For my taste, we did not do enough hiking at all. However, it was already way too much for Mrs. The Poor Swiss. I guess we will not be back to a hike vacation for a while. We also went to hot springs in the next village.
Overall, we spent about 450 CHF for 7 days. This is about 32 CHF per person and per day. I guess this is not so bad for Switzerland!
Expenses
Here are the details of our very high expenses for June 2019:
Insurances: 1230.05 CHF. Well above average. This is our health insurances and house insurance.
Transportation: 622.02 CHF. Well above average. We had to pay our half-year car insurance, which makes it quite high. Otherwise, we did not spend a lot on that category.
Communications: 89.60 CHF. Average. Internet and mobile bills and an online server bill.
Personal: 1082.31 CHF. Above average. We spend 300 CHF for the first vacation and 250 CHF for the second. And we also paid 285 CHF for one more French course. This is not so bad honestly.
Food:420.70 CHF. Above average. We invited people at home and we had one dinner out during our vacations. It is still not that bad.
Apartment: 1478.40 CHF. Above average. We had to pay the power bill that we pay every three months.
Taxes: 3002.35 CHF. Well above average! I did not pay enough taxes last year and had to pay more this year. This is the case for federal, state and county taxes this year. All the bills are coming at the same time.
Overall, we spent 7925.43 CHF in June 2019. This is the highest level of expenses we have had this year. And hopefully, it will stay that way until the end of the year.
2019 Goals
Let's take a look at the state of our 2019 Goals as of the end of the month: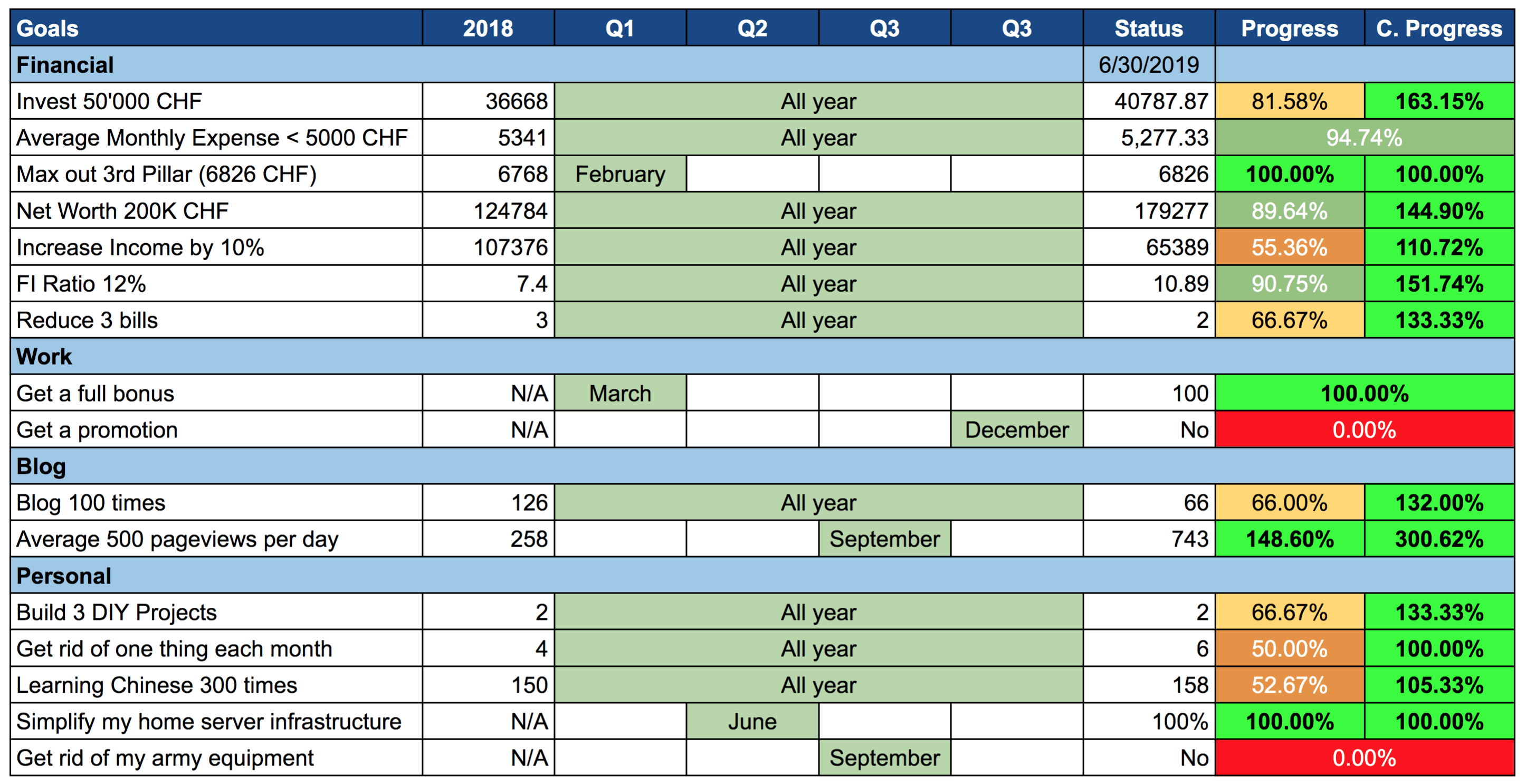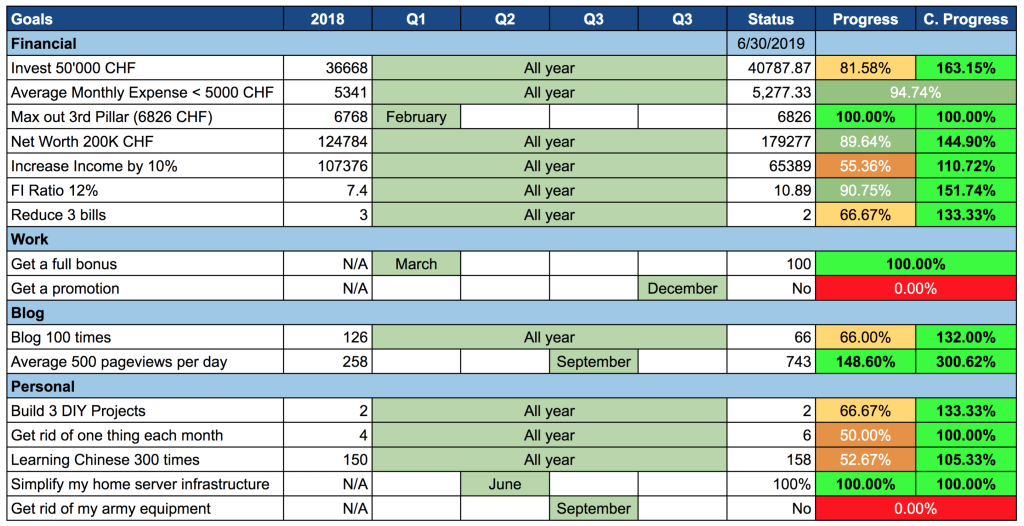 Generally, our goals are still going well. This month, we did not contribute a lot to them due to our bad financial month. We almost did not invest anything. And our average monthly expense went back above 5000 CHF with the expenses of this month. It is going to be difficult to move it back to below 5000 CHF. But we are going to try.
This month, I did a cleanup of our spice cabinet. There were so many out of date spices in our cabinet, it was a bit crazy. There was some old broth powder that we never use. And even some things that were new but already out of date for a while. This is a bit sad. We will have to be more careful with the spices we buy. We should try to avoid buying packs of spices for a recipe and then never using them again.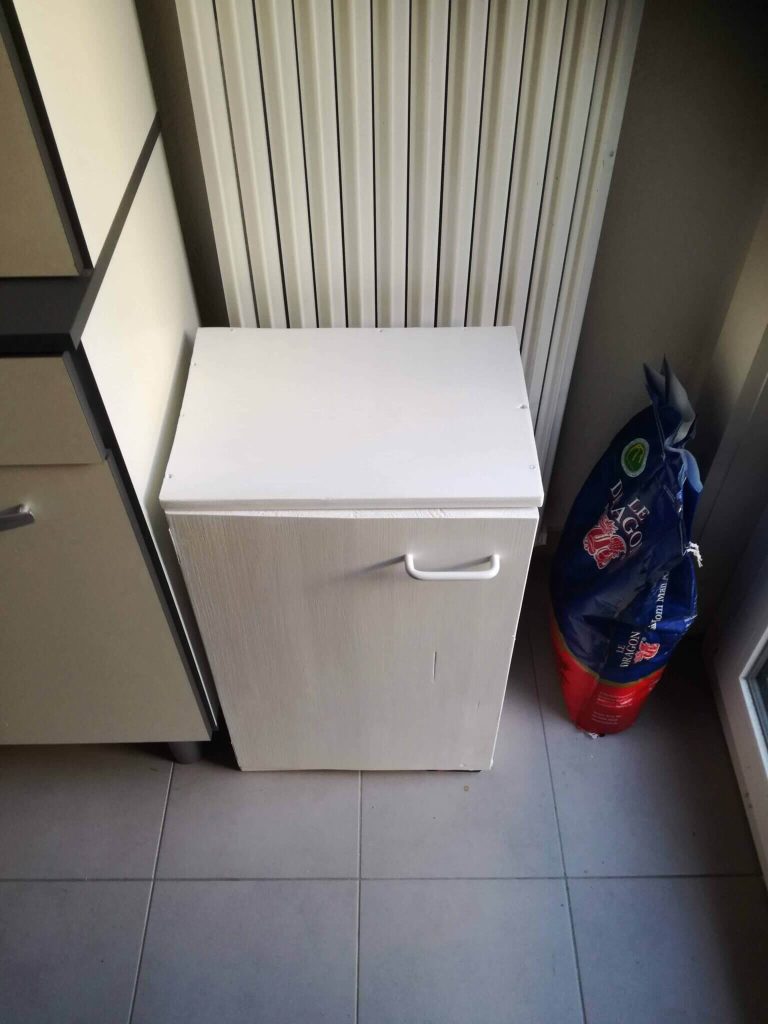 I also did our second DIY project. Indeed, I built a small kitchen cabinet! I have scheduled an article about that next month. We needed a bit more space and so I decided to build a cheap kitchen cabinet. It was the first time I installed a door in any of my projects. The result is not great but it is convenient and sturdy. I already know many improvements I could have done. This should serve me for the next projects.
Net Worth
Let's see how our net worth evolved in June 2019: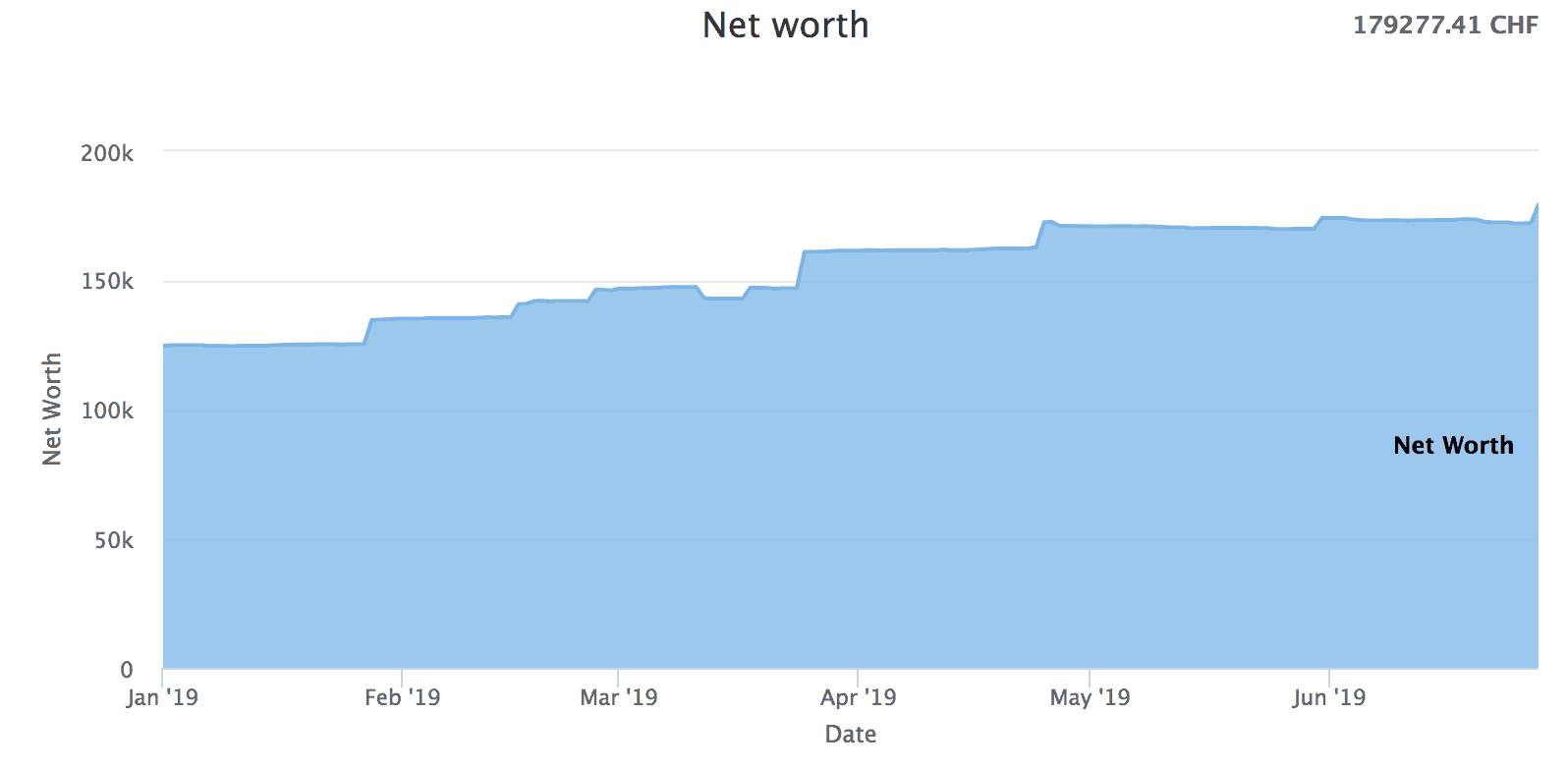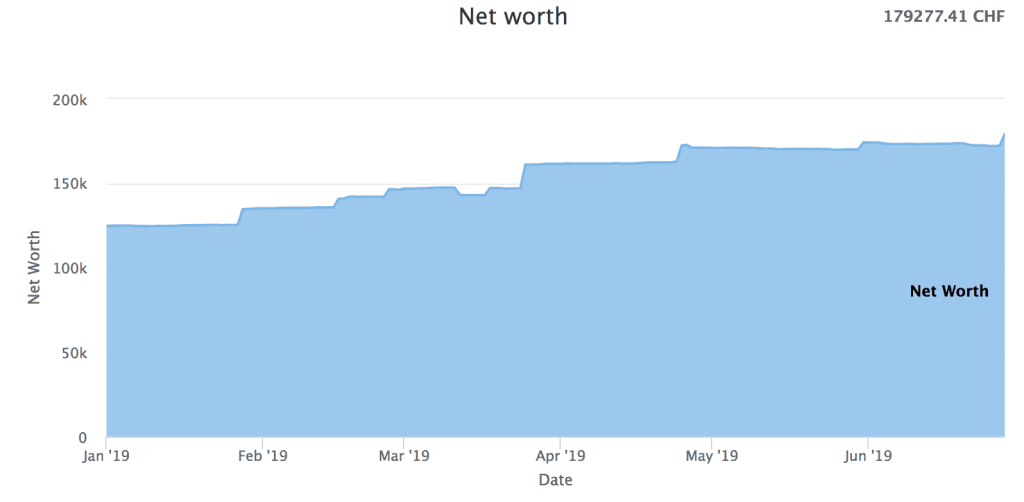 Our net worth went up to 179'277 CHF. I was hoping for 180K CHF this month. But there were too many expenses I did not properly account for. We should definitely be able to break 180K next month.
We saved very little and consequently invested very little as well. However, there was a nice increase in the stock market at the beginning of the month but then it went down a bit again. We are still up in the stock market. But not by a huge margin.
The Blog
This month, the traffic went back up. Overall, the traffic increased by about 10%. I also got more page views per user than before.
During June 2019, I went back to publishing three times a week on the blog. I was expecting a bit more improvements, but I should be content with a 10% monthly increase.
I will continue this rhythm in July 2019. If the increase continues like this, I am going to try to continue with three posts a week as a schedule.
I am starting to get many contacts for the blog. This really is great! I received two books that I reviewed. The reviews will be published next month. And I got several interesting discussions by mail. Moreover, next month, I will have an interview on another blog and a guest post on a great blog. Stay tuned!
I did not do anything really special for the blog this month. I did a few changes here and there in the theme to optimize it. Also, I added back an author description below each post with a new picture. But nothing really substantial. I also continued to improve some of my old posts to bring them back to a better quality. I would like to try to get a logo for my blog next month. We will see what I am able to find.
As usual, here are the three most read posts in May 2019:
Revolut Swiss IBAN: Top Up Revolut for Free: This post really went well this month with more than 1000 page views. It seems Revolut is still very fashionable.
Wise vs Revolut: Which is best for you? Travel cards are really popular!
Is DEGIRO really Cheaper than Interactive Brokers? Brokers are also popular. It is interesting that this post makes better results than the updated post. I will have to see how I can make the updated post better.
It is interesting (and a bit sad) that none of these posts are actually from this month!
Which was your favorite post of the month?
Next Month – July 2019
Next month, we have almost nothing planned. It should be a simple month from a personal point of view.
From a Personal Point of view,  July 2019 should be pretty uneventful as well. It should be quite good since I will receive some extra shares from my employer. This should bring up my income for next month. I am expecting we can go back to saving 50% of our income next month. And my ESPP shares should also vest next month. This should give a nice boost to our net worth.
What about you? How was June 2019 for you?