(Disclosure: Some of the links below may be affiliate links)
October 2022 was a weird month with many different things. The three of us were sick for almost two weeks at the beginning of the month. We also had some family and friends events.
On top of that, we also went on a short trip which was the first for our son. And finally, we started the first significant renovation work on our house. Given that investment, we did not save any money this month.
So, let's delve into the detail of this month.
October 2022
The month started very poorly. The three of us got sick. It is already not fun being sick, but two parents sick with a sick child is a nightmare. I started getting flu symptoms early on. Then, my wife picked on some of the symptoms, and finally, my son. Fortunately, the symptoms were weaker for him.
And when you add lack of sleep to the mix, you get three people sick for almost two weeks. That was not great.
The rest of the month went better, with several friendly parties with families and friends. After meeting friends in Valais, we spent three days in a hotel in Martigny.
It was the first holiday for our son. The days were quite lovely, and we had an excellent time. The nights were the stuff of nightmares, but we did not expect any different. It is sad that we did not rest or relax the whole trip, and we ended up much more tired than when we started. But we still had a good time.
Finally, we are planning to change the windows in our house. The windows are more than 25 years old and could benefit from a refresh. This upgrade will improve our home's heating efficiency and hopefully save us some money in the long term. The windows are not there yet, but we have already spent a 10'000 CHF deposit. This expense annihilates all our savings for the month.
So, we did not save any money this month. On the other hand, we will be able to deduct this from our taxes, so this will at least save us a little on taxes next year.
Expenses
Let's see the details of our expenses in October 2022:
| Category | Total | Status | Details |
| --- | --- | --- | --- |
| Insurances | 878 CHF | Average | Health insurance only |
| Transportation | 155 CHF | Above average | Two gas refills, some buses, and some parking |
| Communications | 134 CHF | Above average | Internet, my prepaid charge, and my wife's plan |
| Blog | 407 CHF | Above average | Many subscriptions were renewed, and I paid for some translations reviews |
| Personal | 1784 CHF | Well Above average | The holiday, many pharmacy items, many small things, kindergarten |
| Food | 732 CHF | Well Above average | A lot of eating out and extra groceries |
| Housing | 10525 CHF | Well Above average | 10'000 CHF deposit for windows, mortgage, and heating |
| Taxes | 5107 | Average | Taxes at each level |
In total, we spent 19725 CHF this month. This amount is much higher than our average and what we are willing to spend in a month. However, when not counting the deposit and the taxes, we only spent 4894 CHF, which is quite reasonable. 
The holiday weighted our budget, but since this is the only vacation we took in a year, it is still more than reasonable! The food budget should also get back to normal next month.
October is the first month in which we pay for kindergarten. We had to pay for two months (September and October). Typically, we will spend about 400 CHF per month from now on.
So, while we spent too much, I still think this is reasonable even though we are missing our targets.
2022 Goals
Let's take a look at our goals by the end of October 2022: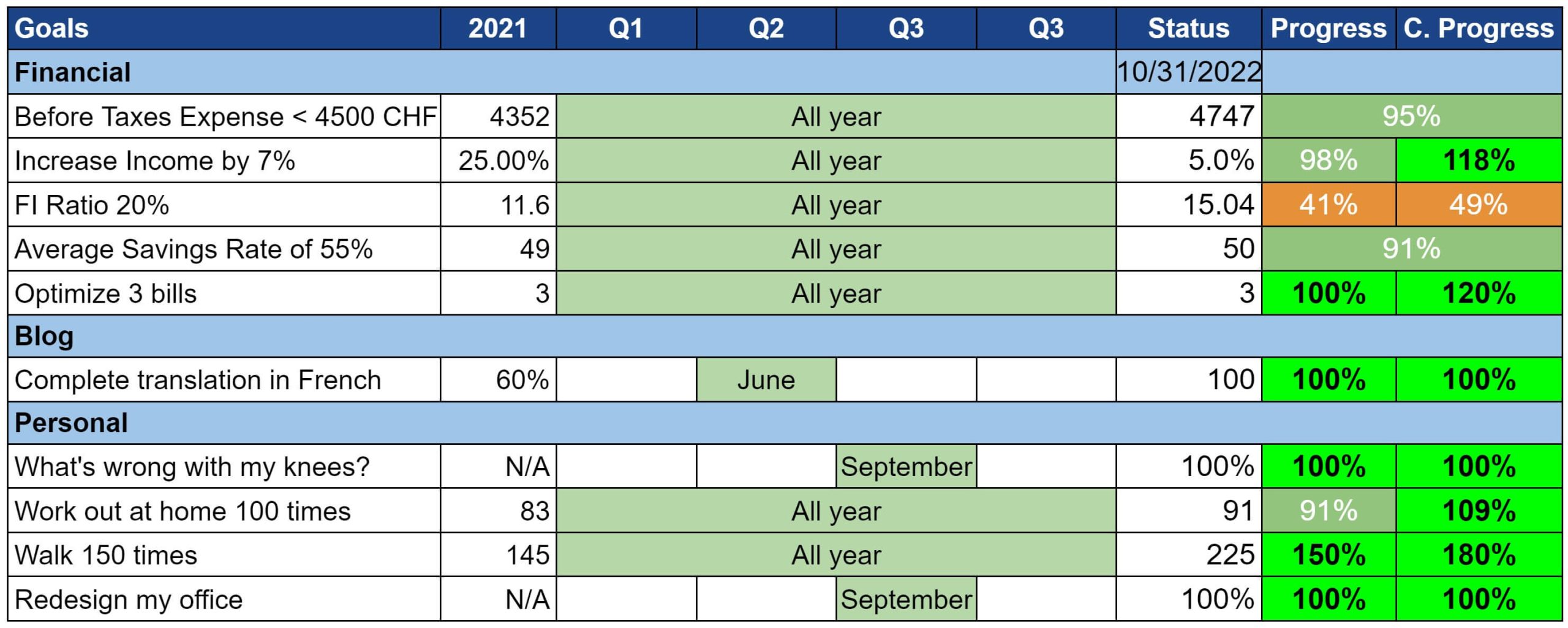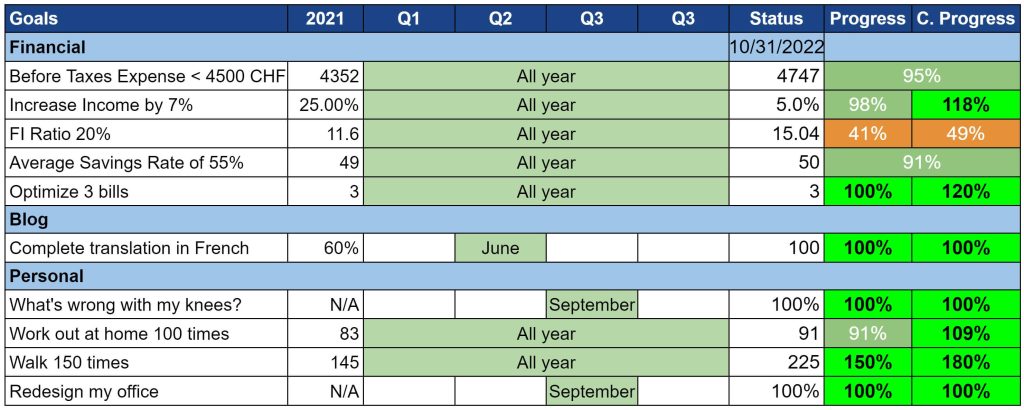 Overall, our financial goals have taken a big hit this month. We will now be unable to complete either the spending goal or the savings rate goal. We will still work towards them, but these goals are lost already.
My walking goal is going well, but my gym goal did not progress much this month. During the two weeks of sickness, I could not work out.
We were able to reduce our heating bill by 25 CHF per month. We managed the heating system better than the first year. Next year, it should go even lower since this year we have to do some maintenance. Next month, I should be able to reduce one more bill.
Overall, our goals are doing okay, but we did not account for two poor financial months during the year (taxes month and window deposits month).
FI Ratio
Let's watch our FI Ratio until the end of October 2022:


There are two interesting things to mention about my FI ratio this month. First, I changed my target withdrawal rate to 3.80%. Then, I realized there was a bug in my budgetwarrior application where this would not work for small changes in withdrawal rates. So, even though my withdrawal rate is now higher than before (easier), my FI Ratio has gone down after fixing the bug.
Our average expenses have also gone up, increasing our FI ratio. On the other hand, our net worth increased slightly because of the stock market (not thanks to our savings).
So, overall, our FI ratio is not doing great this year.
The Blog
There is not much to mention about the blog this month. The blog just turned five years old.
Aside from this milestone, there is not too much going on. I am testing the translation in German to see if the quality is good enough. At first sight, it looks good. I think this will be the next project for the blog before revamping the home page and thinking about ebooks.
I am also currently considering creating an LLC for the blog. This change may help us saves some money and may also help us after financial independence by delaying some income.
Aside from this, there is nothing else worth mentioning regarding the blog.
Next month – November 2022
In November 2022, we do not expect much. We have a few events planned with family, but that is about it. We are hoping the kindergarten adaptation improves and that the sleep gets better, but we are not optimistic about that.
Financially, I do not forecast anything in particular.
What about you? How was October 2022?