How Much We Spent in 2018 – Detailed Expenses Report
|
Updated:
|
(Disclosure: Some of the links below may be affiliate links)
Now that the year 2018 is finished, I thought it would be interesting to go over our entire expenses of the year. The idea is to see the aggregate view of the entire year. Most people only look at their expenses on a monthly basis. But a yearly basis can have a lot more information than that.
For instance, if you spend a relatively low amount on something, you may think at the end of the month that it is OK. But if you do the same thing every month, it can quickly pile up. Therefore, I think it is important to view the total amount of expenses as a whole for the year.
Moreover, there is also another advantage to this. It makes you check your expenses to be sure they are well categorized. Sometimes, I mix French and English names and therefore the categories are a bit screwed. Once this is fixed, it is better to have a good view of the entire budget.
In this post, I am going to go into details on the biggest expenses and the most important of the year 2018. I am also going to try to see where we can improve our expenses for 2019.
Expenses 2018
Overall, in 2018, we spent about 64'000 CHF. This is 7000 CHF more than in 2017. This is not really good to increase yearly expenses by 10% in one year. However, there are some things that changed in our life that explain that.
When we track our expenses, we put each expense into one of seven categories. Here are the total amount of each category and what they mean:
Personal: 21557: Everything that is for us. Holidays, shopping, gifts, Visa fees, health fees, gym and so on.
Apartment: 16027: Here is the rent and the power bills that is all.
State: 7343: All the taxes at all the different levels (country, state, and county).
Insurances: 6641: Health insurance, legal insurance, and insurances for the apartment.
Food: 5493: The name should be self-explanatory!
Transportation: 5264: Everything related to our car, to train, taxi and things like. Car insurance is in this category. But plane tickets are in Personal for holidays.
Communication: 1753: Our internet and mobile costs mainly. Also, a few services that I use on the internet.
Finally, this is the breakdown of our 2018 expenses: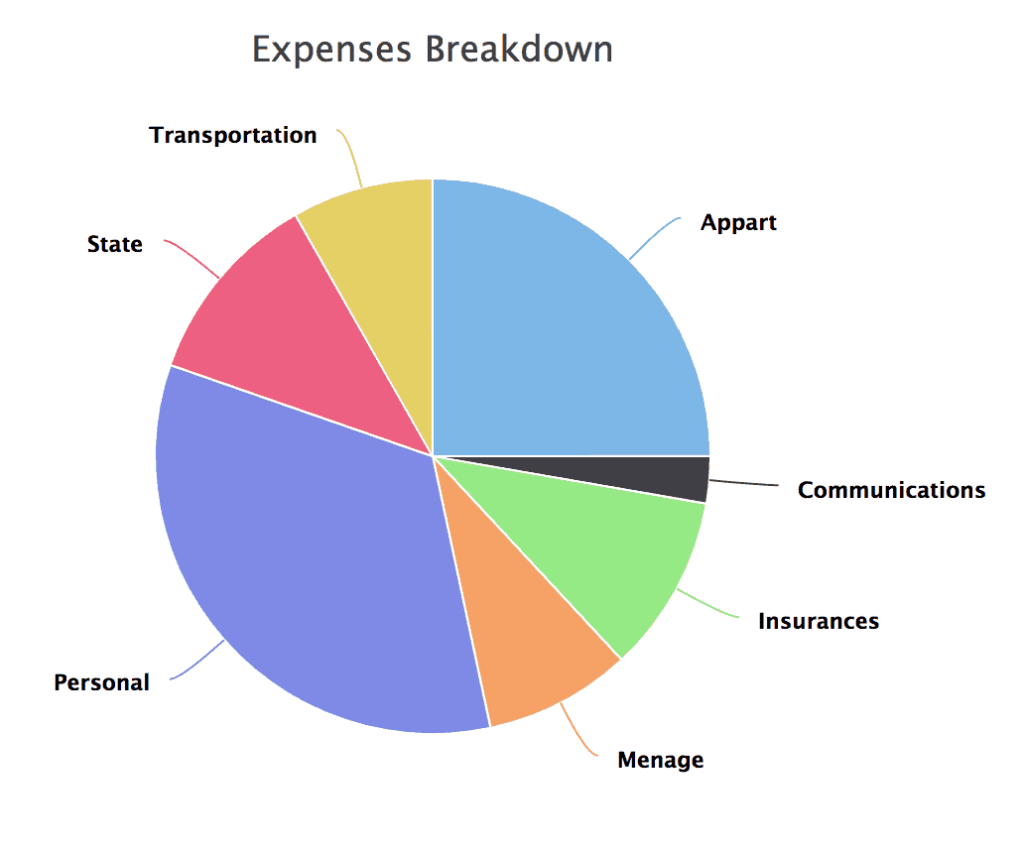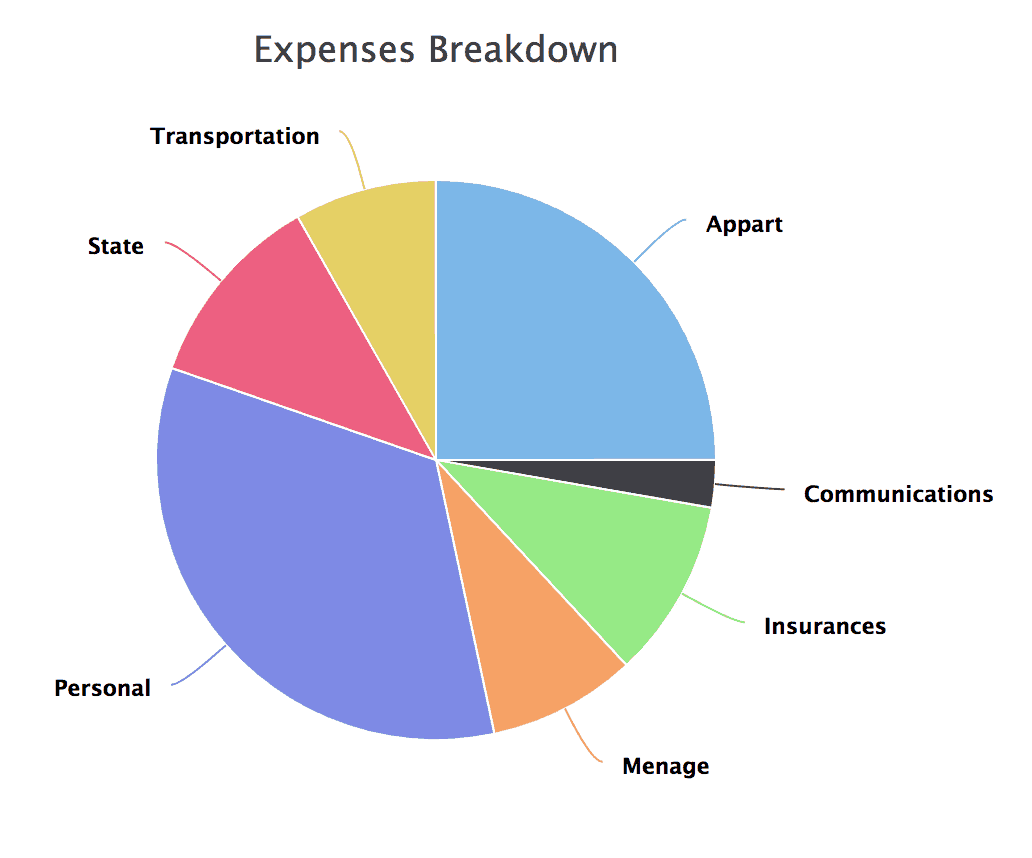 I do not think it is too bad. But for 2019, I am going to try to reduce the impact of the Personal category. There should be fewer things in that category. We spent a bit too much on non-mandatory things.
Now, we can start taking a look at some of the expenses in particular. I am not going to go into detail for every single expense of the year. This post would be too long. I am going to go over the biggest expenses and the interesting expenses as well.
If you would like to know how much we spend on something specific, do not hesitate to ask in the comments below!
Big expenses – Rent / Taxes / Health Insurance
First, I want to go quickly over the biggest expenses of the year:
Rent – 15'000. Rent is by far our biggest expenses. Last year, we reduced our rent by about 5%. Unless the reference index falls again, there is nothing we can do to reduce it further.
Taxes – 7300. Taxes are a big part of our budget. Next year, they will significantly increase because of my new job. I may do a second pillar contribution to reduce this if our finances are good enough.
Wedding – 6400. Last year, we got married! I will go into details of this one in the next section.
Holidays – 5700. We went on honeymoon last year and we had to pay twice for the flights to China. I also had to take some unpaid leave which makes a big cost as well. This year, we should spend less on our holidays I think.
Health Insurance – 5400. This is significantly more than last year because we are two people paying them now! And next year it will be even more since we have improved our health insurance coverage. Health insurance in Switzerland is going up in price year after year!
It is crazy that the five biggest expenses in our budget are making up for more than 60% of our entire expenses. For most of them, there is not a lot we can do to reduce them. That will mean we are quite limited in reducing our expenses for next year. We are going to need to get creative!
Wedding – 6400 CHF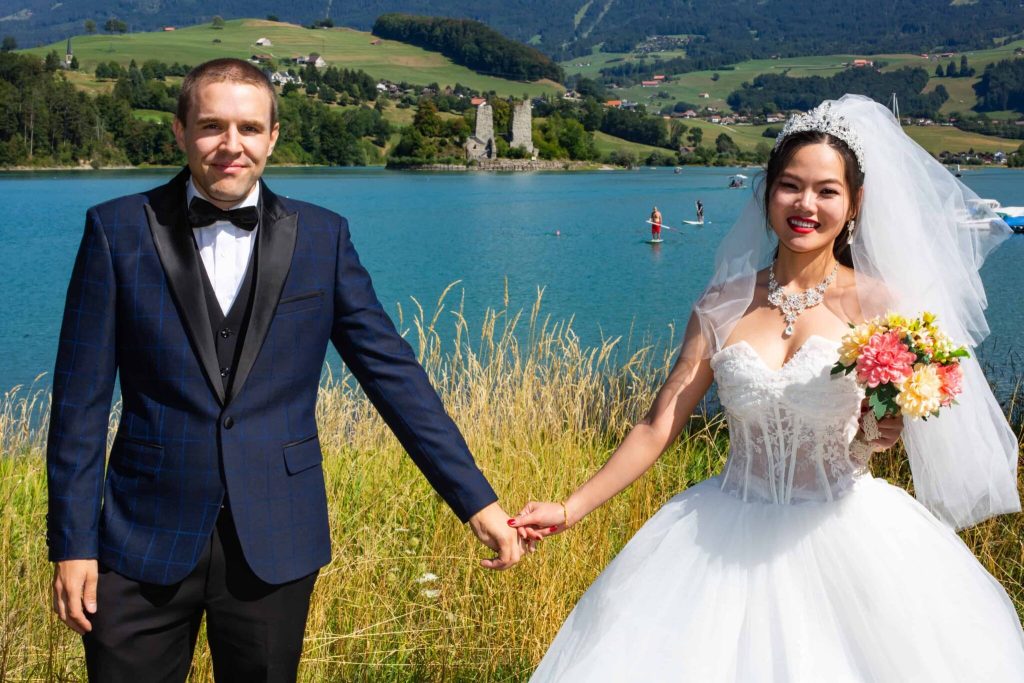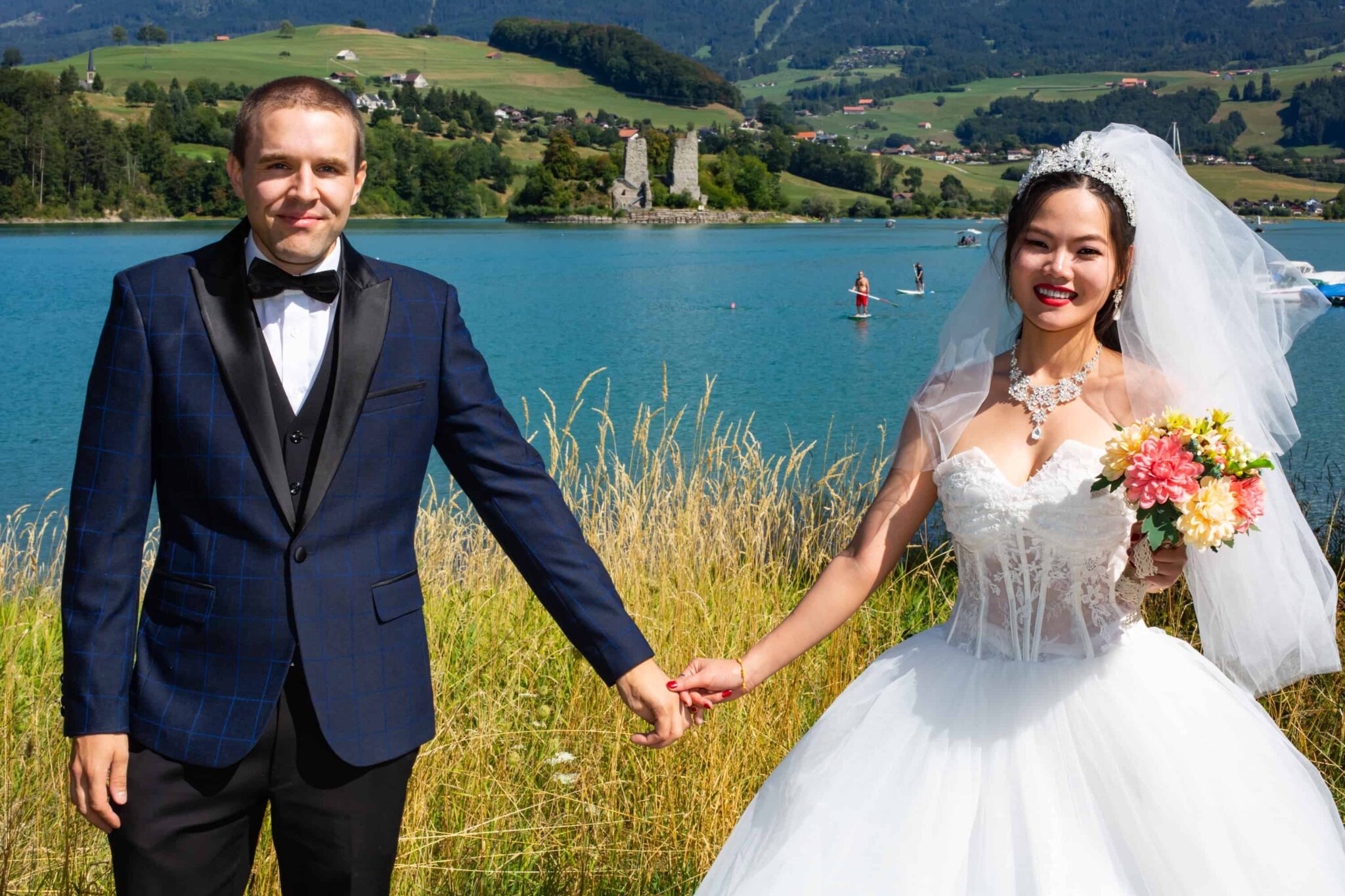 In the previous section, I said that we had 7000 CHF more expenses this year than the previous one. This is mostly due to our wedding. It cost us about 6400 CHF.
We do not regret this cost a minute! This was a wonderful day and we still managed to keep our wedding at a very reasonable level for Switzerland.
However, this is a cost that will not show up in 2019. I am expecting our average to go back down to about 5000 CHF per month next year. Actually, this will be one of my 2019 Goals.
Groceries – 3646 CHF
Groceries is one of our biggest remaining expenses. In 2018, we paid 3646 in Groceries. I am really satisfied with this number! It is only 300 CHF per month for two people. For comparison, in 2017, I spent 4532 CHF and I was alone to eat on that budget.
We really managed to keep our food budget in control. Since Mrs. The Poor Swiss arrived, we are cooking more and buying more in bulk. Our freezer is always packed with good price meat and things that we cooked ourselves. I do not think we have anything to change for 2019 on our Groceries. I am considering whether we should buy a bigger freezer. But that probably will not be for 2019.
Gas – 1280 CHF
Our gas expenses for our car are up to 1280 CHF this year. This is 50% more than last year. The reason is quite simple, we are going to many more places with Mrs. The Poor Swiss than I was going to when I was alone.
When I am by myself, I rarely go out. But Mrs. The Poor Swiss likes to go places. So we have been going out with our car far more than usual this year. I do not think it is a big deal since we are still at around 100 CHF per month. This is reasonable for our transportation budget I believe. I do not see a change next year. It may even get more expensive next year since Mrs. The Poor Swiss will be there for the entire year. And since she is almost done learning to drive, she may drive on her own as well.
Internet – 963 CHF
In 2018, we spent 963 CHF on our internet plan. This is quite good I believe because it is half of what I spent in 2017. In 2018, I was able to reduce my internet bill significantly by changing to a simpler plan. This is a really good reduction. We now pay 80 CHF per month.
However, this is still a large amount of money, almost one thousand francs each year. Since I do not download as much as I used to do, I will consider downgrading our plan to a cheaper one in 2019. The current plan is actually faster than what our home line allows. The lower plan would halve the current download speed. This could save us around 180 CHF per year.
Power – 957 CHF
One of the other big expenses in our budget is the power bill. In 2018, we spent 957 CHF. It is quite high. But it is good because it is more than 100 CHF lower than in 2017. And in 2016, it was even higher than that. We are on the right path to reduce our power bill.
For 2019, I plan to reduce the number of computers that are running, as part of my 2019 Goals. That will definitely mean some lower consumption on that part. I am also going to try to power off more things when we do not use them. I hope I can bring the power bills down to 800 CHF in 2019.
Health – 630 CHF
We had to pay 630 CHF for health-related fees in 2018. This is in addition to the immense amount of money that we pay for health insurance. I went twice to the dentist for controls. I also went once to the doctor for a stomach bug. And the rest is a few times we had to go to the pharmacy for both Mrs. The Poor Swiss and me.
It is a bit sad that we have to pay so much for health while we pay big health insurances. But at least neither of us was seriously sick. And neither of us goes a lot to the doctor. We should be able to keep our health costs below 1000 CHF in 2019.
Gym – 550 CHF
On 2018, we spent 550 CHF on Gym for Mrs. The Poor Swiss. I was also going for the gym but not paying because I was managing the website of the gym center. We now both stopped the gym at this place. The hours were not convenient enough for me with my new work schedule.
In 2019, I plan to start again going to the gym. I will find one center that is closer to my office and to which I can go before going to work in the morning. I am currently doing too many hours at my work and as such, I can cut it down with some gym every day. Mrs. The Poor Swiss is probably going to start a dance course in 2019. So we are going to spend more money on that this year. However, I think it is very important to stay in good shape. Especially for me who sits all day long in front of a computer.
Coffee -271 CHF
I am a big coffee drinker. I drink around five coffees per day on a workday. And probably around two or three on my days off. Generally, we are drinking Nespresso coffee. I almost never drink coffee outside of the home because the price is simply not reasonable. And coffee is free at my work. In 2018, we spent 271 CHF in coffee. This is more than I thought.
We have a Nespresso machine at home. In 2018, we drank a mix of Nespresso coffee and some cheaper alternatives that work in a Nespresso coffee machine (mostly Lidl). During the first five months, I also purchased coffee for my previous company. But this amount is bigger than I thought honestly.
Since I drink most of my coffee at work and it is good coffee, I will not buy Nespresso coffee anymore for the home in 2019. This should save us at least 200 CHF this year! I think I can easily live with only Lidl or Migros coffee at home.
Things to improve in 2019
From my analysis of our 2018 expenses, I have found out a few things that could be improved for our 2019 budget. Most of these I have already discussed in each of the previous sections. But I wanted to summarize them here.
Switch from Nespresso coffee to only Lidl/Migros coffee
Change to a cheaper internet plan
Switch to cheaper legal insurance. After looking at it, I have realized that my insurance was actually quite expensive.
Be more careful with our various expenses in the Personal category
I think we are going to be able to spend less in 2019. But it is going to be difficult because some of the expenses will increase (health insurance and gym for instance).
Conclusion
So, in 2018, we spent about 64'000 CHF. It is a bit too much I think. Our goal for 2019 is to cut it down to 60'000 CHF. It makes 5000 CHF per month and we think it is attainable and reasonable for the long-term.
There are a few things that we can do to improve our expenses as seen in the previous section. However, there are also expenses that are guaranteed to become more expensive, such as our new health insurances. And we will start sports again. It is going to be challenging to go under 5000 CHF each month. But we are going to do our best for that!
I think we are spending a bit too much. However, we did a comparison to the average Swiss household. And it seems The Poor Swiss couple is doing fairly well. To learn more, read my comparison of our budget against the average Swiss Household.
What about you? How much did you spend in 2018? How much do you plan to spend in 2019?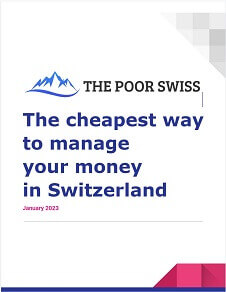 The best financial services for your money!
Download this e-book and optimize your finances and save money by using the best financial services available in Switzerland!
Download The FREE e-book