DEGIRO vs eToro: Which Is Better For You in 2023?
|
Updated:
|
(Disclosure: Some of the links below may be affiliate links)
There are many good brokers available. Today, we are comparing DEGIRO vs eToro, two popular brokers in Europe. So how do you choose between them?
You will need a broker account if you want to trade in the stock market. And you must choose your brokerage company well. You will likely keep the same one for a long time. And changing brokers is a significant pain.
DEGIRO is a broker from the Netherlands that advertises very low fees. And eToro is a broker from Israel that mainly promotes social trading.
So, how can you choose between the two? This article helps you decide by comparing in detail DEGIRO vs eToro. The comparison will be made on many levels: fees, availability, security, etc.
And remember: Investing involves the risk of loss. Always do your research before you invest and know why you invest and what you invest in.
What is DEGIRO?
Great broker for Europe

Let's start with DEGIRO.
DEGIRO is a brokerage company from The Netherlands. It was founded in 2018. They are offering their services in 18 countries and have been available in Switzerland since 2018. They are claiming about two million customers as of 2022.
The main selling point of DEGIRO is its low fees. They use fees as their primary advertising point and have been growing very fast.
They offer access to many investing instruments (stocks, bonds, ETFs, and so on) in many different stock exchanges.  But In this article, we will only compare these two brokers on stocks and ETFs.
If you want more information about them, I have written a full review of DEGIRO.
What is eToro?
eToro is a brokerage company founded in 2007 in Israel. They now operate in more than 140 countries and claim 11 million users. The company is currently valued at over 800 million dollars. These are impressive numbers!
eToro selling points are on two fronts:
Their low commissions.
Their social trading systems.
The first point is self-explanatory. But the second point is where eToro differs from other brokerage companies. They have two significant features for that. They have the CopyTrading feature that you can use to copy the trades made by the most successful traders in the customers. And you can also use the CopyPortfolio feature to copy the portfolios of other users or famous investors.
They offer access to many investing instruments: stocks, bonds, ETFs, CFDs, and even cryptocurrencies. But we will only talk about stocks and ETFs in this article.
For more information, you can read my review of eToro for Swiss investors.
Which has better minimums?
Let's trade to compare the minimum of DEGIRO vs eToro.
First, eToro has a minimum deposit limit of 200$. You will need at least this amount to start trading with them. On the other hand, DEGIRO has no minimum deposits. So you can start with a tiny amount. It is probably not a big deal since this is a tiny minimum.
eToro supports fractional shares, so you buy fractions of shares (with a minimum of 10 USD). DEGIRO does not support fractional shares, so you must buy entire shares. For most people, this should not matter either.
Overall, both brokers have good minimums.
Which is more available? DEGIRO vs Toro?
First, let's check the availability of DEGIRO vs eToro worldwide.
eToro is available in more than 60 countries, including the United States. There are some countries where eToro is blocked.
On the other hand, DEGIRO is available in 18 European countries.
From an availability point of view, eToro is much better than DEGIRO.
Which has better support in Switzerland?
We cannot look at the detail of each country. But let's look at the detail for these two brokers in Switzerland.
As a Swiss, you can open an account with both platforms. However, there is an essential difference regarding currency.
DEGIRO offers access to Swiss Francs (CHF) if you have a Swiss account. You can deposit money directly (and for free) to your account in CHF.
On the other hand, eToro operates with U.S. dollars (USD). You can deposit dollars directly to your account. They also support deposits in other currencies (EUR, GBP, AUD, RMB, THB, IDR, MYR, VND, PHP).
If you are paid in EUR, you can deposit your money directly on eToro. However, this will not be free. And this is expensive. You will pay a 0.5% fee on each deposit and withdrawal. This fee is terrible.
However, you cannot deposit CHF into your account. So, you will have to convert it to USD or EUR before wiring it to eToro, for instance, with Revolut or Wise. Or with your bank, but this will be excruciatingly expensive.
Regarding access to stocks, both DEGIRO and eToro give you access to the SIX Stock exchange. SIX is the principal stock exchange in Switzerland. Both brokers will give you access to all the Swiss shares you need.
So, for Swiss investors, DEGIRO is miles better than eToro. eToro is only acceptable if you have USD directly. Otherwise, the conversion fees are terrible.
Which has more features? DEGIRO vs eToro
We can take a look at the features that both brokers offer.
Since we are primarily passive investors, we should start by looking at the offer of ETFs. And there is a big difference between these two brokers here. The choice of ETFs on eToro is very limited. You do not have access to all the ETFs on the stock exchanges. On the other hand, DEGIRO does not limit your choice.
So if you are a passive investor, ensure that eToro supports your ETFs before using them. Or simply, directly use DEGIRO instead.
They both offer a mobile application and a web application. I have seen that eToro applications are better designed and more polished than DEGIRO applications. But this is mostly a matter of taste. And they are both aimed at being very simple to use, even for beginners.
For trading, both brokers offer similar features. You can buy and sell shares with the typical stock market order types. There is nothing special here for either of the two brokers. They both have more trading features than you need.
One difference is that DEGIRO does not let you trade currencies. You can only hold one currency in your account. Once you buy something in another currency, it will be automatically converted (for a fee). eToro, on the other hand, lets you trade currencies directly.
From a research point of view, eToro offers more information on each stock than DEGIRO does. For me, this does not matter since I only invest in very few ETFs. But for some people doing more active trading, this could be important.
On top of that, DEGIRO does not have other features.
On the other hand, eToro has several features for what they call social trading. As I mentioned in the introduction, with eToro, you can copy the trades of another investor, or you can replicate some famous portfolios. Again, I do not think this matters much if you are a simple passive investor. But these features are still quite interesting.
eToro makes it very easy to use advanced features. It may be why 75% of people on eToro are losing money. Leverage investing should not be easy to use. On the other hand, even with DEGIRO, the majority of users are losing money.
So, eToro has many more features than DEGIRO. But it only matters if you need these features. And if you are a passive investor and want to invest in ETFs, DEGIRO offers many more ETFs. DEGIRO is more suited for passive investors, while eToro wants to attract active investors.
DEGIRO vs eToro – Which is cheaper?
Both brokers are cheap, so let's see which of DEGIRO vs eToro is cheaper.
For stocks and ETFs (the only two things I am interested in), eToro has zero fees! Yes, you heard that right. You can trade in stocks and ETFs for free with eToro. This commission-free trading is only for long positions without leverage. But this is fine because we are all about passive investing here.
On the other hand, DEGIRO is only free of transaction costs (other fees apply) for the Core ETFs. However, DEGIRO has low fees on most exchanges.
We can compare both to take a look at the difference:
| Operation | eToro | DEGIRO |
| --- | --- | --- |
| Buy 10000 USD of Apple | 0 USD | 1 EUR |
| Buy 5000 CHF of Novartis | 0 USD | 6 CHF |
| Buy 1000 EUR of Audi | 0 USD | 4.90 EUR |
So, at first sight, eToro is much cheaper than DEGIRO. While DEGIRO is still cheap compared to other brokers, eToro zero-commission trading cannot be beaten.
The spread between the bid and ask prices will be significantly higher with eToro. This is one of the ways they make money. However, it is challenging to quantify.
That is true only if you can transfer USD directly to your eToro. As we have seen before, eToro does not accept CHF. It means you will have to convert it somehow. And while eToro accepts EUR, they charge a horrendous fee of 2.5% per deposit and withdrawal. This insane fee completely dwarfs all the fees you would ever pay with DEGIRO.
We can shortly talk about currencies as well. DEGIRO does not allow you to trade currencies. Once you need another currency, it will be converted automatically. This conversion will cost 0.25% of the transaction, and this fee is not negligible.
On the other hand, eToro lets you buy foreign currency. The fees vary from currency pair, from 0.03% to 0.50%. You can find the actual spreads here.
Finally, let's look at non-trading fees. Deposits are free with both brokers. Withdrawals are free with DEGIRO but will cost 5 USD for eToro. Also, eToro has an inactivity fee of 10 USD per month if you have not logged in to your account in a year. Everybody can ignore this fee since everybody should connect at least once a year to their broker account.
DEGIRO has one extra fee: the exchange connectivity fee. For each exchange you use (excluding your local stock exchange), you will pay 2.50 EUR per year.
Which is more secure?
Let's take a look at the security of DEGIRO vs eToro. Your assets must be secure if you plan to invest a large amount of money.
From a technical point of view, both brokers are secure. They both offer Two-Factor Authentication. And I have not found any information about leaks or breaches in these brokers.
Technical security is probably more important than you think. If you have money accessible online, you need to be careful about your online security.
How are these brokers regulated?
Both brokers are well regulated by European and International laws.
Since eToro operates in many countries, it must comply with several laws. So, based on where your account will be, there will be different regulations. The German Authorities (BaFin) regulate DEGIRO.
How are your assets protected?
In both cases, you will have the same protection of 20'000 EUR if you use their European accounts. This protection is only protecting your cash. Assets should generally be in your name and, as such, be safe from bankruptcy.
DEGIRO and eToro are holding your assets in segregated accounts. Segregation means that your assets are not on their balance sheets but on a subsidiary company. This segregation is essential because this should ensure that if the main company bankrupts, your assets are safe with the second company.
In both cases, when you buy stocks, you will directly buy the real stocks, which will be held in your name. Now, there are two exceptions to consider.
First, by default, DEGIRO will be able to lend your assets. It means they can decide to lend your assets to a short seller without you knowing. It incurs a small extra risk.
eToro also has some exceptions where stocks are held as Contracts for Differences (CFDs) and not real stocks. This can be a major issue if you are buying US ETFs. Indeed, all US ETFs are purchased as CFDs instead of the stock itself.
For European ETFs, this should not be a problem unless you use the Milan Stock Exchange or the Helsinki, Copenhagen, and Oslo stock exchanges. In these stock exchanges, stocks are purchased with CFDs. You should read the list of eToro exceptions to be sure.
CFDs are not regulated as well as stocks and are not protected either. So, if something happens to eToro, you will not have the same level of protection as if you had stocks. When owning a CFD, you do not own the stock!
Reputation -DEGIRO vs eToro
We can also compare the reputation of DEGIRO vs eToro.
Both brokers have an average reputation. They both have some big fans and some prominent detractors. But they do not have an excellent reputation.
Let's take a look at the user reviews of DEGIRO on TrustPilot. They are graded at 3.6 out of 5. The main issues pointed out by customers are mainly about customer service (or the lack of customer service). Other problems are related to withdrawals that seem to be slow in some countries.
We also need to remember that many reports are simply people who did not read the conditions and are salty for paying a fee they did not research. Let's also keep in mind that many people are complaining about the waiting list that is in place during the coronavirus crisis.
Let's do the same for the user reviews of eToro on TrustPilot. They do worse than DEGIRO, with 2.4 out of 5. The main complaint about eToro is that they often change the fees and conditions. It means that when you create your account, the conditions could be different than a few months later when you trade.
Other complaints are about the very high currency conversion fees and the high spreads. Many people also complain about the lack of transparency in the way zero-commission is advertised. They also seem to have several issues executing orders, which is concerning. Finally, there are also some complaints about customer service, but fewer than DEGIRO.
Some of the bad eToro reviews are simply people that did not do research. But the official information indeed lacks transparency for fees.
When comparing the reputation of DEGIRO vs eToro, DEGIRO has better reviews than eToro. But neither of them has a great reputation.
DEGIRO vs eToro – Summary
To finish this comparison, here is a summary of the primary comparison points between the two services:
Pros:

Great prices

Many investing instruments

Free deposits

Pros:

No trading fees

Many trading features

Cons:

Poor transparency

Expensive deposit conversion

Poor customer service

Poor reputation
Great broker for Europe
Pros:
Great prices

Many investing instruments

Free deposits
Pros:
No trading fees

Many trading features
Cons:
Poor transparency

Expensive deposit conversion

Poor customer service

Poor reputation
There are some good and some bad with each of these two brokers. eToro has extra features for social trading and offers zero-commission fees. However, eToro is bad if you do not have USD to deposit on their accounts. Because of that, it will be more expensive than DEGIRO.
You need to be careful about that because many people do not realize that before they start depositing money into their accounts. I would never use eToro unless I could directly deposit USD into my account.
Also, eToro lacks transparency and makes a lot of changes to its policies and fees without the proper information. Some of the things I have read about this worry me. But I will let you form your own opinion.
DEGIRO vs eToro Conclusion
Great broker for Europe

We have now compared DEGIRO vs eToro in detail.
DEGIRO and eToro are very different brokerages. DEGIRO is suited to European countries, while eToro is more of an international brokerage.
Now, for Swiss investors, DEGIRO is much better than eToro. Since eToro does not support CHF deposits, you will have to convert your money with your bank or with a service such as Revolut. But this is highly inconvenient. And even if you have access to EUR, the conversion fees are just outrageous (2.5%!).
eToro is only good if you have access to USD. Otherwise, it simply does not make sense. The fees you will pay for the conversions will outweigh the benefits of having zero-commissions trading, and by far! On top of that, the fact that many positions are held through CFDs is a serious lack of safety for investors.
On the other hand, DEGIRO handles CHF and EUR deposits and also has very low fees. If you want to learn more, read my review of DEGIRO.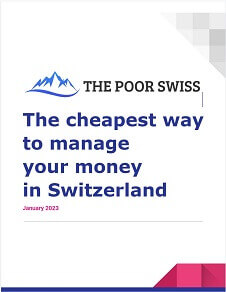 The best financial services for your money!
Download this e-book and optimize your finances and save money by using the best financial services available in Switzerland!
Download The FREE e-book