eToro Review for Swiss investors in 2023
|
Updated:
|
(Disclosure: Some of the links below may be affiliate links)
eToro is a popular trading platform in Europe. They are branding themselves as a social trading platform. They indeed have features to copy what other investors are doing.
This article focuses on whether eToro is any good for Swiss investors. Should you use eToro as your broker to invest in the stock market? Let's find out!
About eToro

| | |
| --- | --- |
| Custody Fees | 0% per year |
| Inactivity Fees | 0 CHF |
| Buy Swiss ETF | Not possible |
| Buy American Stock | 0 |
| Currency Exchange Fee | 0.5% |
| Languages | English |
| Mobile Application | Yes |
| Web Application | Yes |
| Custodian Bank | Unclear |
| Established | 2007 |
| Headquarters | Israel |
eToro
eToro started in 2007 in Israel. Initially, one could only invest in commodities, forex, and indices. They added support for stocks only in 2013, at the same time as Contracts for Differences (CFDs), and finally added support for crypto in 2014.
In 2010, they started their CopyTrading feature at the base of their social trading platform. This feature allows a user to copy the trades of another investor automatically.
eToro is a popular platform with about 25 million users. However, they only have about 2 million funded accounts.
Features
eToro allows you to trade many different instruments:
Stocks
ETFs
Commodities
CFDs
Forex
Cryptocurrencies
So, they already have more instruments that people need.
It is important to note that they do not give you access to the entire stock market. eToro offers a selection of stocks and ETFs from the stock market. And they are also relatively limited in the stock exchanges they offer access to. For instance, they do not provide access to the Swiss Stock Exchange (SWX).
With eToro, you can trade from the web interface directly or using the mobile application.
It is essential to know that eToro accounts only hold USD. You can deposit money in other currencies, for instance, with a bank transfer or Paypal. However, this money will be directly converted by eToro to USD. And this conversion will cost at least 0.50%. So, if you deposit CHF on this platform, you will instantly lose 0.50% of your money. And this will be the same for withdrawals. The lack of support for CHF is a major limitation of eToro for Swiss investors.
In the United Kingdom, you also get access to eToro Money Account, where you can transfer money directly in GBP and get it converted for free. So, in the future, more countries may benefit from conversion-free deposits. But currently, this is not available in Switzerland.
There are also a few limitations for stocks. First, you cannot transfer your stocks out of eToro. So, if you want to move your stocks o another broker, you will have to sell your positions and transfer the money out. You also do not get any voting rights on the stocks you own. Finally, on several stock exchanges like the Milan Stock Exchange, all stock transactions are executed as CFDs. I think these limitations are a little concerning.
As far as social trading goes, they offer two main features:
CopyTrading: Directly copy the trades of top traders. You can explore the leading traders and find the most interesting for your needs.
Copy Portfolios: Follow existing portfolios and invest automatically like them.
It is important to note that both of these features encourage active trading. By portfolio, they do not mean a passive portfolio like the three-fund portfolio but rather an actively managed portfolio. The reason is simple: their business model makes them want their users to make more trades.
Overall, eToro has many features, but they are targeting active investors. They have enough features for passive investors, but the platform is not the best.
eToro Fees
Let's also look at the fees of eToro. Fees are essential when you are choosing a broker.
We have already discussed the currency conversion fee when you deposit or withdraw money that is not USD. There is also a 5 USD withdrawal fee.
The fees are really easy to invest in stocks: there are no fees. Yes, eToro has commission-free investing for stocks and ETFs. This is a big advantage of eToro over other services.
You may wonder how they make money. They make money on the conversion fees we saw before and also on the spread. They also have fees for other products, such as crypto-currencies. And they finally make a lot of money with CFDs.
For cryptocurrencies, the fees are relatively high. For instance, you pay 0.75% for Bitcoin and 1.90% for Ethereum.
Overall, for passive investors, the fees of eToro are pretty great. However, if you happen to be in Switzerland, their prices are really bad since you cannot transfer money for free to their platform.
You have to be careful that commission-free brokers often have disadvantages.
Is eToro technically secure?
Overall, it seems like eToro is technically secure. They offer high-end encryption, and users can opt-in for two-factor authentication.
In 2020, there was a data leak on eToro, resulting in about 60'000 accounts being sold on the dark web. Whether the leak was coming from an attack on eToro itself or a direct attack on eToro users has not been confirmed. But this is concerning.
You should remember that the weakest link in any security is always the user. Most users are not serious about online security.
Overall, I think that eToro is secure. But the data leak is still concerning.
What if eToro bankrupt?
One important thing to consider is what would happen if eToro were bankrupt.
If you buy shares without leverage, eToro purchases the underlying assets in your name. They are then put in an omnibus account, which is an account with many people inside. And they are in your name.
In theory, if eToro went bust, another financial institution would give back the shares to the owners. This process could take a long time, but it would, in the end, be completed with everybody back with their shares.
In the case of leveraged positions or advanced positions like CFDs, this is much riskier. You are unlikely to get anything back since eToro will not buy the underlying assets.
In Europe, eToro is regulated by the Cyprus Securities and Exchange Commission (CySEC). This entity has an investor protection scheme that could reimburse up to 20'000 EUR in case you cannot get back your shares. 
It is a little concerning that the reputation of the regulation entity (CySEC) is quite bad. There have been a few cases where they did not act against fraudulent firms. I do not know in what measures this is true. But this is still concerning that eToro is regulated by such an entity.
What is also concerning is that you cannot transfer shares out of eToro. For me, this is a bad sign of what would happen if eToro was to go bankrupt. And you also get no voting rights and cannot register the shares in your name (Direct Registration System).
I am not confident that people would get their shares back in case of bankruptcy. It seems likely that many people would lose their shares.
eToro reputation
Let's look at the reputation of eToro now.
My main source of information, in that matter, is Trustpilot. I know it is imperfect, with sometimes fake reviews and not always representative. But I still believe it is a good proxy for reputation. So, let's look at the eToro profile on Trustpilot.
They got a 4.2 out of 5 stars average. 52% of the reviews are rating eToro as excellent. On the other hand, 28% of the reviews rated it as Bad. So, there are some mixed experience returns.
Among the positive reviews, we can see these subjects come back a lot:
The platform is straightforward to use
The support team is very helpful
Good for trading stocks
On the negative side, we can see a few things come several times:
Difficult and expensive to withdraw money
Some people got their accounts closed
High spreads
I am generally not too worried about the accounts being closed because that comes back for most services, and it is usually people that do not follow (or even know) the rules. And there are not that many. The other two points are valid, but this information is available on the website.
So, overall, users seem to be rather content with eToro.
Alternatives
There are many interesting alternatives to eToro.
The best similar alternative to eToro is DEGIRO. DEGIRO handles CHF correctly and has low fees as well. They also do not focus on social trading and are a more solid broker than eToro. I am much more confident about the security of shares on DEGIRO than on eToro. For more details, you can read my comparison of DEGIRO and eToro.
The second alternative I would mention is Interactive Brokers (the broker I am currently using). It is a broker from the United States. It is much cheaper than eToro (and DEGIRO) and can receive CHF directly. I am also confident about the security of my shares on IB.
Finally, if you prefer Swiss brokers, we should mention Swissquote. Swissquote, like any Swiss broker, will be more expensive than eToro. But Swissquote is also much more trustworthy! You can read my review of Swissquote for more information.
Overall, I feel like there are many better alternatives for Swiss investors. And your money would be safer with these alternatives rather than with eToro. If you want more details, you can read about the best brokers for Swiss investors.
FAQ
Can you deposit CHF in your eToro account?
Yes, but that CHF will be converted to USD, with a 0.50% fee!
Can you withdraw money for free from eToro?
No, withdrawals cost 5 USD.
eToro Summary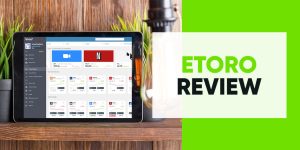 eToro is a popular broker from Israel, with several millions users.
Product Brand: eToro
eToro Pros
Let's summarize the main advantages of eToro:
Commission-free trading of stocks
Access to cryptocurrencies
eToro Cons
Let's summarize the main disadvantages of eToro:
Not confident that shares would survive eToro bankruptcy
Cannot transfer shares out of the broker
Not possible to deposit CHF for free in the account
withdrawals are not free
Encourages active trading
Encourages CFD trading
High fees on cryptocurrencies
Expensive currency conversion
Inactivity fee
Conclusion
I do not think eToro is a good broker for Swiss investors. The simple fact that you cannot deposit Swiss Francs for free on the platform is already enough not to recommend it.
Also, I am not very confident about the security of the shares on this platform. It appears to be technically secure. But there are many concerning things, like the fact that you cannot transfer shares out of the broker, that make me think that people will have a hard time getting back their shares in case of bankruptcy.
Finally, I see social trading as a disadvantage. eToro makes it too easy to follow people blindly. There are some good investors, but I do not think they can beat the market over the long term. And it is essential to note that eToro was created after the last long bear market. So, it will be interesting to see what happens if we get another bear market lasting more than a few months.
And I have to remind people that CFDs are extremely risky. On average, 68% of people are losing money with CFDs.
So, overall, I would not recommend this service. If you are looking for a good broker, you can read about the best brokers for a Swiss investor.
What do you think about eToro? Do you have any experience with them?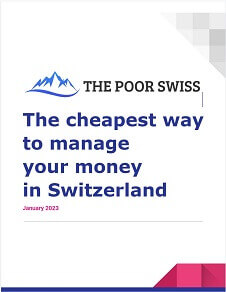 The best financial services for your money!
Download this e-book and optimize your finances and save money by using the best financial services available in Switzerland!
Download The FREE e-book