Your retirement benefits after your death
|
Updated:
|
(Disclosure: Some of the links below may be affiliate links)
In this blog, I have talked at length about the retirement system of Switzerland, the so-called three pillars. However, I have not covered what would happen to these different parts in the event of your death.
Even though this is a subject that most people prefer to avoid, it is an important subject. Indeed, you want to be sure that people who depend on you will be covered if this happens. And it is also essential to know about that in some special situations.
And it is also important to cover what happens before retirement age and after retirement since this will vary.
So, in this article, we will cover what will happen to each of the three pillars in the event of your death.
First Pillar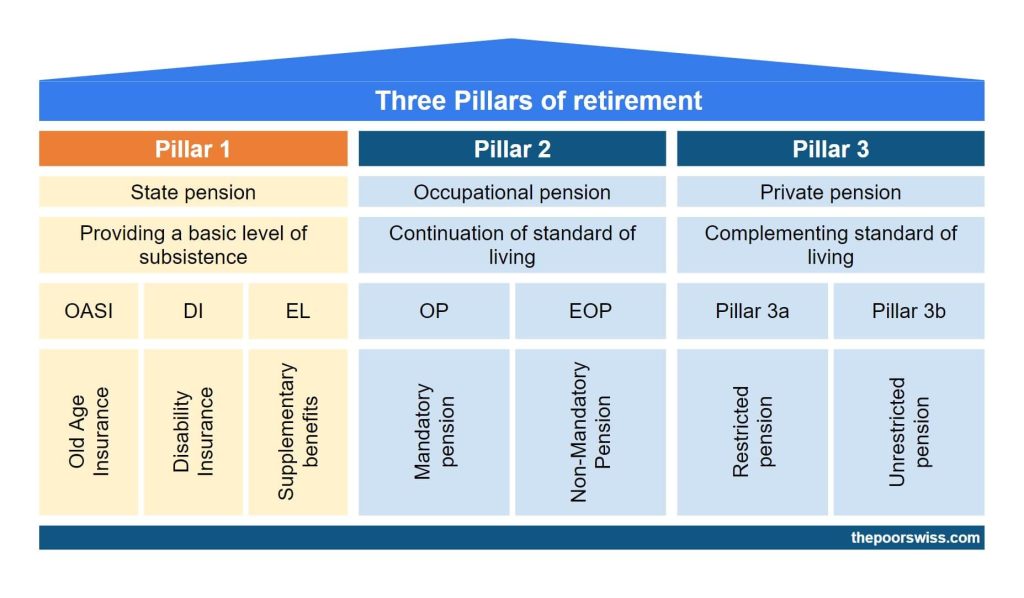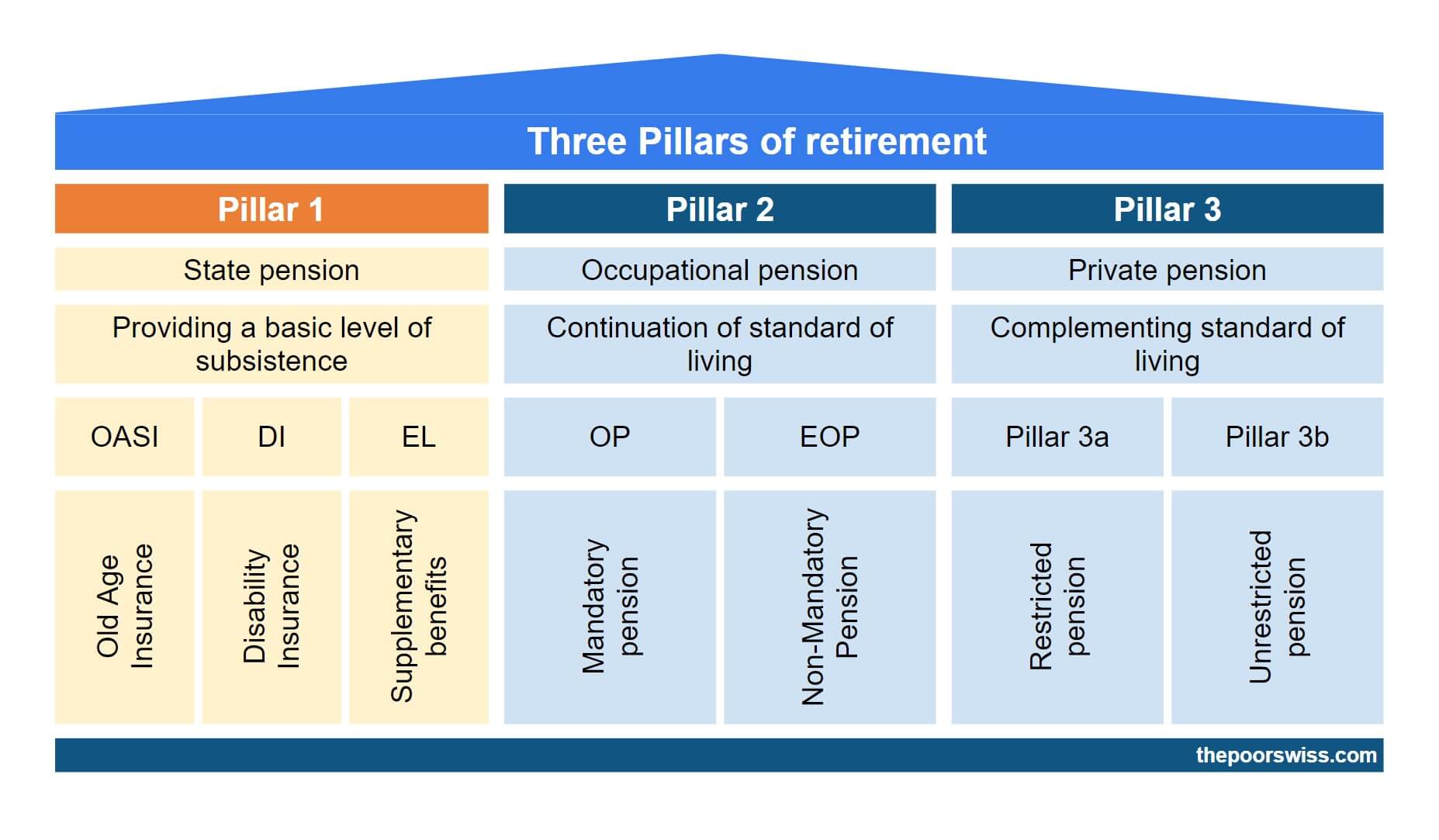 The first pillar will pay you a pension after your retirement age. This pension will depend on how many years you have contributed and how much money you have contributed.
Part of your pension could go to your surviving spouse and children if you die. The conditions for each are different, so we must see them all.
With the first pillar, it does not matter whether you die before or after retirement. The same conditions for the pensions will apply.
Widow pension
A married woman (or registered partner) is entitled to a widow pension from her husband if:
They have children, or
She is 45 or older, and the marriage lasted for at least five years.
A divorced woman is entitled to a widow pension from her ex-husband if:
They have children, and the marriage lasted for at least ten years, or
She was more than 45 years old at the time of divorce, and the marriage lasted for at least ten years, or
The youngest of their children is younger than 18 years old when she reaches 45 years old
If none of these conditions are met, the divorced woman will get a widow pension until the youngest of their children is younger than 18 years old.
The conditions for a man are simpler. A man is entitled to a widow pension from his spouse (or ex-spouse) if he has children younger than 18.
It is important to note that you cannot be entitled to two pensions. So, if you are getting a widow pension and retire, you will only receive the highest of the two pensions you would receive, not the sum.
The pension will be added to your taxable income. Therefore,  you will pay income taxes on it.
How much the widow will receive depends on many things. Unfortunately, this is not as simple as it should be. As for January 2022, the minimum full widow pension is 956 CHF per month, and the maximum full widow pension is 1912 CHF per month.
The pension is full if the deceased person contributed to the second pillar from the 1st of January following its 20th birthday to its death. Otherwise, a partial pension will be calculated based on the years of contribution.
The decision between the minimum and the maximum is based on the average revenue of the deceased. Below 14'340 CHF average annual revenue, the minimum pension is due. After 86'040 CHF average yearly revenue, the maximum pension is due. Between these two points, the pension will vary from the minimum to the maximum.
If the deceased was younger than 45 years, the average annual revenue would be increased based on his age. This compensates for the fact that younger people earn less.
People who earned money before 1983 will also see increased revenue for these years based on some factors. For instance, revenue in 1974 will be multiplied by 1.108. This compensates for years of low wages.
Finally, if the deceased took care of children below 16 or ill parents, his revenue for these years will also be increased.
As you can see, it is rather complicated to know how much you will receive. If you want to know the exact number, you can ask the first pillar office in your region.
Orphan pension
An orphan gets an orphan pension until their 18 years birthday. If they are studying, they get a pension until the end of their studies, but no longer than their 25 years birthday. Moreover, a student with a revenue of more than 28'680 CHF will not get a pension.
The amount of an orphan pension is based on the same calculation as a widow pension but with different limits. The minimum pension for an orphan is 478 CHF per month, while the maximum is 956 CHF per month.
If an orphan gets two orphan pensions, the total amount cannot exceed 1434 CHF per month (50% of the first pillar maximum pension).
It is important to note that until the majority of the child, the surviving parent or legal tutor will have to declare the pension in its taxable income.
The calculation for the pension amount is the same as for the widow pension but with a different minimum and maximum.
Second Pillar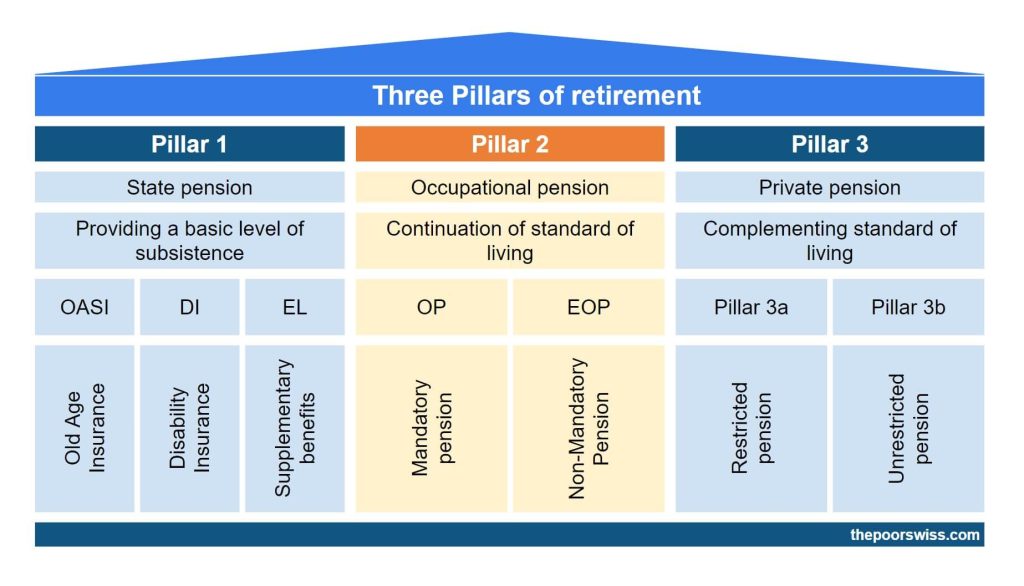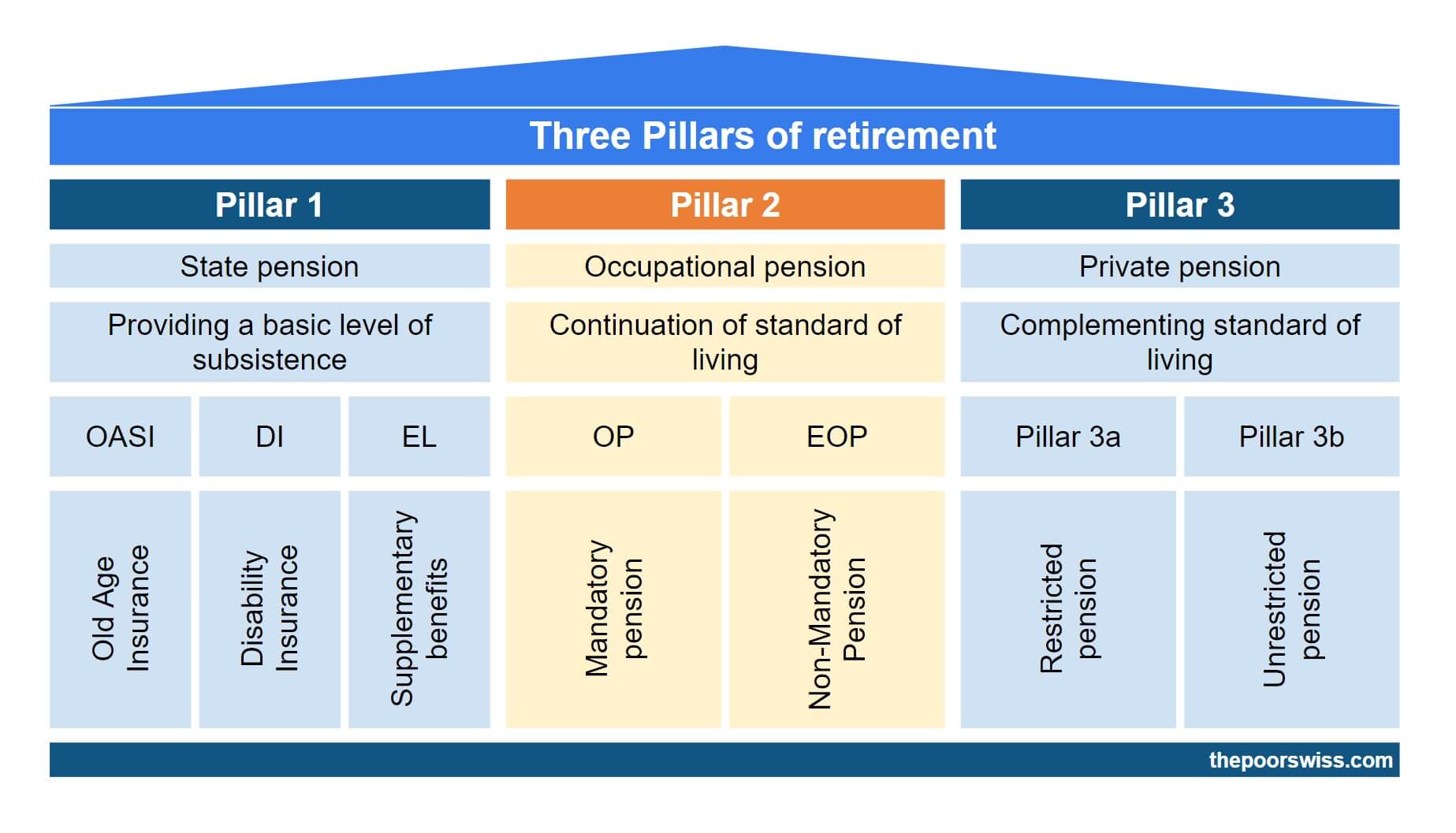 With the second pillar, you will choose between a pension and a lump sum at retirement age. And you can have a standard second pillar account or a vested benefits account. The main difference is that a vested benefits account never pays a pension.
Employee Second pillar
The rules for a pension fund are the most confusing. Indeed, they depend on each pension fund. The law sets some minimum rules, but many pensions provide better conditions. And some things are left to the pension funds to decide.
If you die before retirement age, your spouse or registered partner is entitled to a widow pension if you have a child together or if they are 45 years old and you were together at least five years. The minimum widow pension is 60% of the old-age pension.
Divorced spouses or partners are also entitled to a pension if the marriage lasted at least ten years and if the deceased was paying them a pension as per the divorce.
Children below 18 or children in education below 25 can receive an orphan pension. The minimum pension is 20% of the invalid children's pension. It is more complicated and entirely up to the pension fund for unmarried and unregistered partners. In this case, most pension funds will give a surviving pension, but you must announce the beneficiary in advance.
Other people are not entitled to a pension by law. But some pension funds consider other inheritors, but they must be announced in advance.
If no pension is due, the capital is inherited. This is generally going first to the spouse or partner, then to the children, and then to the person that depends on the deceased. However, the capital itself depends highly on each pension fund. Some pension funds also give capital if the capital is higher than necessary to pay the pension.
Usually, the country will not get the money without inheritors. In that case, the money will go back to the pension fund.
If you get a lump and die after having received it, standard inheritance rules will apply since your second pillar money will not be different from your standard assets at this point.
Again, these conditions will vary for each pension fund. If you want to ensure, you must ask your second pillar foundation to see their conditions.
One important difference between pension funds is how they handle buy-backs (voluntary contributions). Many pension funds exclude this from what they will give back if you die.
Another important difference is that some pension funds will allow pensions to be withdrawn as a lump sum based on the receiver's age.
Vested Benefits Account
If you have a vested benefits account and die before retirement age, the account will be liquidated, and your inheritors will share the lump sum. The law defines four groups of inheritors. If there is nobody in a group, the next group will inherit. If nobody is in the four groups, the money will return to the country.
With a will, you can make a few changes. You can promote people from one group to a higher priority group. And you can choose within a group how much each people get. But you cannot exclude a person from one group.
The surviving spouse or partner is part of the first group. The surviving divorced spouse or partner is also part of the first group if the marriage lasted ten years at least and he or she was receiving a pension since the divorce. Finally, children that are not yet 18 or children in education below 25 are also in this group.
The unmarried and unregistered life partners would be part of group 2 if they lived with the deceased for at least five years. In this group are also present persons who substantially depend on the deceased. Unfortunately, the law does not say what it substantially means, so it is often up to the court to decide. Finally, the persons raising the children of the deceased fall into this group.
Independent children (not part of group 1 or 2) are part of group 3. Parents and blood-related siblings are also part of the third group.
All other legal inheritors will fall into group 4, except for the country. The country can only inherit when all the groups are empty.
By default, assets are evenly distributed between inheritors of each group.
Inheritors will have to pay taxes on the inheritance. These will depend on each canton.
If you die after having received the lump sum from your vested benefits account, standard inheritance rules will apply since, at this point, you do not have a second pillar any more.
Third Pillar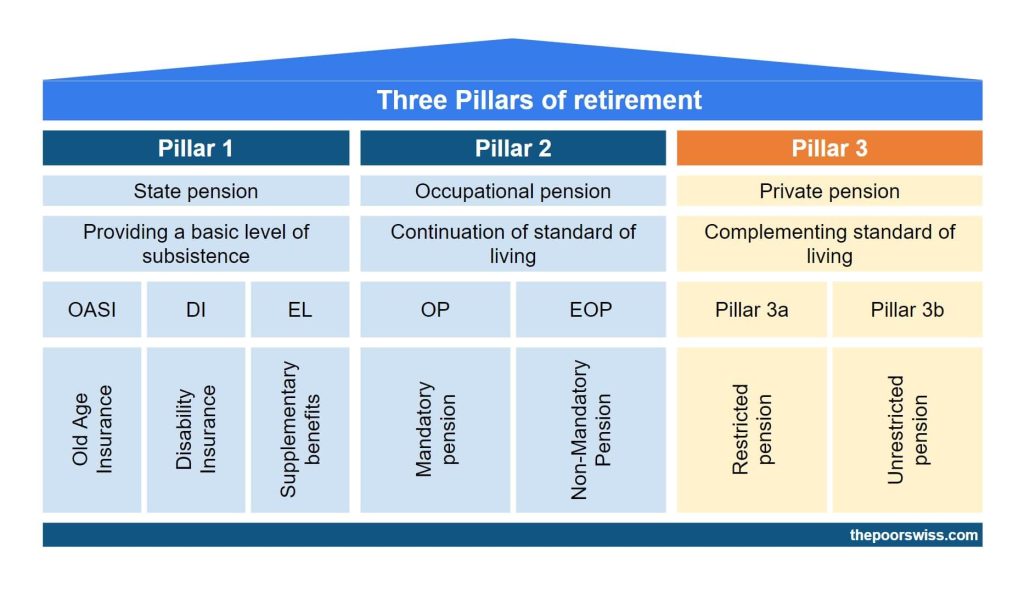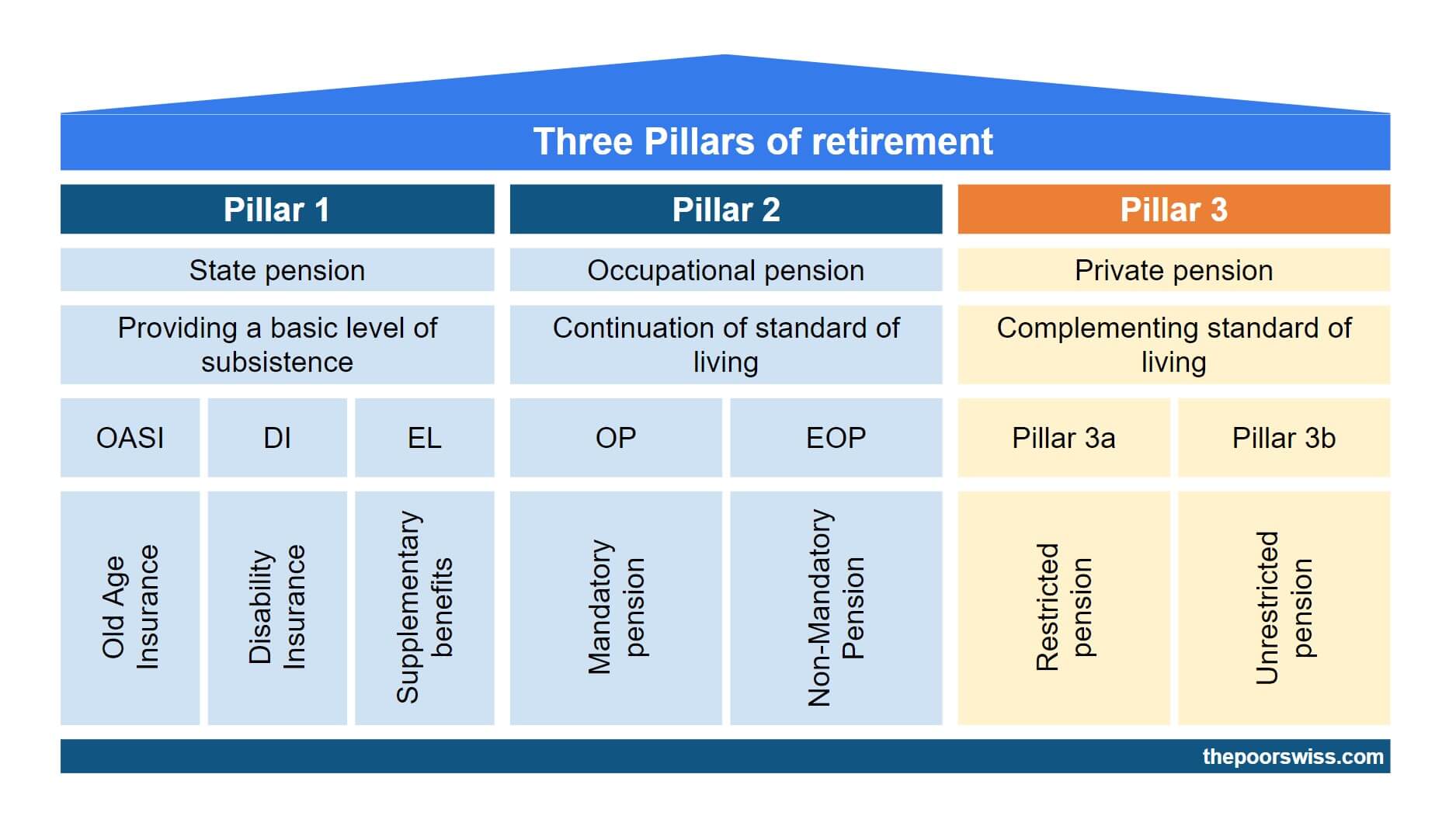 The rules for the third pillar are the simplest.
First, whether you have bank 3a or life insurance, the rules are the same. In the case of a bank third pillar, the amount will be what you have contributed. But for life insurance, the amount the beneficiary will get is the insured amount.
If you have a surviving spouse, he or she will get the entire amount. If not, the children will be in a second lot of beneficiaries. If you have a non-married concubine, he or she can also (on your request) be included in this lot. In this second lot, you are free to choose how will the money be shared. However, over total succession, you still have to respect the law's limits. For instance, you cannot fully disinherit any of your children. Finally, if there is nobody in the second lot, the third lot is formed by your parents, your siblings, and other people you have explicitly named.
If you have 3b life insurance, you can name anybody in the contract, which will work like standard life insurance.
In all these cases, the inheritors must pay taxes on the capital received. And these taxes depend on each canton.
If you die after the retirement age, you will not have a third pillar anymore, its value will be mixed into your assets. So, the standard inheritance rules will apply to it.
Conclusion
While this is not a subject many people like to discuss, it remains an important subject. I want to know what will happen to my retirement benefits after my death. Especially, I want to be sure that people depending on me will be safe.
If you are living alone without children, it is essential to know that there is a good chance for some of the assets to fall into the country or back into the pension fund if you die. Some people prefer to avoid this, so they could optimize their strategy to prevent this case.
If your inheritors live abroad, the situation could get even more complicated. Indeed, they could have to consider both countries' tax systems. This goes out of the scope of this article.
I hope I have covered all cases. It should help you know where the money will go in case of death.
Did I miss any cases?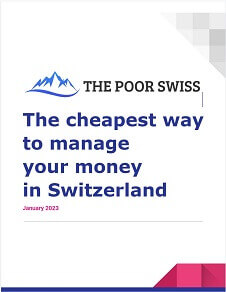 The best financial services for your money!
Download this e-book and optimize your finances and save money by using the best financial services available in Switzerland!
Download The FREE e-book