(Disclosure: Some of the links below may be affiliate links)
It is time for another monthly update! June 2020 flew by us! Like last month, we had to pay a ton of taxes. I did not pay enough taxes last year, so this year is very high.
Fortunately, we had less to pay this month than in May. So, we still managed to save a little amount of money. It is better than last month, where our savings rate was zero.
Except for the taxes, this month was relatively uneventful. Switzerland is mostly out of isolation. So we could once again have some parties and dinners with friends and families.
So, let's find out what happened to use and our finances during June 2020.
June 2020
In June, most of the isolation measures in Switzerland were lifted. It means we could have parties of more than five again. Restaurants also opened again, but this is not something we were missing.
We had several parties with our families and friends again. And this was great to see people again from time to time.
Except for that, it was quite uneventful. I continued working from home for the entire month. And it will last at least a few more months. As already mentioned, I like working from home. So, this is great for me. But I just wish that this COVID thing would be over. But seeing how some governments handle the issue, I do not think this will be resolved before the end of the year.
And talking about COVID, I am quite shocked as to how people act again in Switzerland. At the beginning of the pandemic, the reaction in Switzerland was great. But now that most isolation measures are lifted, many people are acting like idiots. I thought that most Swiss people were smarter than this. I was wrong. Many Swiss appear to be dumb.
Until the virus is down to zero, we should be careful. But people are partying with too many people. And people are doing huge political manifestations. For me, this is just pure stupidity. It is no wonder that the number of cases in Switzerland has started to increase again.
For our finances, we managed not to spend too much this month. Our expenses are well in check in June 2020.
However, just as it was the case last month, we had to pay a ton of taxes! In May 2020, we paid the state taxes that we owed for 2019 and regular taxes as well. This month, we paid the county taxes we owed for 2020 and regular taxes too.
Last month we lost some money. So, at least this month, we were able to save money. Our savings rate is tiny, about 10%. But this is already much better than nothing. And hopefully, we will continue with a better month.
The hunt for a house continues
We are continuing to look for a house.
In June 2020, we found a nice one, and we put an offer very quickly. But we still do not know if we are going to get it. We have probably found the slowest owners and real estate agents there are. It takes them so long to do anything. Every time we are in contact with them, they say that it is taking longer than excepted. One thing is sure, if we ever have to sell a house, we will not use this agency.
Overall, buying a house in Switzerland is not a pleasant experience. Between houses that sell before you can visit and agents that take forever to come back to you, it is excruciating.
We were too optimistic when we planned to buy a house. It already took us longer than we thought. And the real estate market where we are looking is a bit crazy.
Hopefully, we will get the house we put an offer for. Otherwise, we are going to go to visit more houses and broaden our search. Since it is taking forever, we are considering moving to a larger apartment anyway. We will see how it goes!
But to be honest, I am not optimistic.
Expenses
Let's see the details of our expenses in June 2020:
Insurances: 795 CHF. Average. Health insurance for me and Mrs. The Poor Swiss.
Transportation: 102 CHF. Below average. We just had to pay for the parking and refilling the car once.
Communications: 70 CHF. Below average. I only paid for the internet and server hosting.
Personal: 1103 CHF. Above average. I renewed the hosting for the blog, paid for a plugin, and paid social contributions for the blog. The rest is mostly for health expenses.
Food: 394 CHF. Above average. Our grocery bill is good at 292 CHF. But we went twice to the restaurant, making our food bill higher than average.
Apartment: 1489 CHF. Above average. We paid our rent and the quarterly power bill.
Taxes: 7182 CHF. Well above average. Most of this is for the county taxes due from last year.
So, in total, we spent 11084 CHF this month. It is more than what we want to spend. But given the more than 7000 CHF spent in taxes, this is not a bad result.
Without taxes, we spent 3955 CHF. This amount is better than our yearly goal of 4000 CHF per month.
There are two particular things about our expenses in June 2020. First is the huge amount of taxes we paid this month. I have already talked at length about that.
The second special event is that I had to pay a lot for the blog. I renewed the hosting for the blog for three years. By renewing it for multiple years, Is save 30% on the bill. And this will also motivate me to keep going! I also paid for a plugin and some taxes as well. But next month, I should have nothing to pay for the blog. And even with that, the blog was slightly profitable this month!
Aside from this, it was a fairly good month for our expenses. We still managed to spend less than 4000 CHF in a month (without taxes). We had a fairly high food bill, but this is counting a restaurant. So it is okay.
Next month, we have a few planned expenses. We are probably going to plan a vacation for either July or August, so we will likely have to pay the hotel in advance. On top of that, I need to change my phone, that is close to dying after five years. But I may delay that a few more months. I also have a few planned expenses to improve my work from home situation. But I am not sure I will get to it next month.
2020 Goals
Let's take a look at how our goals are doing at the end of June 2020: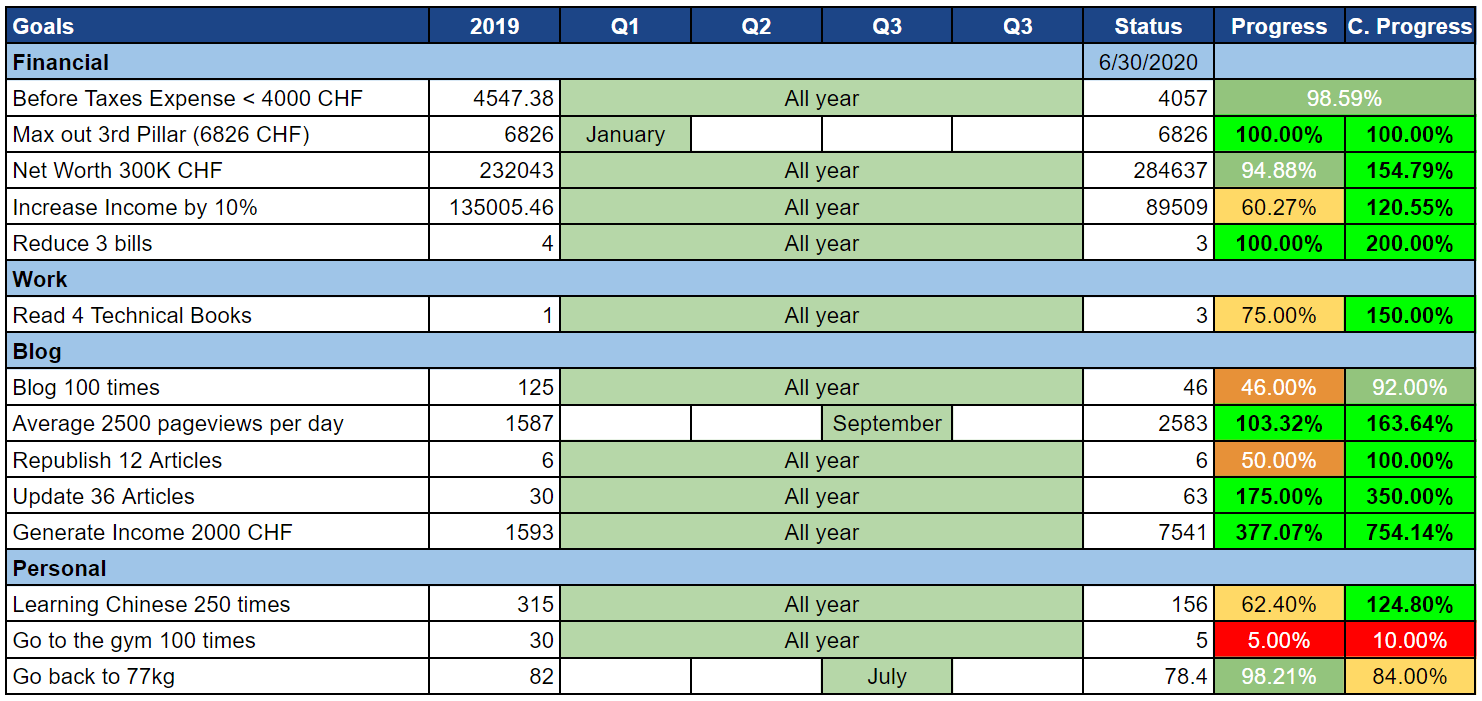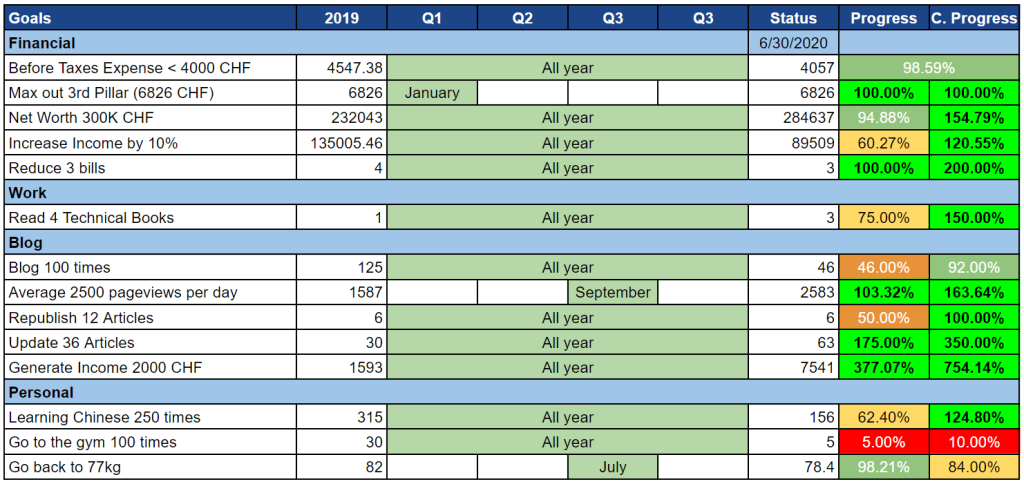 There is a lot of green in our goals! It is a good sign that our 2020 Goals are going very well.
Even though we had two bad months in a row, we had enough of a head start for this to be compensated. But this does not mean we should forget about our goals next month. We need to continue working on them and improving their results.
There are only four goals that are lagging:
Before Taxes Expenses below 4000 CHF. We are very slightly behind on this goal. But we are very close. If we manage to keep our expenses low next month, we should be able to bring our average below 4000 CHF.
Blog 100 Times. I was a bit optimistic about my estimation of this goal. I will not sacrifice quality for quantity. So, I will continue on my rhythm for the rest of the year.
Go to the gym 100 times. This goal is also lost for the year. With COVID, my knee, and working from home, I could not go to the gym. I need to start a habit and work out at home once we have enough room for this.
Go back to 77kg. I put back a little more weight this month, unfortunately. I only have one more month to reach this goal. We will see how it goes. But the lack of going to the gym does not play in my favor.
It is already mid-year. So, we can draw a few conclusions on these 2020 goals. Overall, I am satisfied with these goals and our progress. Some of the goals forced us to take measures and improve our financial situation. Doing so is the objective of having goals. Some of the goals were still not very well designed (blog 100 times, for instance). And some of the goals were probably too easy. But overall, they are much better than our 2019 goals. We will have even better 2021 Goals.
Net Worth
Let's see how net worth evolved during June 2020: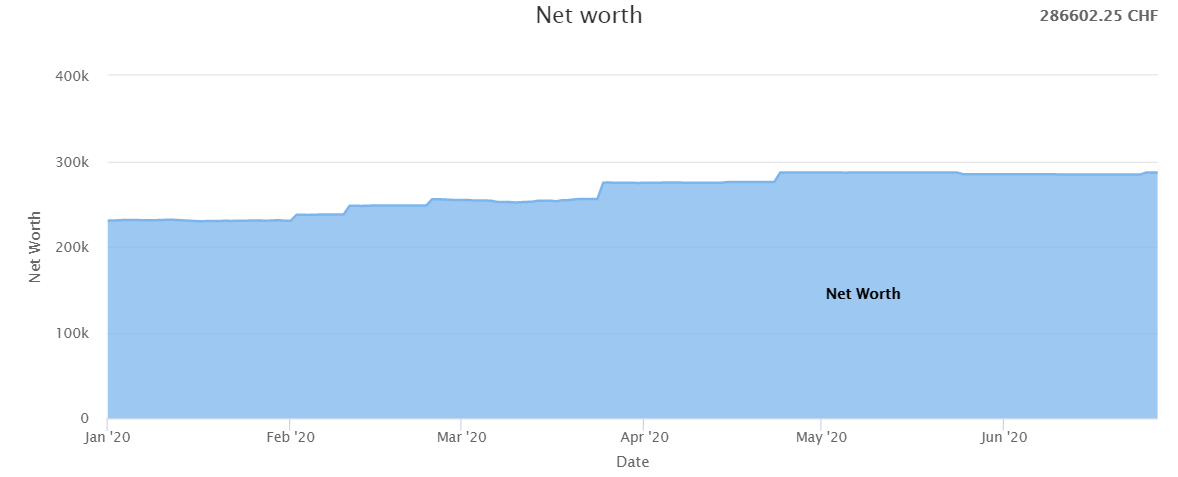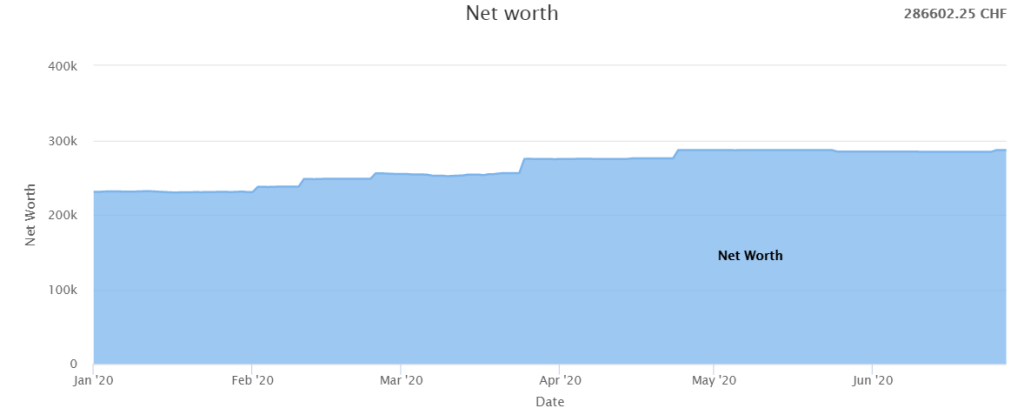 We went back to where we were before May 2020. It is a bit disappointing. But at least we already recovered from the terrible last month. And starting next month, we should be back to saving more money.
There is not much to say about our net worth this month. We are riddled with cash for our house. We have too much cash for a house because our income is the limiting factor. We may start to invest again next month. We will see how to crazy COVID thing goes.
The Blog
The traffic on the blog went back up. I do not know the reason for that. But I think it is because of many updates on the articles. I have updated the record number of articles this month. All these updates should increase the freshness of the articles.
I am glad the traffic went up because it had been going down for several months in a row. Overall, the traffic went up by about 14% this month. It is an excellent result for me.
What is good is that the traffic went up over the board. Some pages had some very nice increases. But overall, most pages went up by 5% to 20%.
The income on the blog has been quite good as well this month. It generated about 1200 CHF, mostly from Neon. I expect the revenue to go down next month. But it may change depending on what I post about next month.
However, as I mentioned before, the expenses on the blog were very high this month, about 800 CHF. I had to pay for the hosting for the next three years. I also paid for a new plugin for a year. And finally, I paid social contributions for the blog income.
I have nothing special planned for the blog next month. I will continue to update posts regularly. And I will continue to post with the same schedule.
As usual, here are the top three posts in terms of traffic for June 2020:
The post from June 2020 that did the best this month is my article about side hustling legally in Switzerland.
What about you? What was your favorite article in June 2020?
Next Month – July 2020
We do not expect much for July 2020. We have nothing big planned. Again, we have a few lunches and dinners planned. But aside from this, nothing particular.
From a financial point of view, we should be back to saving more money in July. On the other hand, we have a few extraordinary expenses planned as well for next month. But we will see how it goes.
What about you? How was June 2020 for you?