Less things happened in June 2018 than the crazy previous month!
Although it's a good month for savings, it's not as good as I planned. This month is the first month I received my new salary :) But it was a very expensive month :( We had to pay many insurance fees. And several other relatively big expenses. But it's still not too bad :)
June 2018
At the beginning of the month, I started a new job. I have a better salary and several new advantages. My new net income is now about 9000 CHF per month. And this month we have sold a few things online for a bit of extra income. Nevertheless, even with all this income, we managed to have a lower savings rate than I was expecting. We saved 37% of our income this month! Of course, it's not bad. A lot of people don't save that much. I probably had too high expectations.
You may remember last month I was saying that we may have to pay a lot for insurances this month. This turned out really true! I was thinking we could get the cost down this month, but once again I was wrong :(
Last month, I did a comparison of credit cards in Switzerland. Since then, I ordered my Cumulus Mastercard. Which hasn't arrived yet. I've also ordered a Revolut credit card to avoid foreign exchange fees. This should save me some money each year :)
Last month, we started our own vegetable garden. It's now bearing its first fruits (if I can say so ;) ). We just got our first salad :)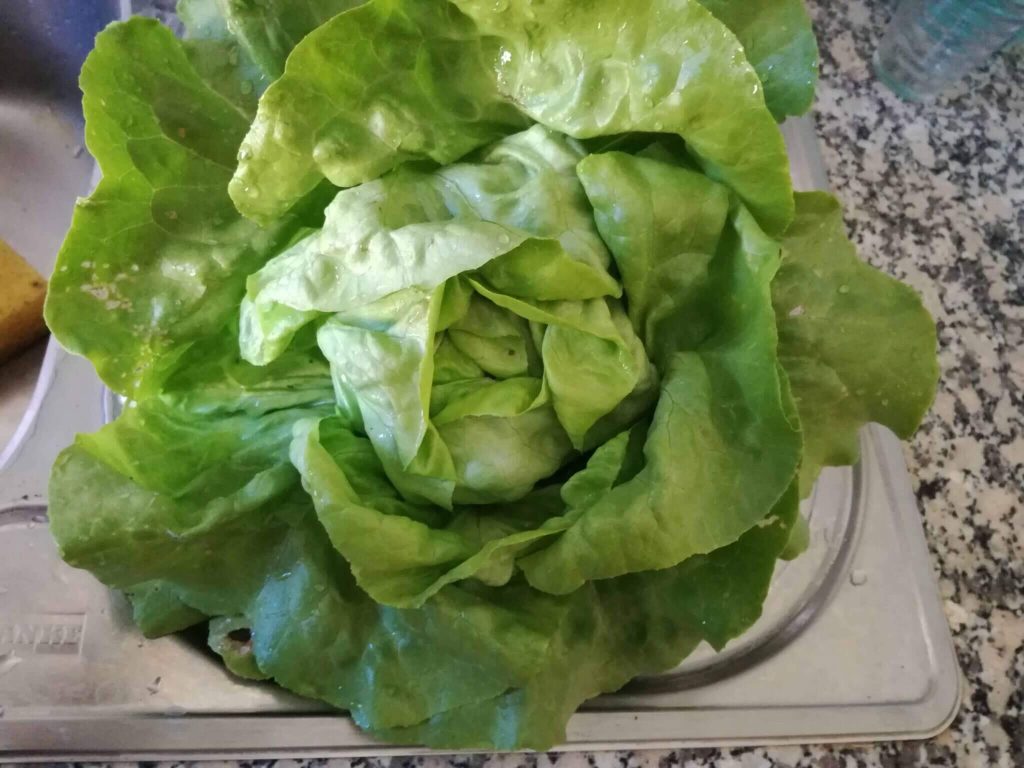 It was also the first time we built our own furniture. We really enjoyed our first DIY project. And the result look really great :)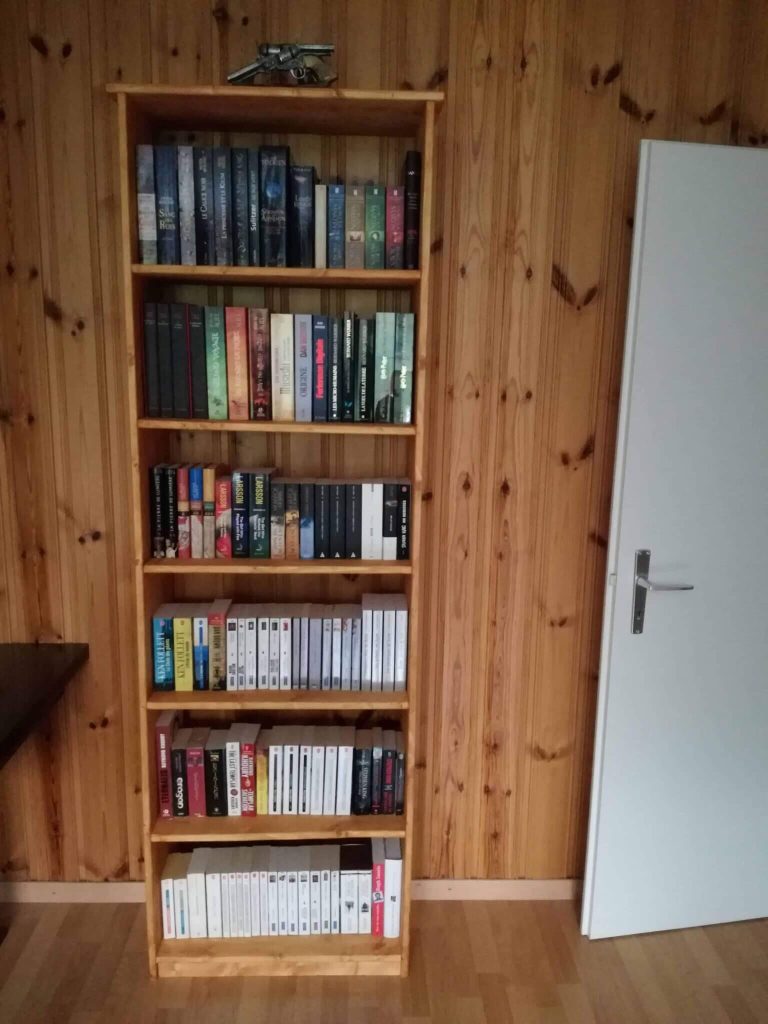 Insurance Hell
Every people in Switzerland need to have a health insurance. And foreigners that set up in Switzerland are no exceptions. So my wife need a health insurance now. We had a pretty bad experience with the insurance for her. I'm already at Assura for health insurance. So I decided to simply go with Assura for my wife this year. We signed the contract in mid May. We asked for the beginning of insurance in June 1st.
Until last mid June we didn't get any news from the insurance. And suddenly I received all the bills. We didn't receive any communication because now it's done online. But they never contacted us to say that our online account was ready. What did they expect ? To go there every day and check if the account was ready ?
And they made us take the insurance from the first day of my wife arrival in Switzerland. Since apparently, it's the law… All this without any communication. The first communication was the bills. In the end, we had to pay about 1000 CHF in one month for Assura. I really didn't like this communication. At the end of this year, I plan to move both our insurances out of Assura. They are really too bad…
Expenses
We also had some other big expenses this month. We had to pay my house insurance (assurance ménage) and civil responsibility insurance (RC).  Plus, we also had to pay almost 300 CHF for the gym for Mrs The Poor Swiss. We also took some tickets for a concert in November. And we went to my cousin's wedding and offered some gift. Finally, I also paid for the new hosting of the blog. All this and many small expenses and this makes for a very high expenses month.
Here is the final breakdown of all our expenses for June 2018:
Insurances: 1'396.55 CHF: Well above average. We had to pay a lot for Mrs The Poor Swiss and the house insurance.
Transportation:766.20: Well above average. I pay to pay my semester car insurance.
Communications: 88.00 CHF: Average
Personal: 1'037.84 CHF: Above average. We just spent too much this month.
Food: 477.80 CHF: Average month. A few going out, but nothing fancy here.
Apartment: 1'429.55 CHF. Slightly higher than usual, because we had to pay the power bill.
Taxes: 746.20 CHF. This will the average for the year. It's county and state taxes.
2018 Goals
Let's take a look at the status of my goals for this year: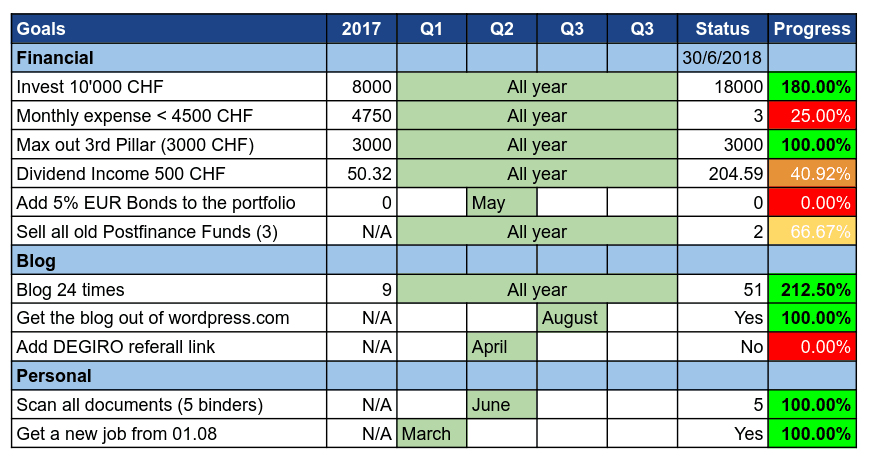 Once again, I didn't reach my goal of staying below 4500 CHF of monthly expenses :( Next year, I'll use an average instead of an absolute. And I'm starting to believe that 4500 CHF is not doable anymore now that we are two. But we'll still try to skim our budget a bit more. Next month should be under 4500 CHF normally.
As for the other goals, I've finally got a nice dividend from my Vanguard Total World ETF, about 137 CHF. Finally, the dividend income of 500 CHF this year does not seem impossible anymore. I'm still waiting to be able to get rid of my last PostFinance fund. It is going down every month a bit more :S I also wish I could get rid of my Bitcoin ETN, but it's also going more and more down :( The last goal that is not yet done is the DEGIRO referral. I've given up hope on this one.
Net Worth
Let's look at my net worth now. Last month, I reached over 100K of net worth. This month, there was not so nice of an increase, but it still increase to 104'568 CHF: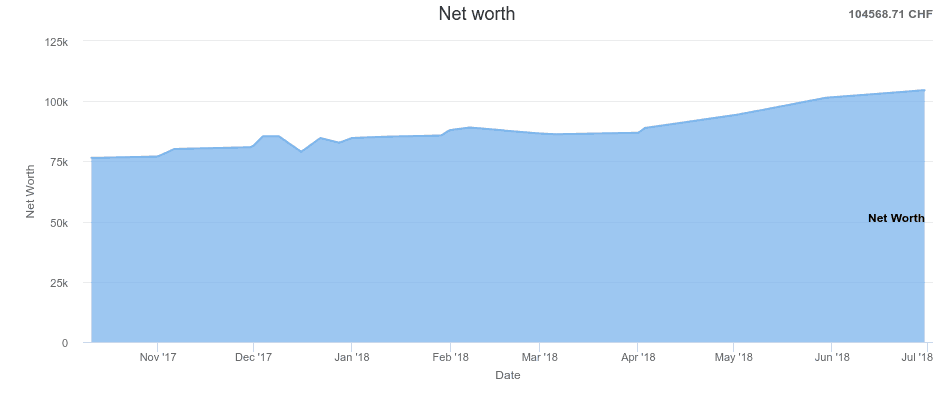 This represent a Year-To-Date increase of 23.59%. This is only due to adding money into my accounts. Unfortunately, the market is still very unstable. It is only going up and down without a clear direction. It's been 5 months now that the market has not been doing well. I hope it goes into a clear direction at some point. I would even prefer it going well down and not staying like this. A flat market means no returns and no opportunities for buying more shares. We will see what happens in the future. My estimation is that we are going to reach 110K in August. We'll see how it goes :)
The blog
As for the blog, I've again been able to write many articles. And I've now transferred from Bluehost to SiteGround. After all the problems with Bluehost, it was necessary for me to migrate. This took some time and made me a bit slower to write new posts. Nevertheless, it's now behind. As for audience, no change, since a decreasing audience. The huge peak last month because of the feature on Rockstar Finance did not last. I'm again at numbers that were there before this post. And actually even below now ;) The more I post and the less people read ;)
It's now been two months since I started using Pinterest. Already last month I had a lot of doubts. And now it's confirmed. I had around 20 visits from Pinterest. This is less than Twitter even if Twitter is already low (in the 50s). And I don't spend any time on Twitter. I'm not going to chase audience anymore. I'm giving up on having a big audience. I will simply keep writing for my pleasure whether people are reading or not.
Next Month
Next month I don't see any big expense coming. But I'm not very good at estimating next month expenses. So I can be totally wrong ;) We'll see next month how it goes. The only expense I know about is the Billag bill. This is the tax I'm hating the most about Switzerland. It's completely useless and unfair tax. But we have to pay it. At least next year, we'll pay less, but it'll will still be useless…
We are definitely going to be more careful with our expenses. We are going to limit expenses as much as we can. One thing I'm going to do is change my internet connection. I'm going to move from a 100Mbs connection to a 40Mbps connection. This will save us 20 CHF per month. It's not a lot, but it's a start.
What about you ? How were your finances in June 2018 ?